It's here, Black Friday! This is a perfect time for you to nab some some great sales on items we know your teens and college kids will love. Actually, there are some excellent Black Friday deals for ALL of the adults on your list.
We'll continue add to this list as we find deals throughout Black Friday and the Weekend. We will have a NEW list for Cyber Monday.
Note: We receive compensation from purchases made through some of the links in this post. Prices and availability are subject to change.
Black Friday Deals
Both my daughter and son are big fans of Lululemon, not only for their amazingly durable workout gear, but also for apparel that is super-comfortable and put together, too.  Do NOT miss this sale if you are shopping for your Lulu-obsessed teens.  
The most beloved winter boots on the planet, LL Bean boots are the pair your teen or college student will have for life. Great for guys and girls. Look around on the site to find lots of other gifts all at 15% with code THANKS15.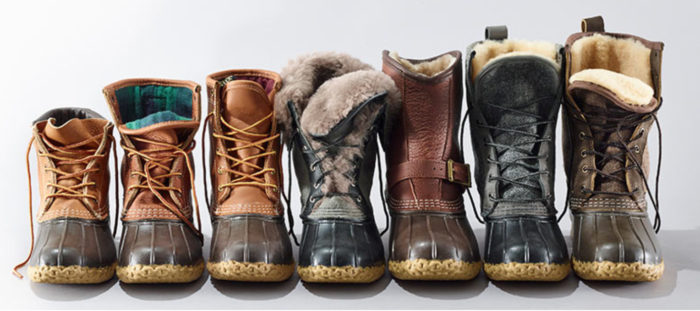 Glossier is a favorite cosmetics line and this unique blush, "cloud paint," is something any teen or young woman would love to try.  Available in six shades. Save 25%
This is one of the most-often recommended hair tools in the Grown and Flown parents group and today, save $20. 
This is a one-stop shop for anyone whose teen will be in college next fall living in a dorm or apartment and this is an excellent time to pick up towels, twin XL sheets, laundry hamper, bath caddy, etc. Plus, BBB has loads of things for almost anyone on your list AND they offer contactless, curb-side pickup…NOW take 20% off site-wide and there are discounts on so many things. 
I am amazed that this air purifier is on sale for Black Friday and, if you are considering buying one for your home, your college kids or your parents, do this NOW! This is the most highly-rated air purifier and it "captures and reduces up to 99.97% of particles 0.3 microns in the air, including pollen, pollutants and other allergens. It also reduces volatile organic compounds and reduces odor." Now save $80!
We just now saw that our Grown and Flown book is part of a larger book promotion on Amazon: Buy 3 for price of 2. If you are the parent of a teen or have someone in your life whose teen is in the high school years, our book which includes expert advice from doctors, psychologists, educators and more, could be a wonderful holiday gift.*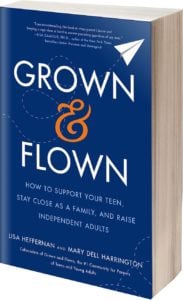 *Amazon book deal:
Get 3 for the price of 2. Offered by Amazon.com. (restrictions apply)
Add 3 items from the selection on this page to your Shopping Basket via the "Add to Basket". When you're done shopping, click the "Proceed to Checkout" button. The Offer will be automatically applied to your total customer order value at checkout if you are eligible.
As if Zoom meetings were not heard enough, sitting in a poorly lit space doesn't help your student or young adult who is working from home. This lightweight lighting system is flexible and will give their production quality a boost.  Save $7
I didn't't think I could love Allbirds any more – they have been our favorite shoes since we first felt their heavenly wool fabric on our feet.  Today they launched a program where they are increasing each shoe price by $1, matching it and donating the funds to Fridays to Future, an organization that promotes awareness of the dangers of climate change. 
If your teens and young adults do not already have a pair of AirPods, today is a great day to buy this amazing gift. Save $79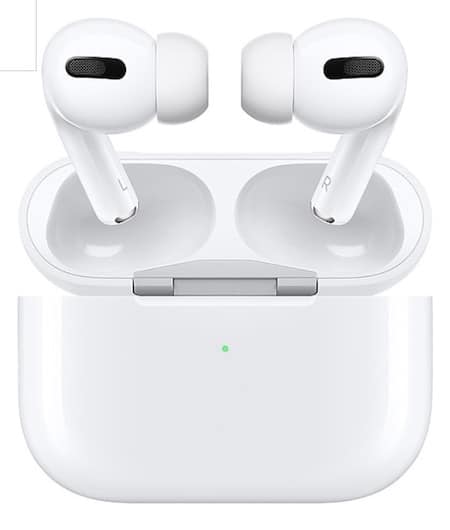 Going into the Anthropologie store at our local mall was always a favorite stop when shopping was carefree! There were always unusual clothes, whimsical furnishings and pretty cute gifts for everyone. Now, save 30% site-wide. 
For your gaming enthusiast, this headset gets the top reviews. It's very comfortable and works with every modern gaming platform. Save $5
Part blanket, part poncho, the Comfy is amazingly popular for our teens and other family members. Perfect for a night on the couch with hot chocolate watching Netflix or Lifetime holiday movies. 
Athleta has the widest selection of athletic and athleisure apparel for girls and women we have ever seen with well-made and well-priced clothing. Their Black Friday sale has 20% off everything site wide. BTW, their face masks made the WSJ list of top masks and they are our favorites, too.
A contactless thermometer is such an easy way to take someone's temperature that you will never want to go back to the under-the-tongue method, again. Now save 20% with coupon. 
Everlane is an online store with a fantastic shop in Manhattan. It's always been one of our favorite spots to buy classic pieces (for guys or girls), including this gorgeous sweater.
This is such a nice way to protect an expensive laptop – I might get one for myself! Save $20
Does your son or daughter need a new rain jacket (that they will actually wear?) or a coat for a cold climate? Columbia Sportswear has some of the nicest ones and their Black Friday Sale has started. 
If you are looking for jewelry as a gift, look no further than Kendra Scott. They are having their biggest sale of the year right now, through 11/30/20. We think Kendra Scott's pieces hit the sweet spot for teens, college students and other young adult women. They can be dressed up or down and look for the custom options to choose a stone that is your daughter's favorite, her birthstone, or the color of her college. Engraving available, too.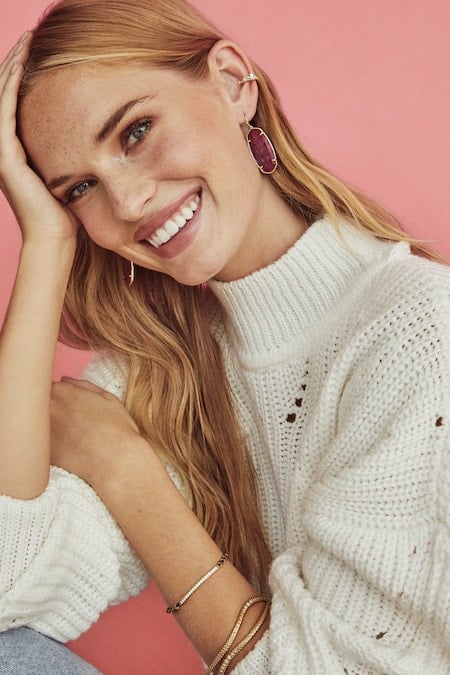 If you have a senior who will be in college next fall (let's hope all our college students are back on campus in fall of 2021) consider a mattress topper in twin XL to be a must-have.  Toppers make the brick-like mattresses so much more comfortable.  This one is very popular. Save $57
Take a look at the Herschel site to find fantastic leather goods, duffels, backpacks, wallets, and apparel for girls and guys.  They have some of the most unique styles and durable backpacks we have seen, including this backpack which is large enough for a weekend bag, too. Now here are the savings: 
$10 off orders of $70+
$30 off orders of $120+
$50 off orders of $160+
Sephora is a great place to pick up stocking stuffers, gorgeous gift sets and replenish your daughter's make up staples. Up to 50% off and free shipping with code FREESHIP
Are you looking for a new blow dryer or curling iron for your daughter (or for you?) Amazon is offering up to 40% off on many top brands.
Save $10 on this well-regarded model. 
Also highly-rated and well-priced. Save $16
With adults WFH and students taking virtual classes from home, Staples might be a surprising destination for Black Friday sales. Check out the chairs, monitors, desks, task lighting, charger devices, printers and more to improve the study and work space in your home. 
This makes hand-free so much easier when your teen or young adult puts their phone into this holder that fixes to the dashboard. A great safety feature at an even lower [rice now. Save $13
With so many of us working and studying at home, it is even more important to be able to have an ability to listen to zoom meetings and classroom presentation without annoying everyone in the house.  Plus, when your student is back at school in the dorm, they will be able to block out the noise of a roommate with these excellent bluetooth headphones. Rose gold is limited edition, btw. Save $150
For the coffee aficionado in your life, this is a must have for a smoother and less bitter morning cup of joe. You can make hot or cold cups with more flavor and easy cleanup. Save $10.
For the college and pro sports fans in your life, Fanatics is the place to go for gifts. Get your shopping game on now with up to 70% off site wide with code BLACKFRIDAY. A few of our must-haves: college sweatshirts and hoodies, t-shirts, college mom and dad gear. 
Faherty has some of the softest and coziest clothes for guys and girls – we visited their Greenwich Village shop in NYC last winter and got to see (and feel) for ourselves so many of their wonderful clothes. Check out their sale for unique gifts. 
This charging station gets the highest reviews and will charge a phone super-quickly. Plus, the upright design means that phones can be used while they are being charged.  Now, 30% off withe code BUYONE and 35% off with BUYTWO. 
This desk lamp from TaoTronics gets the top ratings.  It is dimmable, has an auto timer to shut off after an hour and includes a platform to charge a phone or tablet at a high speed. This is a great fit for a teen, college student or young adult in a new apartment. Buy 2 items on the Taotronics site and get 35% off – lots to choose from!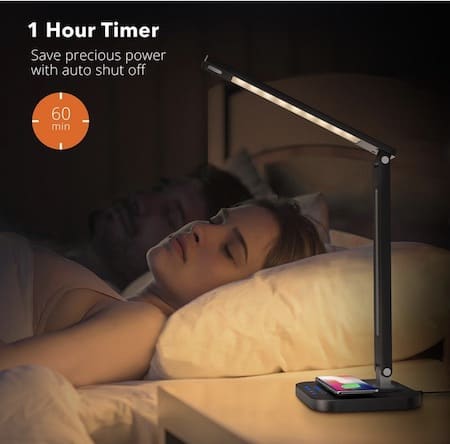 I just LOVE this mini coffee maker and think it is perfect for a dorm room, apt with a small kitchen or WFH desk.  Comes in several colors. Save $20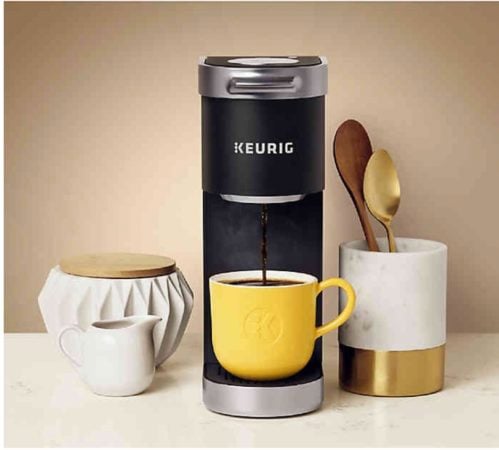 A quick dip into the Target website might be exactly what you need to jump start your holiday shopping are there are incredible savings on just about everything.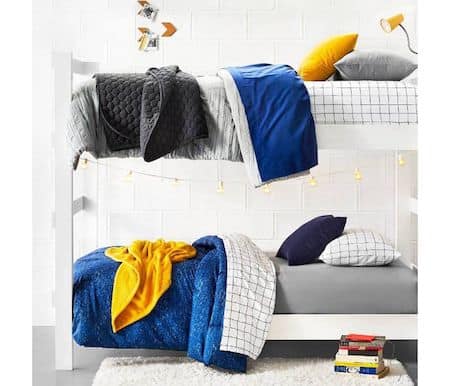 If your teen is in the market for a new laptop, the MacBook pros with Intel chips might be exactly what they would love to receive this Christmas.  (Apple recently announced a new line of MacBooks with their own M1 processors which might not be discounted this Black Friday.) Save $250
This seems to be a hot gift this year for teens who want to customize their rooms or dorm rooms with lighting.  Comes with a remote control. Save %9.
If your son or daughter wants up their fitness game, or get started on a healthier lifestyle, this fitness band gets the top reviews in the category. It has a built-in GPS, is waterproof, tracks sleep and so much more. Save $50
These wireless bluetooth earbuds come highly recommended. They have active noise cancellation so would work well for your teen or college student who is trying to study when surrounded by family or roommates. Also excellent for working out as they are sweat proof and waterproof. Save $50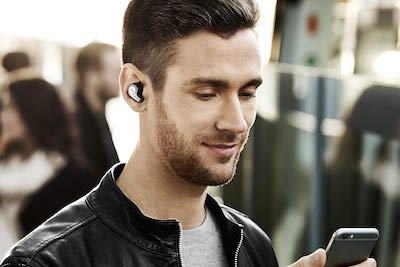 Another heath-focused gift (with a lower price point) is this rechargeable electric toothbrush which is also considered best of all the competitors. Save $20
The Amazon Echo devices just keep getting more and more sophisticated and this model can connect you with the loved ones you might not be able to spend time safely with right now via video calling.  Also, watch movies or listen to podcasts, control your smartphone devices, look at your photos you have stored on Amazon, watch cooking shows with step-by-step directions from the Food Network Kitchen. Privacy controls lets you shut off the video camera whenever you want. Wow, just wow. Save $65
Just like the Echo Show above, the dot has a smart home hub and enhanced features. Save $30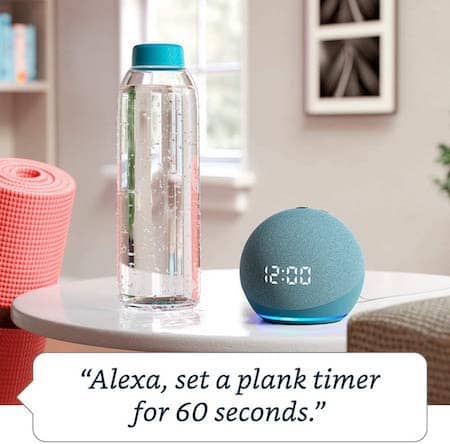 This is a fantastic deal on an amazing convention toaster oven that has nine settings – Toast, bagel, bake, roast, broil, pizza, cookies, reheat and warm. Save $84.
All-Clad makes great cook wear and they are offering some fantastic Black Friday sales that you can find here in their Amazon shop. For cooking eggs, in particular, this set of two scratch-resistant, non-stick skillets is at the top of my list. Save $30
Have you taken the Instant Pot plunge? This gets the top reviews and I love mine (it has been a huge help in cooking for my pandemic-expanded household!) Save $50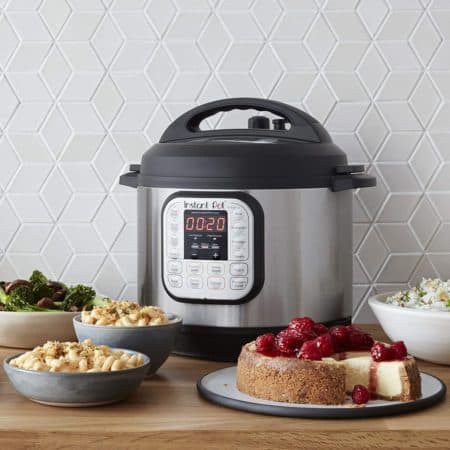 If you have been thinking about getting a Roomba for a family member, or yourself, this may be the very best time to add one to your shopping cart. This one gets great reviews. Save $101!!!
The Apple watches continue to have greater and greater functionality. Save $20 on the Series 6 or the SE which is a lower-priced and amazing fitness watch.
Are you looking for a bluetooth speaker that has excellent audio and super durable? Look no further than this highly-rated speaker.  Available in several colors. Save $50
With a 30% off sale, now is the time to pick up a pair of Ray-Bans for your son or daughter (or maybe you!)

For anyone who misplaces their "stuff," the Tile products are ingenious.  This chip will help your son or daughter to always be able to locate their keys, wallet, backpack and more. Save $7
For phones, remote controls or other things that could use a tracking device, Tile stickers are also reduced. Save $6
Save $6 on this Tile option too.
One of the most popular board games is Catan.  Save $30
Another board game that our Grown and Flown parents love is Ticket to Ride. Save $30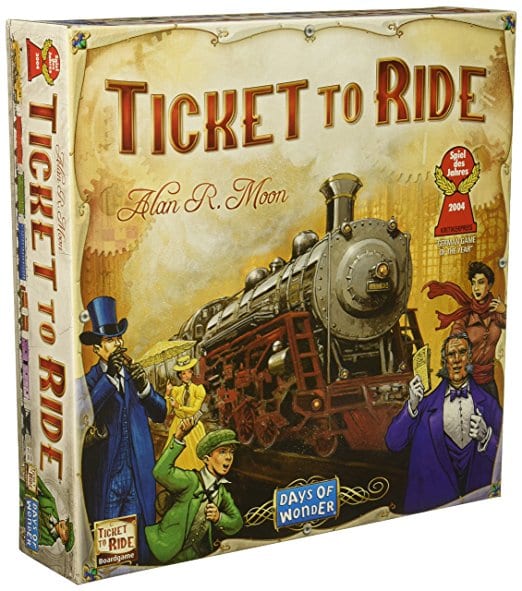 Minted is getting a jump-start on the holiday season with Black Friday promotions that begin 11/25. If you are looking for holiday cards, luxe gifts, limited edition fine art, puzzles, photo pillows or personalized stationery, take advantage of the early savings: 20% off orders $150+. 15% off everything. Plus today only, FREE shipping. Use code: BF2020 | Ends Friday, 11/27

This is a great gift for anyone in your household as we all need places to plug in our computers, phones, lighting….highly rated for functionality and safety. Save $3
Does your teen or college student need or want new boots? Zappos has started their sale. 
You Might All Enjoy Reading: