Board games are back! They have become surprisingly popular with our screen-obsessed teens and young adults, making a great birthday gift. Playing board games is a perfect bonding activity and will give your teen a reprieve from schoolwork and a computer screen.
Game playing can also teach them to compete and collaborate, but, most of all, playing games is just plain old fun. We compiled this list of best board games because the family game night is a great activity for all age groups, including younger children, and can include any number of players.
At home, you might have family-friendly classic board games like Monopoly, scrabble, chess, checkers, Twister, or backgammon. Here are others that are very popular with the Grown and Flown community that you might want to consider adding to your collection.
Grown and Flown is a reader-supported site; we may receive compensation from purchases made through these links.
Popular board games for teens and college students
(Card Game, 3 to 8 Players)
This game is fast-paced but fun and simple, taking only 10-15 minutes to play a round. It has become a wildly popular gift to send in a care package to your kids or use as a stocking stuffer.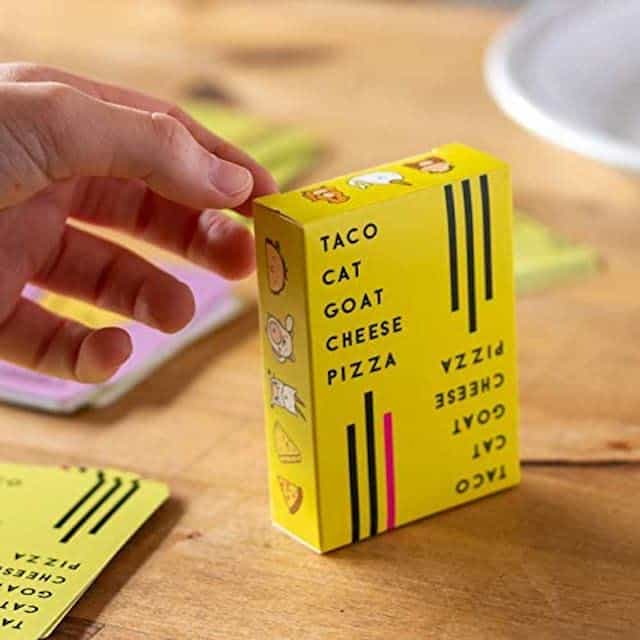 (Trivia Game, 2 to 10 players)
Do you have sport-obsessed teens who amaze you with their knowledge of games, players, teams, and scores? Put their knowledge to the test with this 1000-question game that can be played in a team format.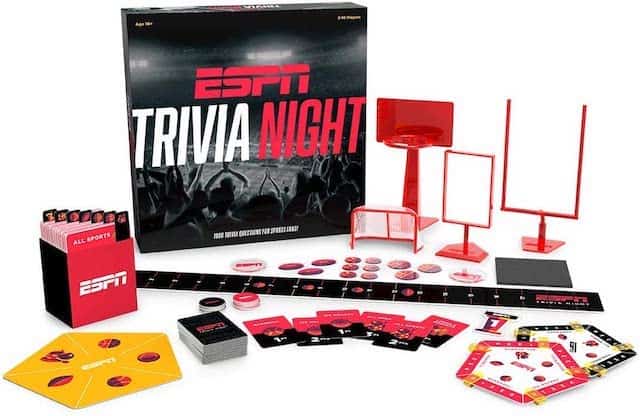 (Card Game, 3 to 20+ Players)
Cards Against Humanity is so much fun if adult children are in the house. The designers describe it as a "party game for horrible people." It consists of 500 cards with fill-in-the-blanks matched with a second smaller stack of cards.
The content is provocative, but as 90% of the tens of thousands of Amazon reviews on this popular game are five stars, many enjoy what has become a modern classic. The top-selling game is such great fun that there are now expansion packs, which are a great addition for people who have played through the base game too many times.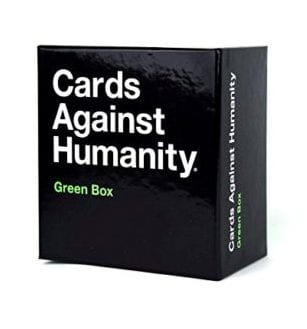 (Card Game 2-5 Players)
We have to hand it to the makers of this wildly popular game, "Exploding Kittens," which wins for best name on the list. This is simple to learn and play, with silly fun baked into each card. To quote CNN, "It's like UNO, except there are goats, magical enchiladas, and a kitten that can kill you."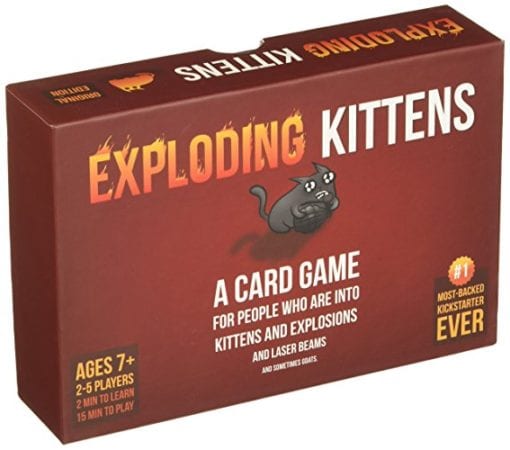 (Board Game 3-4 Players)
Another classic, this wildly popular game is a classic civilization-building game and will be a hit with anyone and everyone. One Amazon review called it "The 'Candy Land' of Strategy Games." Anyone over ten can join the fun.
Played on a distinctive hexagonal game board, Catan combines the element of chance with skill and strategy. The game can accommodate larger groups of 5 or 6 players using the expansion packs. If the youngest players in your house need help, there is now a children's edition.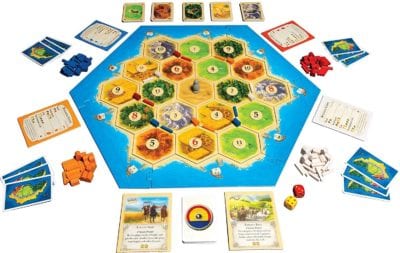 (Board Game 2-4 Players)
Dominion is a deck-building game with the feel of the collectible Magic: The Gathering cards. It has a not overly complicated set of rules for four players and will be a hit with people who like Catan. Playing with multiple decks and using different cards simultaneously means the game can be played repeatedly. Many extra packs are available for those who love these kinds of games.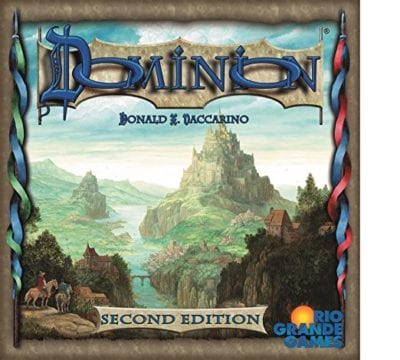 What happens when you cross a card game with dodgeball? We're not sure either, but the ultra-popular Exploding Kittens makers are the masterminds behind this game. Everyone can play, but it is a proper match for college guys (still boys at heart).

(Card Game for 2 to 8+ Players)
The premise of Codenames is "Two rival spymasters know the secret identities of 25 agents. Their teammates know the agents only by their codenames. The teams compete to see who can contact all their agents first." It is one of the new board games with a simple rule book and can be played by two players or an opposing team.
One Amazon reviewer said, "Codenames is genius in its simplicity. It's a fantastic game to play with a group because it can be taught in under 5 minutes." Codenames come in a Disney edition for young children ages 8+. This is perfect for your next game night.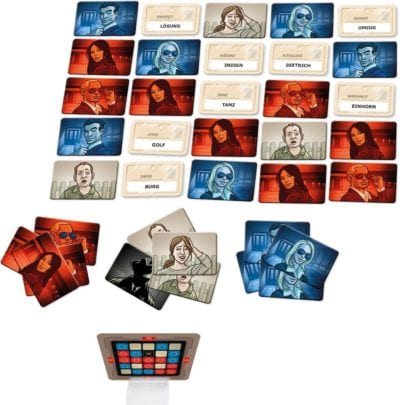 (Board and Card Game 2-12 Players)
Sometimes, you must have a game that allows the family's youngest members to play with the older ones. Sequence involves playing game pieces on a board in a way that corresponds with the cards you hold. The first person to get a 5-card sequence wins.

(Board Game 2-5 Players)
Create your own train network to connect two cities across the United States. Players compete to connect cities before their opponents. It is a good old-fashioned board game with cards, markers, maps, and trains. Aim to build the longest continuous route and earn bonus points or Destination Tickets by connecting two distant cities.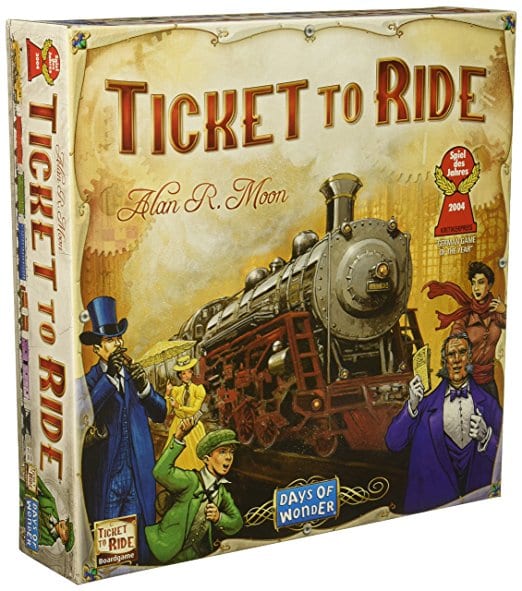 (Dice Game 2 or More Players)
Rolling the dice to see how lucky you are is the point of Farkle, a fun and easy game that works for any number of players, ages 8 and up.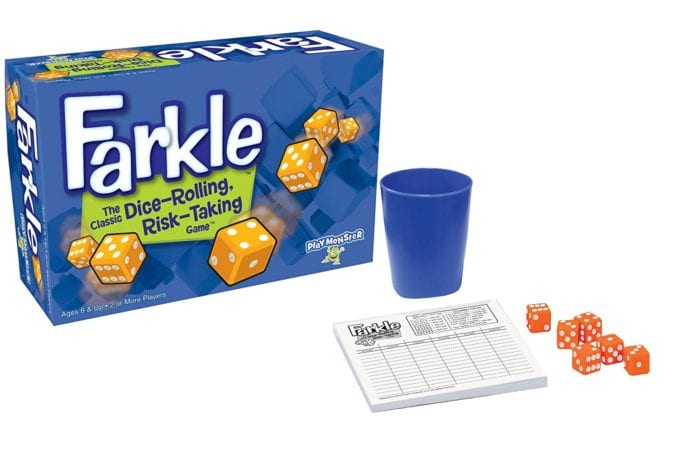 (Board Game 5-10 Players)
This is a social deduction game where players are split into good and evil without the good "Loyal Servants of Arthur" knowing who is on their team. For those who loved Werewolf or Mafia growing up, this "hidden identity" game will feel familiar with different teams playing different roles. It's a game with great social interactions for 5-10 players and is more fun and interesting with 5+ members.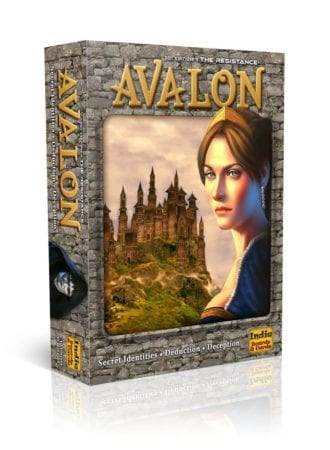 (Tile Game 2-4 Players)
This is a game with 108 wooden blocks in six different shapes and six different colors. It's a tabletop game on any flat surface, consisting only of the game pieces, not a board. It is one of the best games for a wide age range, as it is fun for kids as young as 6.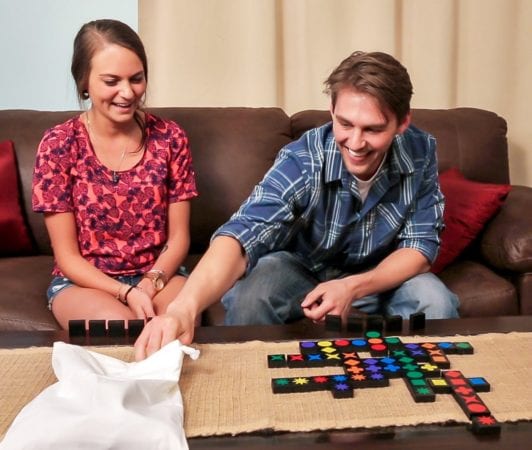 (Game with cards and drawing pad / 4-8 players)
Remember the childhood games of Telephone where everyone stood in a circle and whispered something to the next person, who whispered it to the next, and then when the final person revealed what they had heard, it bore no resemblance to the first?
As hard as you laughed like a kid playing this classic game is how hard you will laugh with this family board game. Instead of whispering to each person, this is the same simple concept, and each team of players is given a dry-erase marker and a small flip pad of places to draw or sometimes write what they thought they read and pass it on to another player for the next turn. The round ends when everyone reveals what they thought they saw in each other's drawings.
This is the perfect game for people of all ages and has great replay value as it never plays the same. It is fun to pair up in teams for large groups. We promise that the game will only be funnier if you cannot draw.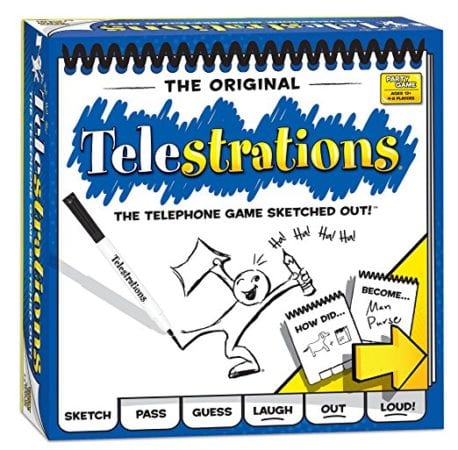 (Card Game / 4 or more players)
This adult board game is not intended for young players. For those who love a good meme, this is a chance to try your hand and sense of humor to create the funniest memes. With 435 photo and caption cards, players combine them into the funniest memes they can devise.
After each round, the winner is decided by a rotating judge. The game is so popular that there are already 8 add-on packs for those who cannot get enough meme-making!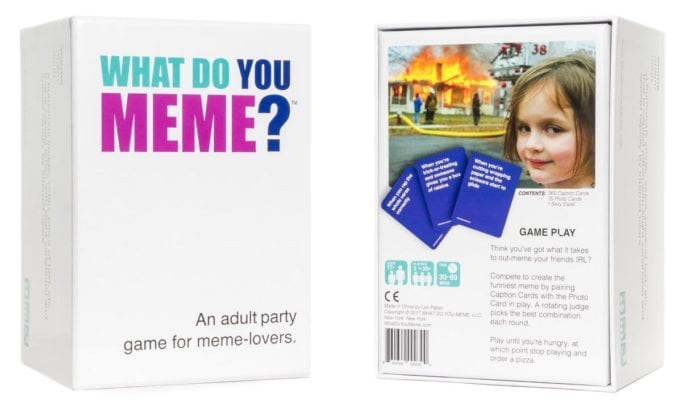 (Dice Game for 3+ Players)
Players take turns with dice rolls to see where to pass their chips, and the person with the most chips at the end of the game wins. Well-priced, LCR comes in a blue tin and is a good game for a college care package or as a stocking stuffer.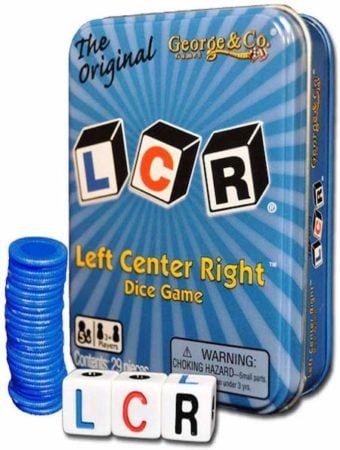 (Card Game 5-8 Players with both sets of cards)
The object of this fast game is to try to be the first player to get rid of a stack of 10 cards. The friendly competition makes this fast-paced game fun to play with any group.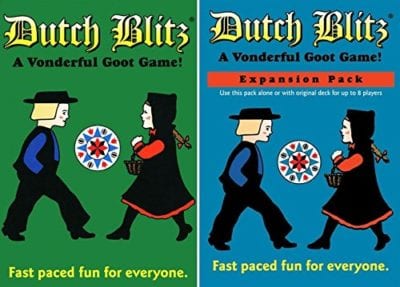 (Board Game / 2-6 Players)
This trivia game is meant to appeal to fans of Jeopardy and Trivial Pursuit, and no wonder since one of the creators is Ken Jennings, the Jeopardy legend known for his 74-game winning streak. Comes with 500 trivia cards on a range of subjects.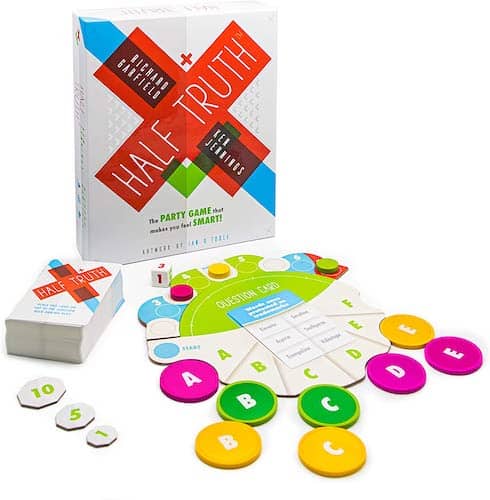 (Board Game / 3-6 Players)
For those who LOVE the stock market and the world of high finance, this is for you. Meant for players 12 or older, this is a bit like Monopoly meets The Wolf of Wall Street.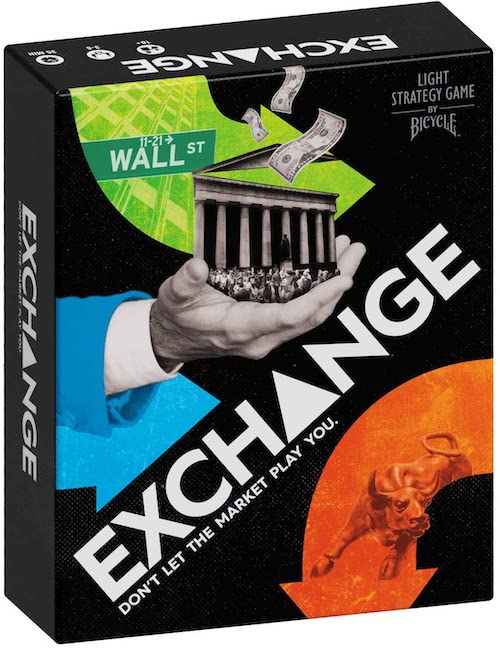 (Board Game / 3-6 Players)
The artwork in this beautiful new game is unique, and you will quickly become motivated to lead your wolf pack around the forest to find food. You must determine whether to share food or fight when encountering rival packs. After five rounds for each player, the game ends, and the winner is the one with the most food.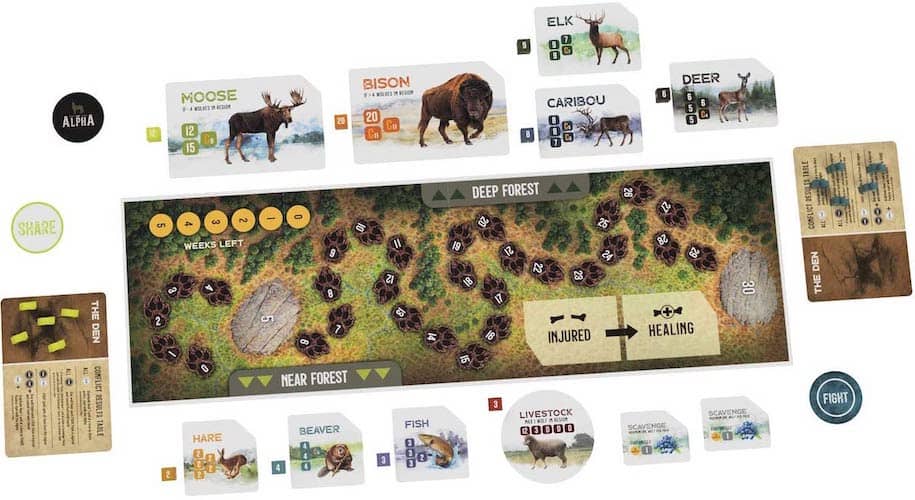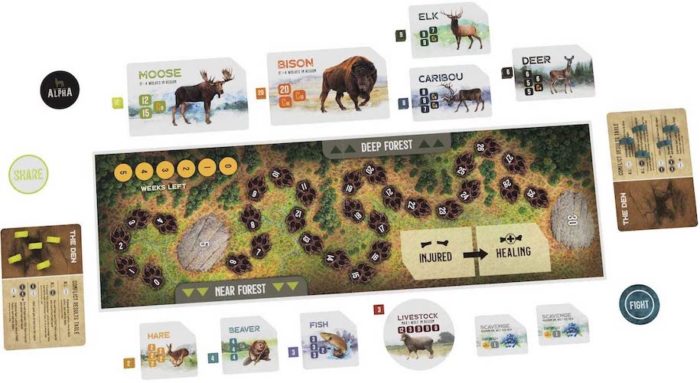 Escape room games
Escape rooms are all the rage these days. So, we asked around, and here are the two most suggested board game formats:
(Board Game for 3 to 5 Players)
Create an escape room at home — choose your challenge and set the timer! You have 60 minutes to exit the room and win the game. Teamwork, creativity, and attention to detail are key to solving these riddles and puzzles.
(Board Game for 1 to 4 Players)
This board game is exciting and intense. The team begins locked in an imaginary room or trapped someplace in each EXIT game. The team has to solve riddles and puzzles to unlock doors and objects and get to new riddles. Each correct answer brings the team to another riddle and eventually to freedom.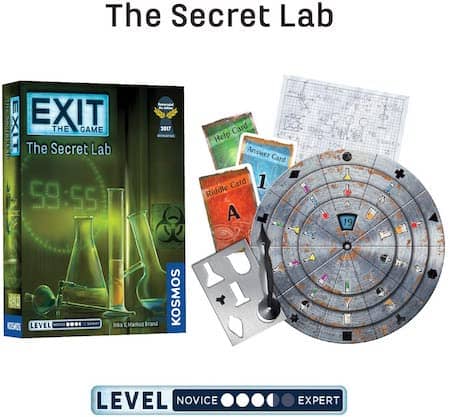 (Board Game for 1 or More Players)
Unsolved Case Files puts the player in the shoes of a cold case detective who has to solve a murder that happened years ago using only the original investigator's case file. This game includes over 50 evidence photos and documents to use to investigate.
(Card game for 4 to 12 players)
This party game creates wacky situations that families and friends will love. One player reads a setup card, like 'While walking past my sister's bedroom, I heard her say…' and then other players choose a punch line card to fill in the blank, hoping the reader will pick theirs as the best.
(Card game for 3 to 6 Players)
It's simple to play: Players flip cards until the symbols on two players' cards match. Matching players race to give an example of their opponent's card category. Face-paced and super fun.

(Board game, 3-6 players)
Anomia is a matching card game that makes you question your smarts. Get ready for fast-paced fun with your friends and family. Players flip cards until the symbols on the two players' cards match. Players then race to give an example of their opponent's card category. It's not as easy as it sounds. Wild Cards and face-offs keep the tension high. And 87% of Amazon reviewers give this game 5 stars.
(Board game, 3-8 players)
Chameleon is a game of social deduction where players must use hidden codes, carefully chosen words, and a bit of finger-pointing to catch the chameleon before they blend in and escape. A bonus of this party favorite: the game is easy to learn (two minutes), great for large groups, and quick to play (fifteen minutes).
(Card game, 4-12+ players)
The New York Times calls Monikers "the perfect party game," and it's easy to understand why. This quick-to-learn, modern take on charades features 440 of the most interesting cards imaginable. It's an "Amazon Choice" with 91% 5-star reviews.
(Card game, 2-8 players)
If you missed this 2019 People's Choice Award Winner for Toy of the Year, it's time to fix that, especially if you've got teens at home. Unstable Unicorns combines their favorite things: unicorns and destruction. The goal is to be the first person to collect seven unicorns in your play area (aka "The Stable") while trying to stop your opponents from doing the same. Get ready to have a blast playing this strategic card game and destroy your friendships…but in a good way.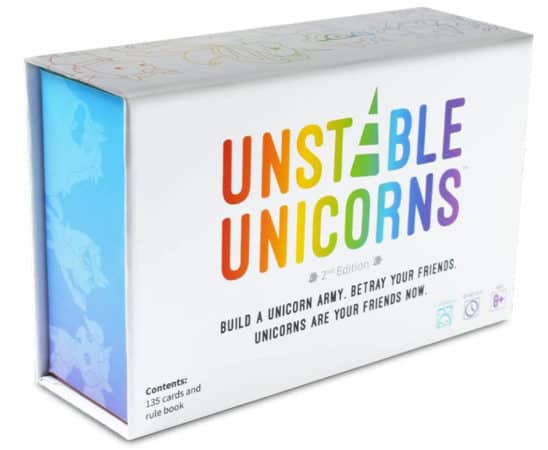 (Card game, 2-8 players)
Get ready to bounce, flip, stack, hop, roll, balance, and catapult your way to victory in this game of challenges that will have you in stitches (the laughing kind). We love that it takes seconds to learn but entertains for hours. The game comes with 160 challenge cards, 80 betting tokens, 10 cups, 5 balls, 4 dice, chopsticks, a memo pad, a tape measure, and a sand timer.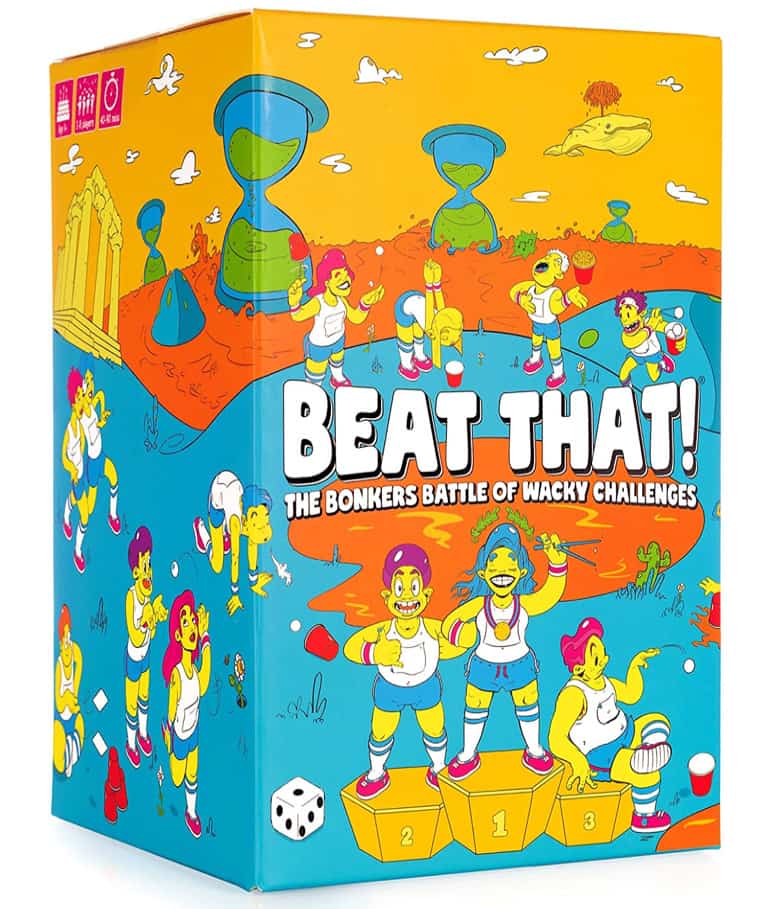 (Card game, Unlimited players)
Answer fun questions and perform silly challenges with your nearest and dearest. Suitable for all ages and easy to learn. Plus, the chance to make hilarious family memories and to get to know your family better than you already do. We're sold.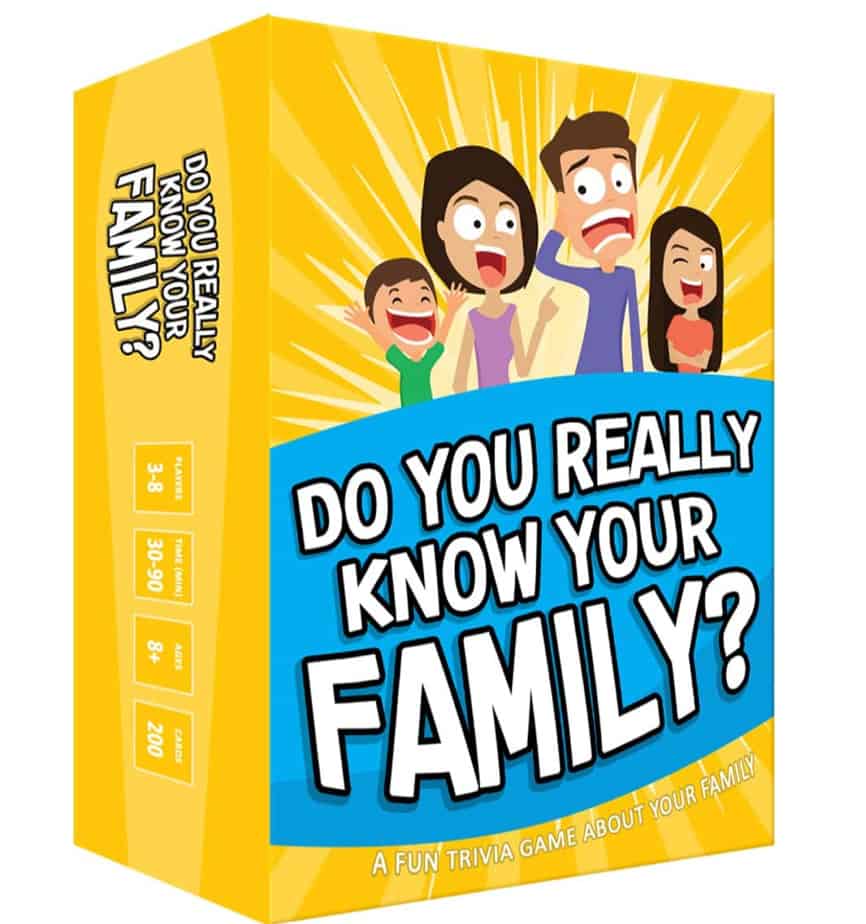 (Card game, 2-5 players)
In this fast-playing card game, you aim to grab the best combination of sushi dishes as they whiz by and become the sushi master. Score points for making the most maki rolls or collecting a full set of sashimi. Delicious fun!
(Card game, 1-8 players)
It is easy to understand why Quidller, The SHORT Word Game, has won over 20 "Best Game Awards." The goal is to arrange all the cards in a hand into one or more words. The number of cards dealt increases with each round, starting with three and ending with ten. Double letters, high-point letters, and bonuses add to the fun. In a WORD, this is a WINNER.
(Board game, 2-4 players)
Who knew that a board game could be so pretty? Say hello to Azul, an award-winning tile placement game. Place tiles, create patterns, and earn points to complete a display board.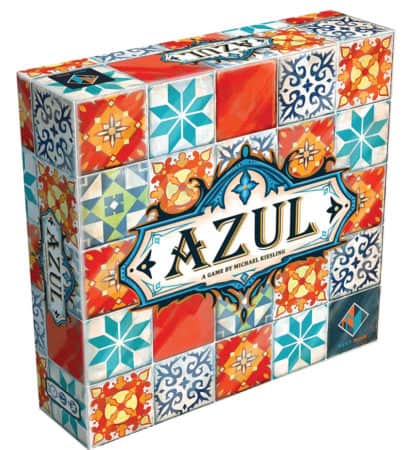 (Board game, 3-8 players)
Can you predict what others are thinking? Blank Slate will put this question to the test. Players secretly write a word that completes a phrase on a cue card and score the most points for matching with only one person. So, choose _______________!
(Dice game, 2-4 players)
Look no further if you're hog-wild (pun intended) for puns and pigs. Pass the Pigs is a simple game of chance built around a pig theme. Instead of dice, you roll two cute pink piglets, gaining or losing points depending on how the critters land. Cue the laughter and squeals (couldn't resist) of delight.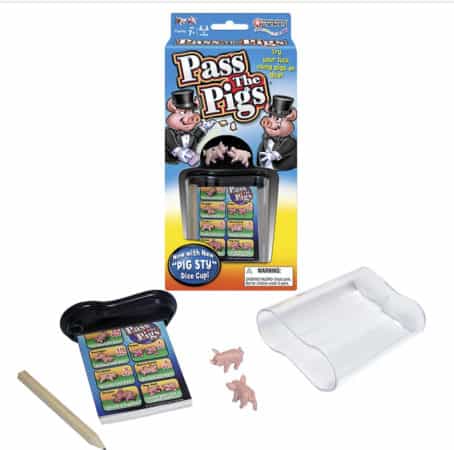 This wildly popular card game has taken over the number one spot for strategic card games. People love it.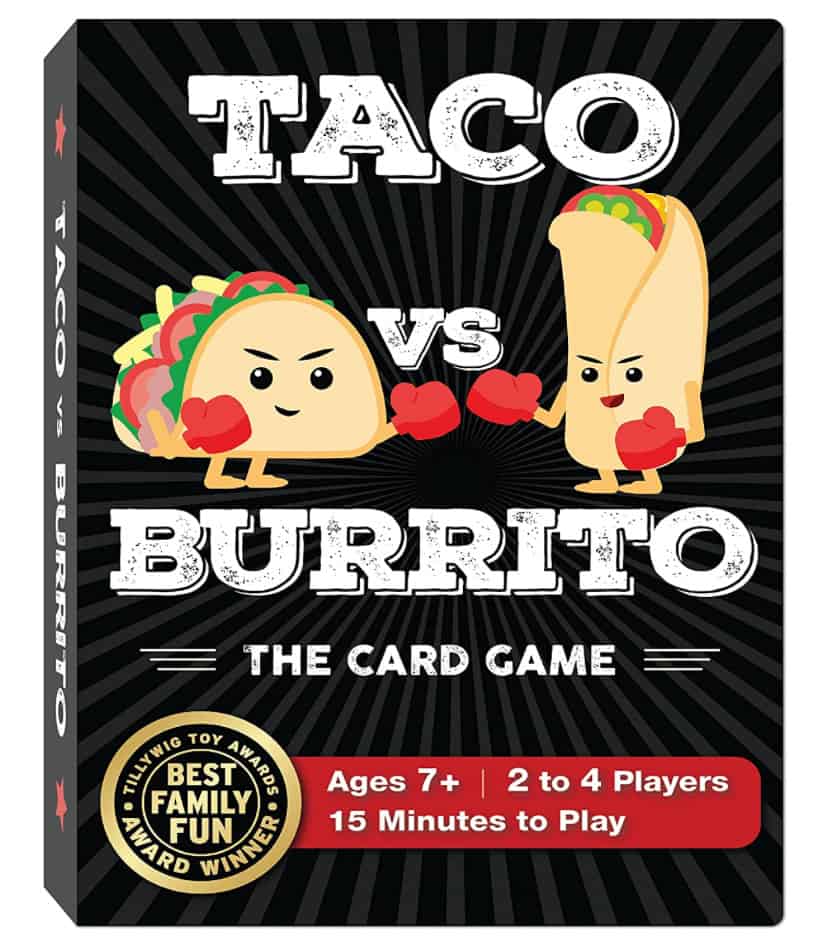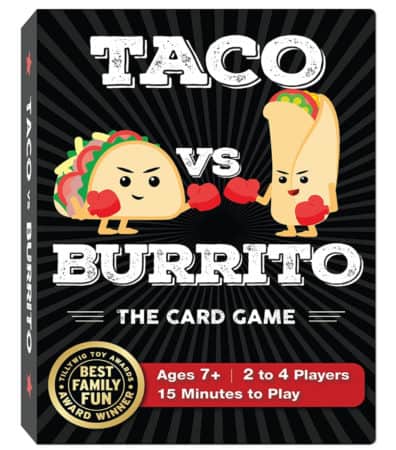 Quick, strategic board game full of ways to become a superior city-builder. people have been raving about this one.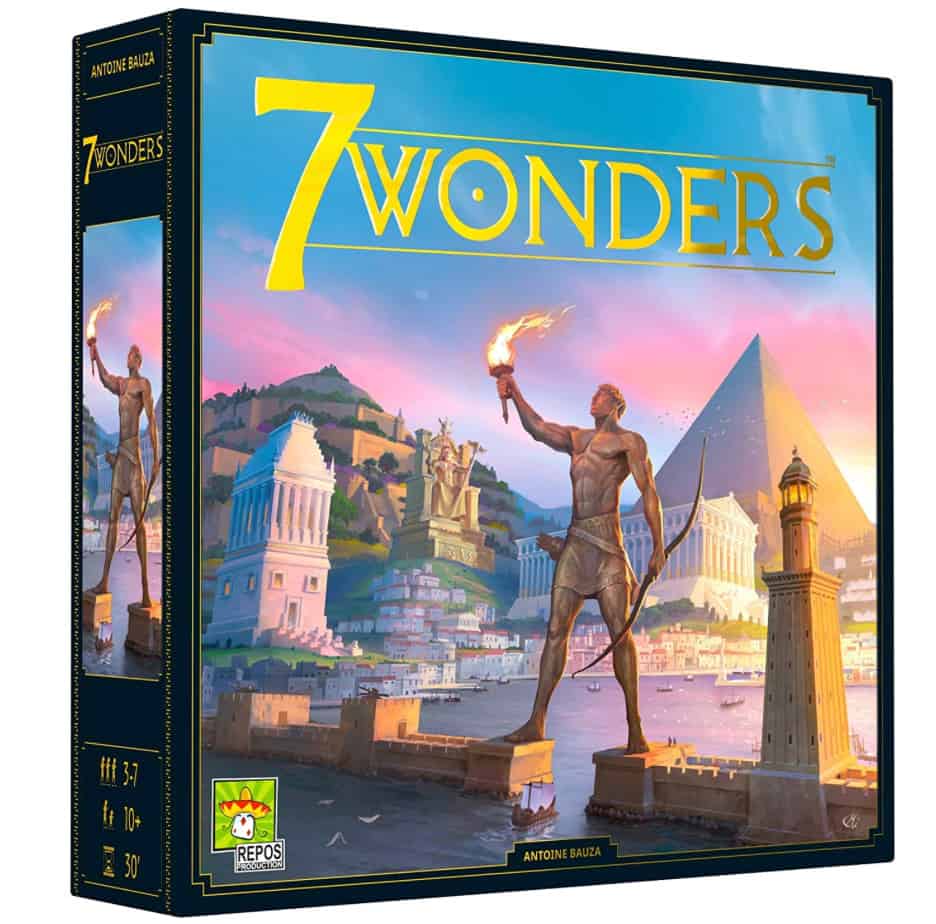 (Board Game 3 to 7 players)
(Players: 1 to 4 players Ages: 10+ Playing Time: 30 – 45 minutes)
This is a gorgeous spatial puzzle game for the whole family that takes a journey to the Pacific Northwest as players compete to create the most harmonious ecosystem in Cascadia.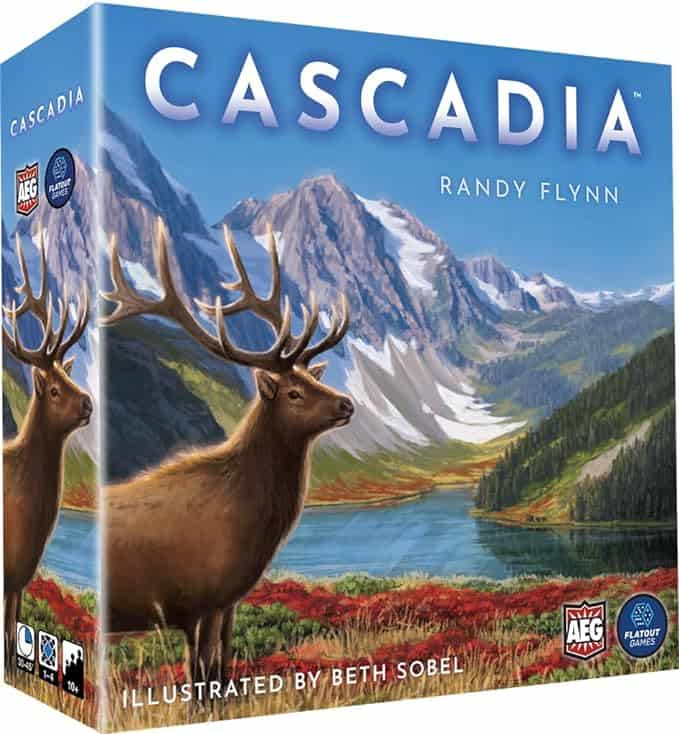 (Players: 2 to 4 players Ages: 10+ Playing Time: 30 minutes)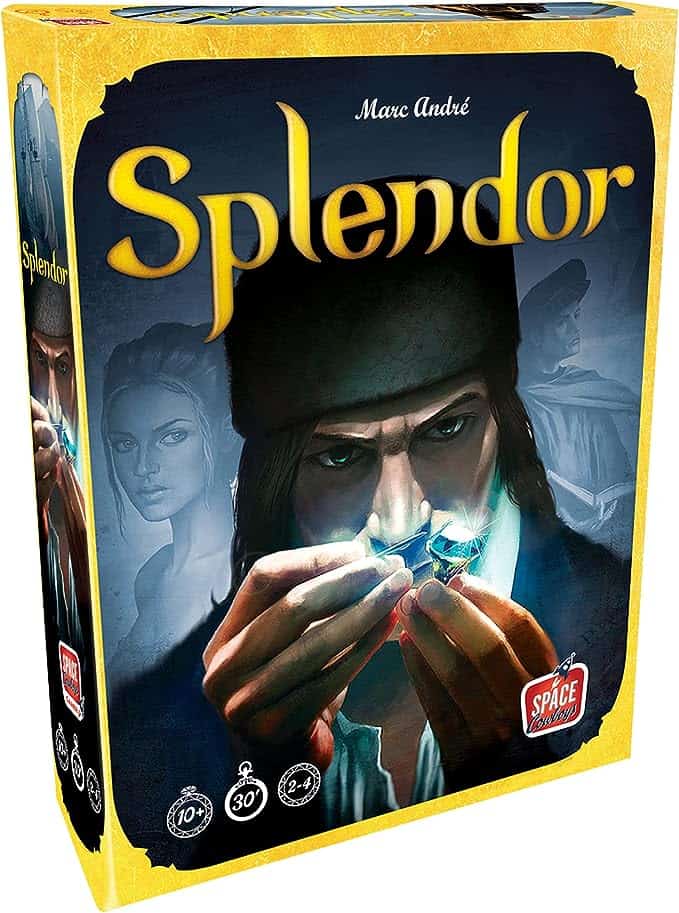 Join this race for prestige and power as players seek to regain control of trade routes and gems in Renaissance Europe. Everyone is a winner with this game, and it's 13K 5-star reviews on Amazon.
More Christmas Gift Ideas: