Today's the day to nab some of the fantastic Cyber Monday deals on presents you've had your eye on for weeks. We were thrilled when we spied many of our very favorite gifts for teens and young adults discounted today. We will update this post as we find more amazing Cyber Monday deals.


We receive small amounts of compensation from purchases made through some of these links. Prices and availability are subject to change.  
Cyber Monday Deals
Kendra Scott
Kendra Scott jewelery and decor are simply gorgeous and customizing pieces with stones to match your daughter's favorite colors is one aspect of her jewelry that makes KS so unique. Have you discovered her charms collection that is new this fall? These are NOT what you might think about when you think of charm bracelets and are among our favorite new picks at her site.  There is so much to choose from and today, you can find discounts up to 60%!!! off. 
23andMe
Here is a good way for your teen to learn about their DNA. Now $40 off the ancestry kit and $100 off the ancestry and health kit.  
Uniqlo
There are several Uniqlo stores in NYC and we pop in there all the time to shop for ourselves and our families. This Japanese-based emporium has everything you could imagine to buy for your sons and daughters and we LOVE their jackets, their tops, bottoms…basically EVERYTHING about Uniqlo is exceptional. Their clothes are stylish, well-made, and incredibly well-priced. Today, the bargains are too good to pass up.
Wayfair
When my daughter recently moved into an apartment with a friend, they needed furniture and found some fantastic deals on rugs, furnishings, and more at Wayfair. Their Cyber Monday deals are simply too good to pass up, especially if you have a young adult moving into a new place, too.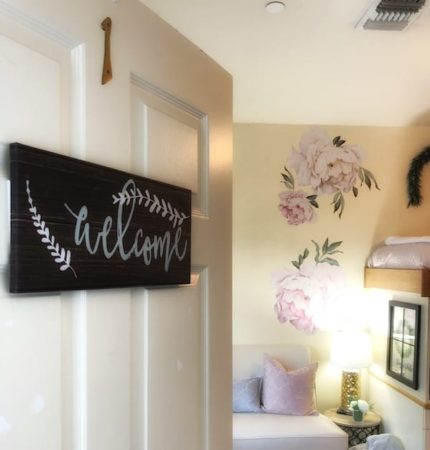 Oculus Go VR 
For a teen or young adult who is intrigued by virtual reality, this is a relatively inexpensive way to take the plunge. Download the app on a phone and tap into the library of mobile games. the sound is built into the headset so not need for additional components.  Now, save $20, 10% 
T-Shirt Quilt by Project Repat
Thinking of ordering a T-Shirt quilt for your son or daughter? Gather up the stack of their favorite t-shrts from high school events, their teams, at camp, etc. and have an heirloom quilt made by one of Grown and Flown's favorites,
Amazon Fire HD 10 With Alexa
If you're looking for a great deal on a tablet that's optimal for watching movies in full HD video, playing games, streaming content, or reading, this is a great Cyber Monday deal. You can make video calls on it and Prime members get unlimited access to millions of songs, thousands of movies and TV episodes, and unlimited access to over a thousand magazines and books  – all at no additional cost. Now, save $50, 33%
Athleta Winter Wear (and more)
Have you tried the workout gear from Athleta? Did you know that they also have fantastic outer-wear, (like this adorable vest) tops, bottoms, and much more for girls and women? This is a one-stop destination for a wide array of apparel, including harder to fit sizing. Today, take 20% off your purchase with code BOOST.
Pura Vida Bracelets – 50% off
These trendy bracelets are made by artisans all over the world. Through sales of their charity collection, Pura Vida has donated over $1.5 million to 174 non-profits.
Wireless Headphones
Wireless headphones are the IT technology gift this year for many teens and college students. Like Apple Airpods, the Jabra Elites are wireless and have excellent sound for calls. They are also water-resistant, block outside noise and, according to the some audio experts, have even better sound quality than the Apple ones.  Now, save $50, 29%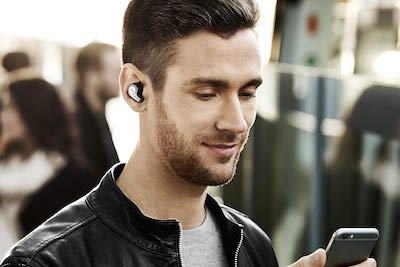 Belkin Charging Pad 
Belkin is a very popular maker of wireless charging accessories and works with Apple to optimize performance for their phones.  No need to remove a phone from the case to get a super-rapid charge. Now, save $30, 50%
Outdoor Voices
My daughter and I are a little bit obsessed with Outdoor Voices and we are part of the "cult following" that this brand has attracted. With a tag line of #DoingThings, Outdoor Voices wants to outfit young women and guys, too, with all they need to be active in whatever way they choose. They are having great sales today and, if your daughter lives in ahtleisure wear, introduce her to this fantastic brand.  She will be so impressed that you are in the know. Great sales going on today.

College Corn Hole Set
Is your teen a sports fanatic? Does your family love to tailgate at college games? There are discounts on these officially licensed corn hole sets. Check out the drop down menu to see if our college is included.  Save $45, 20%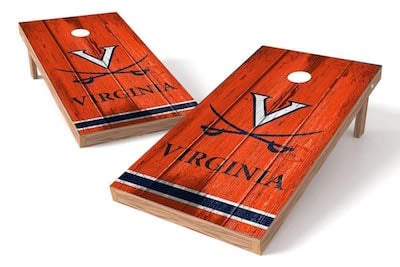 Fanchest
For any sports-obsessed teen or young adult, this could be a favorite box to open. It will be filled with fan gear from the NHL, NFL, NCAA, NBA, or MLB team that they cheer for. Now, sitewide sale of 20% off
Spanx
If you only think of Spanx as shape wear, you need to visit their site to see all the other apparel offered, Now take 20% sitewide.
Faherty
Have you taken a look at this beachy, California-inspired apparel brand for men and women?  We love this vest and so much more, especially when we can save 25%. 
The Container Store

The array of excellent products at The Container Store make it a must-shop destination if you are looking for storage units for kitchen, bedroom and dorm rooms, especially. They have beautiful Christmas wrapping paper and lots of clever ideas for stocking stuffers, too. This week will feature 20% off a different department each day. 
Makeup Mirror and more!
This makeup mirror does so much more than provide illumination and magnification. This one also has hands-free bluetooth speaker phone, bluetooth audio and charges a phone, too.  Multitasking that works. Save $50, 26%
Phone Case
If you've bought you teen an expensive phone, now is not the time to scrimp on a phone case and there are many discounted by 30%.  My daughter loves her wallet-style case that has a sliding door to carry her ID, credit card and a few dollars – no need to tote around a purse or wallet when you have a case like this one.
Card Ninja Adhesive Credit Card Wallet for Phones 
These ingenious elastic panels that adhere to the back of  phone have space for 8 cards. These are inexpensive to begin with and now, save 46% on the basic black one – great stocking stuffer idea.
Fujifilm Instax Instant Camera 
Taking photos that you can print out has become super popular and the Fujifilm camera is among the favorite new instant cameras on the market. We like this ice blue color but there are five to choose from if think your teen would prefer a different look. Now, save $11, 16%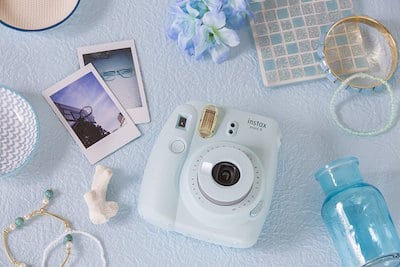 Amazon Basics Bedding
Diving into dorm shopping for a soon-to-be college students is a good way to spread out the costs of outfitting your teen for freshman year. Check out Amazon basics for bedding, towels and more. 
Toaster Oven
Breville toaster ovens come in a range of sizes and we think this one, the Mini, would fit the best in a first apartment. There are eight cooking settings and the shelf can be adjusted to three heights. This might quickly become your teen or young adult's go-to appliance for toasting bagels, baking cookies, or heating up a frozen pizza. Save $30, 20%
Amazon Echo, Kindle and More
Amazon devices are discounted for Cyber Monday and prices start at $19.99. Check them out here.
Echo Dot (3rd gen)
The Echo Dot keeps getting better and better  and this 3rd generation has an amazing number of applications to explore. If you are curious about how you or your teen could benefit from having digital assistant, Alexa, in your life, now's the time to buy. Now, save $26, 52%
Bose Headphones 
Bose headphones get high marks for audio quality and now come with this model that is wireless and has Alexa-controlled controls. Your college student will be incredibly grateful that you purchased them for their noisy dorm. Save $50, 14%

Vineyard Vines
VV has some of the nicest cotton apparel including shirts, boxers and sweaters, some of which come with team and college logos. It is very popular with college guys and girls who favor a classic or preppy look. Save 25- 40%. 
Casper
Casper has revolutionized this market with their excellent mattresses, innovative delivery (they arrive in a box), and terrific customer service.  Now through 11/26 save 10% on a new mattress with code COZY10. Plus, Casper will donate a set of sheets to the America Red Cross with every mattress purchase.
Cyber Monday Deals on Shoes and Boots
Margaux Shoes
We are big fans of the gorgeous suede loafers and the booties which have just the right heel size to be stylish and comfortable. This NYC-based shoe retailer has the prettiest ballet flats and heels – get a pair for you daughter and one for you, too! Site wide sale today of 20% off
Nordstrom has this Cyber Monday deal – spend $250 and get $50 back. 
Nordstrom's boot and shoe collections are legendary with lots of options to pick from.
Sorel Boots
Does your teen or college student need new snow boots? Sorel has select styles for men and women discounted by 55% with code SORELBOOTS
Stuart Weitzman
This is one of our favorite brands for shoes and boots and, with this sale, we will be looking for bargains for our daughters (and for ourselves, too.) They stock sizes in harder to fit widths, too. Today 20% off with code CYBER20
More Cyber Monday Deals from Our Favorite Stores
Bed,Bath & Beyond Cyber Monday deals are all here.  
Here's where to find amazing Cyber Monday deals at Target – extra 15% off Target.com
Dick's Sporting Goods has Cyber Monday specials here 
Nordstrom has this Cyber Monday deal – spend $250 and get $50 back. 
Academy Sportswear has 30-40% off throughout the site. 
See ALL of Grown and Flown 2018 Holiday Gift Guides here
SaveSave
SaveSave
SaveSave
SaveSave
SaveSave
SaveSave
SaveSave
SaveSave
SaveSave
SaveSave
SaveSave
SaveSave
SaveSaveSaveSave