Who are you and why should we read you?
Mary Dell Harrington and Lisa (Endlich) Heffernan, co-founders of Grown and Flown, are writers (NY Times bestseller), moms, wives and friends. In past incarnations we have worked in television and media, on Wall Street and in politics. Although we live in New York, Mary Dell is from Texas and Lisa is from California. We have college kids and young adults. You can find our writing on The New York Times Motherlode, The Washington Post On Parenting, The Atlantic, Forbes, and Vox.com.  Or a bit more about us in People! You can find Lisa's Amazon Page here.
For two years we worked on alternate Tuesday mornings at our children's school. After Mary Dell made the coffee and Lisa poured it we largely ignored our responsibilities and talked incessantly about the changes happening in our lives as our eldest sons were on the threshold of walking out of our thresholds.  It is a big life changing moment for every parent and we hope this blog can become a spot where parents can meet and discuss and even advise. Sorry coffee not included.
But we would love to send you a weekly email…Subscribe here  and you can find us on Facebook here.    Or, send us an email at [email protected]
What do you write about?
We try to cover the range of issue relating to raising kids ages 15-25.  We write about High School,  College,  Coming Home,  Good Parenting,  Bad Parenting, and Lessons Learned from Other Parents and Grandparents
Are you crazy? Why didn't you move back to someplace warm?
We thought about that, but time, children, husbands and jobs all intervened.  Despite accents to the contrary we have probably become New Yorkers.
Is this just a "mommy blog" for old mommies?
Hmmm, maybe.  But if we steer the conversation away from diapers and sleep deprivation and instead ponder the teen years, college admissions and when to cut your kids off the family payroll, will you join in the discussion?
I am not sure that I am your audience as my kids are still home and in high school.
If you are thinking, worrying, or just pondering what it will be like when some or all of your kids call another place home (even if it is just their grimy dorm room) then this conversation is for you.
If parents are still so important in kids' lives after they leave home, why do they never call?
They just don't always know how important we are to them, still. So, calling – not much; texting – more; video-chatting – if they want to see the family dog – frequently!
Do you really care what readers have to say or are you just going to talk about your lives and kids?
In two words, yes and no.  We care deeply about what our readers have to say and what they think.  If we didn't care we could just send all of this back in forth between the two of us in an endless series of emails.  No, we are not just going to talk about our kids; those stories we will send back and forth between the two of us in emails.
If I write something for Grown and Flown will you publish it?
If we like it, yes!  We would love to hear your thoughts on kids leaving, kids coming back, kids leaving again and what this means to us as parents, spouses and friends. Tell us what makes you laugh or cry.  If we think other readers will be interested in your piece we will post you front and center.  If you just have a few thoughts on something you read, comments are always welcome. if you want your name attached, great, if not, that's fine too.  We PAY our writers so SUBMIT HERE.
Do your kids know that you are writing about them?  Do you worry they will retaliate with their own blog?
Shhhhh. We are waiting until they call us to break the news.
Checking Grown and Flown every day might take too much time, would you just email me things I might be interested in?
Give us your email, we will do the rest.
How do you feel about dogs?
We love them and do not love them. Mary Dell will tell you some of the ways they have changed her life and she has, in turn, used this passion to enrich others' lives.  Lisa just sees a lot of dog hair on her family room carpet. We can agree that there will never, ever be any cats in either house.
Photo Credit Above: Catherine White (cathrinewhitephotography.com)
"Grown and Flown" and "Grown & Flown" are the exclusive property of Grown and Flown LLC and no use may be made without the express written consent of Grown and Flown LLC.
Meet The Team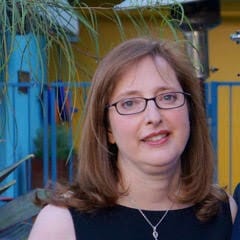 Helene Wingens
Managing Editor
Helene Wingens has always been passionate about painting pictures with words. She has been writing and editing since the beginning of time. She graduated from Brandeis University with a degree in psychology and three years later from Boston University School of Law with a Juris Doctor. In a year long clerkship for an appellate judge Helene honed her writing skills by drafting weekly appellate memoranda. She practiced law until she practically perfected it and after taking a brief twenty year hiatus to raise her three children she began writing a personal blog Her essays have been published in: Scary Mommy, BonBonBreak, Kveller, Better After 50, The Forward, Club Mid, and Grown and Flown where she is a Contributing Editor. You can visit Helene's website here

Christine Burke
Assistant Editor
Christine Burke started the popular parenting blog,
keeperofthefruitloops.com
five years ago on a whim. Since then, her work has been featured on the Today Show, the Today Parenting Team, Scary Mommy and other parenting websites as well as in three humor anthologies. She previously worked for four years as a Staff Writer and Social Media Manager at Scary Mommy. She is a St. Jude Research Hospital Blog Ambassador and a spokeswoman for Clorox. She also runs a successful social media consulting freelance business. As Assistant Editor of Grown and Flown, she writes about the realities of soon sending her not so little anymore kids off to college and prays she doesn't use too many comma splices in the process. In her spare time, she runs marathons, collects thrift shop finds and eats ice cream like it's her job.
Theresa Beach Kilman
Contributing Photographer
Theresa Beach Kilman loves to take pictures, especially those depicting the love all parents feel for their children. Her four young adults and one son-in-law ­­­– her favorite models – calls these photos "Grown and Flown shots." When she isn't taking pictures, Theresa works with local nonprofits to try to make her corner of the world a bit better for everyone. She also enjoys family outings, traveling with her husband, yoga and reading.
Allison Lancaster
Social Media Manager, Contributing Writer
Allison Lancaster is a blogger and work-at-home mom. She has always had a passion for writing and after becoming a mom in 2015, decided to turn her passion into her career. Her writing has been featured on Grown & Flown, the Huffington Post, Scary Mommy and more. She resides in Tennessee with her husband, Josh and son, Levi. You can visit her blog at www.lovinglivinglancaster.com where she shares her thoughts on parenting and more.
Lauren Lodder
Social Media Manager, Contributing Writer
Lauren Lodder earned her BA from UC Berkeley and her MA from CSUF. She teaches Writing and Victorian Literature at the college level. Her writing has appeared on HuffPost Parents, Scary Mommy, and BuzzFeed. You can connect with her on Facebook.
Dee Dee Becker
Grown and Flown Parents Facebook Group Moderator
Dee Dee Becker offers a wealth of marketing, communications and PR experience which began in nonprofit healthcare more than thirty years ago. Her background includes planning and managing corporate communications and PR initiatives for health care organizations, ranging from mergers and acquisitions to program and service line publicity and crisis management.
This University of Mary Washington graduate wears myriad other hats: Virginia Tech Hokie mom. Happy wife. Eldest of six girls. Administrator for the Virginia Tech Parents Facebook group and moderator of the internationally celebrated Grown and Flown Parents Group.
Carolyn Keeler Brown
Grown and Flown Parents Facebook Group Moderator
Carolyn Keeler Brown is a full-time SAHM with 3 kids. She and her family live outside of Chicago. She is an LPC, CADC by trade and utilizes these skills as a volunteer family coach for Safe Families for Children, a nonprofit that helps at-risk families. In her spare time she enjoys vegetable gardening, loves to cook, read, visiting her semi-flown child and is often trying to come up with interesting things to keep her physically active.
Lisa Bolton Singelyn
Grown and Flown Parents Facebook Group Moderator
Lisa is a wife and the proud mom of two Grown & Flown sons and a college-aged daughter. She's a native Californian and graduate of USC who says her greatest accomplishment is raising kids who turned out to be good people. As the Vice President of Social Media and Influencer Operations at The Marketing Arm in Dallas, she says she "gets paid to be on Facebook." She's a recovering PTA President and new empty nester who enjoys gardening, crafting, boating and knowing that she'll never again have to wash stinky football and cheer uniforms.
Maureen Cooney Stiles
Grown and Flown Parents Facebook Group Moderator
Maureen Stiles writes at her blog, Magnificence in the Mundane, where she chronicles the beauty within the chaos of raising three boys and a dog with her husband, given that the dog is the only one that really understands her. You can also follow Maureen on Facebook and Twitter.