Grown and Flown on
Television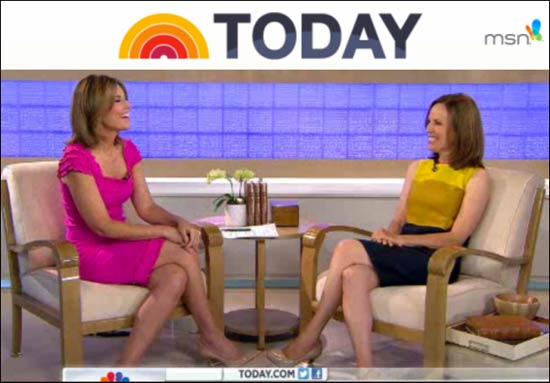 Grown and Flown on 
The New York Times
For Freshmen, Campus Life Poses New Risks
What College Sports Recruiters Can Teach Your Child
Advice College Admissions Officers Give Their Own Kids
Thanksgiving, With College Students: Fantasy, Reality, and Getting It Right
Our Push For "Passion", And Why It Harms Kids
Would a Different Job Make You a Different Parent?
Grown and Flown on

TODAY.com
College kids home for the holidays? 8 ways to make it fun, not frustrating
Students comfort their grieving high school with locker notes for every kid
Consent, for kids: Cute video aims to explain and empower
In defense of participation trophies: Why they really do teach the right values
How to deal when a child heads off to college: A parent's survival guide
Grown and Flown on

Vox.com
Want to keep mothers in the workforce? Make it possible for them to stay.
9 things I wish I'd known before I became a stay-at-home mom
Grown and Flown on
NBCNews.com
Ready For College? Why Some Students Are More Prepared Than Others
Make the Most of Your College Campus Tours With These 10 Tips
Survey: Most Freshmen Are Not Emotionally Prepared for College
Send an Awesome Care Package to Your College Student With These Items
Kids Off at College? Seven Reasons Empty Nest Can Be A Good Thing
I Don't Want to Talk About It! How to Discuss College With Your Kid
Parents: Ready to Feel Old? Here's How College Is Different Now
College Freshmen Will Get Sick. Here's How to Prepare
Sick at School? Read Our Survival Guide For College Students
How'd the SAT Go? Ten Toxic College Questions to Never Ask a Teen
'What Do You Do?': A Stay-at-Home-Mother's Most Dreaded Question
Parents Ruin Sports for Their Kids by Obsessing About Winning
The Case for Nagging Kids About Their Homework
Grown and Flown on 
Forbes
For Working Women Focus on Beauty Erodes Self-Confidence
"Princeton Mom' Gives Dumb Advice on Marrying Smart
Grown and Flown on
The Washington Post 
Parents, get your kids out to vote. Or tell them the WiFi is no longer free.
To get into college, Harvard report advocates for kindness instead of overachieving
What I've Learned: When Teens Lie
9 Things I Learned from my 36 Parent-Teacher Conferences
A Daughter at College, a Lot of Worries
8 Things Your College Kid Needs to Know Before School Starts
Grown and Flown on
Scary Mommy 
Ten Reasons All Children Need Good Manners
Saying Goodbye to the Sideline
Giving Our Children the Gift of Failure
Off to College, Moving Out and Moving On
Off to College: Your Complete Guide to For a Dorm Room
Off to College: The Serious Talk You Should Have With Your Child
How to Have a Healthy Adult Relationship With Your Daughter
Why I Regret Being a Stay-at-Home Mom
Oversharing: Why Do We Do It and How Do We Stop?
6 Ways Stay-at-Home Moms Can Keep the Pilot Light on Under Their Careers
10 Changes in Parenting in 10 Years
Why We Don't Need Family Dinners
My 4 Big Parenting Mistakes And Why It Is Not Too Late
Caught In My Own Crossfire: The Mommy War Within
Parenthood: It Doesn't Get Easier
The Day Women Took Over Harvard Business School
World Autism Awareness Day 2013: A Conversation With Bob And Suzanne Wright, Co-Founders Of Autism Speaks
Torn Apart: Immigration and the American Family
12 Reasons I Will Miss 'Downton Abbey'