Here are 12 wonderful presents to consider for holiday gifts for teens, college kids or young adults. These range from $10- $60, are perfect for both guys and girls and are ALL available on Amazon. That means, if you are a Prime member, you can order them TODAY and receive them with FREE shipping in two days making them the perfect last-minute holiday gifts.
For all of the Grown and Flown holiday gifts, book lists and stocking stuffers, check out our Amazon store here. 
Note: We receive a small amount of compensation from purchases made through some of the links in this post.
Last-Minute Holiday Gifts for Teens and College Kids
1. Belkin Wireless Charging Pad
Belkin is a leader in charging technology and they have excellent devices that are designed to work extremely well with Apple products. This pad will charge iPhone model 8 and later in record time. Led light indicates when it is fully charged. Also compatible with other Qi-enabled devices from Samsung, LG, Sony and more.
MY LATEST VIDEOS
Never get the, "Mom, I lost my keys, wallet, purse…" call again. These slip into wallets, backpacks, and affix to keys.
3. Glass Tea Tumbler and Fruit Water Travel Bottle
If your son, daughter, niece or nephew prefers cold drinks or tea over coffee, this elegant bottle is a wonderful solution.  Made with double-wall insulated glass, this travel bottle comes with a strainer to use with loose tea or it can easily be used with water and cut up fruit as well as for smoothies.
4. Apollo General Tool Set
All adults need tools and why not teach your teen or college kid how to use the basics over the holidays?  This set is well-priced and makes a great gift for any off-to-college teen or someone moving into a first apartment.
5. Vornado Air Circulator
Dorm rooms and college apartments are stuffy (that may be the nicest way to describe them)  and can be overheated in the winter. This small air-crculating machine can help.
6. Moleskine Toy Story Limited Edition Notebook
Moleskin makes the most wonderful notebooks to keep in a backpack or tote bag and now, they have released limited edition versions with iconic covers and special features.  We are partial to this one with our favorite Toy Story characters because, well, we cry every time we watch Toy Story 3.
7. Burt's Bees 100% Natural Moisturizing Lip Balm
A little pampering in some favorite flavors.  Lip balm is something everyone needs during the winter months.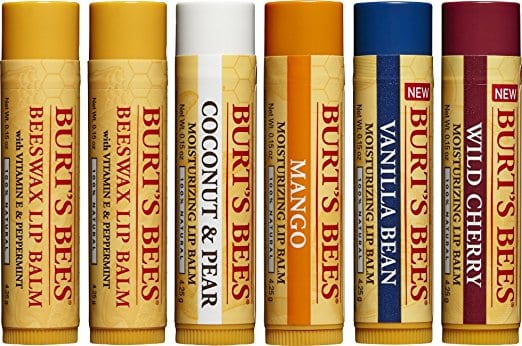 8. Roku Express
Roku is an inexpensive and easy way to watch TV and there are NO monthly fees to pay. Roku gives you access to 450,000+ movies and TV episodes across 4,500+ paid or free channels, You Tube, Netflix, Hulu, Google Play, and more.
9. Ultra Lightweight Packable Backpack
For your older kids who seem to be in perpetual motion, these very lightweight, water resistant backpacks can be stored in a tiny sandwich-sized pouch and opened up to use for hiking, as a carry on bag, for gym clothes. It has straps and interior pockets adding to the functionality as a daily-use backpack. Available in multiple colors.
10. All-new Echo Dot (3rd Gen)
The Echo devices keep getting smarter and smarter and your kid will love getting a Dot, now in it's third generation. There are 50,000 apps – (WOW) – and some of the ones they will use right away are asking Alexa to play music, answer questions, check the weather forecast, and set alarms.  Music can be streamed from Amazon Music, Pandora, Spotify and more. And now, with this model, they can make calls hands-free with compatible devices.
11. Hanging Travel Toiletry Bag
Having a travel bag for cosmetics and toiletries is a must for anyone with a trip in their future and the hook on this one that can hang in a cramped space would work well when countertop space is at a premium, like most shared college apartments.
Amazon Prime is free for the first six months and a 50% savings after that versus regular Prime ($6.49/month). There are lots of deals offered to Student Prime members, exclusively, and they can take advantage of the FREE 2-day shipping and the ability to stream so many movies and TV shows.  This is the last-minute holiday gift for teens and college kids that keeps on giving.