If you're looking for something different, meaningful and fabulous for your teen, look no further. We've got a list for you of unique gifts from one of our favorite sites, UncommonGoods.  Not only do they sell presents you can't find anywhere, and offer a very cool way to sort gifts by your recipient's interests, but they also do much good for the world.
With their Better to Give program, customers may choose one of the UncommonGoods nonprofit partners at checkout and then the company will donate $1 on their behalf. Since 2001, they have donated over $2,000,000. That's a lot of giving! Now, you can join the UncommonGoods Perks Program  which means you get free shipping, twice your Better to Give donation at checkout, and two $5 credits for the year.
Note: We receive compensation from purchases made through some of the links in this post. 
1.Wishbeads Bracelet
What parent doesn't have a secret wish for their daughter? This gorgeous bracelet, which can be ordered in one of 5 stones – lapis lazuli, rose quartz, grass agate, coral jade, chakra gemstone – has room in the clasp for a personal message.
2.100 Movie Scratch Off
For your movie-lovers, as they watch these classics, they can scratch off the title to reveal movie-related artwork.
3.The Path Necklace
Featuring a powerful quote from Ralph Waldo Emerson, this beautiful piece provides a reminder to forge your own trail. Green tourmaline promotes creativity, and smoky quartz calms to clear the psyche. The silver bar represents their path.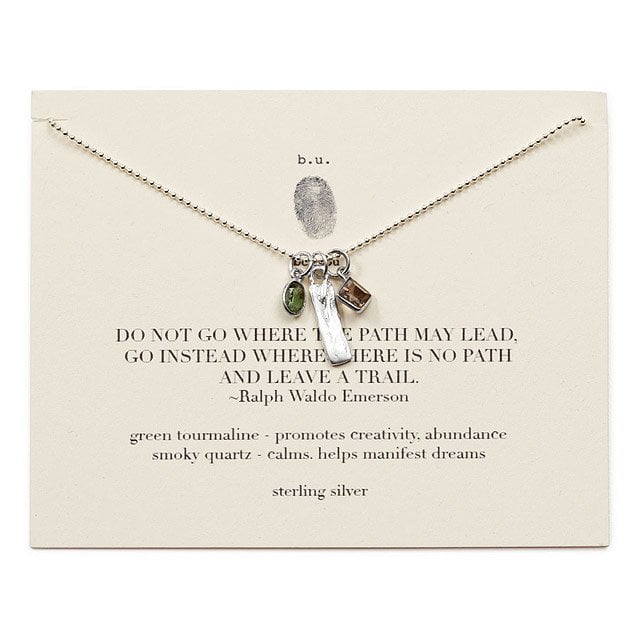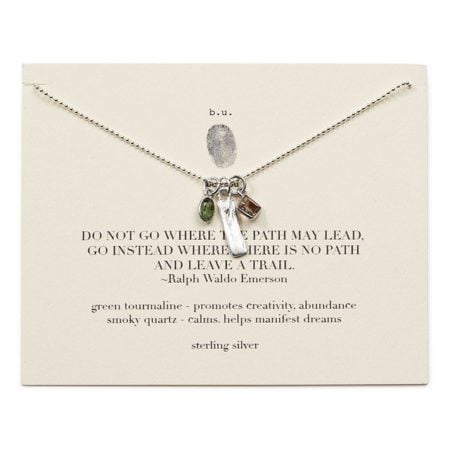 4.Custom Pet Pillows
Personalize a pillow with your pet's likeness. Just submit a photo and it will be used to create a keepsake pillow that your teen will cherish. Especially if they will be off to college soon and want a reminder of their best buddy to take with them.
5.Long Distance Friendship Lamp 
Sync up your lamps via WiFi. Then you keep one lamp and give one to your kid, your mom, your sister or a friend and when you touch your lamp, theirs will light up as well even if they are clear across the country.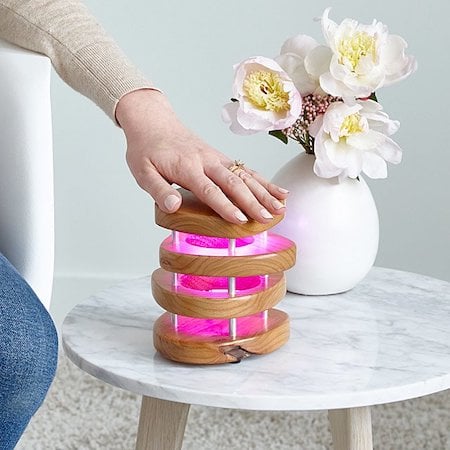 6.DIY Lip Balm Kit
The kit includes cocoa butter, sunflower oil, beeswax, and organic essential oils, a recipe card and tins for the finished product.
7.Earth and Beyond Handmade Bracelets
Made by artisans in Guatemala, each of these 10 bracelets represents a planet, with their beautiful threads and beads. Comes with a card that tells the story of each bracelet.
8.Drink More Water Bottle
It's hard to remember to hydrate. This glass and stainless steel bottle will remind your busy teen or college student with motivational messages like "Keep Going! Getting Close!"
9.Bedside Essentials Pocket
This handsome, convenient pouch will help your college student keep their essentials close by their bed.
Looking for a gift for the PARENT of a teen? We have you covered with the Grown and Flown book! (Pairs well with the UncommonGoods flavor infuser water bottle.)
10.DIY Mochi Ice Cream Kit
For your budding cook who is also a Japanese-food enthusiast, this kit has green tea and cocoa powder to add to ice cream to create these unique frozen ice cream balls.
11.Fix it Kit
This portable collection of handy tools will keep your teen's life in good repair. The compact set includes all the basics for dorm and first apartment living: Hammer, LED Flashlight, Pliers, Tape Measure, Screwdriver with 10 assorted screwdriver bits. Available in pink or black.
12,Embroidered College Pillows
These collegiate pillows are embroidered with all the highlights that make each college unique. This extra stylish and personal throw pillow is a keepsake gift that your teen or young adult will enjoy for years to come.
13, Tea Bag Pocket Mug
For your tea-drinking son or daughter, this clever mug has a pocket for their tea bag.
14,My Life Story – So Far
Give this journal to your young adult kid so they can write all about their life adventures.
15.Game Used Baseball Bat Bottle Openers
Here's great gift for the baseball buff in your life. These baseball bat bottle openers are handmade from game-day bats swung by MLB players.
16.Mother & Daughter Letter Book Set
This letter book set includes 40 cards and hundreds of writing prompts that help you get started creating a legacy for your daughter.
17.Travel Cord Roll
It's so hard to keep track of electronics cords when traveling. This travel roll stores charger cords and earbuds which will help your teen stay organized when on the go. Great for students who fly to and from college or have a study abroad in their future.
18.Tabletop Cornhole
Beginners and pros alike will enjoy this wooden, tabletop corn hole game.
19.Bubble Tea Kit
Your teen can make their own bubble tea, hot or cold; either classic black and rooibos chai—tapioca pearls, and two reusable stainless steel straws.
20.Make Your Own Hot Sauce Kit
If your teen loves spicy foods, they can follow simple rules and make their your own hot sauce as fiery, or not, as they want.
21.Game of Phones 
Pick a prompt card and see who can use their iPhone the fastest to do as directed.
22.Scratch Map
The world is their oyster so help your teens track their travels with this "scratch-off-where-you've-been map."
23.Fitness Bottle with Phone Holding Sleeve
This water bottle holder is awesome. Your teen or young adult can keep all of their things together –  phone, keys or other essentials – and stay hydrated at the gym.
24.Avocado Huggers
Your avocado-loving teen only needs half an avocado; how to you store the other half without it turning black? They can use this form-fitting silicone cup to preserve their avocado perfectly.
25.Recycled Glass Tree Globes – Relationships
Beautiful 100%  handmade, recycled glass globes, the globes are made from shards of glass used for car, home, and office windows and they symbolize family and friendship. A keepsake for holidays to come!
You May Also Enjoy:
25 UncommonGoods Gifts for Under $25