We know that teen boys can be some of the most difficult people to find gifts for — we have seven sons in our three families! But we asked our group of experienced parents, and they gave us these great ideas for Christmas gifts.
Best Christmas gift ideas for teen boys
Note: we are a reader-supported site and receive compensation through purchases made through these links. Prices correct at time of publication.
What is the easiest way to keep him cozy this season? The Holiday Gift Sock Gift Box from Bombas. Inside are the comfiest socks in the history of feet, and outside is a box you don't even have to wrap. Plus, Bombas will donate a pair of socks to a person experiencing homelessness for every pair purchased.
11/20 – 11/23 Site-Wide Sale (20% Off) with code HOLIDAY20.
Workout gear that is comfortable to wear to the gym, at school, or around town checks all the boxes and we LOVE Vuori. They make great shorts, t-shirts, long pants and more and their clothes will be a big upgrade for your son if his regular gear needs some updating.
This book is filled with a powerful message about home, kindness, and friendship. If you are looking for a Christmas gift book for your son that expresses your family's values, this bestseller is one to consider.
A magnetic dartboard is a safe way to play darts. He can set it up outside, in his room, or the basement and have a fun game of darts whenever friends are over.
There is something about a flannel shirt at Christmas time that works so well for a gift. This will be the shirt your son will live in all holiday.
Headlights for crocs (and other types of shoes and hats or bikes) seems like a PERFECT gift for any active teen whose on the go day AND night. For camping, dog walking, hiking or just plain fun. Rechargeable.
A genius idea! This slim wallet comes with a pocket for an Apple Air Tag so your son's wallet will never go missing. Well-priced, it is available in 10 colors.
Nothing turns our big guys into their younger selves than opening a toy at Christmas! This Star Wars Advent calendar is meant to be given out right after Thanksgiving so he can discover 9 Star Wars Characters and 15 Mini Building Toys leading up to the 24th.
Do you want to encourage your son to up his hygiene game? Check out all of the great products from Dr. Squatch: shop soap, deodorant, hair care and more. We love the clever packaging and marketing vibe but more than that, we love the natural products from a certified B Corp.
For the heavy sleeper in your family, this alarm clock will do the trick in getting them up in the mornings — adjustable tone and volume, bed-shaker, and red flashing lights.
Belkin makes this charging station the #1 brand optimized for Apple products. Now your son can charge his phone and AirPods wirelessly and super-fast, side-by-side.
It's compatible with all Qi-enabled devices, including iPhone 12 Series, iPhone 11, 11 Pro, 11 Pro Max, XS, XS Max, XR, X, 8, 8 Plus, AirPods, AirPods 2, AirPods Pro, Samsung Galaxy S20, S20+, S20 Ultra, S10, S10+, S10e, S9, S9+, Note10, Note10+, Note9, Google Pixel 4, 4XL, 3, 3XL and more.
Your son will love this baseball cap with an LED headlight lamp. he will see and be seen if he is out jogging or biking.
There is something about these Hey Dude shoes that appeals to young guys. Super comfy!
This sturdy chin-up bar would be a great Christmas gift for your son who wants to work on his fitness at home. it can also be used on the floor for push-ups and other exercises.
This multifunctional touch sensor lamp/alarm clock/MP3 player/hands-free calling device would make an excellent gift for your son. With a rechargeable battery, playtime is 8-10 hours.
It is fun to give a toy and watch our older boys have fun like they did when they were little. This hover soccer toy slides on smooth surfaces and has a foam bumper to protect furniture.
Fanatics has so many different sports team shirts, hats, sweatshirts, and accessories for various teams, including college, NBA, NFL, MLB, Soccer, and much more. Search by team, player, or sport to find the perfect gift.
This beanie includes speakers and a microphone and can be used to listen to music while doing outdoor activities.
Here's a great way for your son to work out in a bedroom, dorm room, or while traveling.
Choose this box of treats from around the world for an edible gift.
This top-rated slim bifold wallet is great if your son is ready for a more adult-looking wallet. Add initials for an extra personalized touch.
These strip lights do it all — 2, 50′ strips with Wifi app control, Alexa compatibility, lights, and color changes can be synced to music.
If you're looking for a way to get your son out of the house to do something physical that does NOT involve a screen, Spikeball is your answer.
Young men need a great tool for shaving, and this one is a body shaver.
This lap desk will make studying at home much more comfortable. With space for a laptop that can be anchored by a ledge, phone holder, and a mousepad, this will be a big upgrade from balancing a computer on his lap.
Another way to add unique lighting to a room is with this "moonlight" with 16 different colors.
This reversible pullover by Marine Layer will quickly become his go-to shirt. It's great-looking, comfortable, warm, and, best of all, reversible. He won't want to wear anything else-take our word for it.
This well-priced gaming headset can also be used as over-the-ear headphones. They work with PCs, mobile devices, and recent-generation gaming systems. Top rated!
These might be the pants your son will live in throughout the holidays.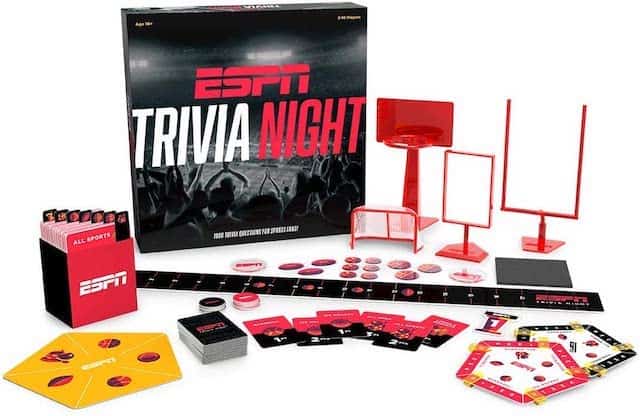 1000s of sports trivia questions to challenge your teen son, his friends, and his family. Works for ages ten and up.
Apple AirPods have become an in-demand device for teens and young adults. Now that Apple has released their 3rd Gen AirPods and the 2nd Gen AirPod Pros, find well-priced 2nd Gen AirPods if you're looking for a less-costly piece of tech for your son.
If you're buying an AirPod for your son, add an inexpensive silicone case is his favorite color. It will help keep the charging case somewhat protected and will help him differentiate his AirPods from his friends' AirPods.
The last thing we want is for our teens to be distracted by holding their cell phones while driving. This air vent phone holder charges while securely holding the phone in place for the newest iPhones and cases.
Vests are among the most versatile types of outerwear and are very popular with our sons. Patagonia is one of our favorite brands and they offer a wide range of styles, materials, and price points. This one is lightweight so that it can go under a jacket or warm enough to be worn over a sweater.
Patagonia backpacks are incredibly durable, and this one is water-resistant and has a padded laptop sleeve and outside pockets to keep water bottles away from tech gear. Your son will love this gift, which can replace the grimy one he has been carrying for years!
This compact waterproof, and dustproof speaker might be your son's favorite way to bring sound to any gathering. It comes in several colors, but this camo style is unique. A hard shell case is part of the set.
If you have a teen boy who is a new driver or who will soon be behind the wheel, get him this book. Written by a mom of three sons, this well-researched primer talks about safety, car maintenance, and tips for how to pass the written part of their driving exam in a clear, non-boring, non-preachy style. They might react to this book and be much safer as a result.
For the fidgety teen-many patterns to choose from.
Happy shopping and happy holidays, 2023.
More Great Reading: