We know that teen boys can be some of the most difficult people to find gifts for — we have five sons in our two families! But we asked our group of experienced parents, and they gave us these great ideas for Christmas gifts.
Best Christmas gift ideas for teen boys
Note: we are a reader-supported site and receive compensation through purchases made through these links.
With this Tile Slim, your son will never struggle to locate his gym bag, backpack, or wallet. With a 3-year built-in battery, this tracker works with a 250-foot range.
Use code GN25 for 25% off any order of $75 or more through 12/31/22. This is in addition to the "Holiday Sale" of up to 50% off that is happening now.
Theragun is a portable percussion massage tool that your athlete can use on sore muscles. This quiet device offers three speeds to customize the therapy.
Even the stingiest of huggers is no match for All About Vibe's one-of-a-kind pillows (of ANYTHING!) that are customizable, memorable, loveable, huggable, washable, and giftable! Plus, they are made in the USA. But wait, there's more!
Grown and Flown readers can take 25% off their first order with the code GF25. Order before November 30 to use the discount and grab your spot!
Bombas wins ALL of our FEEL-GOOD points for the highest-quality gifts that give back. Their everyday essentials (socks, t-shirts, underwear) are comfortable, durable, and last for years — even teen boys are no match. Plus, they donate an item to help the homeless on your behalf for every item purchased.
This book is filled with a powerful message about home, kindness, and friendship. If you are looking for a Christmas gift book for your son that expresses your family's values, this bestseller is one to consider.
A magnetic dartboard is a safe way to play darts. He can set it up outside, in his room, or the basement and have a fun game of darts whenever friends are over.
For the heavy sleeper in your family, this alarm clock will do the trick in getting them up in the mornings — adjustable tone and volume, bed-shaker, and red flashing lights.
This portable system from Nintendo has been a game-changer, literally. It's easy for teens to take their gaming devices with friends when they get together and can play almost anywhere. It's compatible with Super Mario Odyssey, Mario Kart 8 Deluxe, Super Smash Bros. Ultimate, The Legend of Zelda: Breath of the Wild, and other well-known games.
Belkin makes this charging station the #1 brand optimized for Apple products. Now your son can charge his phone and AirPods wirelessly and super-fast, side-by-side. It's compatible with all Qi-enabled devices, including Galaxy S20 Ultra, iPhone 8 Plus, Galaxy S10e, Galaxy S20 FE, Galaxy S20, Galaxy S10+, iPhone 12 mini, iPhone 11, Galaxy Note20, Galaxy S20+, iPhone 12, iPhone X, iPhone 11 Pro, Galaxy Note 10, iPhone SE 2nd Gen, Apple AirPods 2nd Gen, Galaxy Note 10+, iPhone 12 Pro, Galaxy S10, iPhone XR, iPhone XS, iPhone 12 Pro Max, iPhone XS Max, iPhone 11 Pro Max, iPhone 8, Apple AirPods Pro, Galaxy Note20 Ultra.
Convert a stack of t-shirts into a t-shirt quilt, and your son will have a keepsake and practical gift that preserves the memories of special vacations, teams, camps, and friends.
Your son will love this baseball cap with an LED headlight lamp. he will see and be seen if he is out jogging or biking. One of Oprah's favorite things for 2022!
This sturdy chin-up bar would be a great Christmas gift for your son who wants to work on his fitness at home. it can also be used on the floor for push-ups and other exercises.
This multifunctional touch sensor lamp/alarm clock/MP3 player/hands-free calling device would make an excellent gift for your son. With a rechargeable battery, playtime is 8-10 hours.
It is fun to give a toy and watch our older boys have fun like they did when they were little. This hover soccer toy slides on smooth surfaces and has a foam bumper to protect furniture.
Fanatics has so many different sports team shirts, hats, sweatshirts, and accessories for various teams, including college, NBA, NFL, MLB, Soccer, and much more. Search by team, player, or sport to find the perfect gift.
This beanie includes speakers and a microphone and can be used to listen to music while doing outdoor activities.
Not saying that our sons can be a little casual with their expensive tech equipment, but why not build in extra padding around their laptops just in case they drop them? This sleeve gets excellent reviews, and we love the exterior pocket where there's room to store many other things — charging cables, a phone, and more. Available in four colors.
Here's a great way for your son to work out in a bedroom, dorm room, or while traveling.
This top-rated slim bifold wallet is great if your son is ready for a more adult-looking wallet. Add initials for an extra personalized touch.
Being able to play music through a powerful but lightweight and compact Bluetooth speaker is a fun thing to do, and the Flip4 is one of the most popular devices.
These strip lights do it all — 2, 50′ strips with Wifi app control, Alexa compatibility, lights, and color changes can be synced to music.
If you're looking for a way to get your son out of the house to do something physical that does NOT involve a screen, Spikeball is your answer.
Young men need a great tool for shaving, and this one is a body shaver.
This lap desk will make studying at home much more comfortable. With space for a laptop that can be anchored by a ledge, phone holder, and a mousepad, this will be a big upgrade from balancing a computer on his lap.
Another way to add unique lighting to a room is with this "moonlight" with 16 different colors.
This reversible pullover by Marine Layer will quickly become his go-to shirt. It's great-looking, comfortable, warm, and, best of all, reversible. He won't want to wear anything else-take our word for it.
This well-priced gaming headset can also be used as over-the-ear headphones. They work with PCs, mobile devices, and recent-generation gaming systems. Top rated!
A comfortable gaming chair is important to any guy who loves video games. This one by Razer gets excellent reviews, especially for the price point.
One thing that's been fun for our teens is to stream a movie or sporting event through a portable projector for a group to watch together. This is a well-regarded model, and how much fun would outdoor viewing be right now?
These might be the pants your son will live in throughout the holidays.
1000s of sports trivia questions to challenge your teen son, his friends, and his family. Works for ages ten and up.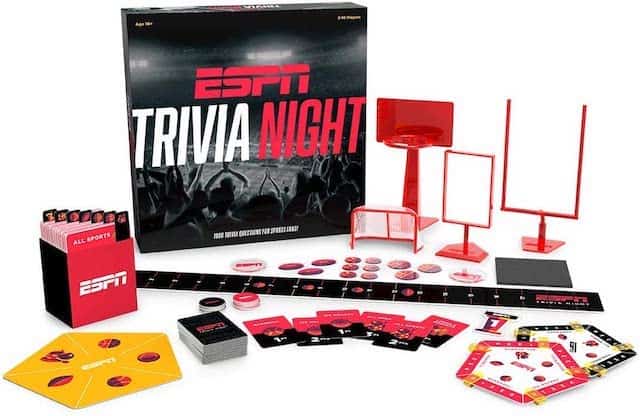 The softest, most comfy shorts are these OOMLAs, which are made to be worn baggy. The brand was created by a pediatrician and mom who understand the value of having loose clothing where it counts!
If your teen has an Apple iPhone 12 or 13 series, this Belkin wireless stand with MagSafe technology will charge both devices quickly and wirelessly. Change the orientation of the phone to FaceTime or watch videos in landscape. Compatible with iPhone 13, 12, Pro, Pro Max, Mini, and AirPods.
The last thing we want is for our teens to be distracted by holding their cell phones while driving. This air vent phone holder charges while securely holding the phone in place for the newest iPhones and cases.
Vests are among the most versatile types of outerwear and are popular with our sons. Patagonia is a favorite brand and offers a wide range of styles, materials, and price points. This one is lightweight so that it can go under a jacket or warm enough to be worn over a sweater.
Patagonia backpacks are incredibly durable, and this one is water-resistant and has a padded laptop sleeve and outside pockets to keep water bottles away from tech gear. Your son will love this gift, which can replace the grimy one he has been carrying for years!
This compact waterproof, and dustproof speaker might be your son's favorite way to bring sound to any gathering. It comes in several colors, but this camo style is unique. A hard shell case is part of the set.
If you have a teen boy who is a new driver or who will soon be behind the wheel, get him this book. Written by a mom of three sons, this well-researched primer talks about safety, car maintenance, and tips for how to pass the written part of their driving exam in a clear, non-boring, non-preachy style. They might react to this book and be much safer as a result.
Happy shopping and happy holidays, 2022.
You Might Also Want to Read: