Gifts for guys can be challenging and I often struggle thinking of what to buy my son. But here are some of our favorite 2021 Christmas gifts for college guys — sons, nephews, or any adult male on your holiday shopping list.
We are a reader-supported site and receive small amounts of compensation from purchases made through the links in this post.
Favorite 2021 Christmas gifts for guys
We are big fans of Patagonia because of their durable products and commitment to environmental sustainability. Your son would love this sterling fleece vest for added warmth over a sweater or under a jacket for truly frigid days.
Has your son become a Pickleball player, or would he like to become one? This portable set from FILA includes paddles, balls, and a net that can be packed into in bag, also included. Can be set up for indoor or outdoor play.
Stainless-steel mugs made by this Austin-based company keep coffee hot for 12 hours, and cold drinks cold for even longer. The heat-storing capability is a big part of the magic in the brand. YETI offers great new colors, styles, and personalization with initials or logos.
YETI's shipping cutoff to arrive by Christmas morning is noon CST on December 20 – and YETI is offering free express shipping to ensure it makes it under your tree!
YETI started out making legendary coolers and they are nothing short of amazing in their ability to keep things cold for hours on end. There are numerous sizes and shapes but we think this one, the Roadie 24 Cooler, is a great gift as it is more compact and lighter than some of the others. Note that the height can accommodate a wine bottle.
Same free express shipping offer applies on this great cooler.
This platform provides fast wireless charging for iPhone 13, 12, 11, Pro, Pro Max, Galaxy, Pixel and Other Qi enabled devices.
This light has been incredibly popular this year and your son will be mesmerized with the remote control that gives him 16 colors to choose from. Comes with a stand and is available in different sizes.
If your son is a gamer, having a comfortable headset with great audio is a plus. This one gets top reviews, especially at its price point.
Does your son have t-shirts from class day, camps, sports teams, or favorite family vacations in stacks that grow higher with each school year? Now is the time to convert them into a t-shirt quilt where his memories will be preserved long after he's outgrown the shirts. This is a favorite gift for teens who will be leaving home soon for college.
With so many students and grads taking classes and/or working from home, having a mini-fridge nearby to grab a yogurt, cold drink or sandwich might be a thoughtful gift your son will appreciate and use in the dorms or apartments in his future.
A blender is a quick way for your son to make himself a healthy snack. The Magic Bullet is #1 in the category on Amazon.
This is a toy young men never outgrow.
This incredibly popular game has been on our list for several years for a reason — it remains a great outdoor activity that college kids and teen boys love to play.
We think this great-looking Belkin bluetooth speaker and wireless charger are pretty ingenious. Use Alexa to play music and phone charges at the same time.
We think these slim leather wallets are wonderful and are available in many different colors. They get the top reviews for mens' wallets and it is easy to see why.
Pamper your son or nephew with this shave set from our favorite men's beauty brand, Jack Black. They have loads of great products for men so hop over to their site to see what else a special man in your life might enjoy.
This four-pack of lip balms will let your son keep a tube in a backpack, desk, bathroom, and in a pocket. Made with Beeswax, Vitamin E, Sunflower, Jojoba, and Rosemary Oil.
It's not always easy to get to a gym when traveling and this portable exercise set is just what your son or nephew would LOVE for Christmas if he likes to stay fit. Regardless of where their travels take them or what current living conditions allow, these graduated resistance bands, door anchors, and more will provide an excellent workout.
Being cooped up indoors, for work or study at home, makes an air purifier an even better, and healthier gift idea for your son. This one gets top reviews for small spaces and, not only reduces pollutants but also improves the odor in the space.
Does your son want to personalize his bedroom or space where he games? These LED strip lights are super-popular right now and this kit comes with a remote control and all he needs for easy installation.
Would your son love a great set of Bluetooth wireless headphones? These get top marks for audio quality for headphones under $100. With so many of us working or taking classes at home, having a way to block out noise is even more important.
Another year, another Madden NFL video game. If your son is a devoted Madden fan, he will love this version of the game.
These joggers might be your son's new favorite pants. Fleece-lined and with pockets, they are available in five colors. Because sweatpants shouldn't cost $100!
We are all drinking more water from our own water bottles and Hydro Flask is one of the most popular brands. These three colors are in the limited edition, wide mouth "Ebb & Flow" series but there are many sizes and colors on the site to choose from.
Carhartt knit caps may be the one hat that your son would actually agree to wear on a brutally cold winter day. They are available in dozens of colors so look for one that reminds him of his favorite team or college.
If he is a fan of the iconic Carhartt rugged brand, your son might also love this barn jacket. It comes in three colors but we are especially fond of the one in "Carhartt brown."
We are hearing that this is THE #1 gift for teens and college students for the 2021 holiday. Apple AirPods Pros will let them listen to music, have conversations and ask Siri questions wirelessly.
Don't forget to add a protective case cover like this one, available in many colors, that will help keep the case (and AirPods Pros inside) from being scratched or damaged.
This one grooming tool can trim, edge, and shave any length of facial, hair or body hair. It comes with a selection of blades, can be used dry or wet, without or without foam. Rechargeable. This one gets the top reviews.
There is nothing more frustrating than having a phone die, especially when there are no easy ways to charge it before you return home. This lightweight portable charging device will get your teen's phone charged up with super fast speed. It holds 3.5 iPhone charges so he will never be able to use the excuse that his phone died, again.
We've been fans of the Herschel brand for many years and this backpack is one of their bestsellers. It is large enough to hold many heavy books or to be used for overnights. There are several handy compartments including a tech-safe padded sleeve, lined with fleece, that fits laptops up to 15".
We love Allbirds shoes, our five kids and two husbands love these, too. The newest style is the running shoe, which your son will love as a casual shoe or one to wear when he works out. They come in lots of color combinations! Check out the Allbirds apparel — t-shirts, sweaters, jackets, and underwear all in the incredible fabrics that make Allbirds, well, Allbirds.
NEW- $15 off code: SDMKTGPERF-HOLIDAYS21 with guarantee shipping by 12/24! (If order is placed by 12/21.) Deadline 12/21 for offer.
With Bluetooth technology, wireless earbuds eliminate the need to use wires to connect to a phone or source of music. These earbuds, by Jabra, get high marks from reviewers and are a hot tech gift for the holidays.
One of our sons practically lives in his Everlane sweater and it always looks great on him (I know, I am biased!) They come in a dozen different colors, are incredibly soft and well-priced, especially for a cashmere sweater of this fine quality.
Virtual reality gaming has taken a giant leap forward with the Oculus Quest 2, the most advanced VR system, just released in August, 2021. This would be an amazing Christmas gift for your son.
ONE OF OPRAH'S FAVORITE THINGS FOR 2021.
Many college guys are obsessed with Jordan shoes. There are many different styles and colors to choose from.
One unexpected expense for guys away at college is buying razor blades, especially if YOU have been the one to do the shopping for him. Harry's solves the problem by sending them a razor, shave gel, and replacement blades at a frequency that matches how often your son shaves. Harry's now has face wash, body wash, lotion, and some cute accessories to consider for the holidays.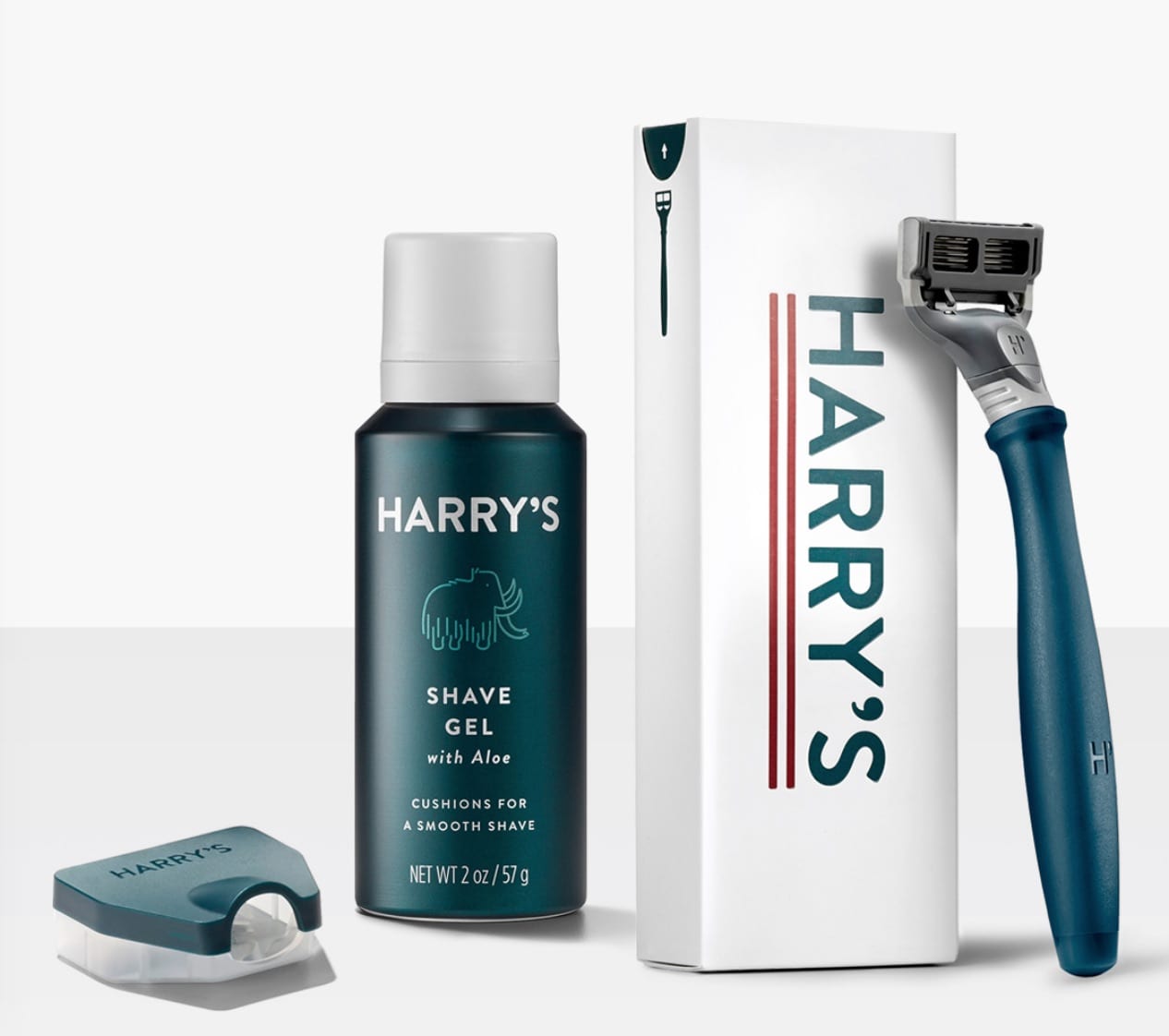 These thin leather cases will keep all your grown kids' important credit and ID cards, plus any cash they need, in one compact card case. They are available in different colors of leather and cork, as well.
For your game-loving son, this handheld Nintendo is small and lightweight and is compatible with all physical and digital Nintendo Switch games that support handheld mode.

Your teen can watch live TV and hundreds of thousands of movies and TV episodes from Netflix, Hulu, HBO, Disney + and more (subscriptions fees may apply) with the Fire TV. Amazon Prime members get unlimited access to thousands of movies and TV episodes. This is the #1 best-selling streaming media player.
A practical gift could be the gift of stock. He will be able to watch as the stock increases over time (one hopes.) Add a copy of the book Napkin Finance to help boost his financial literacy.
Not just for camping anymore. Parents told us their kids loved these hammocks and use them on campus.
Guys who go to college in snowy climates need a boot and the LL Bean Duck Boot is durable and very popular everywhere. This is the one boot they will wear when the weather turns bad.
Did you know there is a surge in popularity in board and card games on campus? Here are the ones our kids tell us they like the most including Catan (below).
This reversible pullover by Marine Layer will quickly become his go-to shirt. It's great looking, comfortable, warm and best of all reversible. Nordstroms has them for 25% off, right now.
One of my sons asked for this and I wondered if he would ever use it. EVERY day. He and the guys he lives with on-campus use it for games, movies, and having a few friends over to watch a Sunday football game. Screen included.
Give your son the newest release Echo Dot, which is the most popular smart speaker in the Alexa series. Ask Alexa for the weather, the latest sports, scores, play favorite streaming music services, read an audiobook, listen to a podcast and so much more.
You will not find a more extensive site for college merchandise (and pro, too) than Fanatics with officially-licensed merchandise from more than 500 colleges and universities. Shop t-shirts, hoodies, shoes, hats, banners, and so much more.
Everlane has nine boutiques around the country where you can dip in and see the gorgeous designs, beautiful materials, and array of great colors in their apparel, shoes, accessories. If you are not nearby, here is where you can find loads of gift ideas for your son and men in your life. One of our favorites is the cashmere crew sweater.
We have loved this book and were thrilled to be able to interview the author, Dr. Meg Jay, about the revised and updated version of her bestseller. This book is for your twenty-something son who might be surprised to discover why this decade is so consequential and how to make every day count.
Watch our interview with Dr. Jay here.
We want our young adults to take care of themselves and that includes taking care of their teeth. This is one of the most highly-rated toothbrushes on the market.
You Might Also Like to Read:
Holiday Gifts for Her That She Will Love