Looking for inspiration for less expensive gifts for your son or daughter? Take a look at our Christmas Gift Guide, which is filled with presents under $25 that might also make thoughtful birthday gifts or cute Secret Santa gifts, too.
Note: We are a reader-supported site and receive a small compensation from purchases made through some of the links in this post.
Christmas gift guide for teens (all under $25)
Here is a great, well-priced fitness idea — these compact resistance bands are a way anyone can work out, even in a small dorm room or apartment. Perfect for anyone who travels.
Help your teen keep a positive attitude with these smiley-face slippers. One of last year's most popular items. They are cozy, comfortable, and fluffy.
If your teen has a habit of misplacing a backpack, gym bag, keys, etc. (actually, who doesn't misplace things???), look at this affordable Tile tracker.
We love these socks for their durability, comfort, and, especially, their message of affirmation. Your son or daughter can pull on a pair and remind themselves they are brave, beautiful, kind, and more. In wool blend and cotton — choose the word that will encourage your teen or college student and remind them how much you love them.
Love, love, love this lip gloss.
Your teens can challenge their friends in this mega trivia game with 1000 questions. This could also be a fun family game to play during the holiday season.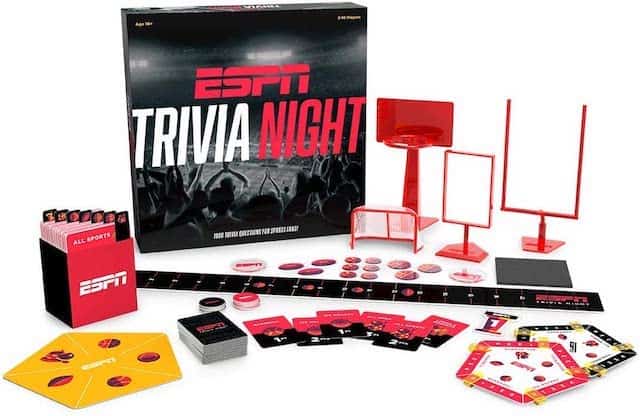 Charge your phone or AirPods by placing them on the charging pad. This is such an easy way to recharge essential tech. This is a gift that any family member would appreciate.
These slim rings are massively popular this holiday season.
If your teen likes journaling or color-coding notes and assignments, this best-selling pen set would be a nice gift, especially with new journals.
This Henley shirt is available in many colors and styles and is very well-priced.
So your teen can keep both hands on the bike handlebars instead of holding their phone; this holder will keep it secure and visible.
This phone stand would be a practical gift for anyone on your list. Both sturdy and portable, it folds, making it easy to throw into a backpack for use at home, work, and school. Phones can be used in a horizontal or vertical orientation.
Available in loads of colors, Carhartt beanies may be the only hat your son will wear. They are great for girls, too, and would be an incredibly thoughtful gift for anyone moving to a colder climate. This is a #1 best seller in hats on Amazon.
This cute crossbody is unique with the guitar strap style straps.
These velvet scrunchies, in lavender and blue, feature a hidden pocket with a zipper to store your essentials, like keys and cash.
Please one tablet in the shower, turn on the water, and enjoy spa-like scents that infuse the steam. Choose ROSE, LAVENDER & GERANIUM, EUCALYPTUS, ORANGE & MINT, and PINK GRAPEFRUIT.
Bombas wins ALL of our FEEL-GOOD points for the highest-quality gifts that give back. Their everyday essentials (socks, t-shirts, underwear) are comfortable, durable, and last for years — even teens are no match. Plus, they donate an item to help the homeless on your behalf for every item purchased.
Super-comfortable, these slippers are available in many colors and would be great for anyone on your list.
Our devices get grimy, and the surfaces need cleaning but require care. These individually wrapped cleaning cloths have 70% Isopropyl Alcohol making them practical for school, work, and travel.
This is one of THE most popular games among the Grown and Flown community.
A gorgeous set of makeup brushes in these dynamic colors might inspire your daughter to throw out her old brushes and begin 2023 with an all-new and clean makeup routine. While made for travel, they are equally functional for use at home.
Teens can make their own snow globe with the photograph of a best friend, a furry friend, or the family that loves them dearly. This is a cute, seasonal alternative to a more ho-hum picture frame.
This string light photo display is a whimsical decoration and an easy way to dress up a drab dorm wall or bedroom wall.
If you have a teen going to college next year or one whose shower caddy could use an update, we love these from Pottery Barn Teen.
This international bestseller is all about kindness, friendship, and home. The gorgeous illustrations are unforgettable.
Author and illustrator Becky Blades wrote this book and created the gorgeous artwork as a goodbye letter to her own college daughter. Don't forget to add your message at the end. This is the right gift to give your soon-to-be-flown daughter.
There are few outwear garments as flexible as a vest and we think your son might love this lightweight quilted one in either navy or black. It can be worn over a sweater or hoodie or under a jacket.
We can talk to our teens about being grateful, but here is an excellent way for them to show it. This is one of our favorite Christmas gift ideas.
Good lighting is the one thing teens need just as much as their phones. This is a must-have with three color modes, ten brightness levels, and multiple height settings.
This credit-card-sized tool has 6 Hex wrenches, a can opener, fruit peeler, bottle opener, ruler (standard & metric), letter opener, box opener, phone stand, eyeglasses, Phillips, and Flathead screwdriver. Genius!

Mario Badescu has a big following, and the facial sprays are one reason. This set will allow your teen to sample aloe, rosewater, and lavender scents.

With a name like "Taco Cat Goat Cheese Pizza," we were instantly intrigued and had to buy this fun and fast-to-learn card game for our families.
This luscious hand cream from the super-popular brand Glossier will be something your daughter would love. Smells so good.
These 100% cotton joggers might be the pajama pants your son will wear all holiday long.
If your daughter has long hair, she likely wears a tie on her wrist when pulling her hair up. Now, she can wear a cute bracelet instead that converts to a pretty hair tie.
One of Oprah's Favorite Things for 2022.
This shower speaker has been a big hit with our sons, who love to sing in the shower. Bluetooth and waterproof, they're available in 6 colors.
Here is a genius remedy to makeup stains on nice washcloths — washable makeup pads that come in a mesh wash bag. Less waste than using paper pads, too.
One of Oprah's Favorite Things for 2022
YETI makes a variety of unique tumblers, and the 10 oz one is under $25. They keep hot or cold beverages at the desired temperature for hours, come in various colors, and can also be customized (additional expense for that).
This compact cross-body bag is available in many pretty colors and is just the right size to keep a phone and a few valuables: adjustable strap and zipper closures.
Consider one of these beautifully-designed keychains if your teen is a Harry Potter fan.
A thin card case with a debit card, driver's license, and ID, with room for a few bills, is much more popular than a bulky wallet. Herschel has loads of different colors and styles to choose from.
Cute gloves that keep your daughter's hands warm, and she does not have to take them off to use her phone to call you!
One of Oprah's Favorite Things 2022.
This is such a great idea — especially for anyone who is outside after dark. Comes in several colors.
One of Oprah's Favorite Things for 2022.
Wearable glitter. That is all.
Keys, two cars, and some cash-grab it and go.
An absorbent microfibre towel for all of your workouts.
Ninety-two percent of users recommend these bath salts.
This beeswax and vegetable wax blend is great for relaxation.
Lots of our grown and flown kids love to cook. This is the perfect gift for them.
Ok-this hot chocolate is delicious. Just add hot milk, non-dairy milk, or water for a terrific holiday treat.
If your kid has an Apple watch-here's a chance to change it up on the daily.
You Might Also Want to Read:
Stocking Stuffers for Teens and College Students
Awesome and Super-Popular 2022 Holiday Gifts for Him