Looking for inspiration for less expensive gifts for your son or daughter? Take a look at our Christmas Gift Guide which is filled with presents under $25 that might also make thoughtful birthday gifts or cute Secret Santa gifts, too.
Note: We are a reader-supported site and receive a small amount of compensation from purchases made through some of the links in this post.
2021 Christmas gift guide for teens (all under $25)
Everyone is snapping up the Big Effing Clip, but we think this one is even more adorable and at $13 dollars a clip (pun intended), get a bunch in different colors and pump up your holiday look.
Spend the night at home with this movie night snacking kit. Three types of kernels and five seasoning blends.
So comfortable and so affordable. Grab the color you want before they sell out.
We love these socks for their durability, comfort, and, especially, their message of affirmation. Your son or daughter can pull on a pair and remind themselves they are brave, beautiful, kind, and more. In wool blend and cotton — choose the word that will encourage your teen or college student and remind them how much you love them.
Love, love, love this lip gloss.
Your teens can challenge their friends in this mega trivia game with 1000 questions. This could also be a fun family game to play during the holiday season.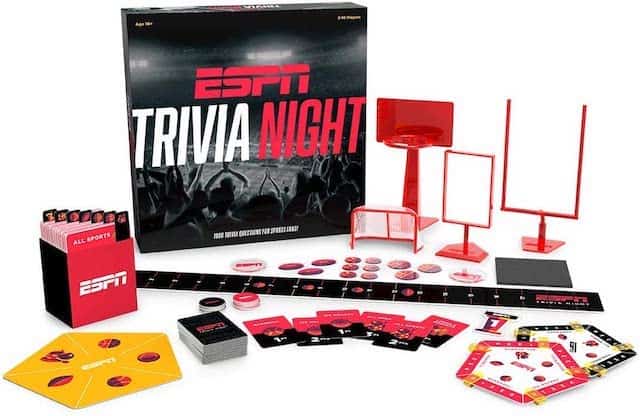 Charge your phone or EarPods by placing them on the charging pad. This is such an easy way to recharge essential tech. This is a gift that would be appreciated by any family member.
We love this popular skincare brand for men and think that this sampler would make a nice introduction to three favorite products for your son.
These slim rings are massively popular this holiday season.
If your teen likes journaling or color-coding notes and assignments, this set of best-selling pens would make a nice gift, especially paired with new journals.
This initial necklace is very stylish and so many teen girls are wearing this in 2021 — this one is 14K gold plating and is budget-friendly, too.
Who knew that the way you dry your hair can have an impact on the health of your hair and how long the color lasts (if you dye your hair)? This ingenious towel takes haircare up a notch and reduces blow-drying time and energy resources.
The popularity of hair scrunchies has soared with the VSCO girl trend.
Available in 40+ colors, Carhartt beanies may be the only hat your son will actually wear. They are great for girls, too, and would be an especially thoughtful gift for anyone who is moving to a colder climate. This is a #1 best seller in hats on Amazon.
YETI makes a variety of tumblers, several of which are under $25. Any of these would make great gifts for anyone on your list. They keep hot or cold beverages at the desired temperature for hours, come in a range of colors, and can also be customized (additional expense for that.)
YETI's shipping cutoff to arrive by Christmas morning is 1PM ET on December 20 – and YETI is offering free express shipping to ensure it makes it under your tree!
These are the prettiest food wraps — of any kind — we have ever seen and the fact that they last for us to a year makes this a gift we have on many Christmas lists. According to their site on Amazon, they are made of "certified organic cotton, responsibly-sourced beeswax, certified organic plant oils, and tree resin. This combination creates a durable, yet pliable plastic wrap alternative that can be used again and again and again." Available in several designs.
These porcelain bowls are pretty and versatile — they work equally well for a scoop of gelato, a side of rice, or morning yogurt and berries. Dishwasher and microwavable safe.
Cold brew coffee is wildly popular with our Gen Z and millennial kids. This elegant and simple maker will be a welcome present for any giftee who prefers to drink their coffee this way.
Please one tablet in the shower, turn on the water, and enjoy spa-like scents that infuse the steam. Choose between ROSE, LAVENDER & GERANIUM, EUCALYPTUS, ORANGE & MINT, PINK GRAPEFRUIT.
This all-in-one kitchen gadget will revolutionize the way your teen or college student prepares avocados. This does it all, including getting rid of the stubborn pit, and is dishwasher safe.
Our devices get grimy and the surfaces need cleaning but require care. These individually wrapped cleaning cloths have 70% Isopropyl Alcohol making them practical for school, work, travel.
Here is another great fitness idea — these compact resistance bands are a way that anyone can work out, even in a small dorm room or apartment. Perfect for anyone who travels.
This is one of THE most popular games among the Grown and Flown community.
Having a gorgeous set of makeup brushes in these dynamic colors might inspire your daughter to throw out her old brushes and begin 2021 will an all-new and clean makeup routine. While made for travel, they are equally functional for use at home.
Teens can make their own snow globe with the photograph of a best friend, a furry friend, or the family that loves them dearly. This is a cute, seasonal alternative to a more ho-hum picture frame.
This string light photo display is a whimsical decoration and an easy way to dress up a drab dorm wall or bedroom wall.
For your sports-obsessed teen, Dick's Sporting Goods has a great selection of NCAA hoodies and quarter-zips.
This international bestseller is all about kindness, friendship, and home. The gorgeous illustrations are unforgettable.
Help your teen keep a positive attitude with these cute smiley face slippers.
So your teen can keep both hands on the bike handlebars instead of holding their phone, this holder will keep it secure and visible.
Author and illustrator Becky Blades wrote this book and created the gorgeous artwork as a goodbye letter to her own college daughter. Moms, don't forget to add your own, personal message at the end. This is the right gift to give your soon-to-be-flown daughter.
We can talk to our teens about being grateful, but here is a great way for them to actually show it. This is one of our favorite Christmas gift ideas.
If your son or daughter delights in a good cup of tea, this is a great gift for them. Filled with 24 teas bags, they can count down to Christmas and enjoy different teas throughout December.
This phone stand would be a practical gift for anyone on your list. Both sturdy and portable, it folds, making it easy to throw into a backpack for use at home, work, school. The best.
For your forgetful teen, the Tile Mate will be something they can clip on keychains or attach to a backpack or wallet to keep up with valuables.
This credit-card-sized tool has 6 Hex wrenches, a can opener, fruit peeler, bottle opener, ruler (standard & metric), letter opener, box opener, phone stand, eyeglasses, Phillips, and Flathead screwdriver. Genius!
We think this "Balm Squad" set could be a thoughtful gift for your son or daughter — no more chapped lips this winter!
If your teen or young adult likes to run and listen to music on their cell phone, this armband holder is a great pick for them. Available to fit numerous phones, they are also available in many different colors.
Mario Badescu has a big following and the facial sprays are one reason why. This set will allow your teen to sample three scents — aloe, rosewater, and lavender.
A thin card case that holds a debit card, driver's license, and ID, with room for a few bills, is much more popular than a bulky wallet. Herschel has loads of different colors and styles to choose from.
With a name like "Taco Cat Goat Cheese Pizza," we were instantly intrigued and had to buy this fun and fast-to-learn card game for our own families.
This super-slim money clip has 4 card slots and a magnetic clip for bills. Available in a range of different materials and colors.
This luscious hand cream from super-popular brand Glossier will be something your daughter would love.
A best-seller from Glossier is the Balm Dotcom, lip glass AND skin moisturizer, available in 9 different tints and flavors.
Comfortable and smart looking-this will become your go-to pair of socks. We guarantee.
This shower speaker has been a big hit with our sons who love to sing in the shower. Bluetooth and waterproof, they're available in 6 colors.
Protect AirPods in this handsome leather case. They will never be mistaken for anyone else's when they are tucked into this case. They are easy to charge without removing from the case.
If your teen or college student prefers journaling and making notes on paper, this lay-flat, rules notebook is for them. Available in five colors.
This lightweight and expansive (70" x 53″) tapestry would be a great and easy way to dress up a dorm room or bedroom wall.
If your teen is a Harry Potter fan, consider one of these beautifully-designed keychains.
You Might Also Want to Read:
Stocking Stuffers for Teens and College Students
Awesome and Super-Popular 2021 Holiday Gifts for Him