A teen girl wearing snowflake pajamas sits on my couch on a sweltering day in August watching Say Yes to the Dress. She looks more bored than bemused as the bride-to-be debates the virtues of an "inexpensive" $5000 structured organza gown or the $12,000 dream chiffon confection.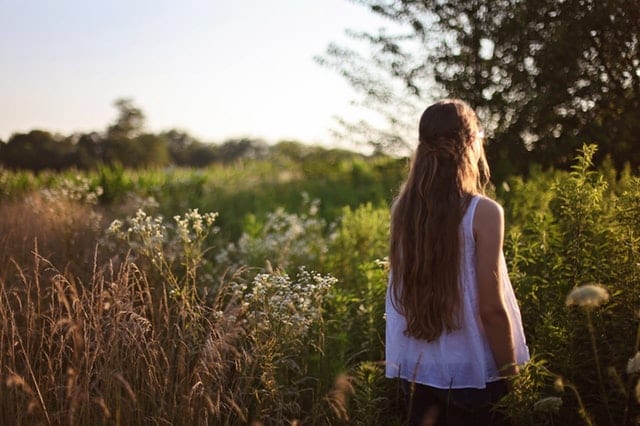 Tensions are high as the bride looks at her father with a pout face and the designer encourages a decision based on recognizing the importance of this "once in a lifetime" day. The teen on my couch grumbles about the dress costing as much as her college tuition.
She catches my questioning eye.
"I'm bored."
"Why don't you call a friend and go out for coffee," I offer.
"I don't feel like going anywhere."
The teen girl on the couch has aimlessly flipped the channel to Keeping Up With the Kardashians. Kim is seductively licking a lollypop and talking about the merits of lash extensions. "I'm going for a walk, want to come?" I suggest, feigning cheer over annoyance.
"I'm tired."
"Why don't you invite someone over to hang by the pool or swim?"
"I don't feel like it."
"What's going on with you?"
Her eyes fill with tears. "I hate myself. I hate my body. My breasts and my thighs are too big. I can't stand the way I look." She begins to sob.
I am not rock icon Pink. This is not the MTV Video Music Awards. I don't have the words encouraging my daughter's self-acceptance rehearsed. Footage of my response will not go viral, which should take some of the pressure off except this is my child.
This is my perfectly precious, beautiful nineteen year-old daughter. This is me standing unprepared by a couch in a suburban house looking at a girl who is often told she looks like me. She publicly says she considers that an honor. I do think she resembles me, but only the best parts. And yet she doesn't like how she looks. And my heart breaks as I know how she feels.
Girls are bombarded by images of what they should be and desire. Extravagant dresses, fake lashes, thigh gaps and air-brushed perfection. Me? I fervently longed to look like Phoebe Cates or Diane Lane when I was a teen. Their confident smiles radiated from the pages of Tiger Beat and Seventeen magazines. But I wasn't bombarded by constant images staring back from the palm of my hand 24/7.
I sit next to her and tell her I hope she doesn't waste these days of unspoiled youthful beauty wishing for the body parts of others. I express how I would love to tell 19 year-old me how pretty she was and that her intelligence and kindness are the things she should want to be recognized for more so than the size of her jeans.
I wish I could tell her to stay out of the sun. When you're fifty, you'll regret it. I'd tell her that her hair didn't need to be lighter and that Clairol Ash Blonde will look pale green if she swims in a public pool before the color sets. I'd suggest that those neon shirts with MC Hammer pants aren't timeless.
I wish I could warn young me against wearing gladiator sandals to fraternity parties where there may be broken glass in the courtyard that could slice open her foot and, honestly, the sandals looked better on Caesar.
I wish young me knew that, even if her stomach wasn't perfectly flat, it would likely never be much flatter, and she looked beautiful in a bikini and didn't need to hide under oversized t-shirts on spring break. I'd like young me to know that her true and lasting friendships are more likely to be the ones with whom you have long, passionate conversations and experience unique adventures and not necessarily the people who are seen in countless laughing party photos drinking until the memories are a blur.
When I look back at the pictures now, I feel sorry for the insecurity I see in some of her poses, particularly next to her shorter or thinner friends. She looks perfectly lovely and vibrant, and I wish that she, like my daughter, wouldn't waste that precious time of her youth comparing herself to others.
My daughter laughs at my descriptions of my fashion faux pas, as she hides half her body under a couch pillow. I tell her I wish we could have a Freaky Friday experience on this Tuesday. That I could wake up as her and she as me. If I were her, I would put on the cream-colored off shoulder top she can wear without a bra and that reveals just an inch of her smooth stomach. And I'd wear it proudly without a jacket and with a flirty skirt that shows off my long, silky, strong dancer legs.
I would smile and toss my long golden hair that has no wiry greys. And I'd go to parties and go dancing, showing off the moves I learned in sixteen years of ballet and contemporary classes and a half-dozen years spent in Show Choir. I'd flirt with the cute young men my daughter laughs at me for noticing. She recognizes that they see right through me to her radiant youth when we're together, even though she won't admit she knows they're looking.
She says if she were me, she'd eat the huge stack of gourmet ricotta blueberry pancakes she craves but rarely allows herself to order because, seriously, at my age, why does it matter? She'd wear my faded bikini to the beach and she'd take a bunch of those "poser" selfies that I hate, and she'd open up an Instagram and Snapchat in my name and post all those selfies of me at the beach in my bikini eating a box of See's candy, because again, at my age, why does it matter?
She'd quit all the volunteer projects I'm part of and finish the novel I've been working on for years, but she'd change it to Harry Potter fan fiction. She'd shop somewhere other than White House Black Market to get me new, cooler clothes. Since it's my money she'd spend a bunch of it at Anthropologie so when she returns to herself she can borrow the things she loves.
We make each other laugh at thoughts of what we'd do if we could trade places.
I hold her in my arms and remind her of all the many things I love about the person she is becoming. But I know she has to find her value on her own. No number of reminders from me about her compassionate heart, engaging smile, her brilliant mind and grace of movement will make her see in the mirror what I see sitting beside me on the couch. A girl who looks a lot like me but still has the gift of time and a big, bold, bright light of a future ahead of her if only she can step out of the darkness of self-doubt.
Related: