We were stumped for ideas for graduation gifts and reached out to our band of experienced moms for some wonderful suggestions to create this graduation gift guide. The number one graduation gift is money. It is what they ask for most often and what is proffered. As a nation we will give about $5 billion in graduation gifts and 58% of this will be in cash. But if money is not on your list, or you are looking for a more creative way to offer it, here are dozens of suggestions from our friends and family.
Great Graduation Gift List
Tuck a check inside Do Your Laundry or You'll Die Alone: Advice Your Mom Would Give if She Thought You Were Listening
 by author Becky Blades, and you'll be giving your grad what she wants but doesn't know she needs: her mother's loving counsel. The beautifully illustrated book covers topics from laundry to forgiveness to creative living. Directed predominantly at young women, my college boys laughed out loud and read it cover to cover. The best part: pages to personalize.
T-SHIRT quilt. Here's the answer to what to do with the stacks of T-SHIRTS that represent milestones in your teen's life.  Send them to Project Repat and you will receive back a T-SHIRT quilt that your kid can take to college as their comforter. SPECIAL SAVINGS: take 20% off the price of a quilt by using discount code:  grownandflown 
Personalized stationery and note cards are a wonderful way to remind your senior that they have many people to thank for helping them achieve this milestone in life.  We LOVE the selection from Minted
 and bet your kid will, too. With gorgeous colors and designs, the hardest part will be to choose your favorite.
Laptop. If your high school, college kid or young adult has an outdated computer, there is no other gift that they will appreciate more than a new laptop.  Although expensive, look for student discounts offered by Apple, Microsoft or at stores like Best Buy. Here's the fine print:
Who are we kidding? Tuition, room and board, spending money for four years…that is the graduation gift.
A Look Ahead. Want your student to think about life after college to help them make the most of the next 4 years? Newly-released Freshman Year of Life: Essays That Tell the Truth About Work, Home, and Love After College
 includes 38 stunning essays written by top millennial writers who report on the ups and downs during their own first post-college year. Excellent and insightful!
Mobile charger. One of the best ways for your kid to stay safe at college is to have an always-charged phone. The Anker Candybar-Sized Charger
 is one of our favorites.
Overnight bag. It might be time to stop using grocery bags as luggage. A small canvas duffel or tote, like this one, the Filson Medium Travel Bag, 
will come in handy on visits home, away for weekends or traveling to (fingers crossed) job interviews. This may be our sons' favorite graduation gift!
A beautiful piece of jewelry. This is one of life's big milestones and, as such, perhaps a moment for a first piece of real jewelry. A graduation gift of a set of pearl earrings or subtle gold necklace can be worn on special occasions or taken out for job interviews.
Dorm essentials. At some point every high school grad seems to find themselves in the college section of Bed, Bath, and Beyond
, The Container Store
 or Target searching out XL sheets and an array of storage items. Gift certificates from these national retailers, will get them on their way.
Upgraded backpack. Who wants to go to college with an inch of crumbs in the bottom of a grimy backpack? Consider the Fjallraven Kanken Backpack, created with inspiration from The Swedish Guide and Scout Association. Lightweight, durable, water resistant, and in lots of great colors, this backpack is both stylish and practical. 
Wallet or business card case. Something everyone needs and it can be upped with a gift card inside. We thought this Kate Spade Wallet
 was practical, will last throughout college and is such a pretty shade of blue.
Two wheels. College kids on bicycles is an idyllic image, but not if your kid's bicycle was the small one they got for the holidays in sixth grade. If they are going to attend a university that is suited to a bike, and most are, this may be the single most useful gift you can give.
Smathers and Branson
, a luxury retailer of needlepoint goods, will make a personalized belt with meaning for your grad. They also sell wallets, key fobs, hats, flasks and coasters all embroidered with Collegiate or Greek Logos.
Skin cleansing systems can be a wonderful way for your college kid to give their face a thorough cleansing to remove makeup, sunscreen and grime from being on the go all day long.  This one, the Clarisonic Mia FIT Facial Cleansing Brush, is small, lightweight, and waterproof, features that would make it ideal for the shared freshman dorm bathrooms.
It's always coffee time. College kids pushing though late night studying or graduates who are now waking early will appreciate their own single serving coffee maker. Keurig makes all different size machines for any dorm room or apartment and a favorite of ours is the Keurig Single Serve Compact K-Cup Pod Coffee Maker
 in bright red.
If your graduate is a tea drinker, a small electric kettle, may be the perfect gift. The Bodum Electric Water Kettle
 also comes in a variety of colors and costs less than $25.
Sterling Silver Graduation 2017 Bracelet
 can commemorate this special time for your graduating daughter.  The beauty of this bracelet is that she can swap out charms as she heads to college and beyond.
Help with student loans. A full 70% of college students graduate with debt and the average loan burden approaches $30,000. Any and all help with those payments is truly a graduation gift.
Dress Shirts. Young men heading off to college need to have a few nice shirts and this one, the Vineyard Vines Gingham Shirt
, from one of our all-time favorite brands, will come in handy when your son needs to dress for an internship interview.
The ABCs of Adulthood: An Alphabet of Life Lessons
 by author and photo-journalist Deborah Copaken with her co-author, Randy Polumbo, is a gorgeous book of writing and photography.  It is a perfect send off for your son or daughter, especially with a few words of love and encouragement from you.
Unbreakable cups. Tervis makes 329 unbreakable mugs, many with school logos like this one: Tervis Tumbler
.  College kids are not the most careful with their possessions, so heavy emphasis on the unbreakable.
A necklace like this, Going Places Compass Disc Chain Necklace
 from Dogeared, would make for a lovely send-off gift for any grad.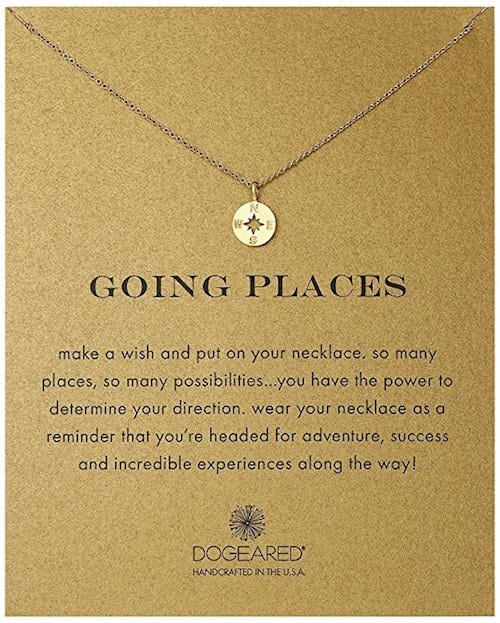 Gift cards for local eateries. For many kids graduation means a new city, either for college or a job. Gift cards from local restaurants will be a great treat in the new neighborhood.
Gym classes. Give the gift of health and fitness, with a subscription to spin or yoga classes in their new college town.
College logo gifts.  Sweatshirts or other items with their college names are big hits. Here's a list of dozens of sources for you to check out. 
Custom Coordinates Necklace
 will help them always find their way back home. Hand-stamped with the coordinates, these slim necklaces come in silver, gold and rose gold.
Experiences, not things. Tickets to concerts or shows, or if your budget stretches to accommodate it, spring for a trip as a graduation gift. Many parents mentioned the lasting joy of a post-graduation trip if it fits into the family finances.
Money lei. Feeling crafty? Take those dollar bills and make a traditional lei. One part origami, one part Hawaiian necklace. A quick search on Pinterest will show you a 100 different styles with instructions.
Tools of the trade. Unassembled furniture? A hinge that is coming loose? A small but well equipped tool box like this one, Stanley 94-248 65-Piece Homeowner's Tool Kit
 might just be what your grad needs. 
The classics. You can never go wrong with these tried and trues. Watches and pearls might be tucked away for the first special occasion, but this is the graduation gift that lasts a lifetime.
Family photos. They may have snapshots of the family in their phones, but that is not the same as a beautiful professional photo for their wall or desk. Consider a family photo shoot, complete with family dog, before the kids leave home.
The Girl's Guide: Getting the hang of your whole complicated, unpredictable, impossibly amazing life
 by Melissa Kirsch. As the title suggests, Kirsch covers every aspect of a young woman's life with insight and humor. If I were sending a daughter out into the world, I would make sure she was tightly gripping a copy of this wonderful book.
A picture is worth… WeMontage offers teens a creative way  to create a mural of memories. Upload photos into a template and your soon-to-be college student will have an adhesive backed, ready to mount mural that can be pealed off and placed on the drab dorm wall by their bed. Save the backing and peel it off in May without damaging the walls.
And for the wall. For the college graduate who wants to take a little bit of the magic with her, a print of her alma mater might be just the thing to help make her first apartment seem like hers. University Icons has an online gallery of more than 500 colleges and universities and ships them framed or unframed. You can also order a computer cover and note cards with an image of the place she just left behind.
Their life on the page. What are you going to do with all those old report cards and iffy school photos? Here is a chance to put their lives on paper and make a scrapbook with mementos you have saved for years. This is not a last-minute job, but more like a suggestion for parents of juniors.
Cookies. Who wouldn't love a voucher from mom for baked goods that will be sent the following year?
Family memento. Grandparents looking for a memorable graduation gift might consider some of the family mementos or jewelry that their grandchildren can treasure forever. Passing on family heirlooms (and we use this term broadly) is a moment with meaning for both generations.
Steal a little time. Finally, one of our wonderful readers suggested something that tugged at my heart. A one-on-one parent and child trip, even just an overnight, is an opportunity that will not soon arise again. There really is nothing like a graduation gift of memories.
Note: We receive a small percentage of compensation from purchases made through  the Amazon and other links in this post.