The time has finally come for your high schooler to graduate. Congratulations! To reward them for all their accomplishments, it's nice to give them something special aside from cash (which is always the number one gift every year). We were stumped for ideas for the best high school graduation gifts, so we reached out to our band of experienced parents for some wonderful suggestions, as well as researching popular top-rated products that could be useful for someone leaving home for the first time.
Here are 50 of the best graduation gift ideas that will suit various interests and help support them as they take their next steps.
Note: We are a reader-supported site and receive compensation from purchases made through some of the links in this post.
Need more ideas? We have the best books to give grads and gifts for college graduates.
The Best High School Graduation Gifts
College-bound grads will have loads of stuff to bring to school, and giving them one of these lightweight and durable bags will be a huge help.
Fill it with new towels, laundry supplies, or their favorite toiletries, and they'll be well on their way toward move-in day. This is one of the most practical gifts on the list!
One of THE VERY MOST popular grad gifts for teens is a t-shirt quilt from Project Repat. Take a stack of your teen's t-shirts from camp, game day, memorable family trips, sports teams, concerts, and more, cut them into panels, and ship them off to Project Repat. Prepare to surprise your teen with a keepsake that celebrates their accomplishments and that they will love to use in college.
Harlan Cohen is the dean of advice to college students, and The Naked Roommate, his bestselling book, is an excellent go-to guide for all things related to college life, academics, friends, and more.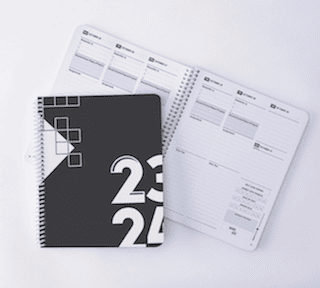 Class Tracker planners help students keep track of their academic life, extracurriculars, work commitments, and more. Don't let the simple and intuitive weekly layout fool you; the patented design is based on years of research, coaching, and student input. The College Edition features a sturdy, laminated cover, weekly pages explicitly designed for student life, monthly planning pages, goal-setting pages, and more, making this a must-have tool for success.
Dorm mattresses are usually the bare minimum for thickness and comfort. But you can help your student sleep like they never left home by sending them to campus with a ViscoSoft Select High-Density Twin XL mattress topper. Recommended by Consumer Reports, they are super comfortable, easy to clean, durable, and provide an ick-safe barrier between your teens and the old dorm mattress that's typically provided. You can choose from either three or four inches of gel-infused memory foam. The covers are washable and come with adjustable straps and slip-resistant mesh for a snug fit.
Pottery Barn Dorm offers quick-dry organic 100% cotton fabric towel sets. They are the Quick-Dry Organic Collection, and the site says these towels are "10 times more absorbent than traditional cotton Terry." It can be monogrammed in 13 beautiful colors, so there's no mix-up in the communal bathroom.
One of the best ways for your kid to stay safe at college is to have an always-charged phone. Having one of these small, lightweight, and high-speed battery bank chargers in a backpack is invaluable. This one from Anker is the slimmest model the brand makes for easy portability.
We love gifts as unique as your grad, so we are big fans of photo art designed by Minted's independent artists. With dozens of layouts, themes, and frames to choose from, the options feel endless. This heart-shaped keepsake is a fan favorite.
This cute laundry bag may give your student just the motivation they need to get to the laundry room before running out of clean clothes.
A way to block out noise from a roommate or hallmates is key for college students. These noise-canceling wireless headphones from Bose get the top reviews for audio quality and loads of other features like Bluetooth connectivity and a built-in mic for phone calls.
If you're looking for a less expensive but also well-reviewed set of headphones, these wireless noise-canceling headphones by Anker are considered the top ones priced under $100.
If your new graduate has an outdated computer, there is no gift that they will need more than a new laptop. Most students would appreciate a light MacBook Air to tote around campus. Although expensive, look for student discounts from Apple, Microsoft, or stores like Best Buy.
For example, Apple offers a discount to college students, seniors with admission letters, or college parents. Microsoft offers students and their parents discounts if they want to spring for a PC.
This massive tumbler from Stanley has become quite popular on TikTok and is now the No. 1 choice for Class of 2023 grads. Personalize it with their initials or college logo, which they will use daily. It comes in several colors and sizes, but the 40-ounce option will keep them hydrated.
If your teens love Lululemon leggings and workout gear, they'll be thrilled with a backpack from the same brand. This durable, lightweight, water-repellent backpack has a padded compartment for a laptop and an exterior pocket for a water bottle. Starting college with a new backpack, not one with the crumbs and bits of torn paper from high school, will be a welcome addition to their college life. It comes in three colors.
Becky Blades, author/illustrator (and mom of two daughters), is the genius behind this adorable book. You'll give your grad what she wants but doesn't know she needs: her mother's loving counsel. The beautifully illustrated book covers topics from laundry to forgiveness to creative living.
Dr. Meg Jay, a bestselling author and clinical psychologist, wrote this wake-up call to twentysomethings who will find her advice and coaching about this decade compelling. Updated in 2021, this book is filled with wisdom about what's to come. Watch her amazing TED talk, Why 30 is Not the New 20, to learn more about what she covers in her book.
This slim wallet from Leatherology would be an elegant keepsake gift for your son. This thin, bifold style gets top reviews; you can even personalize it for something special.
Getting a good night's sleep may be the single most important goal for our college kids to help them stay well. Unfortunately, it's also one of the most elusive for them in loud dorm rooms where they're paired with a stranger whose habits may be vastly different than their own.
Consider this "mini" weighted blanket that is machine washable, can go in the dryer, and provides just enough pressure to help soothe them. You can also cover it with a softer duvet cover for more comfort.
A dimmable desk lamp with a built-in high-speed charger for a phone is a practical gift that your teen can use in dorms or apartments for years to come.
A very different kind of lamp connects two family members by light. Get a pair of friendship lamps, and you can convey your love by touching the lamp, letting your teen know you are never far away. Likewise, they can send the same back to you.
Kendra Scott earrings, necklaces, and rings can be personalized with a gorgeous selection of stones that many college freshmen have worn during their sorority rush rounds. Pick your daughter's favorite color or the color of her new college.
Buy the Kendra Scott Elisa Pendant Necklace:
Buy the Kendra Scott Lee Gold Drop Earrings:
We love this idea for a unique jewelry gift – a bracelet in your handwriting! Your daughter will be reminded how much she is loved when wearing this lovely and very personal bracelet. Available in silver, gold, and rose gold colors.
We're big fans of the Herschel brand and think their selection of lightweight, durable, and affordable card cases is one to consider for your grad. Add a few dollars or a check for $20.23, and you're all set!
23. For the one living in a far dorm: Schwinn Wayfarer
College kids on bicycles is an idyllic image, but not if your kid's bicycle was the small one they got for the holidays in sixth grade. If they are going to attend a university that is suited to a bike, and most are, this may be the single most helpful gift you can give after their laptop. Don't forget to add a bike repair kit for helping to keep the bike in tip-top shape and a lock for safety.
24. For the caffeine addict: Keurig Mini
Students waking up early for class or pushing through late-night studying will appreciate their single-serving coffee maker. Keurig makes many different machines, but our favorite is the Mini which measures only 5 inches wide and comes in six colors. This is an excellent gift for teens or young adults moving into a dorm or smaller apartment.
The OXO Brew Compact Cold Brew Coffee Maker is an excellent solution for students who prefer cold brew. The compact size is much less counter and fridge space, perfect for a dorm.
Choosing one of these unbreakable tumblers from the Tervis Tumbler Collegiate Collection is a thoughtful (and inexpensive) way to celebrate the graduate in your life. Shop the collegiate collection and get the gear for the school where your teen will be next fall.
This compact set of exercise bands will give your teen a way to work out in their dorm or apartment. It has five bands with different resistance levels, a door anchor, and two cushioned handles. They're adjustable and perfect for travel, too.
How about a gift for the parents of grads? The Grown and Flown book has tips for college shopping, advice for move-in day, and … how to say goodbye! Now, in paperback.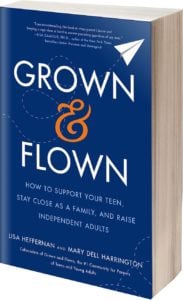 27. For the one going to their dream school: College Logo Gear
Sweatshirts or other items with college names and logos are almost a requirement. Fanatics has one of the widest selections of officially-licensed NCAA (and pro team) shops, with over 500 colleges represented.
We think these simple bead bracelets are lovely. When we read about the founder's story and saw how many bracelets he created to honor and contribute to worthy charities, we were even more excited to feature them on this graduation gift list. Check out the new collegiate collection — perfect for a recent grad.
Use code GF20 to receive a 20% discount on your order.
If your teen takes any valuable jewelry, a passport, or meds, having a lock box to store them in will give you peace of mind. This one has a programmable electronic lock and a steel tethering cable.
Unassembled furniture? A hinge that is coming loose? A small but well-equipped toolset like this one will last four years and beyond.
31. For the one who checks the time: Fossil Watch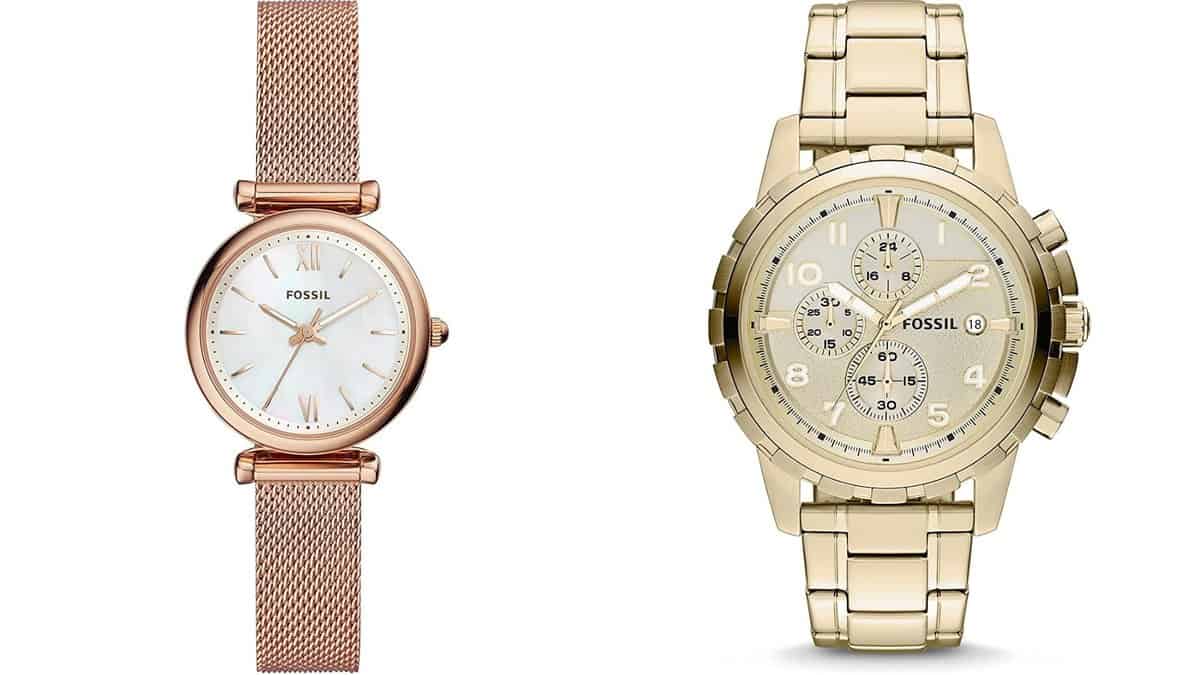 Treasured gifts might be tucked away until your teen has a special occasion, but these watches are graduation gifts that last a lifetime. Fossil offers watches that strike the perfect balance between style and affordability that can withstand a graduate.
Buy the Fossil Women's Carlie Mini Quartz Watch:
Buy the Fossil Men's Dean Chronograph Watch:
They may have snapshots of the family on their phones, but that's not the same as a beautiful professional photo for their wall or desk. This cool standing frame is an upgrade they'll proudly display in their dorm room. Consider filling it with a family photo shoot, complete with the family dog, before your grad leaves home.
What will you do with all those old report cards and iffy school photos? Here is a chance to put their lives on paper and make a scrapbook with mementos you have saved for years. You can even create a photo album using a site like Shutterfly to complete the job easier.
While cooking in a dorm room may seem impossible, your grad can at least whip up a good breakfast with this cult-favorite egg cooker. It has an impressive more than 100,000 reviews on Amazon thanks to its ability to boil, poach, and scramble eggs. Plus, there's no fire hazard. They can even make hard-boiled eggs as a power study snack throughout the day!
Despite having a camera built into their smartphone, teens are now drawn back to documenting their lives with a digital camera. There's something just so "vintage" about the classic point-and-shoots. The Canon PowerShot ELPH has been a popular option that is nearly impossible to find right now, but if you can find it in stock (like it is right now!), your teen will be floored.
Another fun, "ancient" camera idea? An instant camera! That way, they can get an immediate photo with their friends to hang for decoration in their dorm room. This one from Fujifilm has a selfie mirror, so they're not guessing to get a group shot, but you'll want to get them some film to go with it.
You may have noticed students hanging from trees in hammocks on the quad during college campus tours. Known as the ENO, these portable hammocks are made of strong nylon, can fit two people, and fold up into a convenient carrying case. It's the perfect study spot!
Candles aren't typically permitted in dorm rooms (they can be a fire hazard!), but there's a solution for your candle-loving grad. Using a 50-watt halogen bulb, this candle warmer combo is the perfect reading lamp while simultaneously heating the candle wax — no flame required. It also releases the scent much more slowly, helping the candle last longer.
The hand-me-down TV or the one in the dorm common room might not have smart features, which is needed if they want to watch Netflix, HBO Max, Disney+, and other streaming platforms. Roku offers one of the friendliest interfaces (so they can find the right app) and has 4K resolution. It will be a hit for the next movie night.
Walking from class to class across campus seriously adds up, and your grad might want to give themselves some bragging rights. The Fitbit Inspire 2 is a great fitness tracker to monitor your steps, heart rate, and sleep without the cost of an Apple Watch. Plus, the 10-day battery life means they won't have to worry about charging it all the time.
College dorms are notoriously cold, but you can make your grad a little more comfortable with the coziest blanket ever! This throw blanket is uber soft and available in 10 colors for lounging and sleeping. It's one of the things they'll be glad they had.
Lukewarm coffee is the worst. And while your grad is getting into the zone writing an essay or a study session, they might want the caffeine burst. The Ember Mug ensures that the cup will stay at the perfect temperature (between 120 degrees F and 145 degrees F) for up to 80 minutes. It also comes in many color options and is controlled by a nifty app.
Your new grad deserves to travel home for the holidays in style. Designed by actress Shay Mitchell (of Pretty Little Liars fame), the Beis Carry-On Roller is a minimalist traveler's dream. It has many valuable features, including a cushioned handle, a two-inch expander, plenty of compartments, a built-in lock, and a built-in scale. They'll never have to worry about overpacking.
It may be quicker to type up notes in class, but studies have shown that writing things can help us memorize them better. The Rocketbook is a smart notebook you wipe down and reuse thanks to the erasable ink. But don't worry! Your grad can still save whatever they've written onto the companion app to look back on later.
Moon lamps are all over social media, and your grad can have their own as part of their graduation gift. The 3D-printed moon-like surface was made using astronomical data provided by NASA. Pretty neat!
46. For the lounger: The Comfy
This next-level Snuggle is perfect for the new grad lounging at home. While slightly unflattering, the cozy fleece is next-level soft and has a kangaroo-like pouch to keep hands warm. Not to mention this wearable blanket is almost appropriate enough to wear to class.
Whether going to school across the country or just a state away, they could still use a reminder of home. Homesick candles perfectly capture the essence of each state with notes of nutmeg, lemon, and eucalyptus for Connecticut or lemon, orange, and patchouli for Nevada. Regardless, they're a good reminder of home.
This bracelet is a good reminder for your environmentally conscious grad, made from 100% certified post-consumer recycled plastic bottles, including less than 5% reclaimed ocean plastic. Plus, each string color represents an animal or ecosystem impacted by plastic pollution.
Let's face it: Backpacks aren't always the most stylish thing to tote around. But this lightweight yet strong tote bag works perfectly for dashing across campus. It comes with two exterior slip pockets, two zippered collar pockets, and a removable, adjustable crossbody strap to fit all. Plus, it's great for travel, too, as it comes with a luggage sleeve and can easily be rolled up thanks to the mesh material.
If your grad already has their skincare routine down to a T, they will probably appreciate this facial humidifier to help them through trying times. It delivers a light water mist for up to 8 hours to hydrate dry skin. Plus, it's portable, so they can bring it to the library on a late-night study hour.
Prices were accurate at the time of publishing.
More Graduation Gift Lists:
High School Graduation Gifts for Guys
High School Graduation Gifts for Girls