Graduation season is here and we love being able to suggest unique gift ideas for the grads in your life. Whether you are looking for a perfect send off present for a neighbor's child you have watched grow up, or your own son or daughter, we have a list of uncommon gifts from one of our favorite sites, Uncommon Goods.
We receive compensation from purchases made through links in this post. 
Unique Grad Gift Ideas for 2020 Grads
1. Collegiate Pouches
These unique zipper pouches are a great way for your college student to store make-up, charging cables, earphones, or other valuables inside a backpack or a dresser drawer.
2. New this year! Wishbeads Necklace, available in the same stones as the bracelet in a pendant style with room for a message of love and encouragement.
3. Bedside Essentials Pocket
One major design flaw with the weirdly elevated XL twin beds found in most freshman dorms is the lack of a nightstand to store glasses, phone, headphones, etc.  The flap of this felt pouch slips underneath the mattress and will keep your teen's essentials close at hand. Available in two sizes.
4. Long Distance Friendship Lamp
Light up loved ones' lives—across town or across the world—with these in-sync lamps. Buy a pair and, when you touch your lamp, their lamp lights up in the same glow, sending a little "thinking of you" to a far away loved one.
5. Scratch Off World Map
Dorm walls need all the help they can get and covering unsightly cinder blocks with a map is a popular solution. Made of recycled paper, these "scratch maps" can be easily attached to walls with putty or command strips. They have the added benefit of revealing a pop of color for each country or state your teen has visited. Students can "scratch off" the places they have visited and dream of future travel. Made in the UK.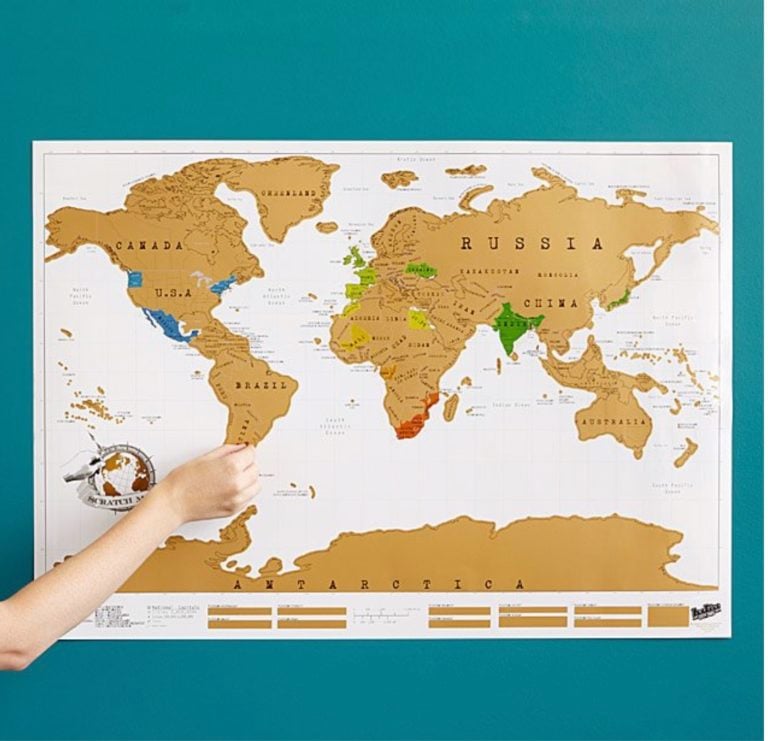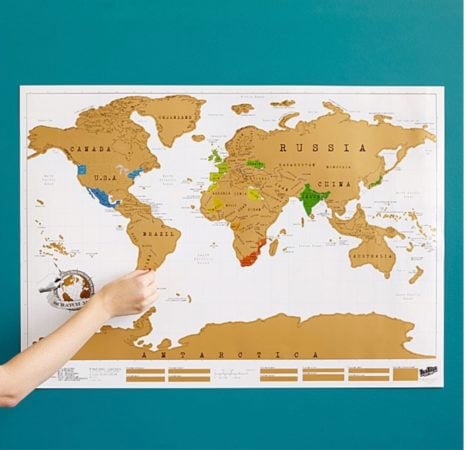 6. Here's the Scratch Off USA Map 
7. Travel Cord Roll
Dorm room organization is a challenge for even the most organized student. With a travel cord roll, your teen can easily pack and untangle their electronics cords to throw in a backpack or for weekend trips home.
8. Collegiate Pillow
We think these pillows are true keepsake items, as the design team at catstudio has discovered and highlighted all the treasured spots at your son or daughter's college with their unique embroidery style.
9. College Dish Towel
Your new college student will love this unique dish towel, with a design that celebrates all special things about their new school.
10.Custom Pet Pillows
Face the facts – it is not always parents and siblings that our kids miss the most when they leave for school.  Submit a favorite photo of your beloved pet and Uncommon Good artists will use it to create a one-of-a-kind keepsake pillow.  This will keep them company away at school and remind them of what they love about home.
11. Personalized Socks
What is it about a pair of socks that makes it so easy to misplace one?  Sock Island is alive and well and living in dorm laundry rooms. With these Pima cotton socks, there will be no mistake as to whom they belong.  Personalize them with an initial, a phrase, or a name. In grey or black.
12. Women's Personalized Socks
Same personalized offer as above, these are Supima cotton, and come in white, grey, black or pink.
13. Long Distance Friendship Frame 
Touch this unique frame and a different color lights up showing your teen that you are thinking of them while they are away.
14. Microwave Popcorn Popper
Having a snack of freshly-popped popcorn will be super-easy with this innovative silicone popper. No oil needed, wipes clean and is collapsible for easy storage.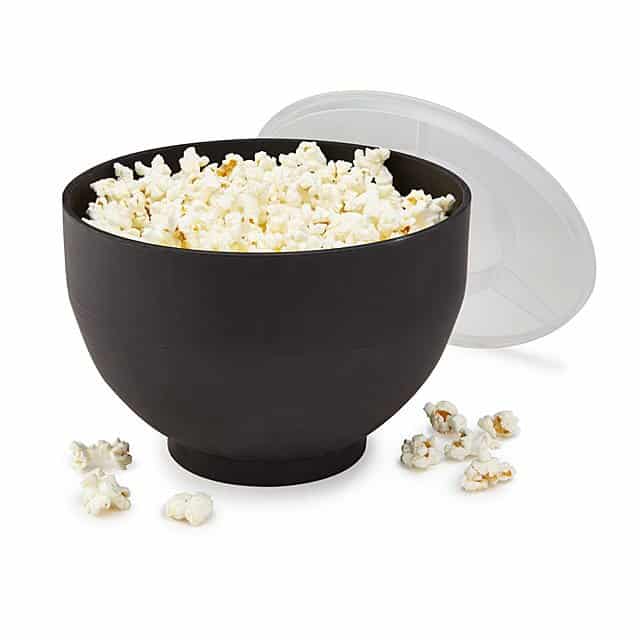 More About Uncommon Goods
Thinking of shopping at Uncommon Goods for multiple recipients this year?  Pay $14.90 for the "Uncommon Perks" membership and you will receive free standard shipping on all purchases plus double the regular donation in the Better to Give program.* As an added bonus, members will also receive two $5 credits during their membership.
*One more thing – We happen to love Uncommon Goods as a company.  They have a fantastic collection of unique gifts and we could pour over their website Gift Finder all day long shopping for our grads and, truthfully, everyone in our families.  But they are also a company with altruism in their DNA.
Their "Better to Give" program connects their customers to nonprofits around the world. With every purchase made, Uncommon Goods donates $1 to a Better to Give partner when customers designate a recipient non-profit at checkout. Since the program began in 2001, Uncommon Goods has donated over $2,000,000.
Still Looking for Other Gift Ideas?
25 Uncommon Gifts from Uncommon Goods 
About Grown and Flown
Are you the parent of a high school or college student? Join us at Grown and Flown Parents Facebook Group 
Interested in receiving our best Grown and Flown posts every week in your inbox? Sign up here
Want to read what the experts and other parents have to say about parenting teens? Check out our book, Grown and Flown: How to Support Your Teens, Stay Close as a Family, and Raise Independent Adults