The good news is your kid is GOING to college. The bad news is your kid is LEAVING for college. While there may be a long list of things they WANT to buy, here is a list of the things they NEED to buy, the real dorm essentials. We have cut to the basics, the must haves, and listed only the things that they will truly need to bring to college to have on day one. Even here there is much to consider, see below.
This isn't 1983. Plenty of stores offer free shipping if the shopping cart totals as little as $25, so resist joining the dorm shopping stampede.
Note: We receive a small amount of compensation from purchases made through some of these links.
If you are making a shopping list, here is what your freshman will need to bring to college :
An absolute dorm essential is a mattress protector. Dorm mattresses are old, well used…need we say more??? These zip-up covers come at every price point and some are designed specifically for kids with allergies. They need to be bought in size Twin XL and it will encase the mattress. The really flimsy ones tear easily, but some of the better ones will get your kid through four years.
2. Surge protector with USB ports
This will protect expensive electronics from a power surge, provide more outlets than a typical dorm room, and avoid extension cords which are banned by many schools. This one, a Power Strip Surge Protector with a six-foot cord,
has USB ports, too, which will definitely come in handy. This is something all freshmen will need to bring to college.
3. Shower caddy
For students with a bathroom right near their bedroom, this item can be left off the list. But for anyone making a trek down the hall with shampoo, conditioner, soap, deodorant…they will need to bring a shower caddy to college. This one, Quick Dry Hanging Toiletry and Bath Organizer
would work well for college kids sharing bath space.
4. Laundry hamper or bag
Your kid may not clean the dorm room but he will (eventually) wash his clothes so get a laundry bag, perhaps like this one: Pop-Up Collapsible Mesh Laundry Hamper
. First, think about how much they will need to carry (are they a once a week launderer or a once a month!) how far they will have to carry (are the machines on the floor or in another building) and do they want an open basket to fling clothes in across the room?
5. Storage solutions
Dorm rooms are tiny and space at a premium. To create more room, shop for underbed storage containers to stash clothes and other items but, before buying, find out how much room there is to maximize this precious space. Buy Command Hooks
for the wall to hang necklaces, baseball caps and a sweatshirt. Look for flat hangers that are indestructible and take up little room. Before you buy over the door hooks, which are incredibly useful, make sure you know the thickness of the door.
6. Mattress topper
College mattresses are rock hard and your kid will be over-the-moon happy if you get them a mattress topper. From egg crates, to memory foam, to expensive featherbeds, they all do the job and will help your kid will get a better night's sleep. Here's one, 3-Inch Gel Memory Foam Mattress Topper
, that our readers LOVE.
7. Twin XL sheets
Many stores offer sheet bundles that include a comforter plus top sheet, bottom sheet and pillow case. Each of these can all be bought as separates, as well. There is a massive range in price and quality and this is an item of personal choice. Twin XL size sheets in popular brands and colors can sell out before college starts so shop sooner rather than later since sheets are something all freshmen need to bring to college. This AmazonBasics Microfiber Sheet Set
is well priced and is sold in 10 colors.
8. Pillows
While bed pillows are dorm essentials, many kids like having an extra pillow on their beds and these oversized square European pillow (also at every price) are ideal to lean up against the wall when they are reading, studying and watching Netflix, too. Check out this Cotton Euro Square Pillow
, especially if your teen picked out a comforter that has a matching sham pillowcase.
9. First aid kit
We suggest that parents find some sort of plastic container and put together a small medicine/first aid kit of what they know their kids will need. Kids get sick at 2am and it is nice to have cold or stomach remedies at hand. Make sure your kid knows what the dosage is for any meds they bring to college.
10. Towels
If you have old towels around the house that can do one more tour of duty in the college dorm, by all means, use them. If you are buying new towels for your off-to-college teen, consider monogram ones. These have less chance of getting lost in the bathroom, dorm room or laundry room and may even make it through four years. Take a look at these Monogrammed Bath Linens
which may be a good option for your freshman and come in lots of pretty colors, too.
Related:
College Checklist: The Most Popular Freshman Dorm Extras
Here are the Best 12 Dorm Ideas You Won't Want to Forget
Note: We receive a small amount of compensation from purchases made through some of these links.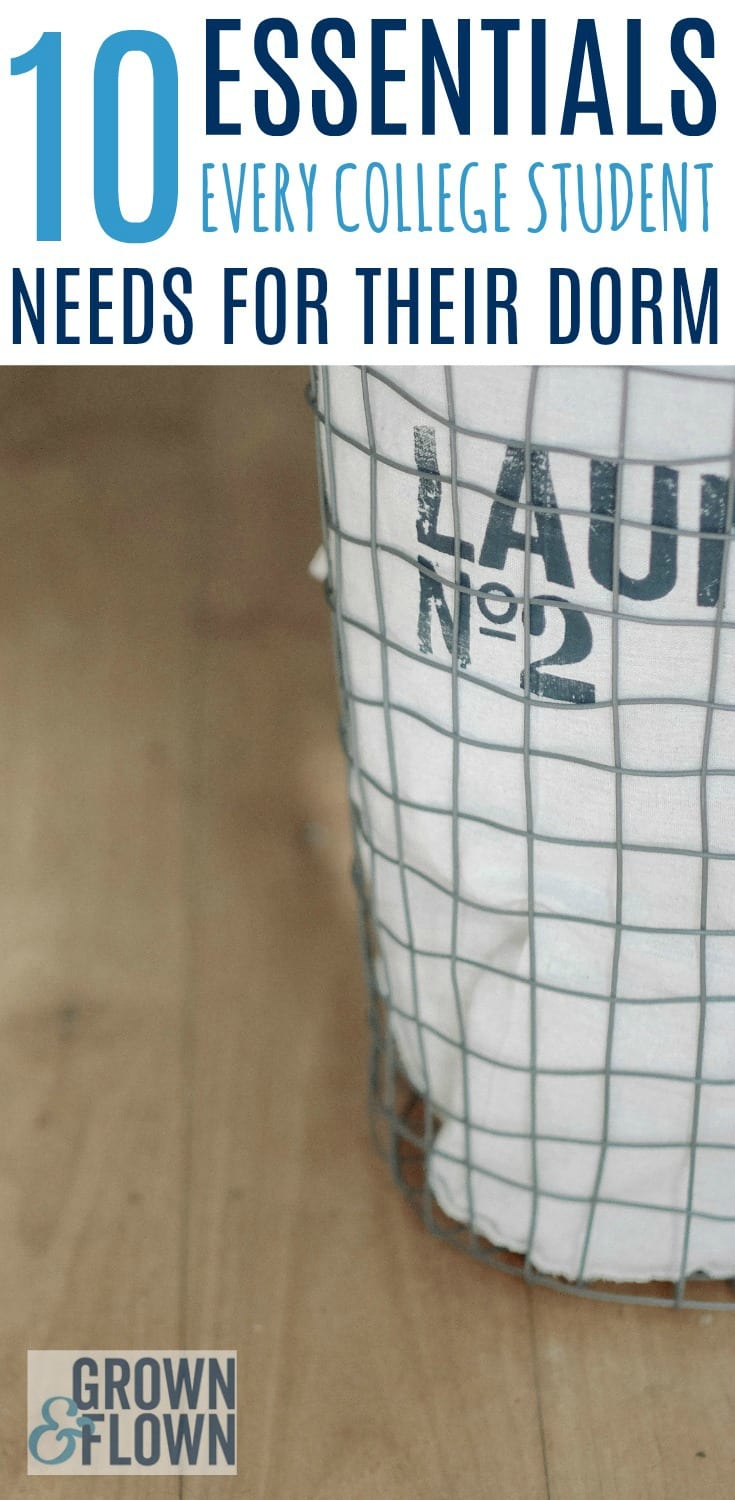 SaveSave
SaveSave
SaveSave
SaveSave