Successful dorm living is all about creatively using the space they're given. While we love the idea of decorating a dorm to reflect your college student's personality and make the room feel like a true home away from home (the homesickness can be real!), even more practical is investing in smart dorm storage solutions to store belongings properly, keep them organized, and ultimately make the college dorm living experience a complete breeze.
We combed through our favorite retailers to purchase dorm storage items for the best options money can buy, looking at user-friendliness, durability, and how well each item can fit within a college student's budget (and cramped dorm room). From clear stackable storage bins with leak-proof lids to hanging storage that provides more closet space, here are our 20 favorite dorm storage ideas to check off their packing list.
Reviews of The Best Dorm Storage Items
Ottoman storage is a must-have for both style and functionality. We highly recommend this easy storage essential to provide a seating option or makeshift coffee table that allows one to conceal over 4,000 cubic inches of clutter in a flash. It collapses into a neat 2.75-inch stack for ultimate storage and portability on move-in day, and they'll love the soothing colorways that make it easy to incorporate into any dorm décor.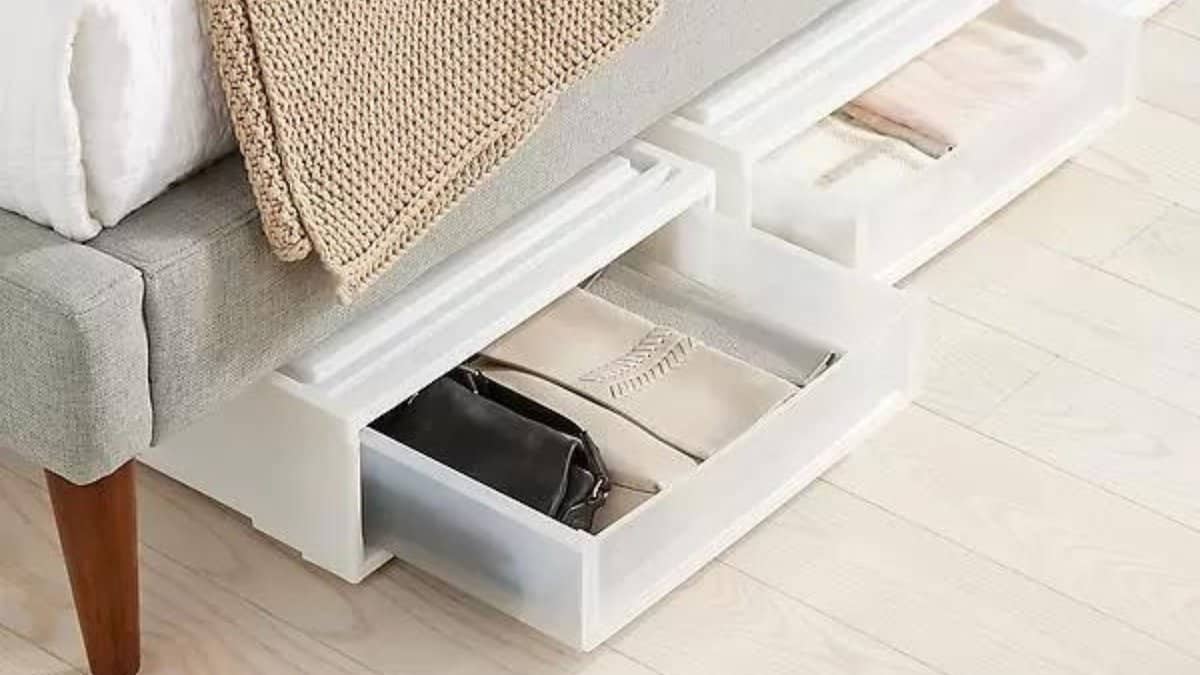 Make intelligent use of oft-forgotten space by investing in this handy and practical under-bed storage we love from Iris. It glides smoothly for easy operation, features a transparent material so they can quickly identify belongings, and it's stackable for perfect placement whether under the bed or in a closet. It's the ideal storage solution for all seasonal items they won't need year-round, from bulky winter jackets to heaps of swimsuits.
This hassle-free storage solution is a perfect way to store bulky and heavy items to move in and out of the dorm room. They're bestIt has a load-bearing capacity of 55 pounds, making it an excellent option for books, boots, coats, and more. Its zippered closure compresses items within the bag, holding more than meets the eye, and its durable polypropylene material is bound to hold its shape. You can grab them by the handles for convenient transport, similar to a duffle bag.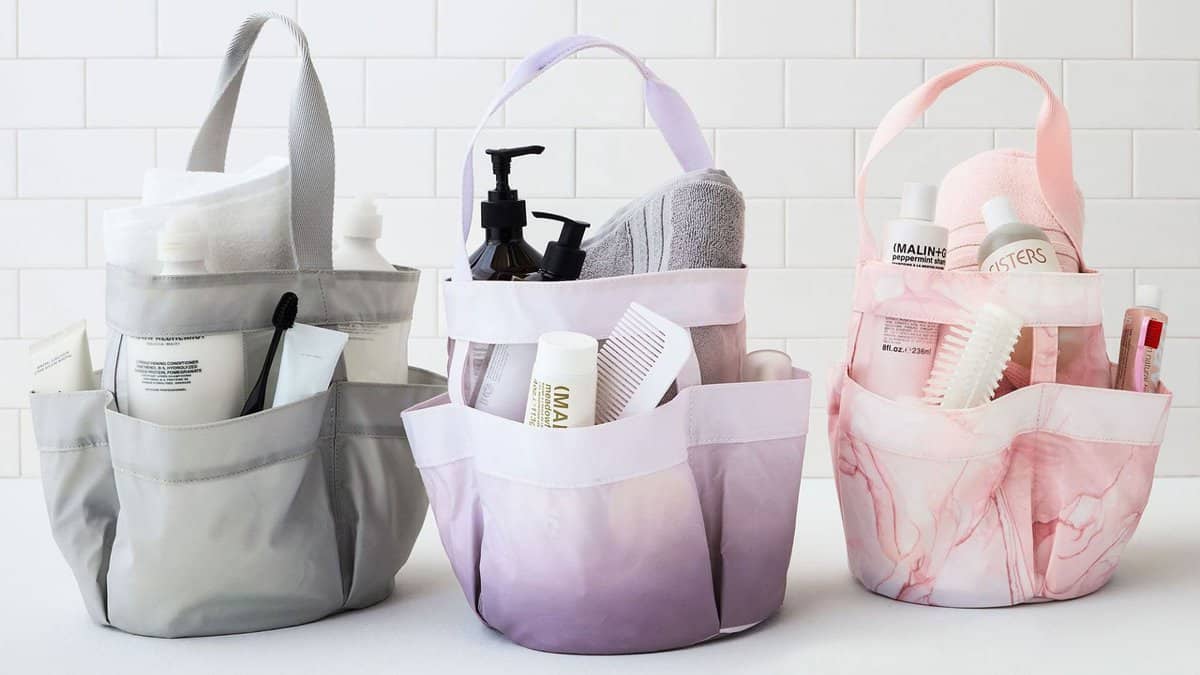 It doesn't get more practical for everyday use than this classic shower caddy we love from Pottery Barn Teen. It's made of a polyester waterproof material (six recycled plastic water bottles for extra sustainability points!). It features a mesh bottom allowing water to drain and belongings to dry quickly. The four exterior pockets in this caddy allow for easy organization of all haircare and skincare products in a flash. Add an optional monogram so no one accidentally steals their stuff.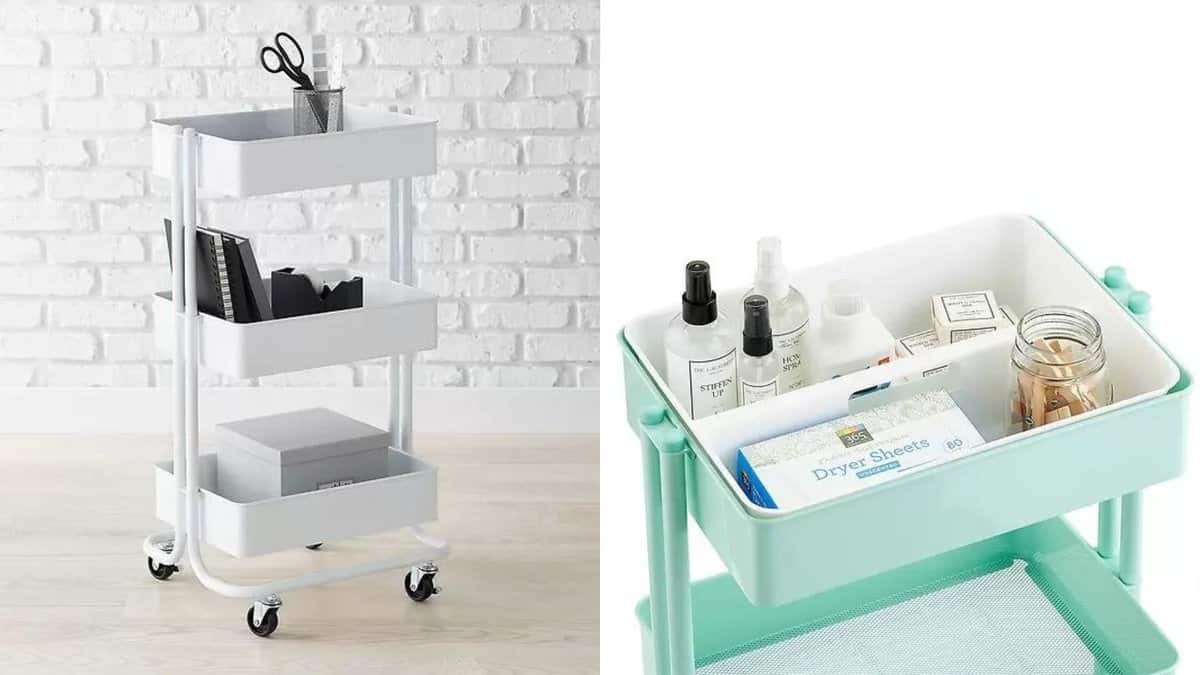 With its portable construction and three tiers for easy organization, this popular utility cart is *wheely* useful in virtually every room. It has a slim build that fits neatly into tight spaces or cabinets and can fit items up to the size of a legal-sized piece of paper. Mesh bottoms allow for ventilation, and it comes in the cutest colors.
Whether they're lacking a nightstand or have one that's too far out of arm's reach, they'll love having this bedside storage organizer by their side. It slips (and stays!) right under their mattress, giving them quick access to a phone, book, tablet, charger, or other essentials. Bonus: It also works with sofa cushions.
An organized desk is an organized mind. Help them make the most out of exam cramming sessions with this handy wire mesh desk organizer featuring six open compartments. It even has a bonus sliding drawer to conceal more valuable items and rubber feet to keep it upright and stable atop their desk.
Lugging around a heavy hamper can lead to back pain. Opt for this handy backpack laundry bag that evenly distributes weight across the back. It supports up to 44 pounds, features a drawstring with a cord lock to keep laundry contained, and has an inner zippered pocket to organize belongings. It's the perfect solution if they have to walk several blocks or take a few flights of stairs to do laundry.
If there's one thing a dorm room can benefit from, it's a set of drawer storage cubes. This pack of four can be arranged under the bed, against a wall like a chest of drawers, in a closet out of sight, or wherever their space needs a little extra tidiness. Thanks to their transparent design, they'll easily be able to identify items they use daily or keep in storage seasonally.
Store bulkier items like books, linens, and coats easily in these 25-quart plastic storage bins. Their straightforward design allows quick identification of what's inside, and their stackable construction with grippy and grooved lids makes them easy to store and transport if you buy more than one. The buckle latch keeps the lid secure while the pull handle at the base makes them easy to retrieve from anywhere in a dorm room.
Have all the necessities within arm's reach with the popular Bedshelfie bedside shelf. It clamps seamlessly onto the bed frame for an impromptu nightstand, whether they're in a lofted bed or the top bunk. It holds up to 35 pounds worth of belongings like a tablet, phone, or mug of sleepy tea, is made of sustainably sourced bamboo in multiple colors, and comes with tool-free installation.
SAVE 25% on your purchases at the College Shop at The Container Store and get more savings through the summer. Learn more here.
Why You Can Trust Us
To develop this dorm storage list, we considered reviews, research, and what parents in our Facebook group say are the most-used storage items in their kids' dorms. We researched each product for value, user-friendliness, and durability to ensure each dorm storage item withstands the test of time and heavy use, relying on both reviews and parent testimonies. We also sourced each item from retailers and brands we trust and recommend for college students on Grown and Flown, including The Container Store and Pottery Barn Teen. 
What Are the Best Dorm Storage Ideas?
The best dorm storage makes intelligent use of the limited space college students tend to have during their college experience, from collapsible and adjustable hangers to rolling caddies that allow easy transportation of belongings from one room to another.
Storage shouldn't be challenging, so we highlight several ideas that take up limited space when not in use. These types of storage are also easier to transport than their heavier counterparts. This isn't to say we don't love a stackable moment — crystal-clear bins that stack easily on top of one another are one of our favorite dorm storage ideas since you can organize them under the bed while still being able to identify what's stored inside.
Prices were accurate at the time of publishing.