College is expensive, and getting kids ready for school can strain any budget. We have looked at the basics on each college checklist to see what every student needs, the 12 items most teens cannot live without. If your budget can stretch to it, here are what students love and use all year.
Note: We are a reader-supported site and receive a small compensation from purchases made through the links in this post.
Favorite dorm extras for your freshman's college checklist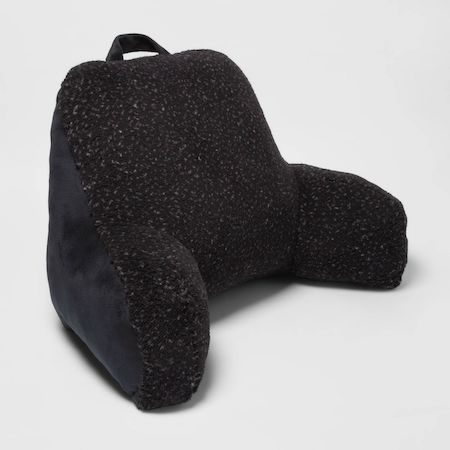 Dorm beds have no headboards, so adding an extra pillow will create a little luxury for your freshman. We love oversize pillows, like these Sherpa backrest pillows, that our teens can use to lean against the wall when they sit in bed and study.
With limited dorm space, making use of under-bed storage is crucial. These under-bed drawers are stackable, so you can use a little or a lot of space under a bed. In addition, the drawers make it easy to access what's under the bed without pulling everything out. This is very practical for dorm use and later in an apartment.
NOW — Save 25% at The Container Store when you sign up here.
These are not only incredibly helpful for move-in day, but they are all excellent to use as under-bed storage for bulky sheets and towels or off-season items.
Ordering a quilt from Project Repat is one of our favorite ways to bring a little bit of home to a dorm room, as there is nothing more personal than a blanket stitched from memories. Take all the shirts from camps, class days, and family trips and ship them to Project Repat — they do the rest.
Click on the link and sign up for up to 40% off offers. 
A storage bin is the best way to store seasonal clothes, extra bedding, or towels. These boxes are built strong for easy, dependable storage and stackable. Out of the dozens of plastic storage bins for indoor use that you can select from, these get the top reviews from the Wirecutter product reviewers from The New York Times.
If your teen prefers to use a laundry basket to carry their clothes to the laundry room, this is another top pick from the Wirecutter in The New York Times. Its ergonomic design makes it easy to carry, while its ability to stack makes it perfect for sorting clothes or storing other items. Buy a single basket or a set of four.
If your teen is looking for an alternative to a hamper, this laundry backpack could make it much easier to carry their laundry to and from the laundry room. This backpack is large enough to hold multiple loads, is padded for comfortable carrying, includes pockets, and is machine washable. Made of cotton polyester from 100% recycled yarns.
Hydro Flask water bottles are made of stainless steel and keep cold drinks cold and hot drinks hot for hours.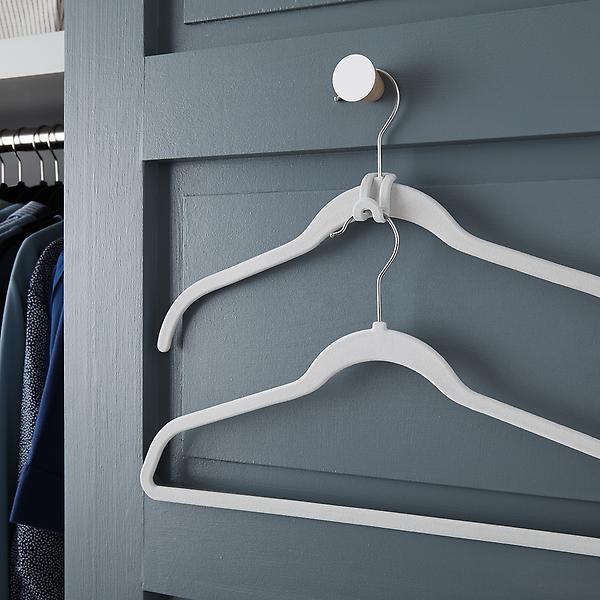 Hangers are an essential dorm item that you won't want to forget! These non-slip velvet hangers have slender profiles to maximize closet space. These get great reviews from the Wirecutter in The New York Times. Available in six pretty colors. Buy in packs of ten.
This is well worth the expense for any student, but more so, if your teen wants to take a passport, valuable jewelry, or prescription meds, they must keep secure.
Many students miss their pets….even more than their parents! Thanks to All About Vibe, you can send a likeness of everyone's favorite dog (or ANY other pet or pic) to keep feeling close. The site is easy to use, and the quality is outstanding. No wonder why their pillows are the purr-fect (ha!) back-to-campus companion.
Use discount code SCHOOL to receive 25% off your order before AUGUST 31, 2023.
Your student will appreciate the 10-foot cable to charge their phone as outlets in dorm rooms are scarce and not always conveniently located.
This mirror installs easily without additional hardware on interior doors (best for college apartments or suite-style dorms.)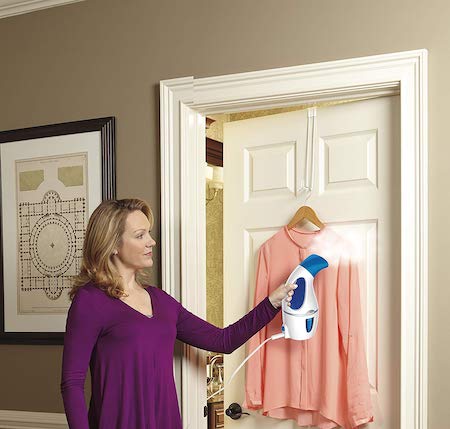 If your teen is used to looking neat and prefers clothes that have been ironed, consider a steamer rather than an ironing board and iron since there is little room for these bulky items.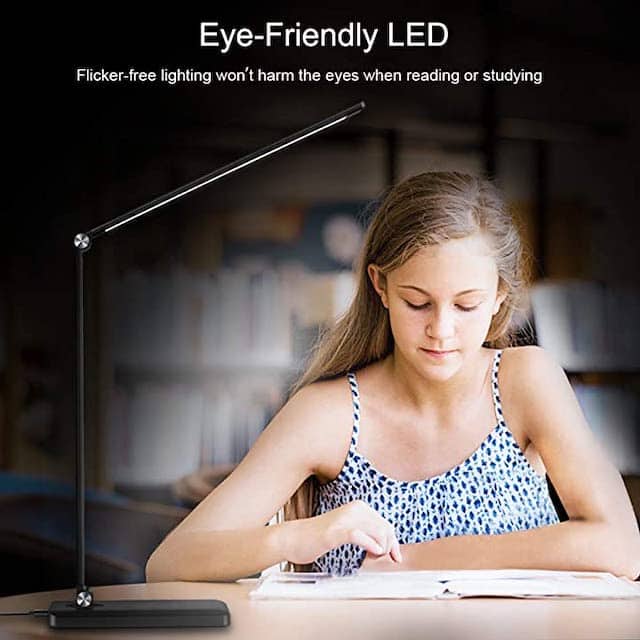 Roommates rarely go to sleep at the same time, and when your student is up late studying (we can hope!), turning the light down with this lamp's dimmer switch will be greatly appreciated. This one also has a USB port, which is a super-useful feature.

Dorm rooms without air conditioning are roasting hot during the first and last months of the school year, and a desk fan can help when your kid is trying to finish a paper, study for a test, or sleep. WOOZOO fans have become very popular.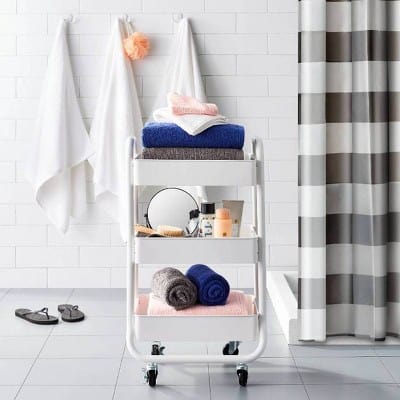 This is one of those dorm purchases that could easily be used in many ways. Great for storage in a dorm room, or bathroom, it could also hold snacks and supplies or be used as a nightstand between two beds. Available in six pretty colors.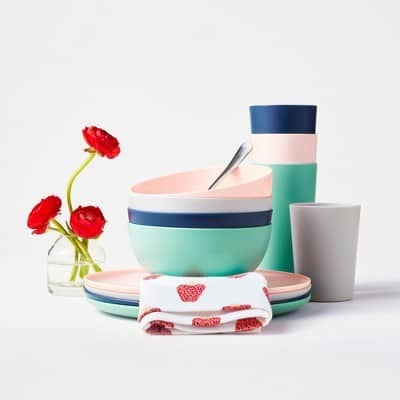 Students will want to have some way to heat food in a microwave or pour themselves a bowl of cereal. This set comes in cute colors and is microwavable and dishwasher safe.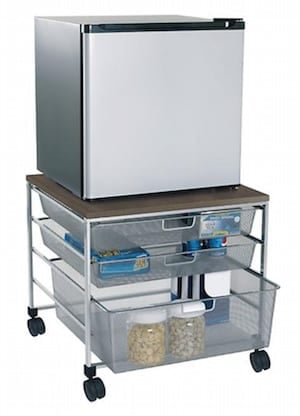 This mesh cart is ideal for elevating a mini fridge for easy access to food. The bottom drawers can store non-refrigerated snacks, paper towels, and cleaning supplies. We love This Elfa product (exclusive to The Container Store).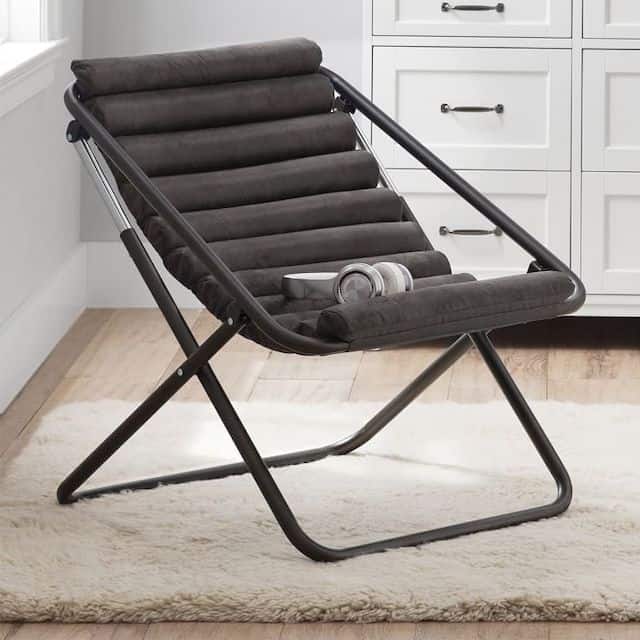 When friends get together in a dorm room, the is often no place to sit beside one desk chair and the beds. A folding chair like this lounge chair is an excellent solution to the problem and can also be a more comfortable place for reading. Available in multiple colors and finishes.
Here's a lower-cost folding chair from Target.
This is essential if your teen has a communal bathroom; they need a place to hang their towel to dry. Its minimal design makes it easy to pack. (Recommended for interior doors.)
A way to block out the noise that even the quietest roommate makes will be a big plus for your student. Choosing what to buy — over the ear or earbuds — depends on how your teen will use them and how much you want to spend. The EarFun earbuds are top-rated at a budget price point and have noise-canceling capabilities.
You can choose expensive headphones for your student, but if you are looking for a less-costly alternative, these wireless, over-the-ear ones from 1More get excellent reviews.
One of our sons roomed with five other boys and shared a bathroom — yikes! They installed a speaker like this, a Water Resistant Bluetooth Shower Speaker, listening to their phones' music while showering.
25. Extra storage (dormify)
This ingenious Storage Ottoman from dormify also doubles as extra seating when the top flips up to create a chair. It comes equipped with dividers for shoes and folds flat when not in use.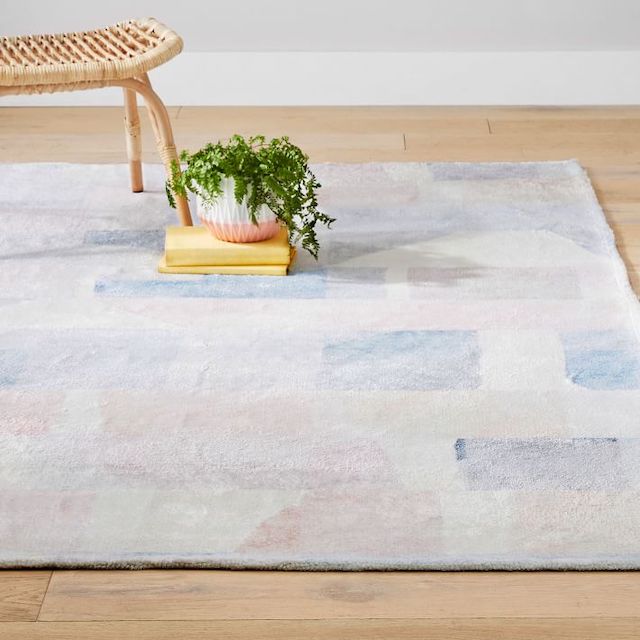 Cold and dirty dorm floors can be vastly improved with area rugs but make sure you select one that is durable and won't show stains. Here are machine-washable area rugs that we think could be a great addition to a dorm.
College students need to master the art of laundry, and using a mesh laundry bag can be a practical and inexpensive way to take care of delicates.
Dorm beds are typically elevated, so there is no convenient nightstand for phones, glasses, etc. This clever tray can be installed without tools and will help make your teen's bed space much more functional.
You Might Also Enjoy Reading:
College Move-in Day: 12 Items That Will Save Your Life These things the Grown and Flown community told us made all the difference on move-in day.
Bestselling Dorm Essentials for College Freshmen  If you're making a list of other nice-to-have dorm supplies, this is a great place to look.