College is expensive and getting kids ready for school can be a strain on any budget. We have looked at the basics that are on each college checklist to see what every student needs, the items most teens cannot live without. Here is a look at a few extras. If your budget can stretch to it, here the things that students love and use all year long.
Our Favorite Dorm Extras to Add to Your Freshman's College Checklist
1. Amazon Prime Student
This is our favorite college extra because it is FREE (first six months) and your college student can get whatever they need with two-day shipping. Here's how to sign up Join Prime Student FREE Two-Day Shipping for College Students
2. Extra Big Pillow
Dorm beds are wooden platforms with box-like or paper-thin mattresses so adding an extra pillow will add a little bit of luxury for your freshman. We love oversize pillows that our kids can use to lean against the wall when they sit in bed and study. Consider getting a 26 X 26 Square Pillow
 when you comforter shop and look for a coordinating sham to have a pulled together look. 
This is to college students what talking Elmo was to our kids, the toy everyone wants. We are amazed at the functionality of this new electronic wonder from Amazon. Want to play music, get the weather forecast, have a book read to you, order a pizza or an Uber? Alexa, the Echo virtual assistant, is there whenever your student needs to ask her a question. (Think this might be a great gift for parents, too!)
4. Extra Long Phone Power Cord
Dorm room outlets are few and far between which means phones stashed by a student's bed cannot be charged overnight. Solution? Extra Long Ligtning Syncing and Charging Cable Cord Wire
Having a reusable water bottle to carry around campus makes great sense – students walk all day and need to stay hydrated. Plus, why spend extra money on plastic water bottles that add to environmental waste? We think these S'well bottles are excellent since the stainless steel construction keeps cold liquids cold all day and hot liquids hot for 12 hours. There are many designs and price points to choose from.
6. Photo collage
A photo collage from WeMontage was a huge hit for my freshman daughter who chose favorite pictures of her high school friends and family to create a montage that adhered to the wall next to her bed for all of freshman year. Dorms don't allow anything to be nailed into the wall so the adhesive application is ideal.  Plus, if they save the backing the poster can go with your student to the next dorm room or apartment.
7. Upgraded Dorm Linens
Are you and your soon-to-be freshman clicking through Pinterest looking for ideas about how to transform a dorm room from dreary to dreamy? Look no further than LeighDeaux Dorm to find gorgeous bedding and accessories that are among the prettiest we have seen. Plus, we are excited that LeighDeux Dorm is offering Grown and Flown readers a 10% discount when they use this code at checkout:  Flown2016
8. A Stash of Cash
A stash of cash for a late night taxi or other emergency – although kids are comfortable operating in a cashless world, there may be an emergency where they need cash for a cab. Add a small stash of cash marked for emergencies to the college checklist and you will both be relieved if needed.
9. Comfortable Extra Chair
Your student already knows that the dorm room will be tiny and equipped with only two beds and two chairs. Kids soon make friends and find it's usually standing room only. A comfortable chair like this Plush Saucer Moon Chair
 that can be stored flat and opened up for a guest will be a welcome dorm extra.
10. Storage Cubes
Creating storage space is the number one task on the college checklist for making a dorm room livable. Once your kid (and you) have purchased the big bins, consider a Foldable Storage Cube/Ottoman
, a stylish solution for storage and extra seating, too.
11. String of Lights
Did we already say how dreary dorm rooms are? IF your kid's college allows it, consider these 100Ft String Lights
 to create a festive look with minimal expense and effort.
Roommates rarely go to sleep at the same time and, when your student is up late studying (we can hope!) turning the light down with this lamp's dimmer switch will be greatly appreciated. This one has a charging dock, which is a super-useful feature.

13. Safe or Lockbox
This is well worth the expense for any student but more so if your college kid wants to take a passport or has prescription medicines that they needs to keep secure. Here's an Electronic Compact Safe
 with a digital lock.
14. Refrigerator Cart
There is nothing quite as filthy and disgusting as the floor of a college dorm room. Putting a refrigerator that holds food on that floor, well, yuck, just yuck. Here is the answer. This Mesh Compact Fridge Cart
, by The Container Store, that it will be one piece your freshman can keep for four years and move into a first apartment, too.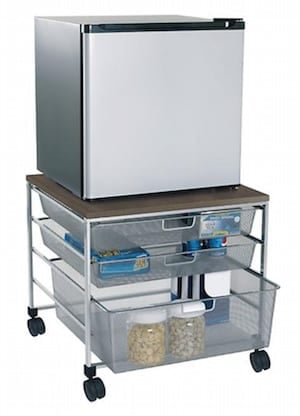 15. Desk Fan
Unair-conditioned college dorm rooms are roasting hot during the first and last months of the school year and this compact desk fan can help when your kid is trying to finish a paper or study for a test. This one, the Vornado Personal Air Circulator
 caught our eye.
16. Bluetooth Headphones
Kids live with headphones in their ears and these will be a great treat to your student who can use them at the gym or the dorm room to help drown out the noise of even the most quiet roommate. Phiaton Active Noise Cancelling Earphones
 is on the expensive size but has amazing noise-cancelling capabilities.
17. Shower Speaker
One of our sons roomed with five other boys and shared a bathroom – yikes! They installed a speaker like this one: Water Resistant Bluetooth Shower Speaker
 and listened to the music bluetoothed from their phones while showering.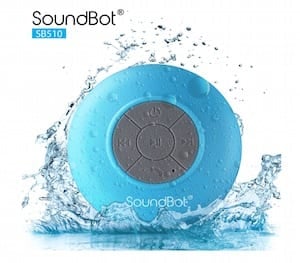 18. Phone Battery Charger
College students are on the go from morning (ok, late morning) to night and it's easy to drain a phone's battery. This Jackery Bar Premium External Battery Charger 
is a lightweight and inexpensive charger to throw in a backpack to make sure your student can always keep a phone charged,  which is the single best safety device to include on their college checklist.
19. State or Team Banner
Does your college student have a favorite team or are they going out-of-state to college? Consider a lightweight banner or flag to stick on the dorm wall. Great ice-breaker in the first few weeks, too, when they find kindred spirits. Here's an example Denver Broncos Large NFL 3×5 Flag
20. Homemade Headboard
This clever addition to a dorm checklist is homemade but requires not much more than plywood, fabric, batting and a staple gun. Your college kid will thank you, every single day.
21. Lingerie Bag
Freshmen need to master the art of laundry in college and a Lingerie Bag
 is an excellent and inexpensive way for girls to take care of delicate undergarments and both genders to keep track of pairs of socks. The sock monster is alive and well and lurking in college laundry rooms!
22. Coat Tree
A Coat Tree
 is an incredibly versatile piece of furniture that uses little of the precious floor space in a college dorm. Jackets, bags, a robe, even a wet towel may have a spot up off the floor. This is another great product from The Container Store that my college daughter can't live without.
23. Bed Shelf
College beds are often raised to weirdly elevated heights with no space to place a phone, glasses, or a bottle of water. This Bedside Shelf
 can serve as a very handy nightstand for your college freshman.
24. Water Resistant Backpack
One thing that college kids frequently fail to anticipate is the need for rain gear. A water resistant backpack that can hold an expensive laptop is an excellent investment.  This one, by the Herschel Supply Co.
comes in loads of different colors and designs.
This game has become incredibly popular on college campuses and will make for a perfect ice-breaker.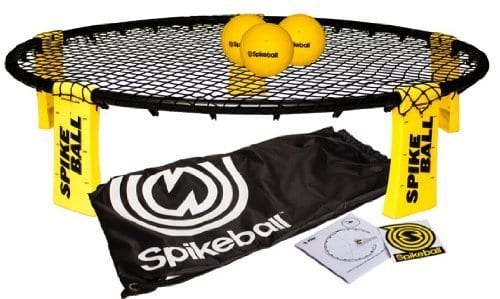 The best type of bag for a college student is a duffel that can be folded and stashed away until they pack for fall break. This one is really durable and can last for all four years of college, and then some!
Take the time to write a letter to your college freshman with all your heart wants to convey as you leave them at their dorm. Tuck in an amazon gift card and they will be able to order a few dorm extras adding their own personal touch to their new home away from home.
Related:
Best Graduation Gifts for High School Students 
Professor Offers Best Advice for College Freshmen
The Perfect Letter (When You Drop Off Your Freshman)
Note: We receive small amounts of compensation from purchases made through some of the links in this post.