College is expensive and getting kids ready for school can be a strain on any budget. We have looked at the basics that are on each college checklist to see what every student needs, the items most teens cannot live without. Here is a look at a few extras. If your budget can stretch to it, here the things that students love and use all year long.
Our Favorite Dorm Extras to Add to Your Freshman's College Checklist
The Amazon Echo Spot is to college students what talking Elmo was to our kids – the electronic toy everyone wants. Your teen can ask "Alexa," the virtual assistant, to set an alarm, play music, get the weather forecast, have a book read to them, order a pizza or an Uber, and so much more.
Amazon has just announced the next generation VA, Echo Show
 which has a touch screen and video camera so you can video chat with your college student via voice command.  Amazon Urges You to Call Your Mother (With Alexa) …they had us at "call your mother" and think you might want to check out this new device, too! Amazon is offering $100 off if you purchase two of them at once.
2. Extra Big Pillow
Dorm beds have no headboards so adding an extra pillow will create a little bit of luxury for your freshman. We love oversize pillows that our kids can use to lean against the wall when they sit in bed and study. These Reading Pillows 
look wonderfully soft and are durable, too.
Grab that stack of t-shirts in your kid's room from sports tournaments, field days, summer camps and more, ship them to Project Repat and receive a one-of-a-kind and highly personal quilt that your freshman will love to wrap up in this fall. For a 20% discount, use the code grownandflown

4. Extra Long Phone Power Cord
Dorm room outlets are few and far between which means phones kept by a student's bed cannot be easily charged overnight. Solution? Extra Long Charging Cable Cord
5. S'ip by S'well Stainless Steel Water Bottle
Having a reusable water bottle to carry around campus makes great sense – students walk all day and need to stay hydrated. Plus, why spend extra money on plastic water bottles that add to environmental waste? We think these S'ip bottles are excellent since the stainless steel, double wall construction keeps cold liquids cold all day and hot liquids hot for 12 hours. There are clever designs and several price points to choose from.
6. Safe or Lockbox
This is well worth the expense for any student but more so if your college kid wants to take a passport, valuable jewelry or has prescription medicines that they needs to keep secure. Check out this Compact Electronic Safe for your freshman.
7. Clothes Steamer
If your kid is used to looking neat and prefers clothes that have been ironed, consider a steamer rather than an ironing board and iron since there is little room for these bulky items. We hear great things about this Mini Steamer with Travel Pouch
 and look at the adorable colors it comes in!
8. Dimmable Desk Lamp with USB Charging Port
Roommates rarely go to sleep at the same time and, when your student is up late studying (we can hope!) turning the light down with this lamp's dimmer switch will be greatly appreciated. This one also has a USB port, which is a super-useful feature.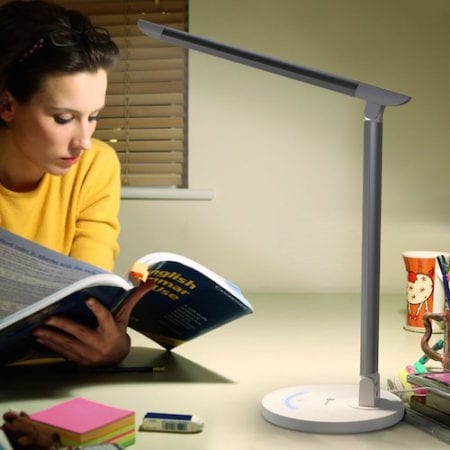 9. Desk Fan
Unair-conditioned college dorm rooms are roasting hot during the first and last months of the school year and a desk fan can help when your kid is trying to finish a paper or study for a test. This one, the Vornado Personal Air Circulator
 caught our eye.
10. String of Lights
Did we already say how dreary dorm rooms are? IF your kid's college allows it, consider these 100Ft String Lights
 to create a festive look with minimal expense and effort.
11. Tool Kit
Your freshman will be to go-to person on their hall with this tool kit. This one, a 39-Piece Tool Set with Plastic Toolbox Storage Case, is well-priced and has all the basics your kid will need for the next four years of dorm and apartment living.
12. Photo Collage
A photo collage from WeMontage was a huge hit for my freshman daughter who chose favorite pictures of her high school friends and family to create a montage that adhered to the wall next to her bed for all of freshman year. Most dorms don't allow anything to be nailed into the wall so the adhesive application is ideal.  Plus, if they save the backing, the poster can go with your student to the next dorm room or apartment.
13. Refrigerator Cart
There is nothing quite as filthy and disgusting as the floor of a college dorm room. Putting a refrigerator that holds food on that floor, well, yuck, just yuck. Here is the answer. This Mesh Compact Fridge Cart
, by The Container Store, will be one piece your freshman can use for four years.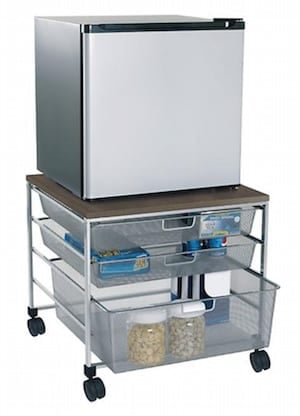 14. Storage Cubes
Creating storage space is the number one task on the college checklist for making a dorm room livable. Once your kid (and you) have purchased the big plastic bins, consider a Foldable Storage Cube/Ottoman, a stylish solution for storage and extra seating, too.
15. Bluetooth Headphones
Kids live with headphones in their ears and these will be a great treat to your student who can use them at the gym or the dorm room to help drown out the noise of even the most quiet roommate. Phiaton Active Noise Cancelling Earphones
 are on the expensive side but have amazing noise-cancelling capabilities.
16. Shower Speaker
One of our sons roomed with five other boys and shared a bathroom – yikes! They installed a speaker like this one, a Water Resistant Bluetooth Shower Speaker,
 and listened to the music from their phones while showering.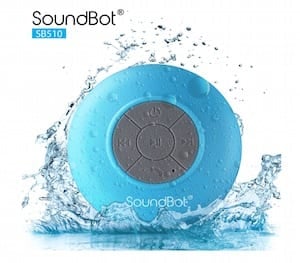 17. Phone Battery Charger
College students are on the go from morning (ok, late morning) to night and it's easy to drain a phone's battery. This Jackery Bar Premium External Battery Charger 
is a lightweight and inexpensive charger to throw in a backpack to make sure your student can always keep a phone charged, which is the single best safety device to include on their college checklist.
18. Team Banner
Does your college student have a favorite team? Consider a lightweight banner or flag to stick on the dorm wall. This is a dorm decoration and an instant ice-breaker for the first few weeks to help them find kindred spirits. Here's one for fans of the Chicago Cubs
19. Rug
Cold and dirty dorm floors can be vastly improved with area rugs but make sure you select one that is durable and won't show stains. Bed, Bath and Beyond offers many to pick from including this navy rug that comes in five others colors.
20. Lingerie Bag
Freshmen need to master the art of laundry in college and using Mesh Laundry Bags
 can be a practical and inexpensive way to take care of delicate undergarments and to keep track of matching pairs of socks.
21. Coat Tree
A Coat Tree
 is an incredibly versatile piece of furniture that uses little of the precious floor space in a college dorm. Jackets, bags, a robe, even a wet towel may have a spot up off the floor. This is another great product from The Container Store that my college daughter can't live without.
22. Bed Shelf
College beds are often raised to weirdly elevated heights with no space to place a phone, glasses, or a bottle of water. This Bedside Shelf
 can serve as a very handy nightstand for your college freshman.
23.  Backpack
Freshman year is a great time to get a new backpack. This one, by the Herschel Supply Co.
comes in loads of different colors and designs, holds a 15″ laptop and has waterproof zippers which will help keep things dry if your student gets caught in the rain – which they will.  
24. Spikeball
This game has become incredibly popular on college campuses and will make for a perfect ice-breaker and source of exercise.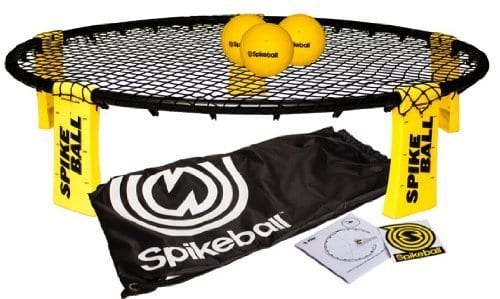 25. Duffel
The best type of bag for a college student is a duffel that can be folded and stashed away until they pack for fall break. This one is really durable and can last for all four years of college, and then some!
25. A Stash of Cash
A stash of cash for a late night taxi or other emergency is a very good idea. Although kids are comfortable operating in a cashless world, there may be an emergency where they need cash for a cab or other crucial expense. Add a small stash of cash marked for emergencies to the college checklist and you will both be relieved. 
26. Amazon Prime Student
This is one of our favorite college extras because it is FREE (first six months) and your college student can order whatever else they need with two-day FREE shipping plus a load of other great features. Here's how to sign up Join Prime Student FREE Two-Day Shipping for College Students
Related:
NEW! Grown and Flown Top Picks for Teens and College Kids – Perfect for Holidays, Graduation and Dorm Shopping
High School Graduation Gifts for Guys – They Will Love These
21 Absolutely Fabulous Gift Ideas for High School Girls 
Here are the Best 12 Dorm Ideas You Won't Want to Forget
Note: We receive small amounts of compensation from purchases made through some of the links in this post.
SaveSave
SaveSave
SaveSave
SaveSave