Depending on your budget you might want to help give your teen's dorm room an upgrade. Here are some extras which can make any dorm feel cozier and a bit more like home. Check the Residence Life section of the college website to find out what items are prohibited before making a mistake on a decor purchase.
For more amazing dorm decor ideas, check out these great photos and tips from the Grown and Flown Parents Facebook Group.
Favorite Dorm Decor Ideas
Note: We are a reader-supported site and receive compensation from purchases made through some of these links. 
String Lights
String lights add warmth to drab dorm walls and these globe lights will look pretty with any decor concept.
LED Strip Lights
These come with a remote control and can be synched to music via bluetooth.
Display Ledge
These easy-to-install ledges are made by the maker of Command strips and can be fixed to walls with enclosed strips. They are available in different lengths and finishes.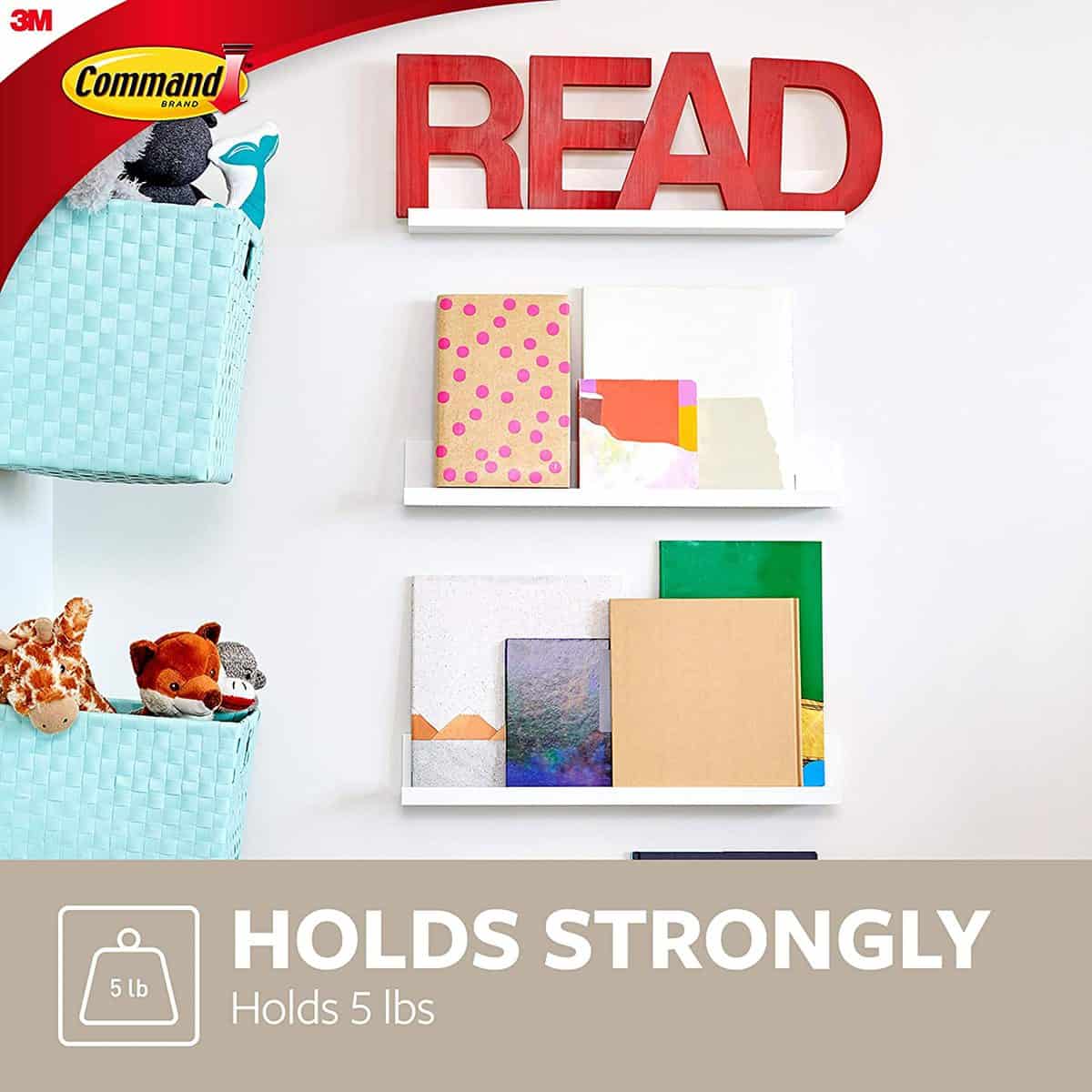 Pin Board
San Francisco-based Minted makes pin boards that are so GORGEOUS that they can be the focal point in any room. Each of the 11 choices comes in a beautiful wood frame. Don't like any of the ready-made options? Browse their fabric selections and let your teen create their own design.
Map From Home
While you are on the Minted site, take a look at these foil pressed maps in gold, silver or rose gold to remind them of their roots, especially nice if your teen is going out of state for college.
Dress Up the Walls
Society6 has a wide array of tapestry offerings and gives college students a 20% discount, too.
Flags
Buying oversize flags are a great way to cover dreary dorm walls and they become instant conversation items as your son or daughter get to know their roommate and hall mates. Here is how one Grown and Flown student decorated their room. Check out Fanatics for a wide selection of officially-licensed team flags and banners for NCAA and many pro teams.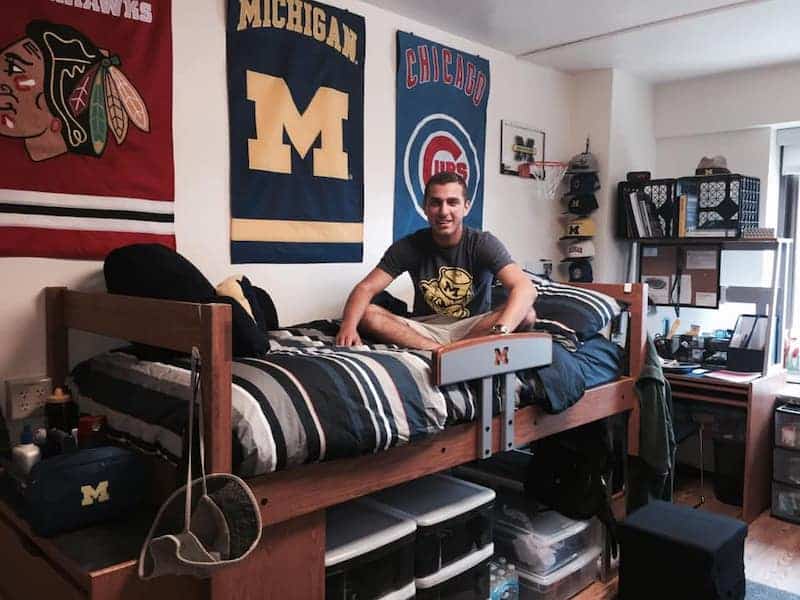 Sheet Sets
Poppy & Fritz make whimsical sheets for twin XL beds. Avocado, llamas, donuts are some of the cute designs….along with crisp blue and white stripes. Here is a sample but the pup is not included!
Sheets with a Pocket
Alarm clocks are a thing of the past and most teens use their phones to help get them out of bed for those early classes!  These sheets with a pocket are the perfect and easy solution to the question of where to safely stash a phone to be within easy reach of lofted dorm beds. Available in 8 colors in Twin XL size.
Butterfly Chair
Extra seating, for when friends drop by or when your student wants a comfy place to read, is made easy with this folding butterfly chair. Start with a basic color and personalize with a pillow or blanket.

Elevated Storage Rack
This storage rack can serve multiple purposes: placed between elevated beds, one of the two adjustable shelves can be used a night stand. A mini-fridge can fit underneath it and the other shelf can be used for non perishable snacks and supplies. No tools required for assembly.
Desk Hutch
If your teen's college desk does not have a bookcase or storage unit on top, this is a great addition. A desk hutch can store books, supplies, and has space for a few personal items, like photos or other reminders of home.
Rolling Cart
This cute little cart is one of the most versatile dorm items on the list. It can be used for makeup, or snacks and paper towels, mugs etc. and works equally well for storage in a bathroom as it does in a dorm room.  Available in four colors.
Vinyl Peel-and-Stick Decals
For an easy splash of color, take a look at these inexpensive dots that can be easily arranged on a dorm wall. Comes in dozens of colors.
Photo Display
Decorate with photos from home with this cute frame set that comes with clips to hang favorite photos.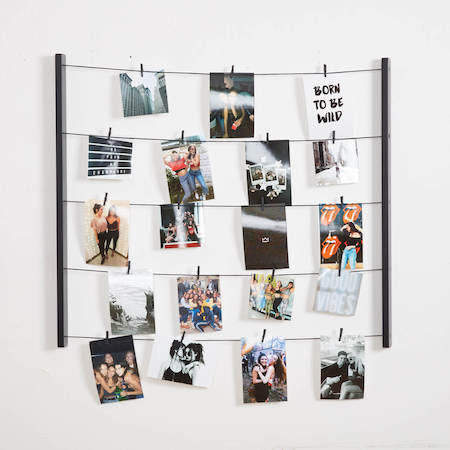 Bed Shelf
Another popular idea for creating a nightstand for an elevated bed is this shelf that attaches to the bed stand.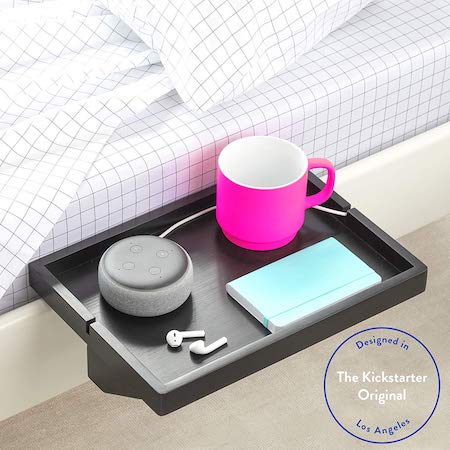 Area Rugs 
Dorms are small but that doesn't mean you can't cover up the grimy old floor with a nice matching rug. Bed, Bath, & Beyond offers an easy way to pick a durable area rug in the color, multiple size, and desired material. (puppy not included.)
Personalized Touches
Look at how elegant this student's dorm room looks with the wooden cutout monogram hung above her bed? It can be painted (and repainted) to match her decor choices. Here's where you can find a wide selection of a single initial or three.
Pillows
Buying matching pillows with each roommate's initial can coordinate a dorm room in one simple step.
Laundry Solutions
Your teen may want to find out how far the laundry facilities are before deciding on a bag, hamper or duffle. There is a huge selection and some can match the color scheme of the room.  Others, like this lightweight, nylon hamper, can hang on the back of a door or, possibly, on the end of the bed.
If your teen uses a duffle for laundry, one enterprising Grown and Flown mom lined the bottom of it with a cut off plastic hamper, keeping the bottom of the duffle from staying wet and gross when damp towels and clothes were thrown in. Genius.
Plug-in Air Sanitizer
While not necessarily a decorating idea, this small plug-in device is an air purifier and sanitizer, and eliminates germs and mold with UV-C light.
More Dorm Decor Ideas from the G&F Community
Print out photos and hang them along a string on the wall.
Add an oversized cutout monogram.
Check out Pinterest for ideas.
Buy inexpensive frames and put pictures of friends in each one. Hang on walls with Command Strips.
Pillows, pillows, and more pillows!
Coordinate with future roommate on color scheme.
Buy oversized stick-on initials for each roommate for the wall.
Monogrammed bedding makes the dorm room very personalized.
Order a life-sized pet pillow of the dog or cat back home.
Buy a tapestry to hang on the wall.
Get an over-the-bed storage unit and color-coordinated storage bins to slip into it.
Update an old comforter with new throw pillows.
Splurge on a mattress topper.
Use a giant stuffed animal as a guest chair.
A body pillow makes the room and bed comfy.
If you use a duvet cover over a comforter, it is easy to remove and wash.
Bed, Bath and Beyond, Urban Outfitters, Home Goods, Pottery Barn Teens, Etsy, and Dormify are all great resources.
You Might Also Want to Read:
Favorite College Dorm Room Ideas – Adorable and Easy
The 10 Things All Freshmen Need to Bring to College
College Checklist: The Most Popular Freshmen Dorm Extras