Depending on your budget, you might want to help give your teen's dorm room a style upgrade. Some extras can make any dorm feel cozier and more personal.
Note: Check the Residence Life section of the college website to find out what items are prohibited before making a mistake on a decor purchase.
Note: We are a reader-supported site and receive compensation from purchases made through some links.
Dorm bedding
Choosing a comforter and sheets is typically the first step toward picking a particular style for a dorm room, and there are dozens of sites where your teen can look.
Dormify has a stylish selection of dorm bedding, pillows, and accessories. Your teen can use their "bed visualizer" and chat with a stylist about their room ideas at this online retailer.
If you're in the NYC area, look for their shop to open in July.
Another favorite site is Pottery Barn Teen Dorm which emphasizes quality and sustainable merchandise in its wide range of styles.
If your teen wants to see and feel the fabrics, Target is a popular store for shopping with thousands of bricks and mortar stores.
Target has an extensive selection for college dorms shopping online and in stores. These reversible comforters offer great style, especially for the price point, and give your teen a chance to switch their look by simply making their bed differently.
Now, Save 25% on your dorm purchases at Target.
No nails decor
Colleges typically prohibit nails, so look for decor that uses adhesives (if the dorm allows that) to create a look that your teen will love. Some adhesive strips are included in the following decorative items, but pack Command double-sided strips and hooks along with your toolbox when you help move your teen into their dorm.
These cute headboards solve two big problems with dorm beds — an uncomfortable wall to lean back on and a lack of a covenant plug to charge electronics. Stylish and functional, this smart headboard would be a much-appreciated addition to your teen's dorm room.
An alternative to a headboard is this large triangular bolster pillow, which is large enough to prop up on while in bed but comfortable enough to sleep on. It is available in seven colors and comes in different widths.
It's easy for students to make their dorm room walls Insta-ready with TilePix, the magnetic, customizable, 8×8 photo tiles that are easy to hang, swap, or replace with no damage to walls. Shipping is always accessible in the U.S., and orders for less than six tiles are available for same-day pick-up at any Walgreens.
New customers save 30% on a first order.
Your teen can show their state pride and have a cute platform for decorating their wall with a corkboard in the shape of their state.

Staying organized in a tiny shared space is a challenge for most students, and this desk organizer can be a big help. Pair it with a matching pinboard for notes, photos, and more for a stylish look with great functionality. Both mount with 3M double-sided adhesive strips (included.)
Lightweight tapestries help disguise ugly dorm walls and can be stylish complements to whatever bedding choices your teen makes.
This one at Pottery Barn Teen is gorgeous (and what a dreamy space if your teen needs a room divider), but there are many different styles to choose from, including sports imagery and world maps. They have loops that make them easy to attach to the wall (or ceiling) with Command Hooks.
Society6 also has an exciting and unique selection of tapestries, posters, and wall coverings designed by artists. Once your teen finds a print they like, they can choose from a selection of sizes to cover as much of a dreary dorm wall as possible.
Look for the offer for a 25% discount for students!
String lights add warmth to drab dorm walls or around a desk, and these globe lights will look pretty with any decor concept.
Ivy garlands are very popular now; this one has tiny lights that offer magic forest illumination.
These come with remote control and can be synched to music via Bluetooth.
These easy-to-install ledges are made by the maker of Command strips and can be fixed to walls with enclosed strips. They are available in different lengths and finishes.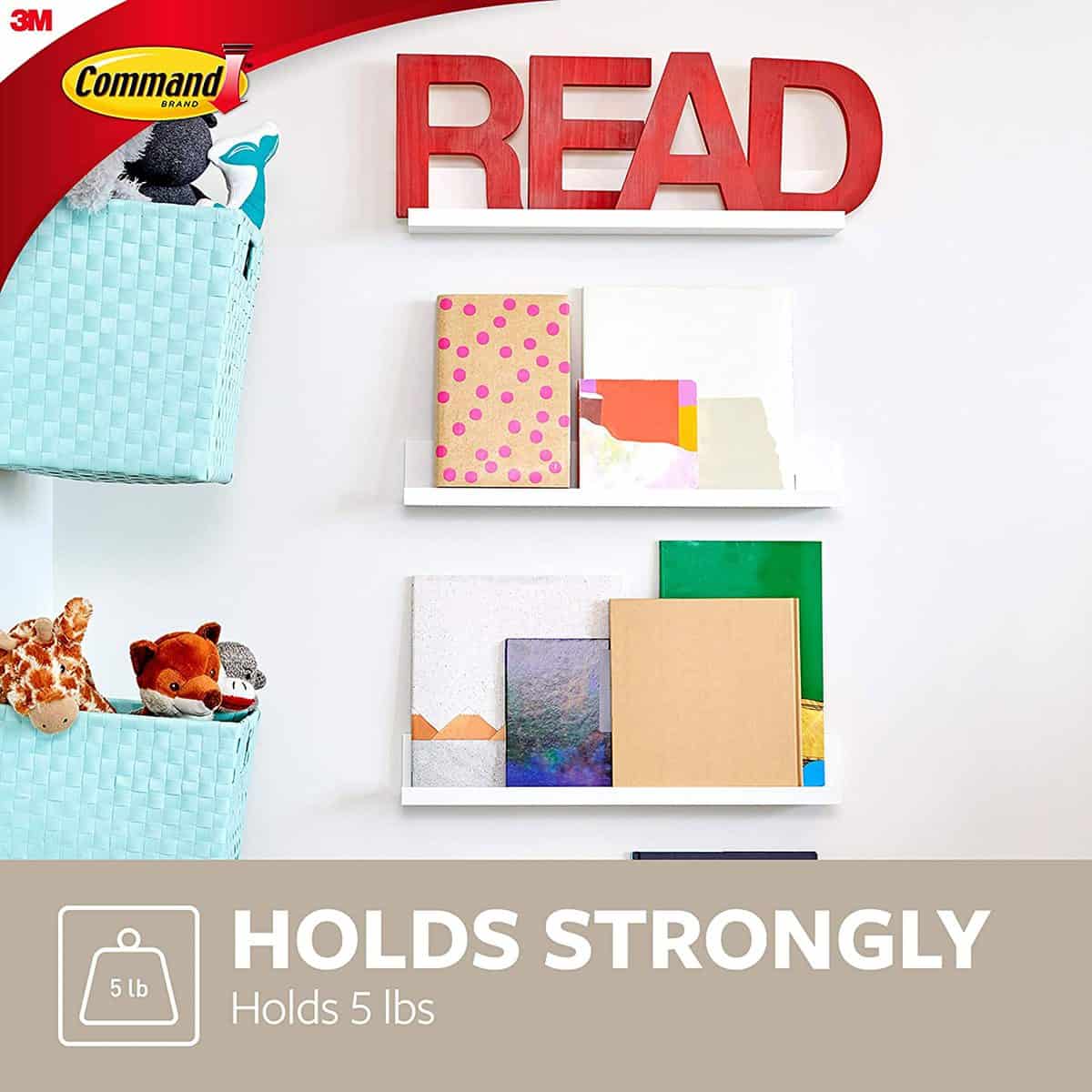 Buying oversize flags is a popular way to cover dorm walls, and they become instant conversation items as your son or daughter gets to know their roommate and hallmates.
Check out Fanatics for a wide selection of officially-licensed team flags and banners for NCAA and many pro teams.
Furniture
Extra seating, for when friends drop by or when your student wants a comfy place to read, is accessible with this folding butterfly chair. Personalize with a pillow or throw blanket. This chair is available in pink or black.
This storage rack can serve multiple purposes: placed between elevated beds, one of the two adjustable shelves can be used as a nightstand. A mini-fridge can fit underneath it and the other shelf can be used for nonperishable snacks and supplies. No tools are required for assembly.
If your teen's college desk does not have a bookcase or storage unit on top, this is a great addition. A desk hutch can store books and supplies and has space for a few personal items, like photos or other reminders of home.
Study and desk organization
If your teen loves to stay organized – or if you want to help them become better organized as a college student – consider getting one of these gorgeous planners. The Centered Student Planner was created by a college professor to help students with time management and includes lots of tips and positive messages to help them stay on track.
Buy the College Bundle with coordinating pens, pencils, stickers, and more at a savings.
This cute little cart is one of the most versatile dorm items on the list. It can be used for makeup, snacks, paper towels, mugs, etc., and works equally well for storage in a bathroom as in a dorm room. Available in four colors.
This is an excellent solution for the need to stash stuff, provide extra seating, and use it as a stool to get into an elevated bed. Available in multiple sizes, each one supports up to 220 pounds.
Dormify has an extensive collection of stick-on wallpaper in many cute colors and patterns.
For an easy splash of color, look at these inexpensive dots that can be easily arranged on a dorm wall. It comes in dozens of colors.
Photo Display
Decorate with photos from home with this cute frame set with clips to hang your favorite images.
Another popular idea for creating a nightstand for an elevated bed is this shelf that attaches to the bed stand.

Area rugs
Cover up the grimy cold dorm floor with an area rug. Bed, Bath, & Beyond offers durable area rugs in multiple sizes, colors, and desired materials.
Pottery Barn Teen also has an excellent selection of area rugs including washable rugs.
Personalized touches
Look at how elegant this student's dorm room looks with the cutout monogram hung above her bed? It can be painted (and repainted) to match her decor choices.
Buying matching pillows with each roommates initial can help pull together two different styles in one simple step.
You Might Also Want to Read:
Favorite College Dorm Room Ideas – Adorable and Easy
The 12 Things All Freshmen Need to Bring to College