Many of these guy dorm room ideas can be modified differently (with colors and throw pillows) to create options that suit any space or taste. As you think about living in a dorm room in the fall, begin to make a packing list with some of the things we've listed below.
Note: We are a reader-supported site and receive compensation from purchases made through some of the links in this post. 
Guy's dorm room decor
Wall Decor
Flags (Amazon and Fanatics)
Many of the guys I know love to hang flags on their walls. You can find flags from any state or country on Amazon, but I love when the flags are more personal. If they have a favorite team, Fanatics is the best site to look for flags and banners for pro teams and more than 500 colleges.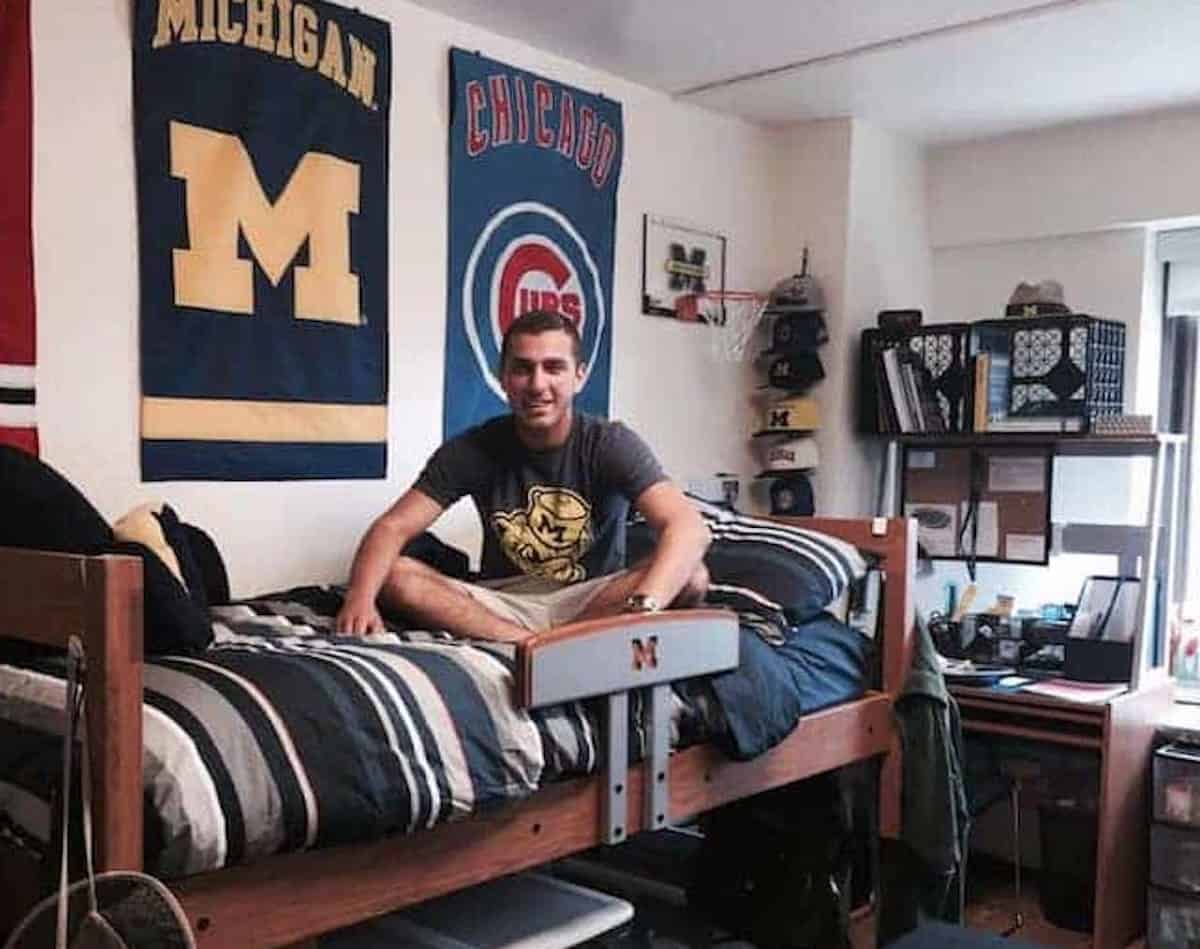 Another popular idea is to gather your son's t-shirts from camp, school, sports, or family trips and send them to Project Repat. They will create a personal keepsake quilt that can be used on the bed as a cozy throw blanket or hung on a wall. A Project Repat quilt is one of the most popular dorm items in the Grown and Flown community, and they get rave reviews.
Click on the link, sign up, and save up to 40%.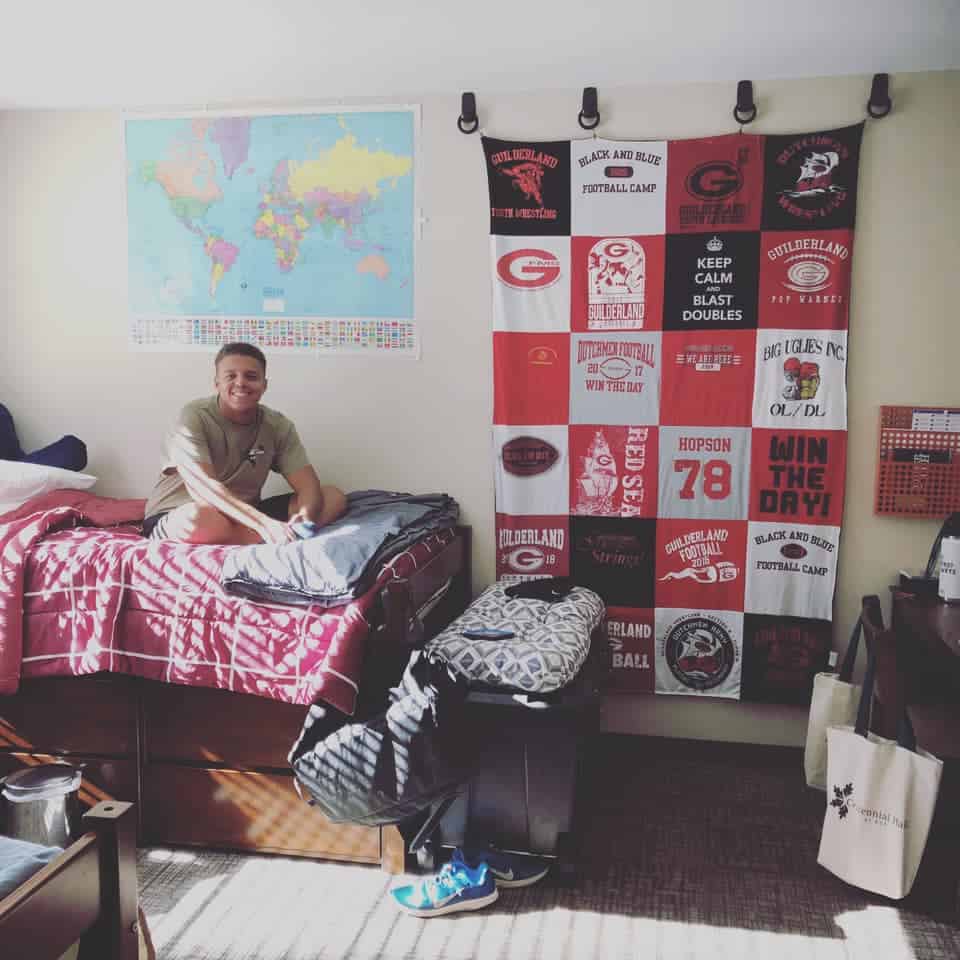 3. DIY Wall Art
One of my favorite wall designs uses a simple beach towel that one of my friends attached to a canvas board with a staple gun. He bought the towel in Cape Cod, which would work with any towel around your house. It was super inexpensive, and they created a piece of wall art that was personal and visually appealing to him.
4. Barstool Sports (Amazon)
This popular design from Barstool Sports is the Saturdays are for the Boys saying, which is available in a flag.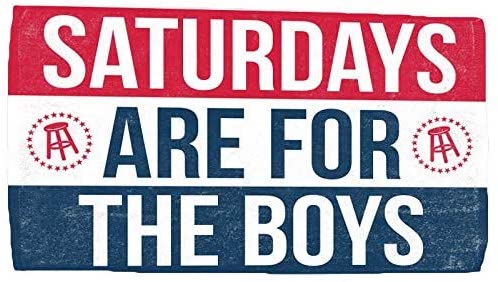 5. Art Prints
Websites like Society6 and 20×200 also offer fantastic art prints for reasonable prices. I once gave a friend a painting of a World Cup soccer match in Brazil, and when he hung it up, it was a little pop of color that brightened up a mostly neutral room. BTW, Society6 offers students a 25% discount.
We've heard of one college student who had old vinyl that was too scratched to use for music, so he made a design on his wall with them. This is an easy and cheap way to add color and a focal point to the walls, but you could also pick only black and white records for a different look.
Dorm bedding
6. Bedding
Most of the guy's rooms tend to have solids, plaids, or stripe bedding, and navy is one of the most popular colors. The benefit of a pattern is that dirt and stains are less obvious, and you can imagine how useful that would be in any dorm room.
Your bedding choices are the same for a lofted bed or one at a conventional height, except it is easier to opt for a queen-sized comforter on a lofted bed. This benefit is more valuable in future years than a Twin XL comforter.
Some guys prefer to make a bed with a fitted sheet and use a comforter without a top sheet. Just look for sheets sold separately, not in a set.
Popular Dorm Shopping Sites
Our favorite dorm shopping sites are Pottery Barn Teens/Dorm, Target and Amazon.
Save 25% when you sign up at The Container Store here.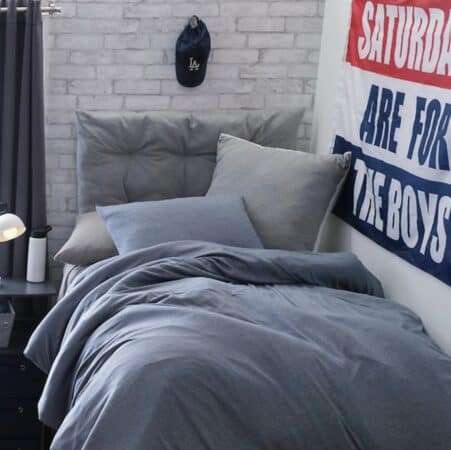 The selection at Pottery Barn Teen/Dorm is vast, and the quality is excellent; there's a wide range of price points, and the company emphasizes sustainability.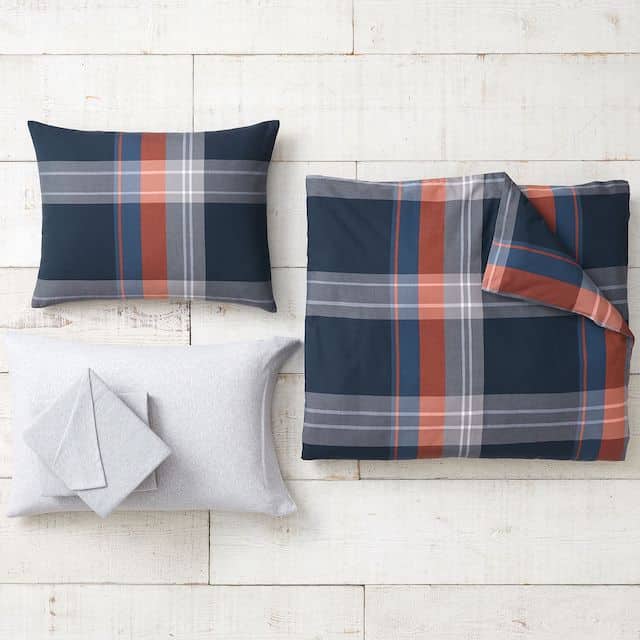 Enroll in The Key rewards program to get 2-5% back on purchases made on the Pottery Barn brands.

Target also has a wide selection of well-priced dorm bedding in their Room Essentials line. While browsing their stores, you can pick up some inexpensive dorm decoration touches, toiletries, snacks, and laundry detergent.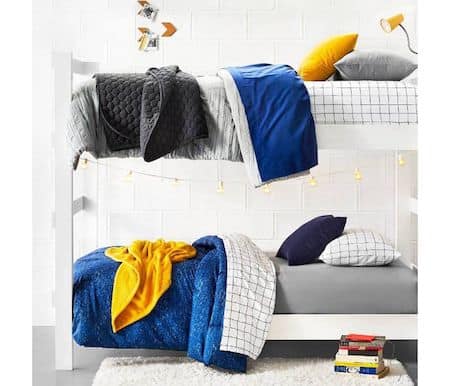 Amazon
Of course, Amazon will have all you need as well. Lacoste's blue and white striped comforter is a convenient and cute option. When you are on Amazon, hop over to the Grown and Flown Amazon Shop for Dorm Ideas, where you can find this comforter and some of our top picks for all your dorm needs.
With Amazon Prime Student, students can get most things with 2-day free shipping and take advantage of numerous other specials for college students.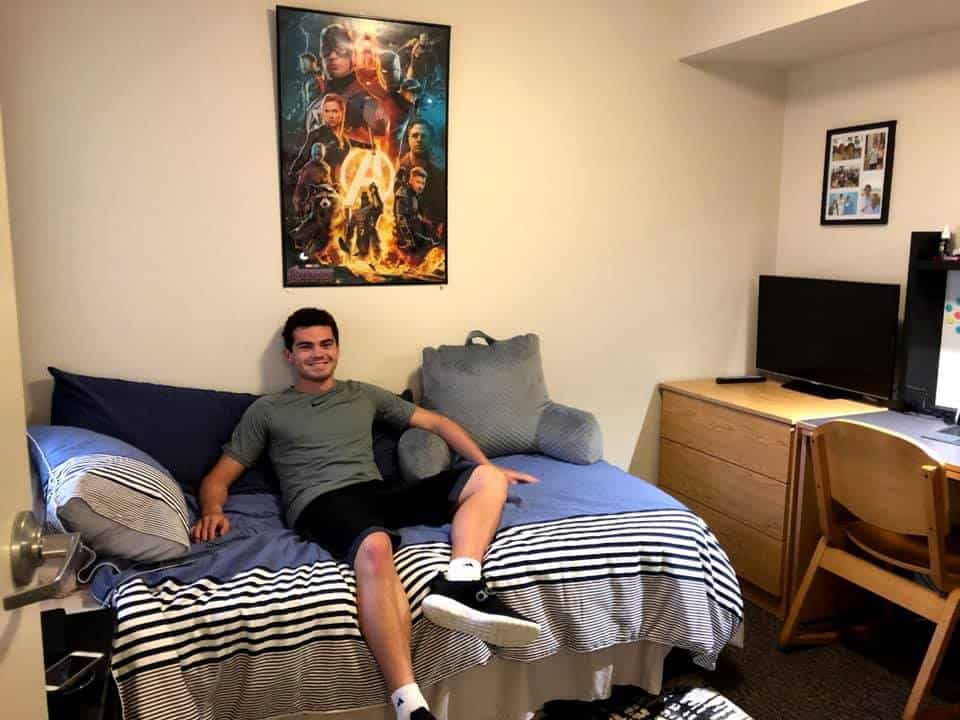 Dorm lighting
String lights work best for a guy's dorm room in the "rope" style, such as this one, 66 Ft. Plugin Rope Lights. Line the entire perimeter of the room, beginning with the strip in the highest corner.
Some guys have these LED lights available in a stick-on strip so they can tape them onto the walls and line the room. These are Bluetooth enabled to sync with the music and come with a remote control device for ease of managing while in bed.

A clip-on lamp can be a handy source of light when your teen wants to study in bed and his roommate wants to get some sleep.
A classic desk lamp can be found anywhere from Restoration Hardware to Target and can be modified to suit the style of your room. Metallic lights that have a built-in charging port for a phone are handy. This desk lamp also has an organizing base, including a pencil holder for supplies.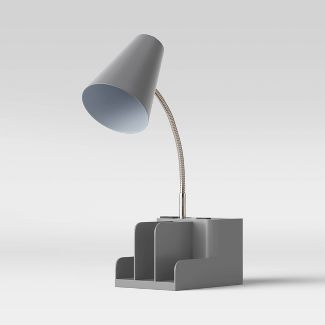 Dorm furniture
Pottery Barn Teen/Dorm is our favorite place for college furniture as there are options at many price points; the pieces are durable and highly comfortable. Visit their site for dorm inspiration, and you can choose your style depending on what suits your room layout best. There is rarely extra space in a dorm room, so get the dimensions and find out if the bed is lofted before buying any furniture.
This sling chair is an excellent option for a dorm as it folds when unused. This would also be a perfect look for a college apartment in the future.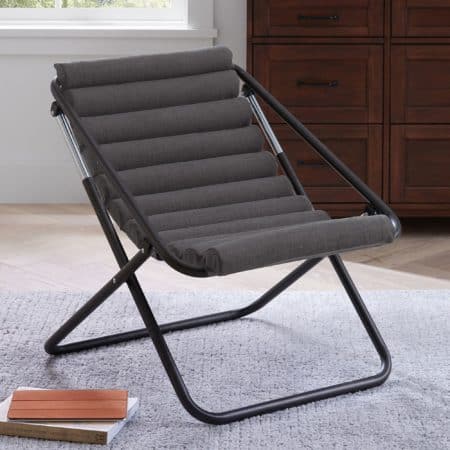 This Coleman Camp Chair is another good option for extra seating and can be stored in a closet or under a bed when not needed.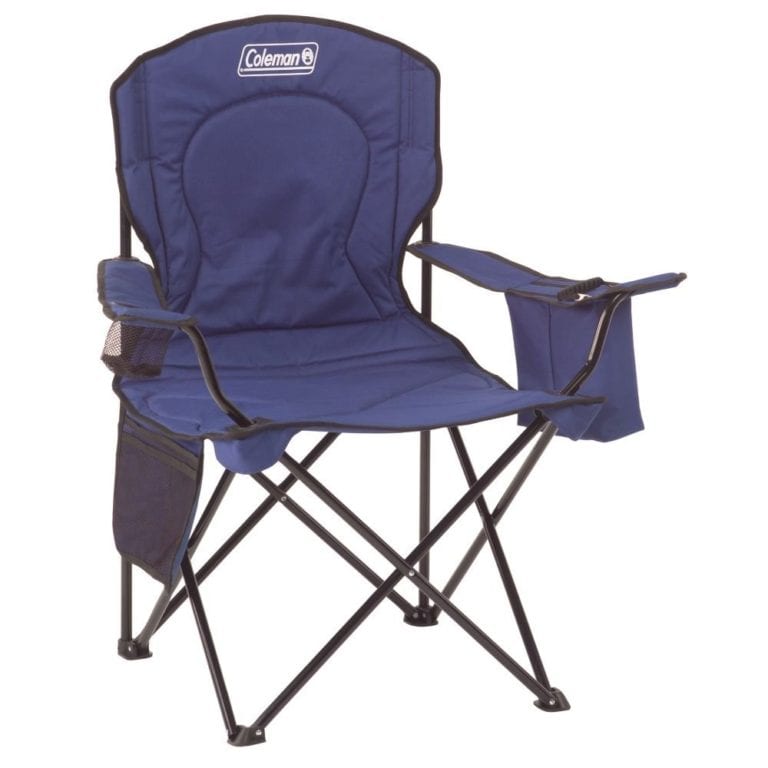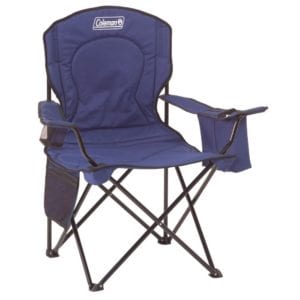 Other ideas for decorating boys' dorm rooms
This is the #1 best bag for moving in, under-bed storage, and moving out.
This bedside caddy is a nightstand for an elevated dorm bed and is roomy and sturdy enough to stash books, glasses, a phone, and more.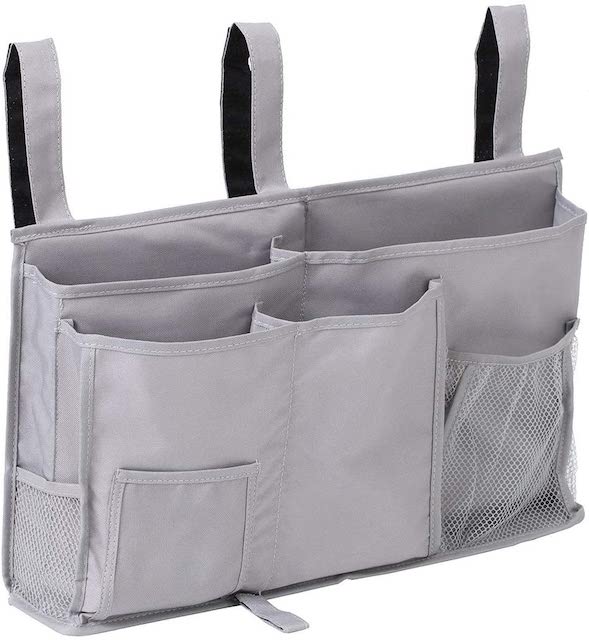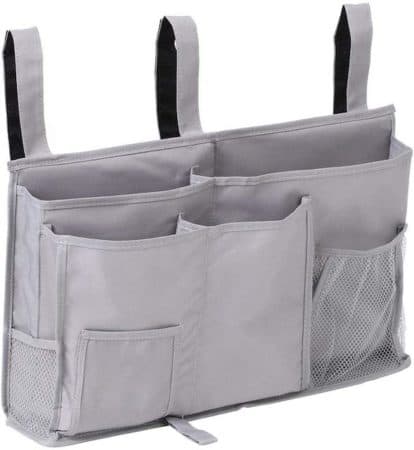 Your son would love a YETI mug to keep his coffee hot or cold water chilly for hours! Consider having it personalized with a college logo or initials. Now, new fall colors.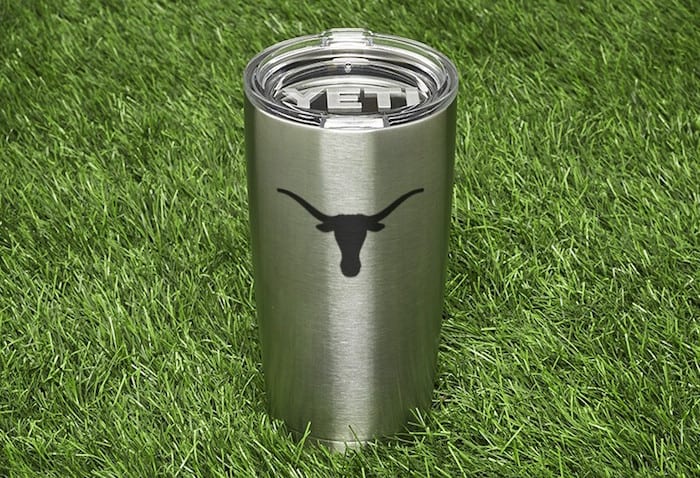 16. Call Your Mom Pillowcase (Amazon)
One way to remind your son to call home? This cute Call Your Mom pillowcase is a trendy idea.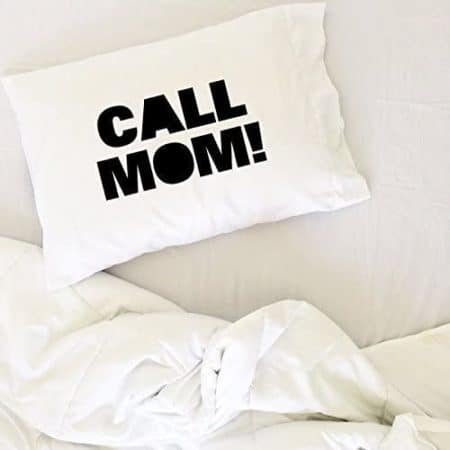 17. Command Hooks (Amazon)
Command Utility Hooks are incredibly useful in dorm rooms, and many guys use them to display a hat collection.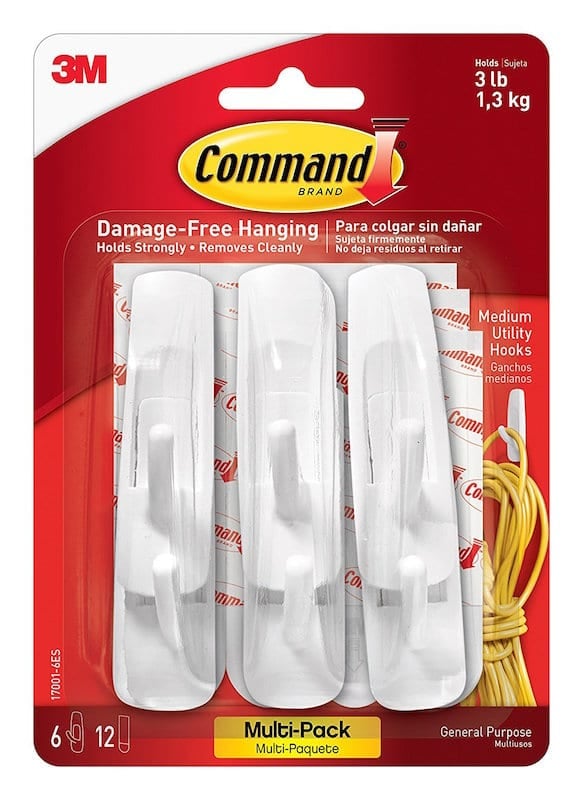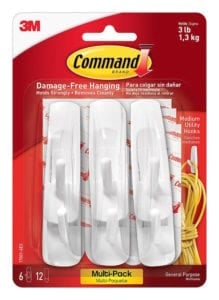 18. Map (Amazon)
This Game Of Thrones antique map poster print is an accessible decor item for GOTs fans.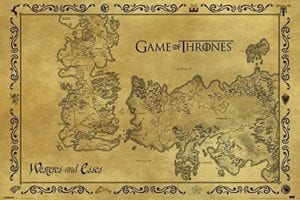 19. Self-Adhere Hooks (Amazon)
A Self-adhesive Key Rack holds keys or lanyards with room cards that show how many students access their dorm buildings and rooms.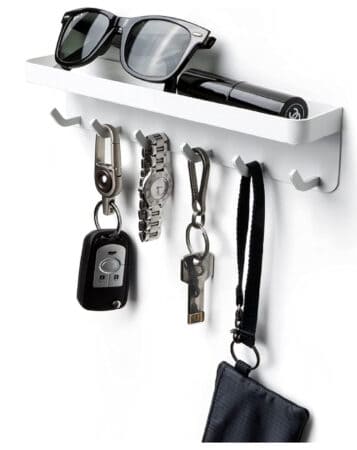 20. Paper Towel Holder (Amazon)
A magnetic paper towel holder is easy to keep paper towels ready.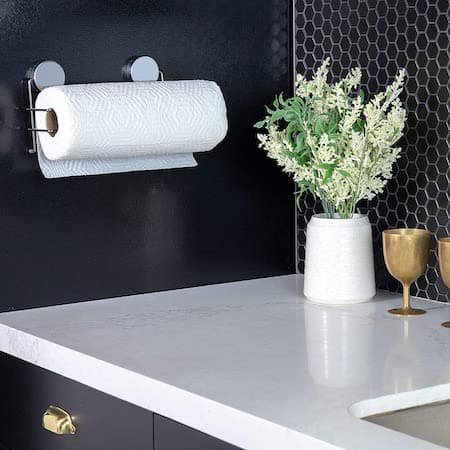 An area rug will make the cold dorm floor feel more like home, and washable ones are a good choice. A carpet is an instant way to help transform a dorm room into a cozy space.
22. Whiteboard (Amazon)
Some guys like to hang a corkboard or whiteboard to help them keep up with assignments and activities. This one is magnetic and could stick on a mini-fridge.
Closet space in most dorms is minimal, making it easy for disorganized rooms to be sprinkled with clutter. Putting extra linens or out-of-season clothes in a remarkable trunk or other under-bed storage space can also be good.
This one looks nice at the end of a bed. Other trunks can be outfitted like lockers and used vertically, which takes up less space in a dorm. Bonus if the trunk locks, making it an excellent place to store valuables or meds.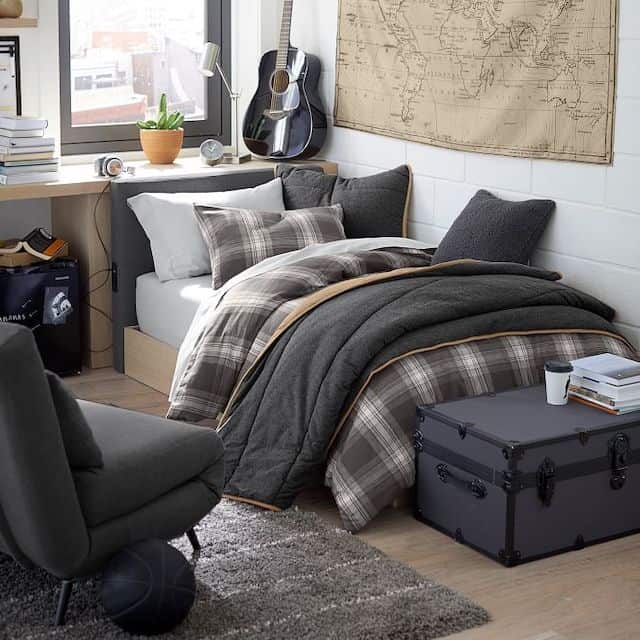 You Might Also Enjoy Reading:
Top 12 Things All-Freshmen Need to Take to School