Every student needs a good backpack and every parent needs their teen to have a backpack that keeps them organized and that will be durable. We asked our Grown and Flown community for their favorites and here are the most popular backpacks for teens and college students.
Best backpacks for college or high school students
Note: We are a readers-supported site and receive compensation from purchases made through the links in this post.
With rave reviews for durability, The North Face is the most popular brand for college kids, according to the Grown and Flown community. You might want to consider the North Face Pivoter backpack, which gets great reviews for spacious design and relative affordability. You can see where your teen can store their laptop in a
If your teen has ever owned a JanSport backpack you know they basically never wear out. This one, the JanSport Right Back Pack, is iconic and a best-seller for the brand. It is available in 14 colors that all look fantastic with the suede bottom that makes this backpack unique. Comes with a 15″ sleeve to hold a laptop
L.L. Bean backpacks are legendary for their durability and design and we think this one, the Comfort Carry Laptop backpack, is a great option for it's "ergonomic features… like a rigid back panel with extra foam padding and comfortable, breathable mesh straps to create optimum air flow." The padded backpack sleeve is a key design feature that will help your teen keep their most valuable piece of electronics safe.
This is another popular backpack for teens and college students and this one, the Victorinox Altmont, has a unique design with the laptop accessible through a fliptop compartment.
Take some time to look at the Herschel website to see all the choices they offer in sizes and shapes in their backpacks. Make sure to check out the "collections" for unique designs and, while you are on the site, take a look at the accessories and apparel that you won't find anywhere else.
We are big fans of everything that Patagonia offers and think this highly-rated Arbor Classic Backpack is the one to consider if your teen or college kid needs to transport bulky books and gym clothes back and forth to class and sports practice.
Who wants to go to college with an inch of crumbs in the bottom of a grimy backpack? Consider the Fjallraven Kanken Backpack, created with inspiration from The Swedish Guide and Scout Association. Lightweight, durable, water resistant, and available in lots of great colors, this backpack is both stylish and practical.
Are you the parent of a teen or college student? The Grown and Flown book is for you and it's available in paperback NOW!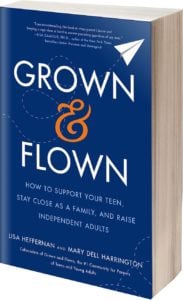 If you are looking for a basic backpack that won't break the bank, the Amazon Basics Backpack is for you. For $35 it holds a laptop, and has ample compartments to keep your teen organized.
Are you a member of our Grown and Flown Parents Facebook Group? Join us and meet your new 175,000 BFFs.
Other Backpacks We Love:
This backpack is trendy, has padded shoulder straps, small internal pockets, and a large main compartment with a zipper closure.
This backpack is 100% polyester, and has over 1,400 five star reviews, has a lifetime warranty, and has multiple colors to choose from.
This backpack has multiple pockets, is soft on the skin, and has over 4,400 five star reviews.
This backpack is 100% polyester, has a zipper closure, tons of space inside, and is relatively inexpensive.
This is a 100% cotton backpack with a zipper closure. It is lightweight and durable with separate compartments and offers many unique patterns on the outside.
This unique backpack comes in multiple color combinations and is perfect for a college student looking for a unique backpack.

This backpack is very fashionable, is large enough to fit a laptop, and can be worn as a purse or backpack.
This is a vintage floral pattern backpack. It is simple, cute, and a fun stylish backpack.
This backpack is waterproof, durable, and offers lots of pockets for storage.
This backpack offers several trendy patterns, including sunflowers, roses, or butterflies. It has many compartments and is lightweight and durable.
This is a super cute backpack that also offers unique patterns, has a USB charging port, excellent back support, and a hidden anti-theft pocket.
A stylish yet functional backpack they'll love!
You May Also Want to Read:
Popular Face Masks for Teens We asked our Grown and Flown community int which ones they liked the best….here is their list.
17 Items to Cross Off Your List Before Your Teen Leaves for College – Here are important things to take care of while your teen is still at home.