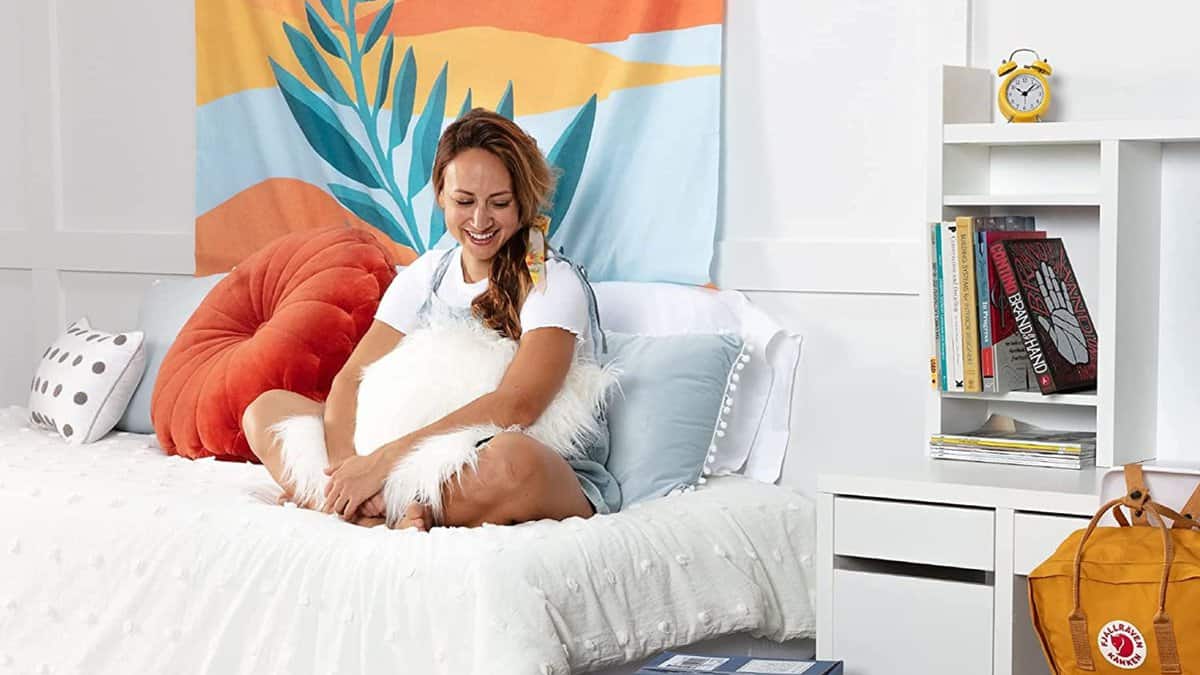 Your student just got accepted into their dream college and has finally been matched to their dorm. The only issue? Their new twin bed might not be as comfortable as the one they're used to. But with one of the best Twin XL mattress toppers, which should fit most college dorm bed sizes, you can ensure they'll sleep comfortably at night and feel energized enough to take on college.
As authorities on all things college living here at Grown and Flown, we used our personal experience with mattress toppers and researched each sleep-related corner of the internet to source the most reputable Twin XL mattress toppers brands. We looked at quality, reviews, and user experiences to select your best options, and you can shop for the best Twin XL mattress toppers below.
Our Top Picks:
Reviews of The Best Twin XL Mattress Toppers
From its generous 3-inch thickness to its machine-washable cover and breathable knitted fabric, the ViscoSoft Select is an excellent option for any student. Its blend of polyester and rayon sourced from bamboo makes it a sustainable choice that's both kind to an aching back and the planet. The medium-firm consistency is suitable for all sleeping types while preventing you from sinking in.
Compared to other high-quality mattress toppers, it's relatively affordable, which is always a win for us! It's slip-resistant mesh coating and adjustable elastic straps keep it securely fastened to your mattress for a disturbance-free sleep that'll refresh them for classes the next day.
The Specs:
Dimensions: 79" x 38"
Thickness: 3"
Material: Memory foam made with sustainable bamboo
Firmness: Medium-firm
The Pros:
Easy to clean
Cooling properties
Super comfortable
Non-slip
It comes with washable cover
The Cons:
Too firm for some sleepers
It takes a while to air out
What Others are Saying:
The ViscoSoft mattress topper has nearly 12,000 Amazon reviews with a 4.5-star rating. The Strategist named it the best budget mattress topper, Good Housekeeping named it the best cooling option, and Architectural Digest named it one of the best mattress toppers.
Buy the ViscoSoft Select High-Density Mattress Topper:
Memory foam is one of the best materials you can look for in a mattress topper, thanks to its ability to reduce motion transfer. This option from Tempur-Pedic is one of the best. There's the option for 2- or 3-inch thickness for choice of comfort. Its machine-washable cover is breathable and moisture-wicking, so it'll take care of any sweat, should it be a hot sleeper. It's also hypoallergenic to keep it fresh and free of pesky dust mites, and the corner straps firmly cement it to your mattress to prevent slipping and sliding.
It doesn't have that new mattress smell when rolled out, so you can immediately put on sheets. It can be a little pricey, especially with the higher thickness, but it might be well worth it so they feel like they're sleeping on an actual memory foam mattress.
The Specs:
Dimensions: 80" x 38"
Thickness: 2" or 3"
Material: Memory foam
Firmness: Firm
The Pros:
Machine-washable
Ideal for all types of sleepers
No chemical smell
Corner straps
Hypoallergenic
The Cons:
Heavy
Too plush for some sleepers
What Others are Saying:
This Tempur-Pedic mattress topper has 8,000 Amazon reviews and a 4.3-star rating. Wirecutter and the Strategist named it the best mattress topper. It also comes highly rated by Sleepopolis.
Buy the Tempur-Pedic Tempur Adapt Topper:
Look at one of the best-cool mattress toppers, the Dormeo Twin XL, for a cozy-yet-cool night's sleep. It's made with the brand's proprietary Octaspring technology that allows cool air to circulate and hot air to escape, making it an excellent choice for hot sleepers. It also uses ergonomic zoning, which features varying firmness levels to provide pressure relief where students need it most, like shoulders and hips.
It's anti-slip backing also keeps it in place throughout the night, and the washable cover allows you to keep it in tip-top condition throughout the semester and beyond.
The Specs:
Dimensions: 80" x 38"
Thickness: 3"
Material: Octaspring recovery foam
Firmness: Medium
The Pros:
Cooling technology
Great for hot sleepers
Ideal for all sleep positions
Anti-slip
The Cons:
Expensive
No fastener straps
What Others are Saying:
The Dormeo mattress topper has nearly 2,000 Amazon reviews and a 4.2-star rating. It has also been named the best cooling mattress by Consumer Reports.
Buy the Dormeo Twin XL Mattress Bed Topper: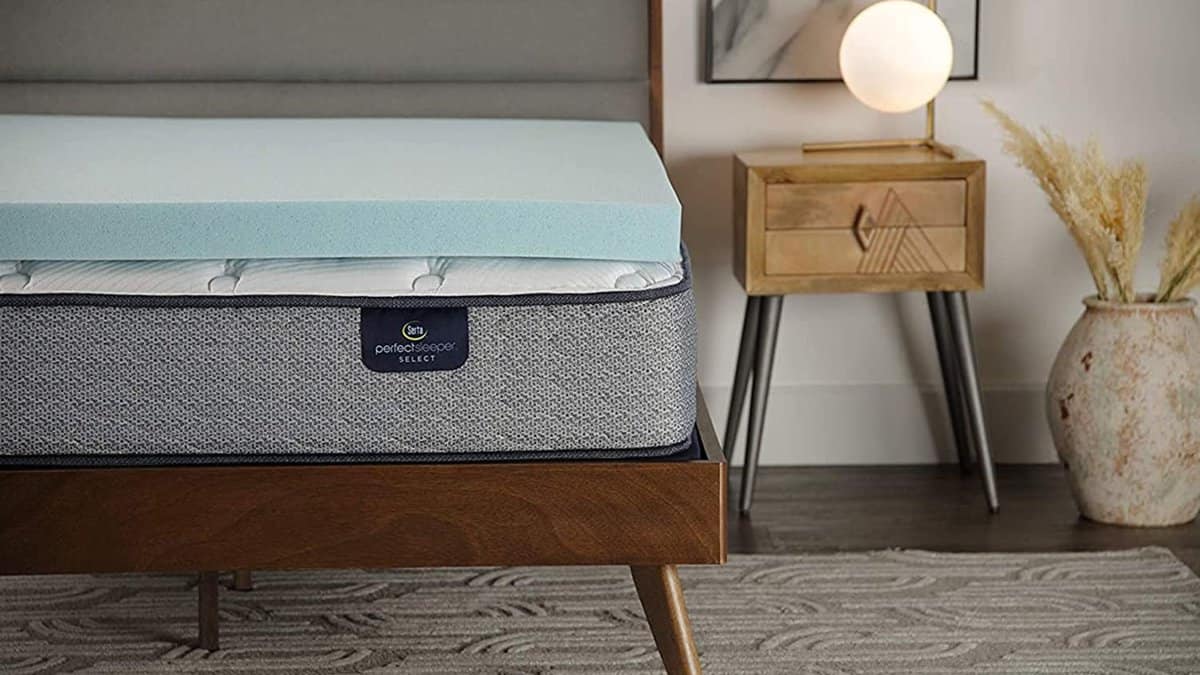 If you're looking to save a few bucks on your twin XL mattress topper (college shopping is expensive, after all!) while also getting plenty of value, consider this option from Serta. It's made with gel-infused memory foam that's simultaneously cooling, supportive, and adaptable to your student's unique body type. It comes in 2 or 3 inches in thickness, is suitable for side, back, and stomach sleepers, and is designed to promote airflow while dissipating heat for year-round comfort.
At only 9.5 pounds, it's more lightweight than other mattress toppers, making dorm move-in day a breeze.
The Specs:
Dimensions: 79" x 38"
Thickness: 2" or 3"
Material: Gel-infused memory foam
Firmness: Soft
The Pros:
Inexpensive
Ideal for all sleepers
Cooling properties
Lightweight
The Cons:
No washable cover
Too soft for some sleepers
What Others are Saying:
This Serta mattress topper has over 6,500 Amazon reviews and a 4.4-star rating. It was also named the best budget mattress topper by MindBodyGreen and the best cooling gel mattress by Woman's World.
Buy the Serta ThermaGel Memory Foam Mattress Topper:
To turn that old dorm bed into that of a high-end hotel, consider this luxurious memory foam mattress topper from the trendy direct-to-consumer brand Saatva. It features three inches of memory foam infused with cooling graphite for ultimate temperature regulation and motion transfer reduction. It's also made with eco-friendly organic cotton that's moisture-wicking for even more breathability and natural latex for a buoyant feel, and it's treated with antimicrobial technology to inhibit bacteria, mold, and mildew buildup.
It is also the heaviest topper on this list at 24 pounds, so it'll be a lift on move-in day. But even if they toss and turn throughout the night, there are anchor bands that keep the mattress topper securely fastened to the mattress. Trust us; all their dormmates will be jealous.
The Specs:
Dimensions: 79" x 38"
Thickness: 3"
Material: Memory foam infused with graphite and organic cotton
Firmness: Medium-firm
The Pros:
Great for hot and side sleepers
Sustainably produced
Anti-slip with anchor bands
Antimicrobial technology
The Cons:
Expensive
It doesn't include a washable cover
Heavy
What Others are Saying:
The Saatva mattress topper has a 4.8-star rating from nearly 200 reviews on its website. Good Housekeeping named it the best firm memory foam mattress topper, and The Spruce called it the best overall option.
Buy the Saatva Graphite Memory Foam Mattress Topper:
Other Twin XL Mattress Toppers to Consider
The Nest Bedding Cooling Topper is decent for its cooling and supportive properties, similar to the brand's fan-favorite Sparrow Signature Hybrid Mattress. However, it's pretty pricey for only a two-inch option. Plus, without a washable cover, it can only be spot-cleaned with mild soap. The Nest Bedding Cooling Topper is available at Nest Bedding for $229.
The Tuft & Needle Twin XL mattress topper covers all the proper bases, keeping you cool throughout the night while supporting your joints from all angles. However, without anchor straps to hold it down, you run the risk of it slipping off the bed and needing to adjust it throughout the night. It's also spot-clean only, making it difficult to maintain for college students particularly. The Tuft & Needle Twin XL Mattress Topper is available at Amazon for $200.
This memory foam mattress topper with more than 100,000 Amazon reviews is a decent choice for its cushy gel-infused fill that both contours the body and regulates temperature. However, it takes up to 48 hours to air out, requires a separate washable cover, and neither anchor straps nor an anti-slip traction surface to hold it in place while you toss and turn throughout the night. However, it is a good budget buy. The Linenspa Memory Foam Mattress Topper is available at Amazon for $44.99.
Layla is a reputable direct-to-consumer brand known for manufacturing cooling sleep products, and its popular memory foam topper is no exception. It's made with copper-infused memory foam that's both cooling and antimicrobial. However, it doesn't come with a machine-washable cover, so you'll have to spot-clean any stains, and it might be too plush for those who require more support while they sleep. The Layla Memory Foam Topper is available on Amazon for $229.
Why You Can Trust Us
I'm Marissa Miller, a shopping writer and editor with several years of experience testing and researching the best products. I'm a contributing editor at CNN Underscored, CNN's product review department. I've written about products for numerous outlets, including USA Today's Reviewed, Good Housekeeping, Teen Vogue, Vogue, Women's Health, and more. I cut through the marketing buzz to source tried-and-true products for my readers — including yourself! — can genuinely benefit from.
When selecting the top Twin XL mattress toppers, I relied on Grown and Flown's shopping expertise to identify top brands in the college living space, what to look for in a mattress topper and dorm bedding, and reviews from verified shoppers. Once I nailed down specific brands, I looked at elements shoppers should look for in a mattress topper, from materials to weight, size, and overall quality.
Everything to Know Before Buying a Twin XL Mattress Topper
What to Consider Before Buying a Twin XL Mattress Topper
There are a few considerations when choosing the right Twin XL mattress topper.
Size: Firstly, confirm the size of the mattress you're working with. You don't want your topper to be too long or wide and run the risk of gliding along the mattress. Most Twin XL mattress toppers should be around 80 inches long and 38 inches wide to fit the bed properly.
Thickness: Next, think about the thickness of your mattress topper. Some folks prefer that sinking feeling when sleeping; a thicker mattress topper of at least two inches will offer that. The older the mattress, the wider you'll want your mattress topper to be, and you can look for something upwards of four inches.
Material: Plush memory foam can help contour the body and support proper spine alignment while your student sleeps, while latex provides a sense of bounce and firmness. Gel-infused materials also provide a cooling sensation, preferable if you sleep in warmer climates with a (potentially) unreliable A/C.
Accessories: Additional features to look for include a machine-washable cover for easier cleaning — because you cannot toss the whole topper in a washing machine. Some mattress toppers have straps to help fasten them to your mattress so it doesn't budge.
How Long is a Twin XL Bed?
A Twin XL bed measures 80 inches (6.67 feet) long and 38 inches (3.17 feet) wide. They're the most common in dorm rooms and are best suited for sleepers over six feet tall — which can be common for young adults. While they do not offer any extra width than a standard twin-sized bed, they help account for extra height.
Can a Twin Mattress Topper Fit a Twin XL?
Because a Twin XL mattress is 5 inches longer than a twin, you'll want to invest in the right-sized mattress topper when college dorm shopping. A Twin XL mattress topper can stretch over the entire mattress without leaving any gaps for the best comfort and fit with your bedsheets.
Where to Buy a Twin XL Mattress Topper?
Plenty of retailers offer Twin XL mattress toppers, whether in-store or online. They include but are not limited to Amazon, Walmart, Target, Costco, Best Buy, Parachute, Saatva, The Home Depot, IKEA, Wayfair, and more.
How Can You Save on a Twin XL Mattress Topper?
You can save on a Twin XL mattress topper by shopping sales or exploring quality budget options like the Serta ThermaGel Memory Foam Mattress Topper. You can also sign up for Amazon Prime to save on shipping and exclusive members-only deals. Bonus: your Prime membership is half off if you're a college student.
You can also sign up for alerts or newsletters associated with your favorite mattress topper brands to stay in the loop about deals. Sales around Prime Day and the Fourth of July would be a great time to shop for this expensive item. Also, check out our comprehensive guide on how to save at several top bedding retailers for the best prices on the best sleep-related products for your student.
Prices were accurate at the time of publication.