Stop. Slide that credit card back in your wallet and set down that dorm room shopping laundry list. Yes, you are facing the mother of all back-to-school shops. And, yes it seems like your freshman needs a million expensive things.
But before you wander through the endless (and, we promise you, they are endless) aisles of plastic underbed storage containers, laundry baskets and Twin XL sheets, take a look at these 50 questions.
Then, fix a snack for your off-to-college teen, sit down and try to tackle these together. Open your laptop and drill down on the college website to the "Student Housing" section to see what you can discover.  Look for the specific dorm your teen has been assigned to and take note of the room dimensions and any specifics provided.
One warning, as you go through these questions, college will begin to seem very, very real.
College Dorm Rooms: Here are the Questions to Answer
Bedrooms and Storage
1. Are the room dimensions available for the specific dorm room to plan how to use the space?
2. Are there closets or wardrobes and how much hanging space is available? Would a hanging clothes bar help optimize the closet?
3. How much floor space is there in the closet and will a shoe shelf be useful or fit?
4. Are the beds elevated or bunk or traditional? Do you need risers to raise the bed to make room for storage space?
5. Are desks and desk chairs provided?
6. Does the dorm room come with a dresser?
7. Does the room come equipped with lamp or trash can/recycling bin? Is there overhead lighting? Is a lamp by the bed something that your student could use in addition to a desk lamp?
8. Is there a bookcase or do you need to buy a folding hutch for book storage?
9. Will your student have roommates and, if so, how many? Will they coordinate on decor or sharing things like a TV, computer printer, mini-fridge – perhaps with a  Compact Fridge Cart  to sit it on.
10. How cold/drafty are the rooms and how much extra bedding is needed for the winter?
11. Is there air conditioning and, if not, will it be hot and how big of a fan would work best?
12. How much room is there for under bed storage drawers or what size stacking drawers will fit best?
13. Is there any room for suitcases or will they need to be brought back home? Can you use duffel bags that can be slid under the bed or will black garbage bags be the easiest way to transport things?
14. How heavy a sleeper is your student? Does he have an alarm clock he depends upon or will a cell phone alarm suffice?
15. Will your teen be taking valuables (passport, jewelry, money, credit cards, prescription drugs) from home that could require a lockbox?
16. Does your teen have allergies that necessitate allergy-free bedding encasements for mattresses and pillows?
17. Is the college mattress provided paper thin or does it look (and feel) like a brick? Will your student sleep better on an eggcrate or mattress topper?
18. How many outlets does the room have and what power/strips or surge protectors will be useful? Are regular extension cords outlawed?
19. Does the weather turn cold early so winter clothes go with your student in September or will they have a chance to switch out shorts for a heavy coat during fall break?
Decor
20. What bits of home does your student want to take with them?
21. How much wall space does your student have and will he decorate it?
22. Does the school allow decorations to be hammered into the wall or just stuck on? Are there any wall hangings outlawed?
23. Do the windows have blinds or do they need to be provided?
24 Is the floor carpeted or would an area rug be useful/desirable?
25. What is the square footage of the floor for the best rug size?
Bathroom
26. Is the bathroom shared by a suite of rooms or is it down the hall or nearby?
27. Does your student need a robe or towel wrap for modesty when walking to the bathroom from her dorm room?
28. Can toiletries be stored in the bath or carried back and forth in a shower caddy?
29. Where can a wet towel be hung to dry?
30. Does your student already have flip-flops that can be worn in the shower?
31. Are you sending towels from home or buying new?
32. Would adding a monogram to new towels keep them from walking off?
Dorm Common Room
33. Are any appliances forbidden by the school for fire or other hazard?
34. Does the common room have furniture or are students expected to provide it?
35. Will your student have siblings/out of town friends visiting and do they need extra sheets and blankets?
36. What rentals, if any, does the campus provide such as microwaves, water coolers, mini refrigerators?
37. Are there kitchen facilities and does your student need to bring pots, pans, plates, silverware, etc?
Laundry and Cleaning
38. Will your student drop off her laundry and will she be given a bag for that?
39. If he does his own laundry, how far away are the machines from his dorm room and is it easier to carry a bag or a basket with handles?
40. Is there a vacuum cleaner that can be borrowed on occasion?
41. What cleaning are students expected to do in their room, bathroom, kitchen and/or common room and do they need their own supplies?
Shopping: College Checklist
42. Is there a retailer in your town where you can take advantage of college shopping discounts and pick out things in person?
43. What are the relative costs of shipping or using the "buy here/deliver there" programs?
44. What box stores are closest to campus? Will you be able to shop there or pick up previously ordered supplies?
45. Is it easy to get to a drug store or campus store or should your student bring extra toiletries?
46. Is there a package delivery location close enough to receive packages and can your student carry heavy ones back to their room?
47. Will the student have access to a car to be able to buy additional items he might need during move in?
48. What are your student's electronic needs and does his college offer any discounts for computers purchased through the bookstore?
Move In Day
49. Is there an elevator or only stairs in the building?
50. Are you driving or flying with your student on the big day?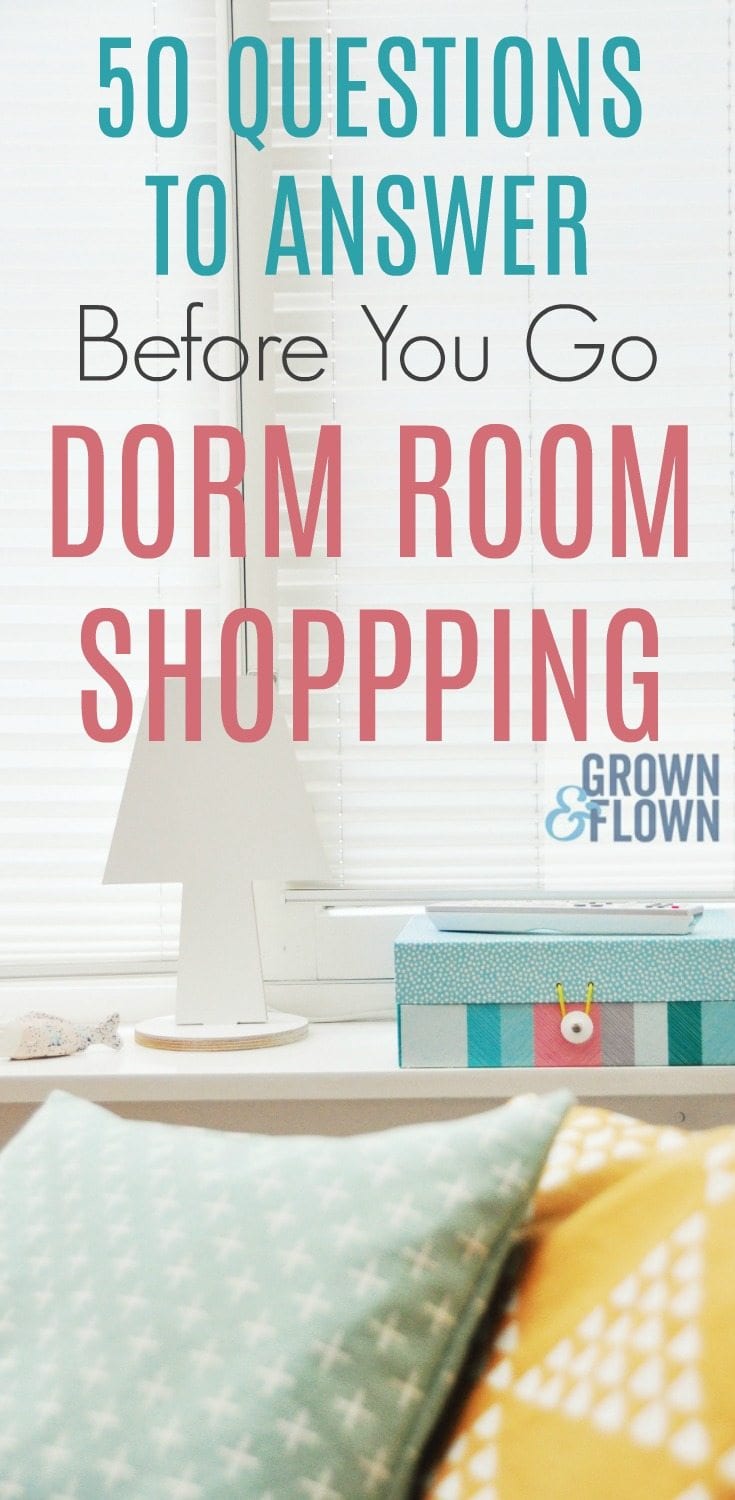 SaveSave
SaveSave
SaveSave
SaveSave