With a summer of planning, shopping, and endless list-making ahead—there is no reason why your soon-to-be college first-year student can't tackle the work! I admit that as we prepped for college two summers ago I imagined it all to be a bonding experience. However, as move-in came closer, our perspectives grew further apart.
Inwardly, I was emotional, tired, and not super eager to pack. My daughter, however, was excited, anxious, and counting the days. I was torn between wanting her to enjoy her last summer at home and wanting her to share the workload.
I decided action would be the best approach. So I got busy…and made THIS list. Here is how we did it, and how you can too. Here is your jumpstart how-to to get your soon-to-be college student moving!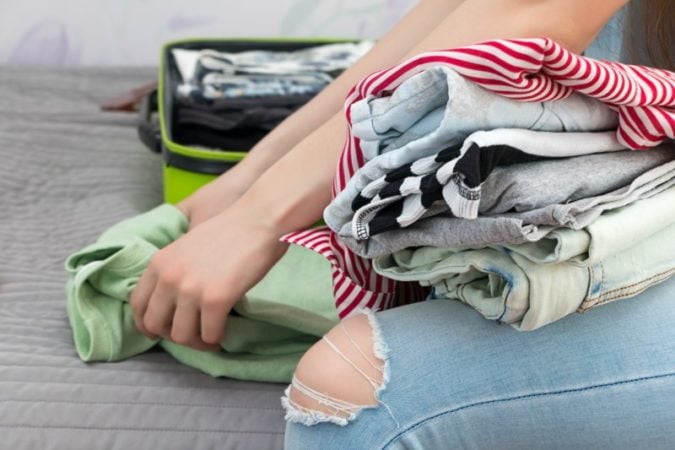 How to pack for college
1. Make sure you take a look at any new purchases before going to campus.
After reading many posts on the Grown & Flown Parents Facebook Group about dented mini-fridges, and fridge doors that would not close, Keurigs that wouldn't brew, and fans that didn't work — we did a trial run.
Turns out, the inside of the fridge was a great place to stash and pack the breakable Brita water filter pitcher and a few other awkward delicate items. The mini-fridge was easy to repack, and in some cases, we were able to streamline the store packaging with a little less bulk.
Tech tip: If you are packing a functioning printer from home, remove all ink cartridges and bag securely. Secure your printer tray with Frogtape masking tape and find the correct size box so the printer will not shift inside. If you have a new printer in a box, double-check that your student can connect to the laptop with a USB cable (not included with all printers) or Bluetooth.
If necessary, test device connection at home first. Many colleges do not permit school WiFi connection for student printers.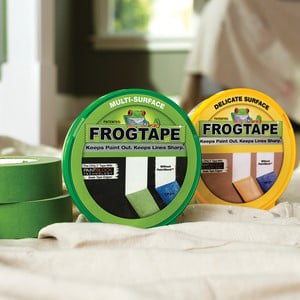 2. Label away.
With a jumbo sharpie and Frogtape, my daughter was tasked with labeling all the various moving boxes, containers, boxes, and bags with student's name/room/dorm name and phone number. This tape stuck to everything and left no duct tape adhesive behind.
Stack empty labeled moving containers together in one area. Create a "loading" zone area designated for all items that need to be packed excluding large pre-boxed items. The visual aid of a separate area will help you determine the best container for each item. Next, stack all books, notebooks together in one area in your loading zone.
3. Wash and pack all clothes and bedding.
Folded clothes can be left in laundry baskets in the packing area to use as packing filler with remaining to be packed in move-in bags. Rolling clothes can also save space when packing.
Hanging clothes can be grouped in similar length, by small bundles and tied together with a trash bag /garment bag. (These move-in bags work great for this too, but we were saving ours for bulkier items.) I also used this opportunity to make sure my student knew how to correctly load and wash bedding using the supplies she was taking to college. (No, not all the blankets can be washed together, sigh.)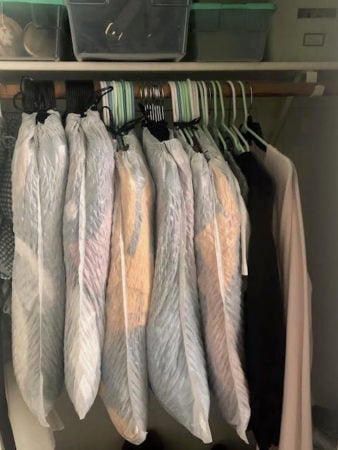 4. Fill plastic storage bins and drawers with lightweight clothing and misc. items.
Tape drawers shut when each space is filled completely. Leave untaped until then.
5. Pack shoes together.
After making a quick stop at Total Wines (empty boxes stored in front for the taking), I scored a couple of heavyweight case boxes with built-in dividers. These make fantastic shoe holders. Box all shoes accordingly.
6. Gather all cleaning items/ bottles.
Check all tops to make sure they are locked. Taping the lids to the liquids can also be a great idea. Lift divider out of liquor box and slip plastic trash bag underneath standing dividers up inside. Nestle bag with upright dividers back into the box. Fill with laundry, cleaning items. When dividers are full, pull the plastic bag shut and tie it within the box.
7. Cushion your cosmetics.
Cosmetics should be cushioned with cotton pads, and cotton balls inside all compacts. Pack into cosmetic bags or small bins with extra padding.
8. Round up all sports equipment and review.
Have your student check all equipment to avoid last-minute replacements and necessary cleaning. Clean, stack/wrap as needed.
9. Gather flat fragile decor and picture frames.
Slip into padded priority mail envelopes and tape. If unavailable, create your own by using brown paper grocery bags folded in half, with t-shirts and hand towels in between. Tape bundle to secure. Stack carefully in the loading zone.
10. Sort jewelry and pack like items together.
Small jewelry items can be nestled into the individual sections of a clean egg carton. Earrings can be poked through a paper plate, with earring backs attached behind. Wrap entire plate with press and seal food wrap.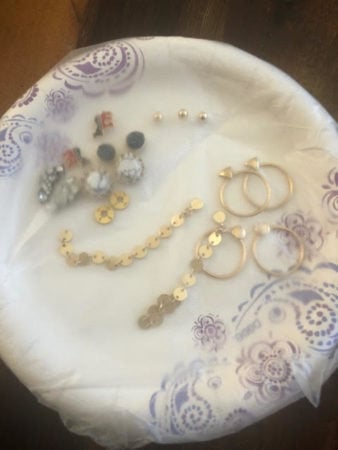 Spread one sheet of press and seal wrap onto a table and lay necklaces on top. Cover with a second piece of press and seal wrap. NOTE: this must be peeled open by the corners so you open the entire sheet at one time, (like turning the pages of a book) so that jewelry is easily removed.
Once all of the pre-packing work was done, instead of taking over I wanted to create a learning opportunity for my daughter.
Pro college packing tips
To brush up on my own skills for packing the car I consulted U-Haul moving expert and spokesperson, Sperry Hutchinson, who shared these excellent tips:
1. Pack up items you don't use on a daily basis, first.
Books, school supplies, supplies for college. Pack correctly, by making sure you fully pack each box. A full box is a happy box. This prevents shifting inside the box, damage and protects the integrity of the box.
Lining the bottom of boxes adds strength and reinforcement to your boxes; add cardboard or packing paper. (We used school folders, notebooks, and spiral books too). Books can also make a great base in your other boxes. A large box of books, however, will be too heavy to lift.
2. Load your vehicle the same way you did with your boxes.
Load the heavier items first, pad and protect unboxed items to prevent damage (using furniture pads, shrink wrap, or blankets) and use straps to prevent items from shifting around. Loading the fridge and futon first creates a stable load. Hutchinson encourages creativity with placing your items in the vehicle is the key to filling a vehicle so items don't shift, and instead remain stable and safe.
3. And my final advice.. keep busy and make it a family affair.
Give everyone a job to do. Early move-in day, I had to close my daughter's bedroom door, not wanting to see her room left sparse with all her favorite things packed. After a quick breakfast, we moved with a sense of excitement, and as we pulled out of the driveway, I put my sunglasses on. Not only to hide my teary eyes but to also to ready myself for the open road and the exciting, new adventure ahead.
What You Might Also Enjoy Reading:
6 Reasons Why Moms Cry When They Leave Their Kids at College This is a moment that makes us so happy and devastating sad. Find out why.
12 Things That Will Save Your Life for College Move in Day We asked our Grown and Flown community for their best tips and here they are.