With high school graduation almost behind us, we are focused on the day we will drop off our youngest at their freshmen dorms. Though we prefer to ignore the inevitable, it's time to prepare them for the tiny new living spaces that will be their home away from home.
We were rookie moms five years ago and made our few rookie mistakes. Frankly, we bought many dorm stuff that our teens never used. This time, with experience, we hope to shop for our freshmen with more focus and less waste.
We'll also give you our thoughts on approaching what might be your last back-to-school shopping trip…in life.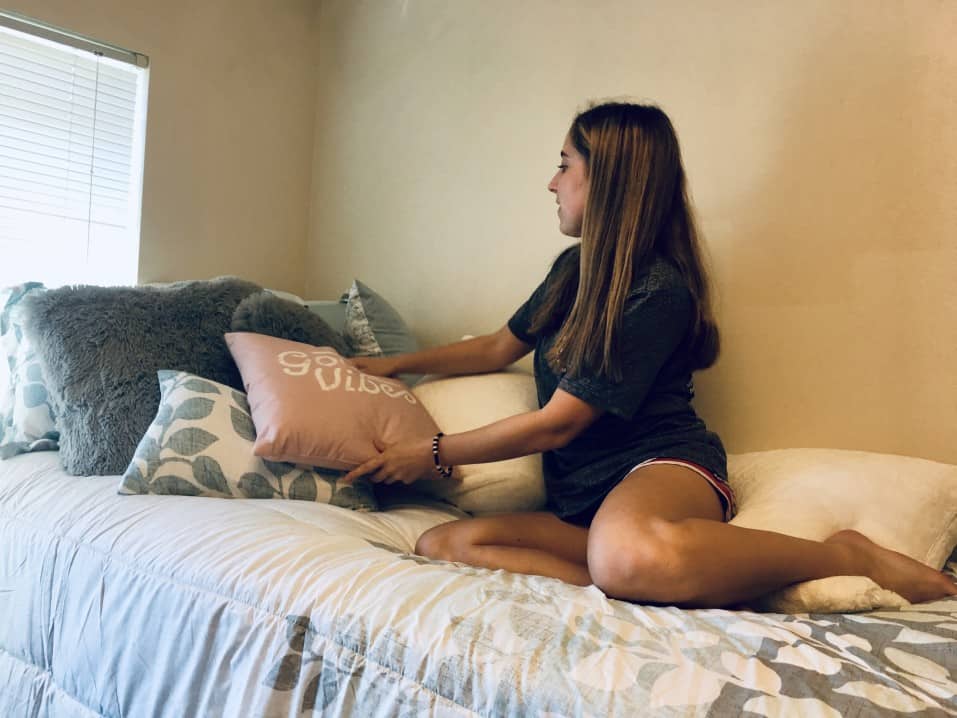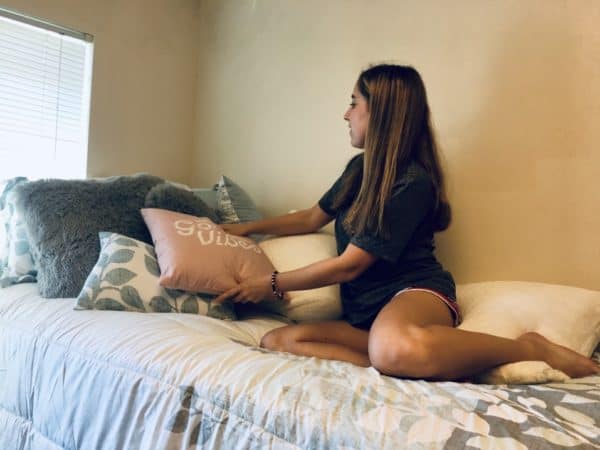 Dorm room shopping: what not to do
Note: We are a reader-supported site and receive compensation for purchases made through some of the links in this post. 
1. Don't treat the dorm shopping list like a K-12 school supply list
My daughter's college mailed a "What to Bring" checklist with seven categories and 82 items. Our advice—do not treat this like the supply lists from your child's elementary school where, scavenger hunt-style, you dutifully checked off each item while wheeling a cart through Staples.
Instead, concentrate on the most important items, true college dorm essentials. Everything can be picked up on move-in day or ordered online. Before you grab your keys or take out your credit card to add to your online cart, look at Dorm Room Shopping: 50 Questions to Answer, First. We guarantee it will save you time, money, and aggravation.
2. Do not overbuy for the dorm
Keep this mantra in mind…..Less is more, less is more. College campus dorm rooms are tiny and spaces shared. There is minimal closet space or room for the necessities, much less the extras. Don't think that all of those "dorm room essentials" are essential for your teen, and forget anything oversized.
3. Do not forget how messy teens can be
Ever seen a photo of a lived-in college room? Appalled? We were, too. The dorm room you help your teen set up will begin to deteriorate the moment you say your goodbyes. In the next nine months, your son or daughter will welcome friends into that room, where every surface will be treated as a chair.
Some dorm room shopping essentials you eagerly purchase this summer will be stuffed in corners, unopened, and collecting dust until they're rediscovered in May. College dorm rooms can be scary messy.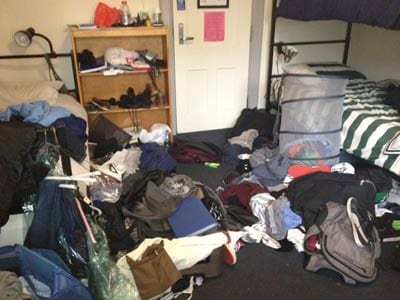 4. Do not pay full price
Everything about college is expensive, and that definitely includes dorm shopping, so take advantage of all the shopping deals you can find. Many retailers offer special promotions in exchange for your email address. Search online to see how to sign up and look for the details on free shipping, too.
Target's Circle membership is a great way to unlock savings when shopping there
The Container Store also offers 25% off select dorm merchandise in their College Shop. Hurry, you don't want to miss out. Text 22922 for up to 25% off our entire purchase. Learn more here.
5. Do not forget to plan the under-bed space
This is the most critical question to answer about the dorm room and one that your teen may not know much about until move-in day.
However, once your teen has a dorm assignment, check out the "residence life" section on the college website to see if a floor plan with measurements of that specific dorm is available. Take note of what furniture is provided and how high the bed is elevated, and plan the under-bed real estate accordingly.
Take a tape measure when you shop for storage containers or bins to maximize the space with the most functional and sturdy under-bed storage available.
One more thing, take note of those bed risers you were convinced would be perfect. They don't work with bunk beds and are unnecessary with many elevated beds.
6. Do not forget to include instructions with a medicine kit
Stuffing a medicine kit for your college freshman with an overabundance of meds can be dangerous if they are unfamiliar with when and how to use each one. When they are at home and sick, our teens take the analgesic, decongestant, or antihistamine we dole out. We have decades of experience in understanding how over-the-counter medicines should be taken. If we send our sons and daughters off to college with all the meds and none of the wisdom, it may cause other issues if they self-medicate with products with duplicate active ingredients.
Start to walk your teen through basic first aid and how to treat a cough or cold. When packing up for move-in day, fill a container with any prescription meds, band-aids, a thermometer, cough drops, antibacterial ointment, and one analgesic. One pharmacist mom gave us her best advice for her freshman son's medicine kit. 
7. Do not buy flimsy dorm stuff
Even the most careful student will be hard-pressed to keep their college possessions in good shape as they move in and out of dorm rooms and college apartments for the next four years. Fragile and dainty will get torn or broken. Whatever goes in your shopping cart must be judged for durability. Put it back on the shelf if it doesn't pass muster.
8. Do not forget to plan for how you're moving everything to college
There is a fork in the road here, and you probably already know which path you'll take with your freshman. If you are flying, bringing much more than your teen's clothes, electronics, twin xl bedding, and prescription meds will be impossible. Seek out the special shopping/shipping services from major retailers ideal for students who shop in their hometown and pick them up at college.
With Unlimited FREE Two-Day Shipping (with no minimum order size) and exclusive deals and promotions, this might be an ideal time for your teen to get an Amazon Prime Student account to order things once they arrive on campus and determine what they really need.
If you are driving, you may still want to use this service for a more comfortable ride.
9. Do not plan to leave luggage behind
As adults, we are accustomed to traveling with luggage but have closets wherever we land. College students have minimal storage space, so consider buying zipper move-in bags.
Alternatively, use collapsible duffel bags that you may already have at home. When our son began to drive himself back and forth to school, he used garbage bags for luggage, meaning he had a starter pack for the trash can when he arrived.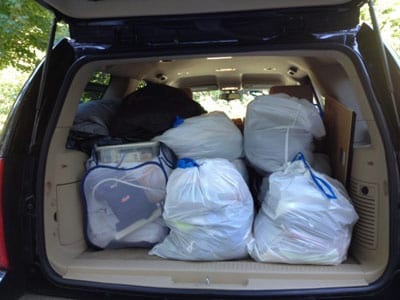 This move-in bag is ideal for transporting college gear.
10. Do not forget a second pillow
Your teen's dorm bed will function as a bedroom/living room/study space, and the pillow they sleep on will not be very comfortable to lean back onto. Bring a second bed pillow, a large square pillow in a pillowcase or sham, or a backrest pillow to cushion the hardwood or wall.
11. Do not plan on using extension cords
Your teen will travel to college with a phone, a laptop, and other electronics that need to be charged or plugged in. This translates into a serious need for extra outlets, and many colleges do not allow extension cords. Pack a surge protector like this one from Accell with six outlets and two USB ports, ideal for charging everything. This one gets the highest ratings from The New York Times Wirecutter.
12. Do not forget to get a mini-fridge
A mini-fridge is a real necessity and one dorm item that roommates should discuss before move-in day. There might be space for only one, so rent or buy, decide to share the cost, or someone can own it outright. These are convenient for leftovers from the dining hall and snacks that need refrigeration or cold drinks.
A microwave, coffee maker, and/or electric water kettle are also very nice, but please check the dorm restricted list before you buy any of these appliances.
What NOT to buy for the dorm room
Alarm clock—can use their phone.
Furniture—there is no space for a futon or any oversized or purely decorative furniture.
Kitchen Items—no toasters or blenders, dishes, cups, or silverware must be washed after use.
TV—Netflix on a laptop is enough.
Pictures in frames—ditto, just flip open the laptop.
Plants—guaranteed to die.
Cleaning supplies—in our dreams, only as many (most?) college kids don't seem to clean their dorm rooms.  So no vacuum, no mop. Think about paper towels and Clorox/Lysol wipes.
Composition books, binders, dividers—some of these have gone the way of the dinosaur. Let your teen start class and figure out their study methods. Many kids prefer to take notes on their laptops and have far fewer paper needs than in high school. Don't rush to waste money on a bunch of dead trees.
Desk chair—most colleges provide a chair, and you will drive it back home.
Printer—might also be an enormous waste of money. Many schools have networked printers available to students, and assignments are often turned in online. Desks have little room, and the floor is filthy for expensive electronic equipment.
What to buy for the dorm room:
An over-the-door set of hooks is a great space saver for hats, jackets, or wet towels.
Fan—is a must-have if the climate or lack of air conditioning suggests its need. Compact fans can do a big job in stuffy or steamy dorm rooms; no need to buy a big one. People rave about WOOZOO fans.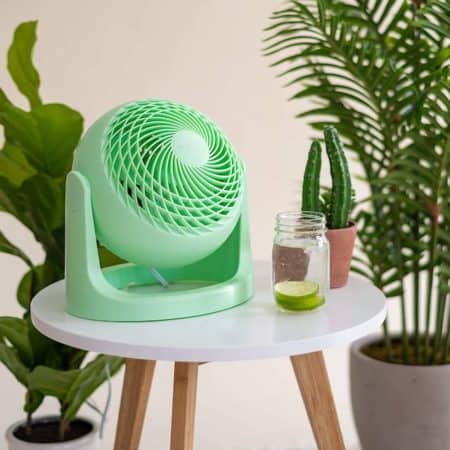 Hooks that stick to the wall are handy for jackets, towels, or jewelry to keep things (wishful) off the floor. Pick up a few packages of Command Hooks, if your teen's dorm allows them.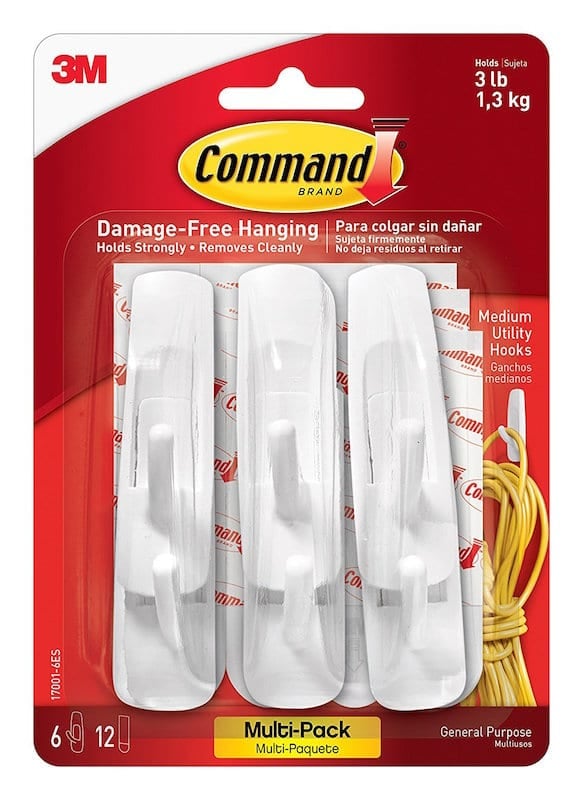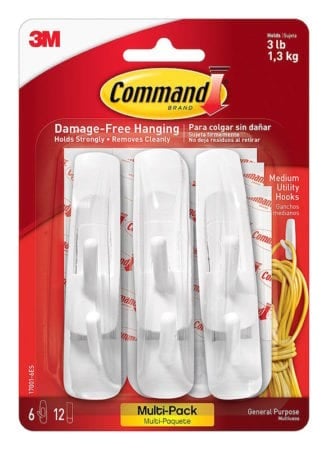 Small rugs are worth considering, but be wary as they may not get vacuumed all year. Small washable throw rugs might work best.
Shower caddy—first, check what the bathroom situation is. If your child uses a large communal bathroom at the end of the hall, this will be necessary.
Mattress pad and anti-allergen and bed bug protector, money well spent!
Hamper—check to see how far away the laundry facilities are before you decide on a laundry basket, bag or hamper.
Trash can? Some rooms come equipped, others do not, worth checking first.
Is your child a coffee/tea drinker? We fell in love with this K-Mini Coffee Maker, which could be a nice treat in their dorm room and is only 5″ wide and comes in five colors.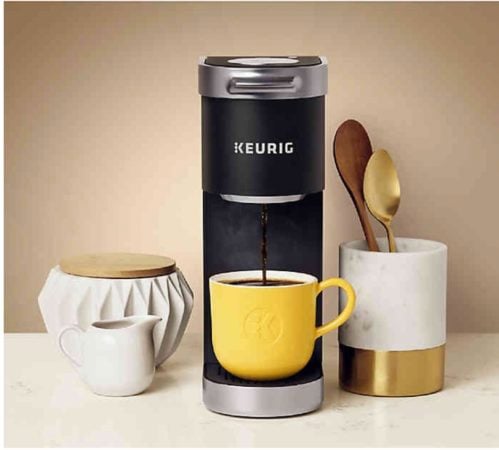 Towels—consider monogramming or distinctive color. Basic white is easily mistaken for anyone else's towels in the laundry room. These towels are available in 14 colors.

One final thought about move-in day. It will be crowded and hot, and there will be lousy parking. Your child will meet with her new roommate for the first time, and you will also shake hands with your counterparts.

Help them make up the bed and pull the sheets and comforter snug. Drive to the nearest store for shampoo, conditioner, an extra toothbrush, and any other toiletries or snacks they want for the mini-fridge.

Finally, slip them the letter you've been thinking about all summer. Let them know how proud you are of them, that you love them, and hug them once more. They can take it from here.

You Might Also Enjoy Reading:

Move-In Day: 12 Things That Will Save Your Life

College Packing Hacks for Your Freshman [photos]