This year, my husband and I will celebrate twenty years of marriage and we've had many discussions about how to mark the occasion. Should we take a trip? Should we throw a big party? What is the best way to commemorate the fact that our marriage has outlasted three washing machines and two water heaters?
As we've discussed the last twenty years, the idea of a vow renewal ceremony has come up a few times. The thought of saying our vows in front of the friends and family who have been with us for the long, sometimes broken, road we've traveled as a couple is enticing. I admit it would be kind of cool to have our two teenage kids by our sides as we renew our commitment to each other.
And I'd definitely pick a better wedding dress than the off the clearance rack, David's Bridal number I wore the first time around.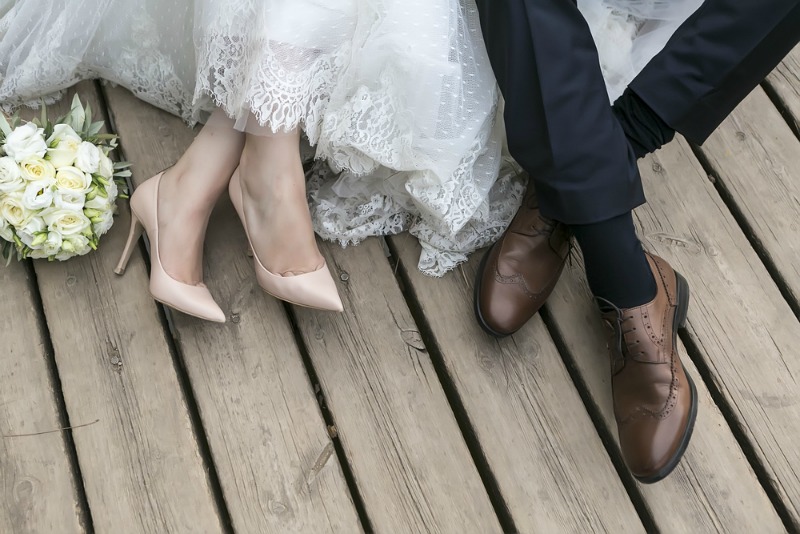 But, as I've thought about the details beyond whether we'd have a catered affair by the beach or something small at a restaurant, I realized that the vows I said 20 years ago mean nothing.
Well, not nothing, per se, but, when I stood in front of that church two decades ago, flanked by the girls who'd seen me throw up in college bars after one too many beers, I realized that what I said on that altar 20 years ago doesn't at all reflect where we are today.
Sure, I'll promise to love, honor and cherish again but, really, do I have to commit to demanding a courtesy flush while I'm plucking my eyebrows in the same bathroom?
Yep, the honeymoon was over a long time ago, folks.
But that doesn't mean I'm not in it for the long haul. Far from it, in fact.
A few years ago, my husband and I went through a rough patch. And by "rough patch," I mean that two teens, busy jobs and a dog who likes me better than him kept us from remembering why we liked each other. But, through therapy and more growing pains than I'd like to admit, we've emerged to a place where I'm ready to renew our vows.
And, this is what I'd say, twenty years later:
"I, Christine, promise to take you, Hubby, to be my lawfully wedded husband. Again.
To have and to hold, but not the remote control. I mean, seriously, how is it we need four remotes to watch HGTV? How did we become those people? Isn't there an app that will make things less complicated? I'm sorry, I digress…
From this day forward…Seriously, I'm not going anywhere. No one else will put up with my shit. I know this, now, and I love you for it all the more.
For better or for worse…and I really pretty much mean "mostly worse." Baseball caps, yoga pants and less is more make up is how I roll these days. But I promise to spice it up once in a while with my "fancy" bras from Target to keep things hot. You're welcome.
To love and to cherish…except when you ask me to help you hold a wrench or a drip pan or some other contraption related to cars. I'm never going to enjoy that duty and we both know it. And it's totally fine: you don't have to cherish me when I ask you to deal with spiders and when I buy those expensive seltzers that make you roll your eyes.
In good times and bad…when the dog needs a surgery that's more than a mortgage payment, when our kid has a concussion and throws up on you at 2 am and in those moments when we are yelling loudly over something stupid, I promise that I will love you anyway. And I promise to keep yelling and only fight with you because after twenty years, you know exactly how to make up with me in all the right places.
In college tuition, Common Core math and AP History classes…I promise to always direct our teens towards you for math help and I will gladly edit English papers and college applications. And I promise to keep an open mind when you insist our teens go to your alma mater for college (but we both know they'll wind up at mine so just admit it now, okay?).
In sickness and in health…with the exception of when you come down with a man cold. Because we both know I'm not equipped with enough patience to handle your snotty face. And, I promise to try to be healthy but, let's face it: I'm never going to not want popcorn drenched in butter most nights so my hips are pretty much like this now.
For richer or for poorer…which basically means I will to try to refrain from having a spending accident at Target on the same day the air conditioner breaks but no promises. And, I promise to not complain too much when we have to forgo date night because the cost of braces is breaking the bank. But, when I receive a bonus from work or score an extra writing gig, I totally promise to share those "riches" with you.
Till death us do part…Or until the Medicare runs out for your nursing home care. Omg, I'm kidding, I swear. I'm in it to win it this time, baby. Let's do this.
Well, what are you waiting for, honey? Plant one on me and stop rolling your eyes.
Wait until you see the cake I ordered…and yes, I'm totally smashing your face with cake this time around. #PaybacksAreABitchDarling
Related:
The First Twenty Five Years Are The Hardest