My father was not only smart. He was wise.
On my wedding day, dad and I had a few moments alone before the ceremony. I waited eagerly for some words of wisdom. At last, dad turned to me, cupped my face lovingly in his warm hands and said "Don't worry if things are rocky in the beginning. Hang in there. The first twenty-five years of marriage are the hardest. After that, it's a piece of cake."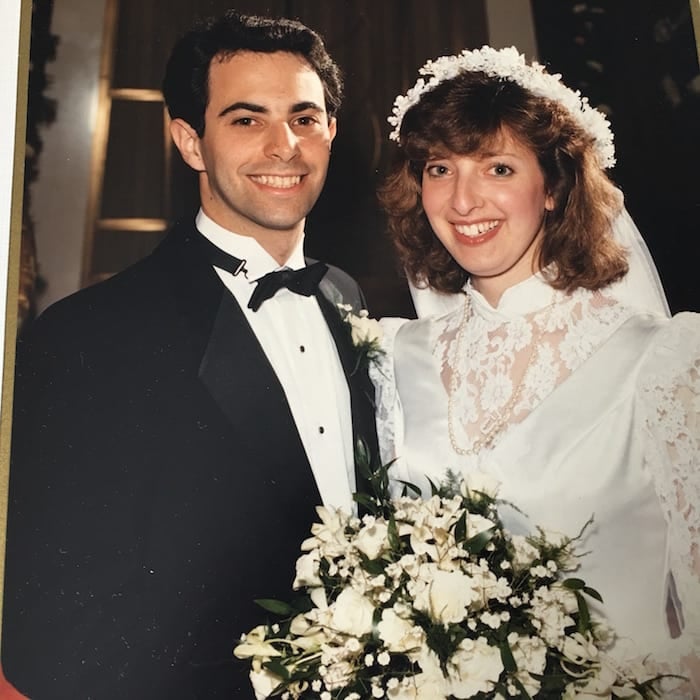 Then, we both chuckled. But now, as my husband and I approach our twenty-fifth anniversary, I find there was a lot of truth in my father's words.
In the beginning we had our share of Sturm und Drang. There were harsh words, slammed doors and great big sob fests. Raising a family and building a career is a struggle and keeping a relationship alive through it all is hard work.
Not speaking to my husband for a week because of his insistence on a certain middle name for our unborn child seemed perfectly reasonable. Now, I know with calm certainty that who your child becomes means far more than the name he bears.
But, when you're up all night with a screaming baby and he's up all night closing a deal it's hard to be your better selves, your kinder, gentler selves.
These days there is a new tenderness in our relationship.
We've seen a lot together, the birth of our children, the death of three of our parents.
The battlefield has largely been cleared.
We know we have the ability to inflict great pain on each other but we also know that life does that all by itself so why lend it a hand. We've had the same argument so many times I can handle both sides of it equally well so why drag my husband into it at all?
There are things about him I will never change and vice versa.
But, we've largely stopped railing about those details. I've seen the enemy and I choose to love him. It's not about apathy. It's about perspective and choice. And, I've got to hand it to my twenty-one year old self. Not bad. He's a keeper. Thanks for the wisdom dad. I think I get it now.
More to Read:
Super Popular Gifts for Teens and College Students