Sanitizing the upstairs bathroom after a recent bout with the flu and vacuuming the house after a New Year's Eve so-called rager as we congratulated ourselves on the shocking feat of staying awake until midnight; this is what my New Year's Day looked like. There was no new gym membership to cash in, no crisp, clean journal pages to fill, and no list of inspiring resolutions to follow. I'm in my 40s. I'm tired from all of the holiday hosting and school vacation entertaining.
I am busy in the way every mother in her 40s and 50s is. I multitask, I work, I parent kids whose new stages of emotional development exhaust me, and I try to ward off the physical feelings and signs of this new stage of my own life with occasional bursts of effort and distraction techniques. I really don't have the capacity to care about maximizing the New Year's holiday with bright and shiny resolutions.
As the days of 2020 fade into the pale grey category of "past events" on my phone's calendar at an alarmingly fast rate, I realize I am suddenly waking up and recovering from the holiday crush. I can actually begin to think about what lies ahead for me this year.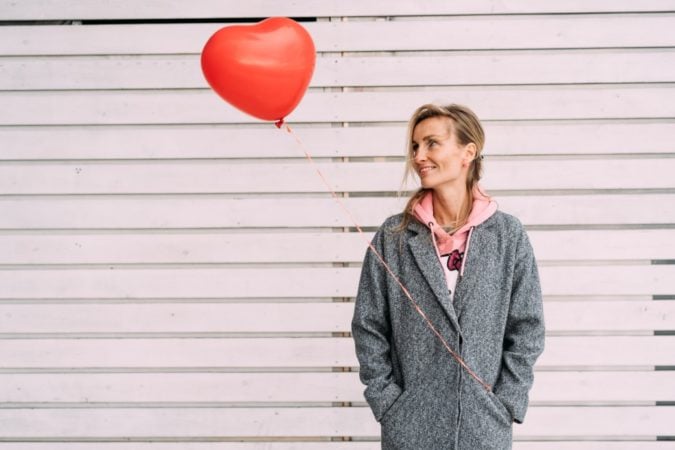 Taking Self Care Seriously on Valentine's Day
The kids are settled back in school and our family is finally enveloped in a sense of routine again. Self-care might be the last order of priority when it comes to caring for my family, but I now have the opportunity to begin to focus on it. Luckily, Valentine's Day is right around the corner and coming up just in time for my chance to finally focus on me.
If I'm transparent about what Valentine's Day typically means for myself and my girlfriends, it's an excuse to gift my kids with something small and let them eat heart-shaped chocolate. It's a day when we'll have a really nice early dinner at a restaurant while we comment on how late it feels already even though it's only 8:30 pm. We'll go out to one of our usual haunts, but we'll call it a valentine celebration and possibly remember to clink glasses to acknowledge it.
My husband and I will exchange sincerely sweet cards, but with the winter holidays, our wedding anniversary just behind us and our birthdays just ahead, we really don't need a Hallmark holiday to squeeze in something special. All we really want is an hour together to catch up on our favorite show uninterrupted with a glass of wine.
So if my husband and I don't really need Valentine's Day and the kids are all set, then I'm going to claim this holiday that's all about love just for me, even if it's simply by default. I'm going to make this holiday about self-love because now I finally have the chance to kick this year off with a holiday that doesn't make demands of my time and energy.
The concept of Galentine's Day didn't come to be without good reason. This is the time of year when women can finally look up from their to do lists, brush that last random Christmas tree needle into the trash, and think about introducing some intentional self-love into our daily routines.
Valentine's Day Self Care Resolutions
First, I'm going to maximize Valentine's Day with a love letter to myself. I'm going to remind myself why other people love me, and why I deserve this dedicated space without negative self-talk. I'm going to make a list of everything that I would like to surrender in my efforts at self-love like anxiety and mindless social media scrolling. I will make a list of intentions, and these things will be all about my personal identity – not motherhood or marriage.
Next, I'm going to share this love with the other women in my life who need a Valentine's Day all about them too. I will send them cards to remind them how much they are valued, and I'll get plans on the calendar for girls' nights. I will be sure to put double the number of plans on the calendar because I know my girlfriends and myself well enough.
Half of the plans will get canceled due to life getting in the way. And on those nights when the plans do get canceled, I will not pull out my laptop to get some extra work done or fold the laundry. I will simply sit and enjoy the gift of newly found time and read a book or binge watch a couple of episodes of a favorite show.
I will eat some of my kids' valentine chocolates, but I will also block off time in my schedule each day to take care of my health. I will meditate for five minutes per day, and I will do at least three real workouts per week. I will also kill two birds with one stone and make a weekly plan with a girlfriend to take a long walk in nature together. We deserve that rejuvenating time to breathe fresh air, move our bodies in an easy and natural way, and chat about all that we would otherwise keep inside throughout our overscheduled lives.
Valentine's Day might be a mostly manufactured Hallmark holiday, but I'm willing to take what I can get. It's never too late to start good intentions and self-care. Too often, we women live and die by our calendars and to-do lists. Let's all mark our calendars to celebrate ourselves this February 14th.
This Valentine's Day, say goodbye to all that is toxic and weighing you down, and pour every ounce of love that you give to others each day into your own cup this year.
You Will Also Enjoy:
Valentine's Day Gifts for Teens 
Here's to the Friends Who Have Been With Me Through the Decades 
Mom. Writer. Reader. Advocate. You can find Charise Nulsen writing, volunteering, and generally wearing too many hats all while chasing the slow life in her pajamas. Charise earned her degree in English and Women's Studies from Boston College, as well as her graduate degree in English Education from Boston University. Recent bylines include Romper, Family Education, and Natural Mother Magazine, and she blogs at I Thought I Knew Mama (www.ithoughtiknewmama.com).