I remember the Christmas of 1985 like no other — that was the year my sisters and I got Cabbage Patch dolls. Seeing those large rectangle boxes under the tree as we were making our way down the green shag-carpeted stairs was a feeling I've tried to create for my kids year after year.
When I think about what the holidays mean to me, I am always transported to Christmas in the '80s and remember the days of getting chocolate coins in my stocking, unveiling my Barbie Dream House, and sitting on my knees at our coffee table making my list after browsing fat catalogs and watching commercials which tempted kids of the world during Saturday morning cartoons.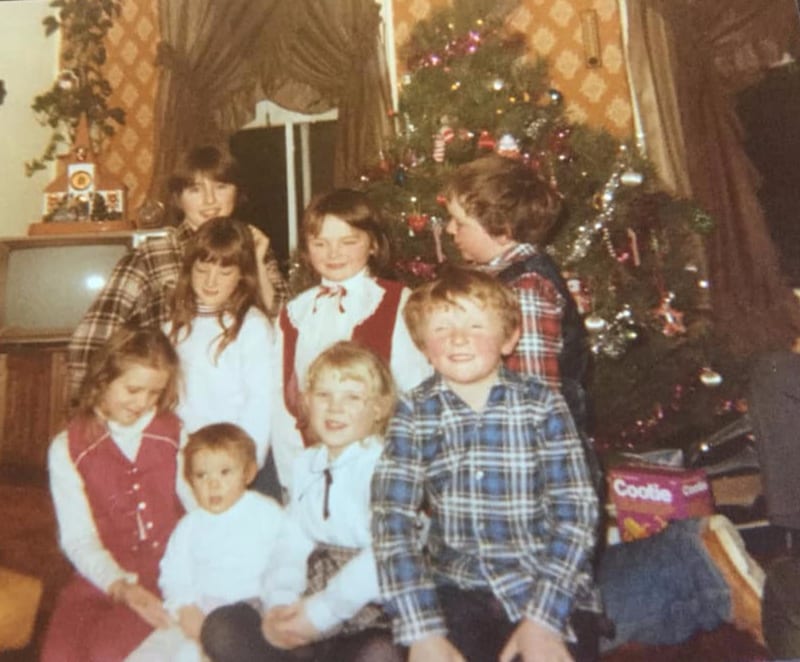 What I loved about Christmas in the 80s
1. Neighbors Came Over To Visit
There were fewer "things to do" and more visits. I remember coming home from school many afternoons around the holidays and there would be a neighbor or friend sitting at our kitchen table with their hand wrapped around a mug of coffee.
They'd come unannounced and drop off a jar of jam or a coffee cake or a box of nuts and chocolates and my mom would return the favor by sending them home with a Tupperware container of homemade cookies or loaf of bread.
These gestures were meaningful and made us slow down and wrap ourselves in the very thing the holidays are supposed to make us feel — pure joy. It's rare anyone has the time to do this anymore — we are rushing around like ping-pong balls trying to keep our wheels spinning.
2. There Were More One Income Families
This meant we got less throughout the year, and the holiday and birthday gifts were highly valued. Many parents had to save most of the year to provide a nice holiday for their family and people were more likely to make gifts than they are now. As a kid, I didn't dig my homemade mittens and hat, but there is something so charming and nostalgic about homemade gifts.
3. Amazon Didn't Exist But We Got Catalogues In The Mail
Instead of being able to use your one-click button on Amazon, we waited for that huge Sears or Montgomery Ward or JCPenney catalog to come in the mail. I would peruse those for hours circling and folding the corners of the pages, then I'd change my mind again. I remember hearing the sound of my mother's soft voice ordering things after we were in bed and the excitement would be so intense, I couldn't sleep.
4. Stores Brought Out Their Christmas Stuff Later (Much Later)
I love this season and always decorate early, but the holidays weren't shoved in our faces early like they are today. The blaring of Christmas music, and seeing the stores being taken over with glittery merchandise before Halloween ruins it for many and can turn any excitement they have for the holidays into dread.
In the '80s, you started hearing Jingle Bells and seeing lit-up trees after Thanksgiving which not only made us savor it more, we were really ready to spread the holiday cheer by that time.
5. It Was Just A Simpler Time
When anyone remembers their childhood, it always seems simpler, but so much has evolved since the '80s: technology, sports programs and the way we parent have gotten much more time-consuming.
We are all so busy attending sporting events all weekend, going to meetings, volunteering, and over half of all households have both adults working. This doesn't allow as much time to bake and visit and just lounge in front of the television to watch a Christmas special on a Friday evening with a TV dinner.
6. We Celebrated The Holidays In School
Elementary school holidays parties were the most exciting way to spend the day before winter break. We drew names, everyone brought in goodies to eat, and the entire whole school was buzzing in anticipation for what was to come.
7. We Had To Wait For Christmas Specials And Christmas Music To Come On The Radio
Sure, some of us had a VHS but even then, we had to talk our parents into renting a Christmas movie which was pretty unlikely. When Charlie Brown's Christmas or It's A Wonderful Life came on the television, you made a family night out of it.
And I clearly remember my sisters and me hovering around the radio hoping Grandma Got Run Over By A Reindeer would come on because nothing was available at our fingertips. Now you can produce Christmas in 100 different ways with a few clicks any time of the year.
8. You Recognize Wrapping Paper From Past Years
Nothing, and I mean nothing was wasted. My mother used the same wrapping paper and ribbons for years. There were times that she and my father would let us rip through our gifts but when it came to the bigger items, we were always instructed to be careful so the precious paper could be saved and packed away with the Christmas decorations.
Of course, we always remember our childhood being better and more exciting than it actually was, but I've celebrated Christmas for over four decades, and now that I'm the boss of the house and we do it my way I still say nothing beats an 80s Christmas
You Might Also Want to Read: 
The Gift Opening Tradition I Still Keep at Christmas 
SaveSave
SaveSave
SaveSave
SaveSave
SaveSave
SaveSave