Recently, my college roommates and I realized we moved into college 25 years ago.
As we prepare to send our own kids off to college and find ourselves on college tours and navigating intricate financial aid forms, we've all agreed that college has become a lot more complicated than when we mailed our college applications. Yes, mailed. With stamps. And a return address.
When we hit the halls of our dorms, the internet wasn't yet a thing, the only clouds we knew of were in the sky and we had pink princess phones with long cords that we packed in our laundry baskets full of extra long sheets and dusty rose towels.
My one roommate texted me this summer to tell me the campus her daughter was touring had a competitive Quiddich team. The dorm rooms are nicer than any dorm either of us has ever lived in and she told me the kitchen in her daughter's new dorm would make Giada DeLaurentis jealous.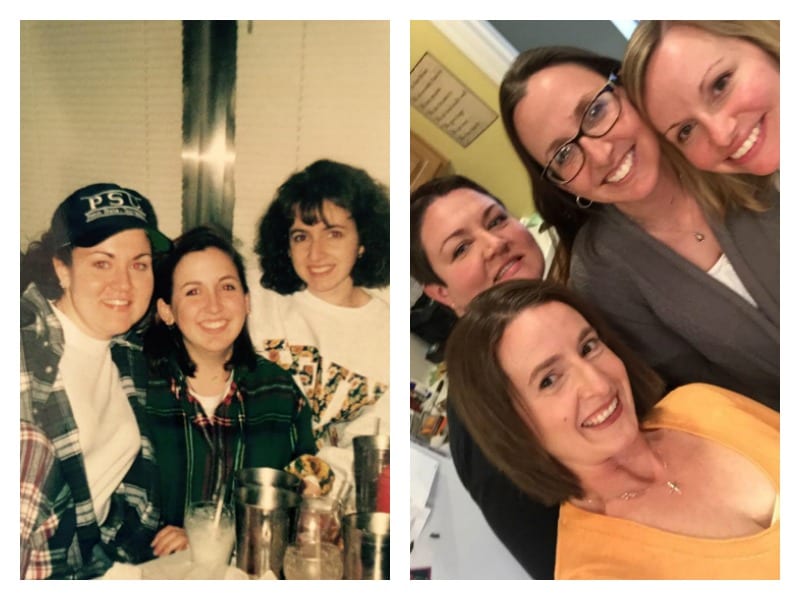 We weren't fancy back in the 90s. In fact, far from it. Granite countertops in our bathrooms? Nope. We had mint green pedestal sinks that had been mounted to the pale yellow tiled walls in 1964.
I know those of you who attended college in the 90s know what I'm saying.
Let's play a little game, shall we?
Complete this sentence: "You know you went to college in the 90s if…"
You applied to college using a paper application you picked up from the guidance office. And that you mailed with extra postage.
You came home every day during your Senior year of high school, hoping for "the fat envelope" bearing your first choice college's logo.
You spent the summer before college buying things like dry erase boards, ice trays and Chef Boy-R-Dee microwavable meals.
You learned your roommate's name in a letter sent by the college and you didn't meet your roommate in person until Move In day.
You coordinated with your future roommate to agree on who was bringing the phone. And the microwave.
You rented a refrigerator off the back of a truck behind the dorm from a questionable guy.
Your dorm décor color palate was dusty rose and teal. And bonus points if your comforter came from Laura Ashley.
You consider the Holy Trinity of music to be Nirvana, Dave Matthews and Pearl Jam.
You wrote a check to pay your phone bill.
You remember every scene in "Reality Bites."
You understand the phrases, "We were on a break!" and "Donna Martin graduates!"
You belonged to a CD club.
You scheduled your classes so that you could watch Days of Our Lives every single day. #TeamMarlenaForever
You know what the word "microfiche" means.
Clinique makeup was life.
You owned perfume from Elizabeth Arden that smelled nothing like Sunflowers.
You thought Zima was high class.
And you drank Boone's Farm Strawberry Hill wine straight from the bottle.
One word: flannel. Or, more specifically: Grunge.
You remember exactly where you were when you heard about the World Trade Center bombing. The first one.
The sound of Dave Matthews Band makes your hand itch for a red solo cup of beer.
You couldn't understand a word The Cranberries sang but you loved them anyway.
They will have to pry your Hotmail and AOL accounts out of your cold, dead hands. #TeamHotmail
You communicated with your friends via a very elaborate system of dry erase markers and white boards affixed to your dorm doors.
You watched Melrose Place and Beverly Hills, 90210 with ten other friends, huddled around a TV in someone's dorm room.
Two more words: construction boots. Seriously, what were we thinking?
You organized your sweaters with milk crates stacked under your bed.
You remember when Darius Rucker was Hootie and you'll never stop calling him Hootie. #DieHardBlowfishFan
You had a phone that no one ever answered down the hall and it rang constantly.
You decorated your dorm room with one or more Disney posters.
Your dorm room was air conditioned with a box fan that was on 24/7 and held in place by a rickety window that didn't close properly.
You had to schedule computer lab time.
You had to line up at the crack of dawn to register for next semester's classes.
Or, you were one of the lucky ones who went to a college with a phone registration system. And you could hear people jamming the redial button over and over up and down the hallways.
Three final words: baby. doll. dresses. I mean, come on. We looked ridiculous.
You used calling cards with ridiculously long access numbers to call your parents. Or, you called collect, hung up and waited for them to call back. Because cheap AF.
Your parents left you messages on your answering machine. But only on Sundays because that's when it was cheapest to call.
You look at the dorm rooms of today and roll your eyes. Granite? Pullleeeze. We had linoleum floors, cinder block walls, furniture made of wood from 1972 and community bathrooms with questionable grout stains.
And we managed just fine.
In fact, if anyone needs me, I'll be over here sipping a Zima and watching In Living Color reruns.
Related:
Here's Why I Loved Being a Teen in the 80s