Last week it was "Senior Night" at my son's regional cross country meet. Before the girls and boys races began, every senior from participating schools lined up with their parents and were then introduced and thanked for their athletic participation. Each senior also received a hearty applause and well wishes for their future.
And from what was said about these seniors, what amazing futures it appears they are all headed for!  Proud and beaming parents held hands with their sons and daughters, while coaches read about each athlete's academic accolades, and future college plans.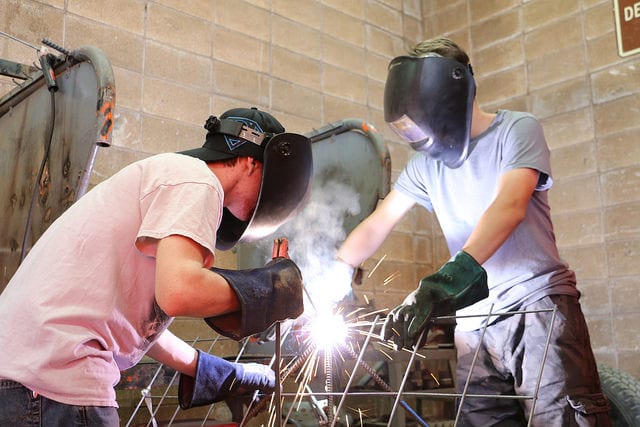 Things like, "John will be attending Harvard in the fall, pursuing a career in environmental law," and "Laura has accepted a full academic scholarship at Vanderbilt, and hopes to one day be a cardio-thoracic surgeon," and "Rachel will be studying at Brown next year, double majoring in applied mathematics and Russian literature."
I smiled along with their proud parents, clapping with the crowd and acknowledging these great accomplishments and all the hard work these kids have put in to get where they are.
Then as one overachieving student after the other was introduced, I found my mind drifting to my to do list at home. A list that included finding a plumber to come and fix our no longer functioning water softener.
And that's when it hit me.
Among these 40 or so wonderfully bright and dedicated young adults, there wasn't a single one seeking a career in a vocational or technical field. Not ONE.
There wasn't a senior who confidently announced that after graduation he would be seeking an apprenticeship in masonry or construction.
There wasn't one who shared that their future entailed training under an electrician for the next 18 months to become licensed.
There wasn't one who said they would be attending cosmetology or massage therapy school.
Nobody walked proudly out into the crowd and said they would be seeking an A.A. degree, or becoming a phlebotomist, a CNA, or a licensed daycare worker.
Nobody boasted about joining the armed services to become a mechanic, or was seeking to become a dental hygienist.
There wasn't one single student who shared anything other than going to a four year university as their future plans and ultimate success story. And all, ironically, before they had even stepped one foot on a college campus as a freshman.
When did the success of our young people become solely and exclusively dependent on attending a four year university? Well for starters, when we started to stigmatize any other post high school options, career choices, armed forces, community college, and vocational/technical schools as  "failures," or options only meant for those that "can't."
It started when high school replaced vocational and in house technical and transitional career programs, agriculture programs, and classes like shop, graphic design, home economics, etc. with another set classes – those with an AP prefix.
But what's possibly even scarier than how this "college only for success" mentality started and continues to be accepted, is how scary our future is going to look without a skilled workforce. It's why in the middle of overachievement night, my only thought was "Where are all the plumbers?"
Is our nations's skilled labor workforce disappearing right before our eyes? The Society for Human Resource Management even thinks so. They did an interview with skilled labor force advocate Mike Rowe, who spoke to the House Education and the Workforce subcommittee in Congress early this year, advocating for more federal support and funding for career and technical programs across the country.
Rowe stated, "You've got to make work cool again," and added that the skills gap will never close "if we keep telling people a four-year degree is their only hope of being successful."
Is anyone in today's high schools offering other options and a different kind of future to students?  Is anyone hosting or promoting vocational and technical school night with just as much verve and excitement as college night?
As senior night dragged on, I thought about what we can do as parents (and educators if you are one), to encourage and inspire kids no matter what dreams they have for their future, but especially if they have one that doesn't fit the four year university mold.
I recall a time I was assisting students in a senior English class in the school library. They were doing career research and writing about their future plans.  Among a table of future doctors, lawyers, and financial analysts, sat a young lady who spoke up and said, "Honestly, I want to go to bartending school, and I already know what you're going to say about that. You're going to say it's an awful decision and I can do better."
The whole table was shocked by my reply:
I think that is a great decision and here's why…you will be gaining a learned skill that will most likely always be able to provide you with a job. It will offer you flexibility, and the option to work evenings and go to school during the day if you so choose. It will be lucrative and possibly keep you from going into huge college loan debt. And if it is something you are truly passionate about and do to the best of your ability, then I don't want you to think about just working at the bar, I want you to think about one day OWNING the bar. Because guess what all the future doctors, lawyers, and financial analysts at this table need at the end of their work day? A DRINK.
I don't think I've ever seen a bigger smile come across the face of a teenage girl. In that moment someone validated her dreams, and made them seem not only possible, but successful and stigma-free, not second class.
Encouraging our high school students to tackle life and their futures as they see fit, and to especially do so when it's a path less taken, is something we all need to get behind. Besides, I can't think of one single household that has never needed a plumber, can you?
Photo Credit: Bureau of Land Management
Related:
When My Son Decided Against College I Felt Like a Failure
The Top 40 Thoughts All Moms Have At College Drop Off 
21 Absolutely Fabulous High School Graduation Gifts for Girls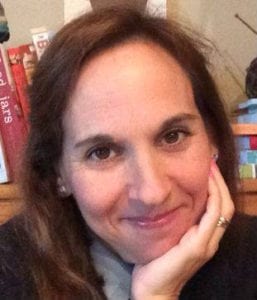 Melissa Fenton is a freelance writer and adjunct librarian at Pasco-Hernando State College. Find her writing all over the internet, but her work mostly on the dinner table. She is on Facebook at 4BoysMother and on twitter at @melissarunsaway.
SaveSaveSaveSaveSaveSave
SaveSave
SaveSave
SaveSave
SaveSave
SaveSave