All the four year college and university acceptances letters are currently rolling in. Facebook feeds are full of giddy and proud parents declaring where their kids will be matriculating at for the next four years. It's the happy culmination of years or study, work, and dedication for both parents and students, and a well deserved accolade. But for many, it's simply not an option.
For a multitude of reasons and familial situations, many students will not be decorating a new dorm room this fall, rather, they will be headed to study at a local community college. And yet, we don't boast and brag that our kids are headed to a community college. Why? Or better yet, why not? Because there is absolutely zero shame in your student staying home and attending community college. Don't believe me? What do you think these successful people all have in common?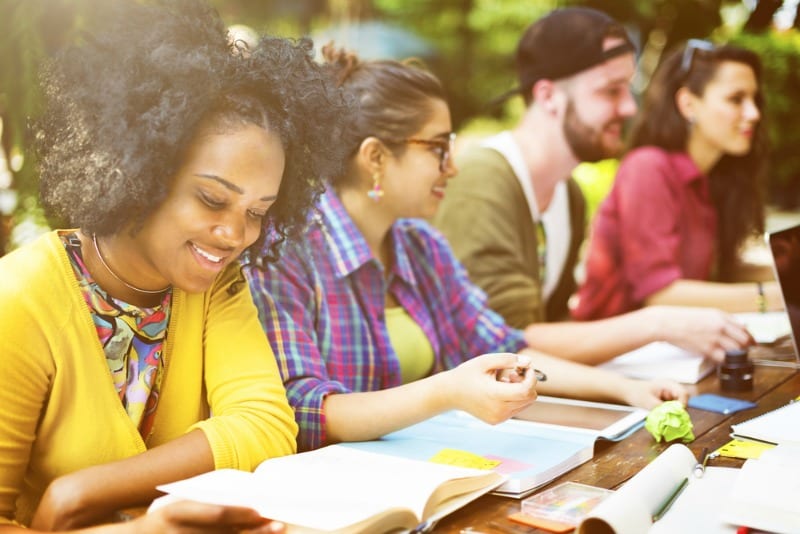 Author Amy Tan, Director George Lucas, NASA Astronaut Eileen Collins, First Hispanic Female Congresswoman Ileana Ros-Lehtinen, PBS NewsHour host Jim Lehrer, Costco CEO James Sinegal, and Pulitzer Prize winner Oscar Hijuelos. They all went to community college.
9 Things to Know About Community College
If you haven't been on the campus of a community college lately, you probably still hold a skewed view and slightly less than ideal image of its environment. Isn't it just full of students who were unable to gain admission to a "real" college? Aren't most students just GED holders looking only for a two year technical degree? Do they even offer four year degrees? And, it's not for my student because they just don't have the resources, networks, prestige, and extracurricular opportunities that a four-year university can offer.
Today's community college campuses have grown into quite the opposite, and in the post recession years have seen a surge of student enrollment, with many deciding to remain local, and start their college careers there. So what can a community college offer your student and why is it a good choice now for so many?
1. Cost
Earning your A.A. degree at a community college and then transferring to a four-year university can literally save you thousands of dollars. It's also noted that students attending community college borrow far less money that those at four year institution. And when/if you do decide to transfer, if you've earned excellent grades during your first two years, you can earn merit based scholarships when you do transfer.
2. Speaking of scholarships
Many people forget that community colleges offer plenty of merit based academic scholarships. And since the pool of applicants is significantly smaller, with above average grades and college entrance exam test scores, you'll have a great chance at being rewarded with some type of financial (non-loan) based help. Additionally, you may be able to "test" out of some entry level basic classes, saving more money.
3. Four year degrees
Yes, they do offer four -year degrees. It is common now for many community colleges to offer some type of four year degree, or transitional program where you can earn your four year degree at the community college, but within the larger state university system.
4. Vocational, technical, certified professional programs
For many professions, community college is your only option for training, education, and licensing in many fields. Think EMT, fire school, police academy, CNA, nursing, software certifications, physical therapy assistants, cosmetology, esthetics, child care workers, and an abundant of trade and skilled jobs in horticulture, welding, plumbing, electrical trades, carpentry, and automotive technologies.
All of the above are always in high demand, boast livable wages and salaries, and their training can often be completed in only two years. Community colleges have seen an increase in certificate programs of over 200% in the last decade.  Additionally, more than 60% of those in the health professions and over 80% in the field of law enforcement obtained their education from a community college.
5. Athletics
Play a sport competitively but not well enough for Division I, II, or III schools? For many athletes, playing first at the community college level is their ticket to playing at the larger NCAA level. Additionally, many offer athletic scholarships as well. 
6. Small classes, more attention, online options
The average university first year biology class can have as many as 1,200 students in it. At the community college level, you'll be closer to less than 50 per class. This means more attention, instructors who are actually accessible and know your name, and more opportunities for tutoring and one on one academic help. Also, since many community college students are working professionals, there is always an abundance of online classes offered, so you can keep working full or part time while earning your degree.
7. Diverse students
While most large universities claim to be diverse, when looking at the student body, the majority of students will still be between the ages of 18-24, and have little life experience under their belts. The average community college classroom will have students of all ages, backgrounds, demographics, and all with a huge variety of life experiences.
You'll find mid-life career changers with 20 years of work experience sitting next to an 18 year old. It makes for plenty of peer to peer learning experiences, and beneficial exposure of young people to older people who have been out in the "real world," and know the importance of education.
8. Community
Community college campuses are just as alive and thriving as larger four year institutions, and have a variety of student special interest groups and clubs, multi-cultural student organizations, student government, intramural athletic programs, work study programs, and career center and job placement assistance.
9. Networking
Staying local means you'll have access to local working professionals, many of whom are your instructors and even classmates. This means after graduation, career contacts and networking opportunities for a local job will be right under your nose.
While taking college tours with your teens, don't forgot to make a stop at your local community college. Take the time to weigh out the benefits of completing your first two years of college while remaining home. You may be more impressed than you think.
Photo credit: Astrocog
Related:
10 Truths of College Admissions for First Time Parents 
Does Your Teen Want to Be a College Athlete? What You Need to Know Now