You did it, moms! You made it to college drop-off!
You survived 18 years of breakfast making, lunch packing, spelling tests, extra innings, marathon dance recitals, and endless loads of laundry, and now you're actually here! (And you're carrying 25 Rubbermaid bins up five flights of stairs into your sweet child's dorm room, and ohhhh, the thoughts swirling around in your head……)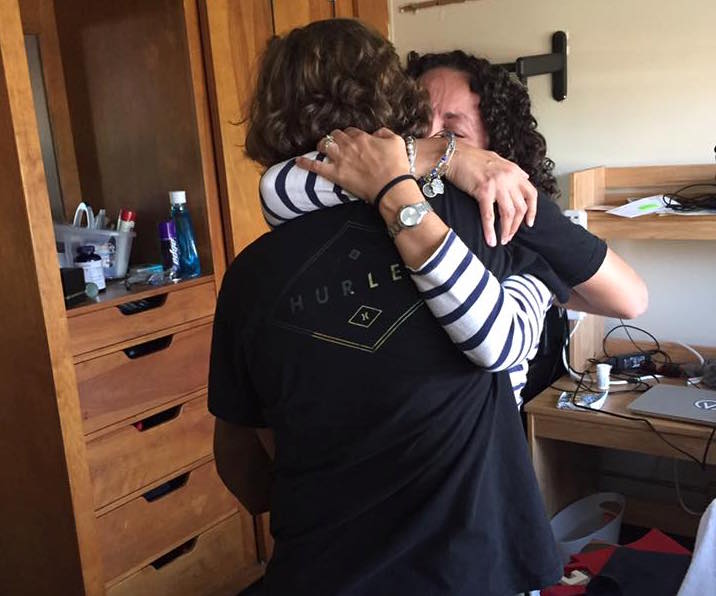 40 thoughts at college drop off
We made it!
I can do this!
I am brave and strong and will not lose it!
Moms have been leaving their kids at college for generations!
I'm doing it! I'm smiling! I'm dying on the inside, but I'm smiling!
I can't do this.
Let's just all get back in the car now and go home.
This is stupid. There is nothing wrong with going to college and living at home.
I am not brave and strong, and I AM LOSING IT.
How did we get here so fast?
Last week this kid was in Kindergarten.
No, he wasn't. He was in diapers.
All you people who said how fast it goes, I hate all of you.
This was fun — doing all the dorm shopping and preparing — but seriously, just come back home with us.
We have to carry all that stuff where? How far? How many flights of stairs?
Who bought all this?
So. Much. Stuff.
What's left in your room at home?
I have raised a pack rat.
Someone needs to start a dorm move-in helping service. For real. I would pay someone  $300 cash to carry all this crap right now,  so I can sit over there and feel sorry for myself.
OMG, it's like a prison cell, except with nicer windows. And pretty girls next door.
PRETTY GIRLS NEXT DOOR??!!!! Like, right next door to MY SON? Potentially walking down the halls in their see-through nighties? NOPE. NOPE. NOPE.
What happened to girls' and boys-only dorms? And no, I am not stuck in the 50s.
Please, dear Lord, make him not want sex with anyone here. Ever. At least for another four years.
Also, I'm not old enough to have kids in college. Who am I?
Four adult men will be sharing one bathroom. Note to self, ship him a case of Purell.
And that is where all the filthy clothes will end up. Oh well, not my problem anymore!
This place needs Joanna Gaines.
How is it possible I was moving into my own dorm 27 years ago, then I blinked, and here I am again with MY KID?
Just keep smiling.
Don't look sad.
Let him put stuff where he wants to put it. Yes, that is not where it should go – but it's not YOUR home.
How are these dad leaving their daughters here? Note to self, thank my husband for a son.
When he gets sick, who is he going to ask for help? Mind, stop going there.
OK, goodbyes are coming. Keep it together.
Is. Happening!! BE OK WITH IT.
Tight hug. Very tight. And long. Keep smiling!
So we just drive away now and leave him here? Yep. And that's a good thing. I did it.
You Might Also Want to Read:
Why Moms Cry When They Leave Their Teens at College G&F Managing Editor, Helene Wingens, writes one of the most beautiful pieces on our site.
Don't forget the
Grown and Flown book
, with all you need to know about college shopping, move-in day, and how to say goodbye.