A care package is a welcome surprise for college students who have just moved to campus. We put together our favorite college care package ideas for college women with some true necessities and others that will make her smile.
We have you covered if you want college care package ideas for guys.
Note: We are a reader-supported site and receive compensation from purchases made through the links in this post.
NEW – Target's super-popular 12 Day Holiday Punch Countdown Box is available now and will surely sell out, as it seems to every year. Get one now and fill it for a fun, 12-day college care series of surprises or save it for the holidays for your big kids.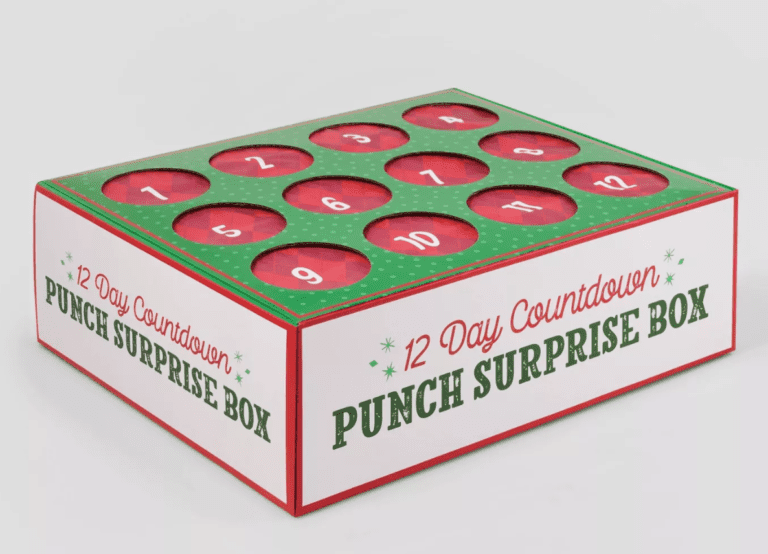 College care package ideas for college women
Improve her beauty sleep with a 100% mulberry silk washable pillowcase, which is meant to keep skin and hair hydrated. (Anything that means less bedhead is a win in our book.) Silk is also hypoallergenic. We love the value and twelve pretty color choices that Quince offers.
An adorable tote bag is a must for every on-the-go college woman, and Minted offers dozens of fresh fabric prints in 100% durable cotton with copper snaps (to keep items secure) and beautiful leather straps. We love the Cut Garden Floral as a jumpstart to everything fall (including fashion).
Take advantage of Labor Day Savings with 15% sitewide — code LABORDAY23 (ends Tuesday, 9/5.)
Help our girls remember how much we believe in them with notes to self® positive affirmation socks. We love their singular messages, variety of styles, and gift packs — the only thing better than one pair is two. Or, three. Or, four…
Use discount code GROWNANDFLOWN to receive 10% off your $75 or more order.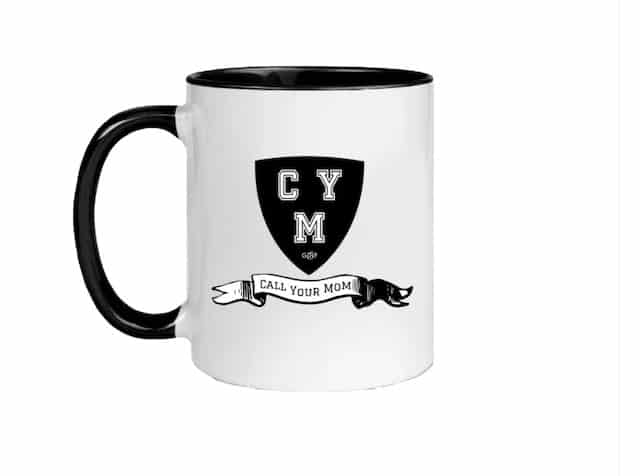 This coffee mug will be a subtle reminder to your daughter to phone home! Also available are a hoodie, baseball cap, t-shirt, and more.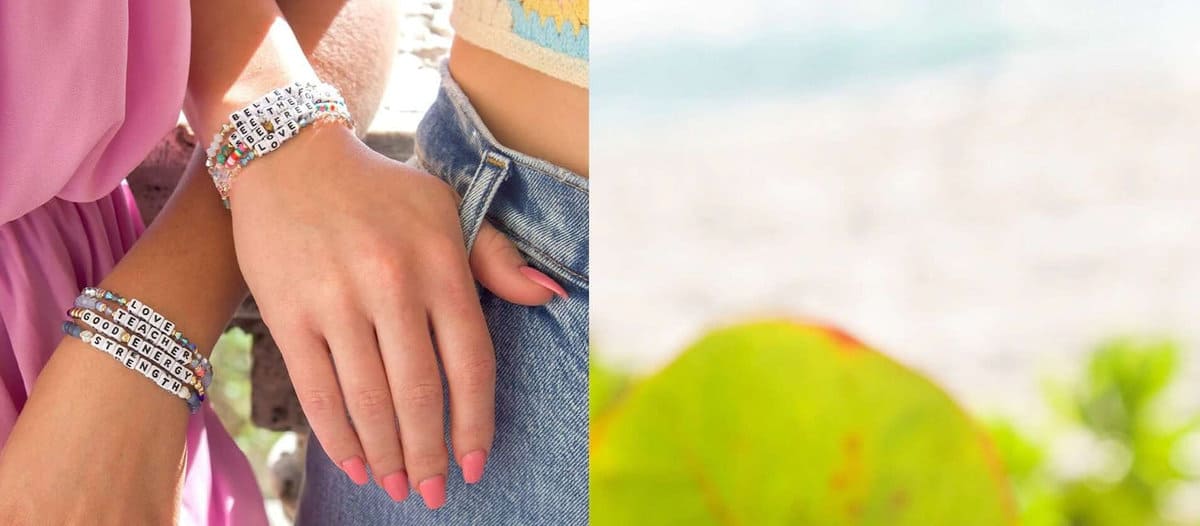 Inspire your daughter with a custom bracelet from Little Words Project. Choose the color, the stone, add her initials and/or special words, a birthstone charm…the choices are endless.
CampusCube college student care packages can be customized with snacks and/or gifts. There are enough snacks and treats to share with her new roommate and hallmates.
We are in love with this belt/cross-body bag from lululemon. They come in many pretty trendy colors and varied sizes. Your daughter will LOVE this in her college care package.
A mini jewelry box is excellent for travel and for storing unique pieces at college. This compact case is available in four pretty colors and fits in a drawer in a dorm room for safekeeping.
With the second generation of Air Pod Pros, there is now up to 2x more Active Noise Cancellation than the previous models. If your daughter is having difficulty blocking out noisy roommates and hallmates, this could be a fantastic care package or birthday gift.
This super-popular brand of facial mists comes in three fragrances: cucumber and green tea, herbs and rosewater, and camomile and lavender.

Your daughter will love this broad-spectrum SPF lip balm with hydrating honey, shea butter, & sunflower seed oil. In a crowded market of lip balms, this one gets top reviews. 

She will also happily try this Bliss hand cream with a lemon and sage fragrance.
Your daughter can polish her nails without needing a top or base coat with this line of Essie polishes. Gorgeous colors, too.
These travel mugs come in many pretty colors and are super-popular. Available in sizes of 14 to 40 ounces, it will keep drinks cold for 8 hours and iced for 30 hours. Hot beverages stay hot for 4 hours. 


Want to send flowers to your daughter but don't know what the florists are in her college town? The Bouqs Company delivers farm-fresh flowers and plants with beautiful arrangements.

Cookies by Design delivers freshly baked cookies safely to a dorm, apartment, or home. They have a wide assortment — including platters with assorted cookies — and these signature cookie bouquets, which might be perfect for students studying at home.
Your daughter can turn her shower into a spa with one of these aromatherapy tablets. Infused with essential oils, they are available in lavender, eucalyptus, or orange mint.

Modeled after clay used in art therapy classes, these pots of aromatic therapy dough are infused with essential oils for stress relief and have been super popular in the Grown and Flown group.

This felt pouch can hold glasses, a phone, or other necessities at your teen's bedside.
We all need some things to help us relax, and our teens are no different. A nice eye pillow is cute and luxurious and might help your college kid get extra sleep.

The Amazon devices have fantastic functionality, and the 5th generation Echo Dot is a compact and handy digital assistant. She can play her favorite music with enhanced audio, use it as a timer or alarm clock, call an Uber, order a pizza, and more.
Your daughter will feel comforted and loved with this assortment of herbal teas from Tea Forte.

A warm chocolate cake with chocolate icing that your daughter can cook in a microwave in one minute(!) might be a perfect indulgence after a long day of classes. Mug Treats come in many flavors.

Since day one, we have loved this book, and it is a G&F favorite volume to send to college daughters. Becky Blades is the uber-talented author and illustrator who wrote these words of encouragement for her off-to-college daughters. She left a blank page for you to add your love note to your daughter.

Hydro Flask is among the most popular brands in many colors and sizes.

Your daughter can never have enough of this, especially if she has long hair.
These facial wipes are the easiest way to remove makeup, especially if you want to clean your face without walking down the hall to a communal dorm bathroom.

Face masks are great for a night in to do self-care. This pack of 7 is only $11.95.

Fuzzy socks are the perfect gift to get your teen as we head into fall, as the weather will soon become much colder.

These are so useful for drying hair and much gentler on the hair than using an actual towel.

Written by New York Times bestselling author Kelly Corrigan,  Hello World! reminds us that the journeys we take through life are all about the people we meet and how these people will make us smarter, stronger, and more impressive than we ever thought possible.

Get your daughter a Birdie safety alarm — it sounds loud when pulled to draw attention if she is ever in an unsafe situation.

Furry friends may not be welcome in dorms, but these custom pillows from All About Vibe are all the rage; they are huggable and adorable. Plus, they are a cinch to make. Just upload a photo, preview a 3D mockup, and wait for the most lovable gift.

Having an instant camera is so fun for taking photos with friends and having them printed on the spot. These instant photos can be used as wall decor.

If your college student struggles with cooking ideas, this cookbook is designed for college students — filled with easy and simple recipes.

A laptop case will protect their laptop from scratches, and this one has an extra pocket in front that provides enough space to keep a mouse, earphones, pens, and notepads, offering added convenience. Available in 34 colors.

A hair mask will protect and deep condition their hair — making it extra soft and silky after using this.
These soft joggers would be comfortable to lounge around in and sleep in. With side pockets, these are machine washable and can be tumbled dry for easy care.
You Might Also Want to Read: 
Best Places to Order a College Care Package