As the parent of both a daughter and a son who are students, I can say without hesitation that it's much harder to come up with college care package ideas for guys than it is for girls.
If you've struggled like me, walking past fuzzy socks, cute hair ties, and nail polish in frustration, here are some care package ideas that will make a young man smile (and hopefully call home!) with gratitude. With finals around the corner, this is a great time for one more care package before the semester ends and they are finally home for winter break.
Note: We receive compensation from purchases made through the links in this post.
College Care Package Ideas for Guys

If you've ever picked this magical stuff up, you know how fun and therapeutic it is. Great for fidgeting with while studying or just contemplating life. It comes in all kinds of cool colors, and in regular and mini sized tins. This is one of the most often-recommended items for college care package ideas for guys.

Jack Black is our new favorite brands for lip balm (we like it for ourselves) and the entire product line for other skin care, too. Very popular for guys.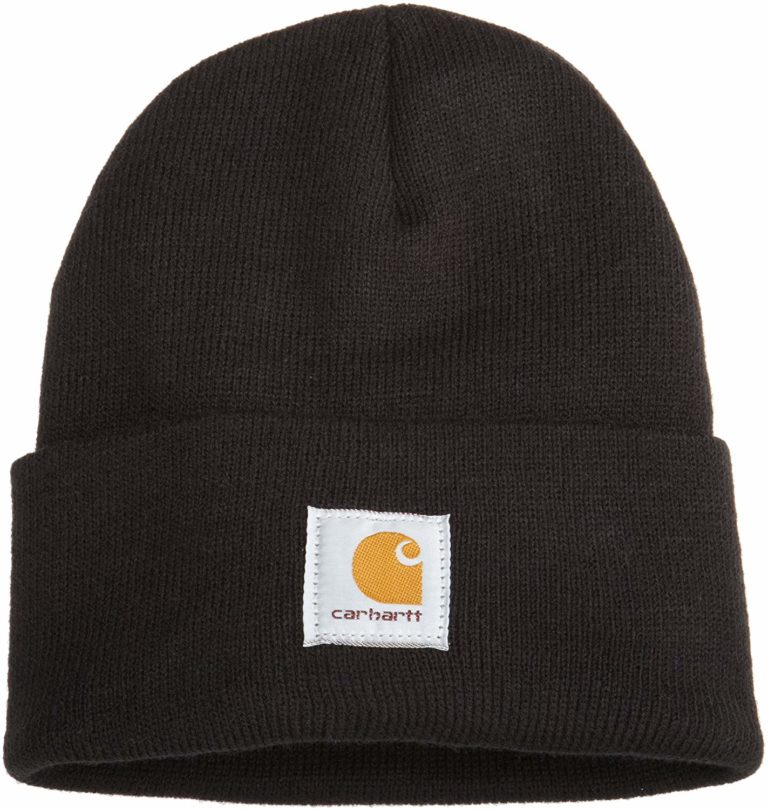 Winter's arrived on many college campuses so why not remind him that he could stuff a hat this like one in a coat pocket for the freezing walks across campus?  This is a popular brand and it comes in dozens of colors.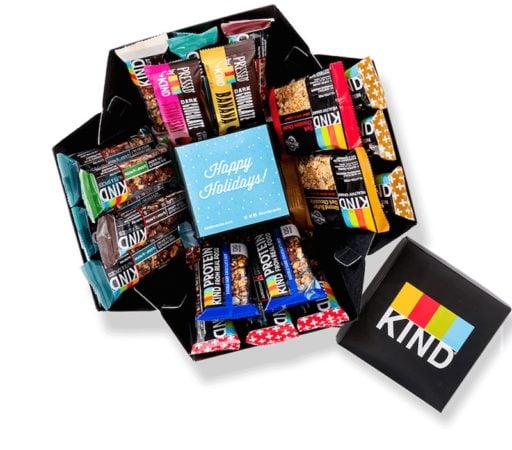 KIND will assemble a care package for you (plus FREE shipping through 12/18) – we love these bars, we love the mission of the KIND company:
Nice means well, but it's not enough. Kind is different. Nice is polite, but it stays out of it. Kind is honest – it speaks up and rises to the occasion. Nice doesn't add to problems, but Kind rolls up its sleeves and solves them. 
Telestrations 8 Player Board Game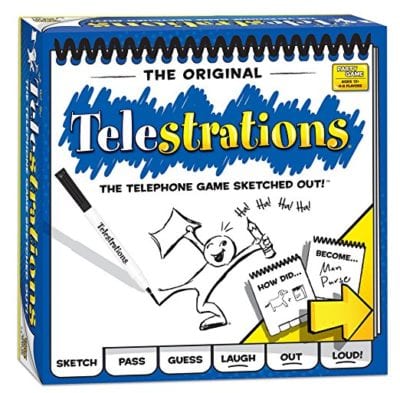 This is our new favorite game to play with our kids.  We had a big group at Thanksgiving and everyone loved taking part of this fun game.
Can our kids ever have enough college gear? Dick's Sporting Goods has a wide selection of merchandise to pick from and has great sales, too.
Order a curated box of officially licensed sports gear for NFL, NHL, college, NBA, and MLB teams. Look to see if your son's college or favorite pro team is included – this makes a perfect college care package for guys.
These microwavable mug cakes, new from Duncan Hines, are genius – just add water, stir, microwave for four minutes and enjoy a warm snack.  Each box has four pouches which makes them perfect for sharing. Flavors include cookies & cream, lemon, German chocolate, Blueberry muffin, red velvet, brownie and more.  
Daelmans Original Stroopwafel with Caramel

I know, it's a mouthful to say, but please trust me that your son needs these in his life. Yes, they're going to cost a bit more than a bag of Chips Ahoy cookies, as they should. Thank goodness for the Dutch bakers who came up with this magical little sandwich of waffled-wafers with a buttery caramel center. The best way to eat one is to place it on top of a cup of hot coffee – or herbal tea – for about 90 seconds, until it gets warm and melty. Unreal.
Other food ideas include Kraft Easy Mac Triple Cheese Microwavable Cups
, Quaker Instant Oatmeal Cups, Jack Link's Beef Jerky Variety Bag and Clif bars.
For the kids who like a warm late-night snack or would rather sleep than spend time at the dining hall in the morning, a couple more "just add water" convenience classics. For the more adventurous eater snack bags of beef jerky, in Original and Teriyaki flavor, are perfect to throw into a backpack or gym bag for an on-the-go bite. And don't forget your Clif bars.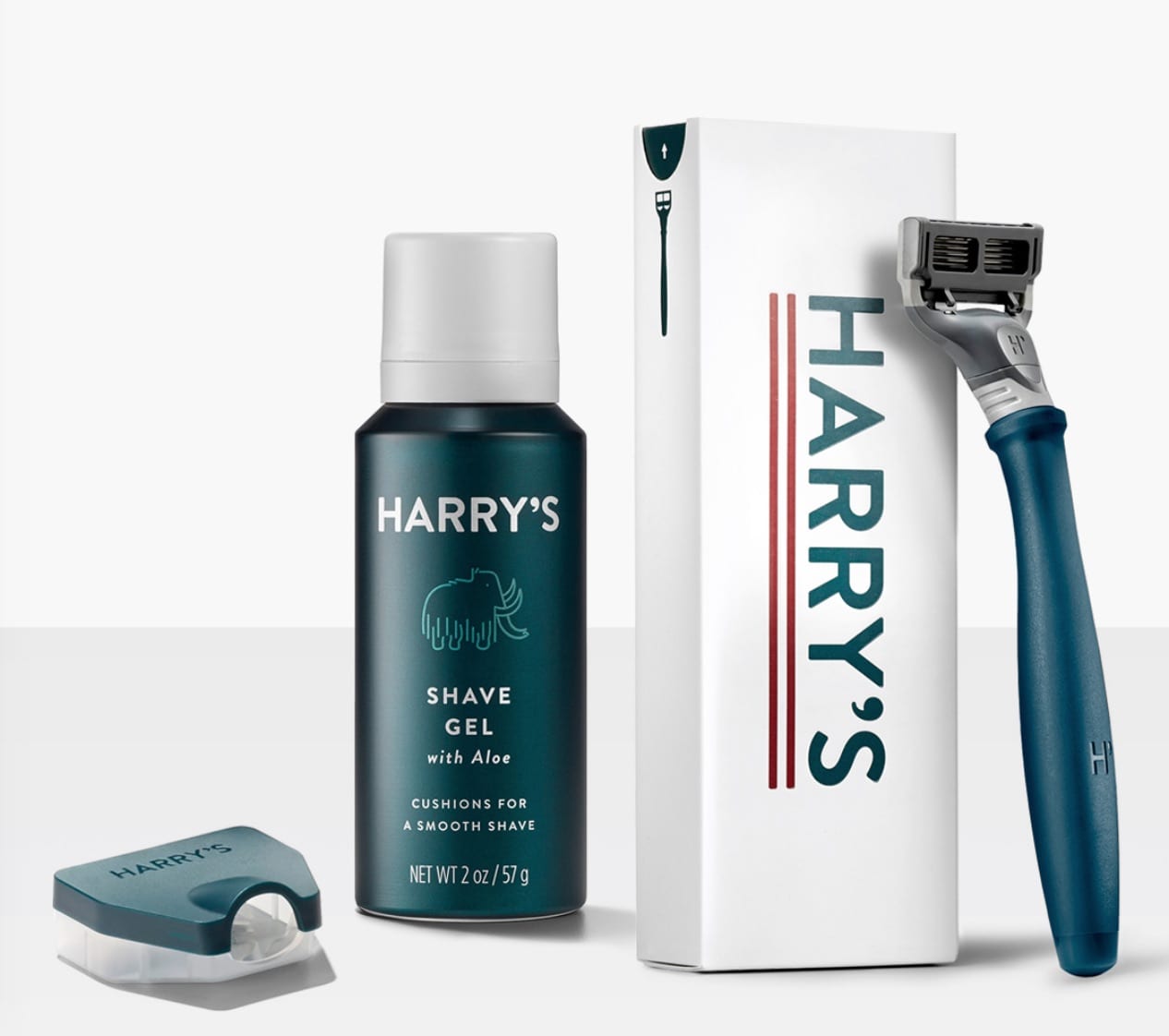 One unexpected expense for guys is buying razor blades as it is quite possible you have been the one keeping their shaving supplies fully stocked.  Harry's solves the problem by sending them a razor, shave gel and replacement blades at a frequency that matches how often your son shaves.  Harry's now has face wash, body wash, lotion and some cute accessories.

There will come a day when your son will run out of all his clean clothes. Send him this great gag gift and he can wear this t-shirt, giving mom the credit she deserves. While we are on the subject of laundry don't forget this over the door basketball hoop  that goes on the back of their door and doubles as a hamper or these  Tide-to-go instant stain remover liquid pens.
Bose SoundSport Wireless Headphones

These wireless headphones, by Bose, are comfortable and sweat-proof, and can be used while running or working out. This is one of the more expensive college care package ideas for guys but they might be a great motivator to get your son to the gym or to help him block out the noise in his dorm so he can study for finals!!! (We can only hope, right?)

Boys and injuries just seem to go together like PB and J. Why did I not think to send my son off to college with a cold therapy pack? Wishful thinking, I suppose. This gel pack is heavy-duty and sewn along the double sealed seams to prevent leaks. It conforms to any body part when frozen, so great for use on knees, ankles, wrists and necks. Also helpful, when folded up, it'll fit in that small freezer section of dorm-sized refrigerators.
HedBanz-the award-winning guessing game or Cards Against Humanity College Pack

It's a few months into school now and your son is still looking for a way to break the ice with some of the people on his hall. This is a fun and engaging game that will soon have the whole floor laughing. This Cards Against Humanity card pack is guaranteed to provide more laughs than a game of poker. (Includes a small, yet gory, poster for a dorm room wall.)
Nerf football and/or Magnetic dart board.

Your college kid absolutely needs this football to toss around with his new pals or if football is not their thing, try this, safe on people and walls, magnetic dartboard.
Socks
By this time in the semester, your son has undoubtedly lost more than a few socks. Time to send replacements. We've got Happy Socks in a box that are soft, comfortable, stylish and very, very useful. Or "Fornite" Cotton Socks, another fun sock option for the Fornite fans. Here are NIKE Crew Socks , a set of six pair that come in three colors.
No matter what you end up putting in a care package for that special teen boy in your life, he'll love the excitement of receiving a box from you and will feel all the love.
Fingers crossed for a phone call home!
Related:
28 Favorite Ideas for College Care Packages for Girls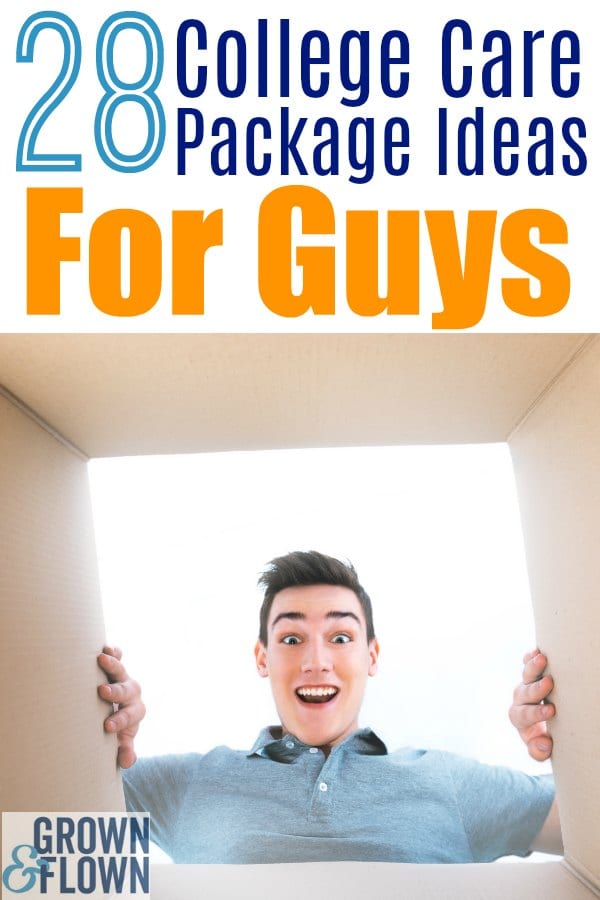 SaveSave