The fall semester is college care package season and there's nothing that makes our kids happier than fetching a box from the mailroom to see what treats have arrived from home. Parents send reminders of their love and, when we pack dozens of freshly-baked cookies or send a few small gifts, we give our kids the joy of sharing with roommates and hallmates.
Our list is based on what our own kids have told us they love and also includes some wonderful ideas from Grown and Flown Parents, our Facebook Group which we would love you to join (if you haven't already.)
We receive a small amount of compensation from purchases made through some of these links which helps us to pay our writers. Thanks!
College Care Package Ideas Your Kids Will Love
Microwavable Containers
College dorm "cooking" is very basic since most students are limited to a microwave and a mini-fridge, and have minimal space for prep or storage. We spied these adorable CorningWare Pop-Ins
which, at 20 ounces, are big enough to hold an entire meal. They come with tops that prevent food from splattering while letting out steam and are sold in an array of beautiful colors, too.
Prime Student
A subscription to Amazon Prime for students may be THE very best thing you can surprise your kid with in a college care package and it is FREE for the first 6 months.  They can order almost anything with 2-day FREE delivery and there are tons of other features that are also FREE.  There are few bargains for college kids – this is definitely one.

Slippers
Dorm floors will soon be chilly with coming cold weather and these are the absolute cutest slippers. Suppose your daughter with  Unicorn Slippers
 that LIGHT UP and are sure to attract attention and envy.
Extra Power
The last thing you want as a college student is to have your cell phone die on you.  Here is a Portable Charger
 that has the benefit of three USB ports so your student can offer to help a friend on the go, too.
Yeti Ramblers
This super-hot, Austin-based brand is wildly popular with with the college and young adult set. Yeti began making coolers with a legendary ability to keep ice frozen for days. They have branched out with the Yeti Coolers Rambler Tumbler
that is equally awe-inspiring. Your kid will love pouring coffee into a Yeti cup and having it stay hot, really hot, all day long. Take a look at their site to see  if your student's college is included in this list so you can order a Rambler with the school logo etched into the cup.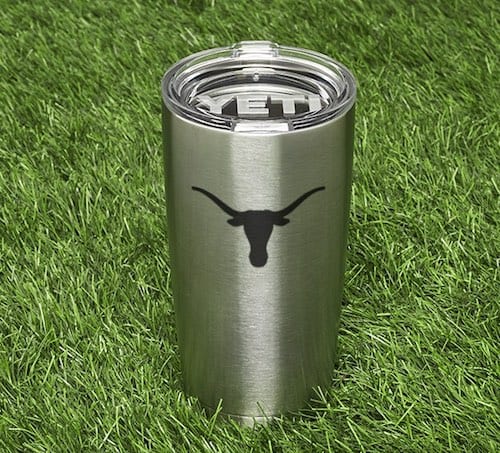 Insulated Water Bottle
There is no shortage of water bottle brands on the market; S'ip by S'well Insulated Stainless Steel Water Bottle
is the one my college daughter loves and uses every single day. Cold liquids stay cold for 24 hours (or hot for 12 hours) which means she never has to waste money on a plastic water bottle while she's on the go from class to the gym and back to her apartment again.  They come in a gorgeous colors, designs and sizes, holding 9, 17 or 25 ounces.
Travel Umbrella
Yes, you probably suggested to your kid that they pack an umbrella when they were getting ready for school but, if it slipped through the cracks, now's the time to send one like this Travel Umbrella
 that can be tucked into a backpack.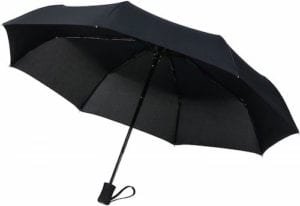 Chocolates
When I pick up a bag of Hershey's Miniatures
 for a care package, I am transported back to the sweet days when my kids dressed up like super heroes and witches, we decorated the house inside and out, and I deluded myself into thinking the tiny bites of Halloween candy had zero calories. Ok, I still do the last thing.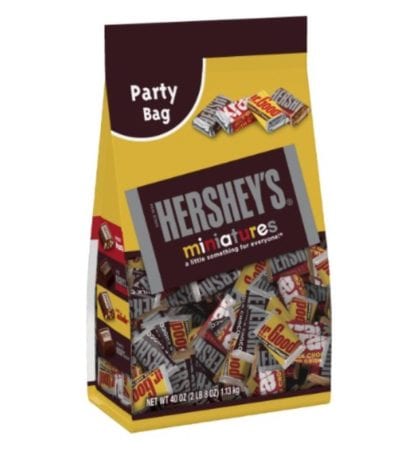 Protein Bars
There are vast selections of protein bars and you know which ones your kids like the most. Our family favorites are KIND Bars
 which I often handed to my kids, relay style, as they ran out the door during their high school years. Send a box of your kid's favorite bars as a reminder to tuck one into their backpack before leaving for the day.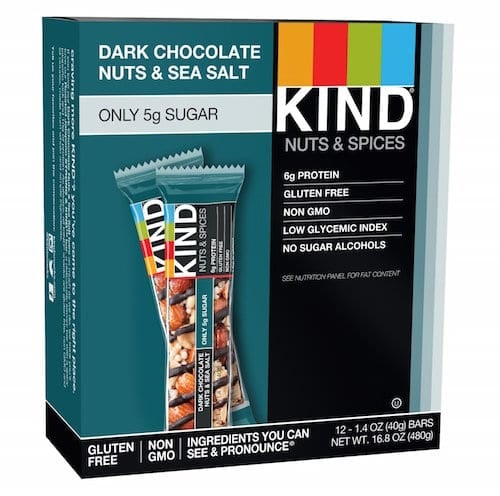 Drawstring Backpack
Lisa's son fits his sports gear into one of these very lightweight and washable packs to take to the gym. This design, Adidas Alliance II Sackpack,
comes in dozens of colors and has a zipper pocket to stash a phone, cash or ID keycard.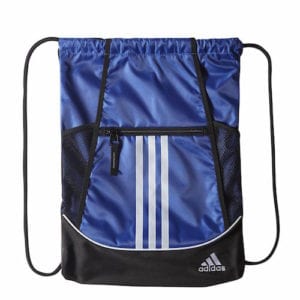 Get Well Wishes
College kids living in close dorm quarters often get sick and they miss having their parents nearby to help them through a bad cold or the flu. Consider sending them some get well items (proactively) and include small packs of kleenex, Herbal Teas
, throat lozenges, lip balm, and the cold remedies you might have forgotten in the first aid kit. And oh, yes, remind them to get a flu shot, too.
Socks, Underwear and Laundry Wash Bag
It is virtually impossible for us to keep the sock monster at bay in our own homes and, by the second month of school, your college student may be missing socks or undergarments, too.  Pack some new socks, undershirts or underwear and consider adding a lingerie bag to help them keep track of their smaller things in the wash.
Cash
Take the time to pick out a funny card or write a note of encouragement and tuck the bills into the letter. Your student will read every word.
Extra Long Cell Phone Charge Cord
The power cords that come with phones are just a little over three feet long.  This one, 3Pack 10FT/3M Extra Long Nylon Braided Charge Cable Cord Charger, long enough to stretch from wall outlet up to the elevated bed, comes in a pack of three.  Kids will be able to use their phones as alarm clocks and wake up to with a device that's fully charged.  
Replenish Supplies
When you said goodbye to your teen, they had a freshly made bed and plastic storage bins stuffed with all the toiletries they needed for the first of the school year. But a month in, they will welcome additional supplies of razors, body lotion for the colder and drier weather, lipstick in your daughter's preferred shade, or a sunscreen stick for sunny football games. Consider packing a roll or two of double-ply toilet paper to replace the too-thin paper in the communal bathroom. If nothing else, it makes perfect packing material!
Skinny Pop's a healthier alternative to chips with 100 calories, no sugar, low sodium and two grams of fiber. In addition to the unflavored popcorn, Skinny Pop comes in a variety of flavors including chocolate and jalepeno. If you buy single serve sizes, slip them into the extra spaces in your care package to keep all the contents snug.
Gift Cards for Food and Drink
A Starbucks Gift Card
for a college care package is a super practical addition because, with nearly 24,000 locations worldwide, it's easy for your kid to find a nearby shop. Look into gift cards for a favorite pizza place or sushi restaurant which would be a very welcome alternative to the dining hall. When you print out the menus for restaurants that deliver to the dorm and include a gift card, your kid and their friends will be very appreciative.
Gift Cards for Clothes
College students have to dress up for job fairs, interviews, and internships and assembling a wardrobe of a few nice outfits can be expensive. However, shopping at stores that give college discounts can be a smart strategy. Consider a gift card to J. Crew, Brooks Brothers, Banana Republic and these other stores so they can shop and save 15% when they use their student IDs.

Gift Card for the College Bookstore
The college bookstore is an on-campus emporium with so much more than books. Depending on the size of your kid's school, the bookstore is an easy place for necessities, snacks, college logo gear, gifts, and, of course, books.
Guide Book
Speaking of books….Part of the excitement with being a college student is getting to know both the campus and the surrounding area. While not every city has it's own Lonely Planet guidebook, take a look to see if your kid's town, region or study abroad destination (if they have upcoming plans to travel) are listed.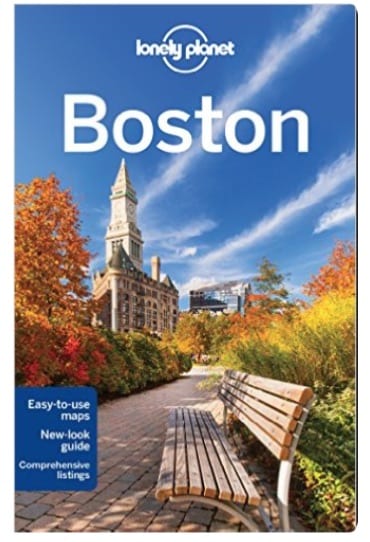 Midterm Stress Busters
Toys that students can play with in their dorms or bounce down long hallways are fun ways to take the edge off of studying. We like Puffer Squishy Balls
, Paddle Ball Games
and this Light-Up Air Power Soccer Disk.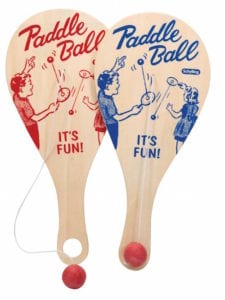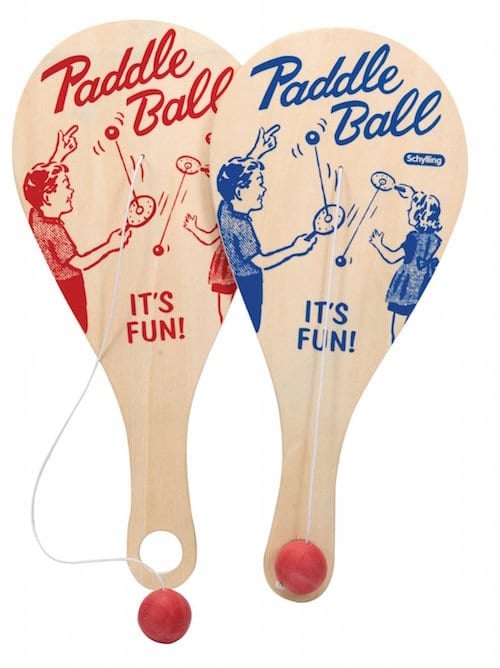 Laptop Art
Adding a little personal flair to a laptop is easy with a gorgeous design. This one, by Love Decal, 
caught our eye but there are many, many designs to choose from.
Post-It Notes
These are the cheerful little papers that kids can stick on their dorm room walls for reminders, use as bookmarks, or spread a little joy like these kids did in this high school. Post-it Notes, with their bright colors and utility, are little squares of happiness from home.
Related:
College Care Packages From Home: 50 Great Ideas
Family Weekend: Do's and Don'ts on Visiting Your Kid in College
How to Help Your Freshman When They Are Homesick  
SaveSave
SaveSaveSaveSave
SaveSaveSaveSave
SaveSave
SaveSave
SaveSave
SaveSave
SaveSave
SaveSaveSaveSave