The trees around the historic New England campus were an inferno of red and orange as they change color against a clear blue sky. It was a long weekend in October and the college information sessions and tours were packed with eager juniors and seniors and their even more anxious parents. My husband, son and I were among them, trying to listen attentively.
This is our second time at the rodeo. Our oldest child, a girl, is a college freshman and happily settled. Our son is a junior, so we are just starting the process with him. Already, the whole thing feels different, and we are a little unsure of how to proceed.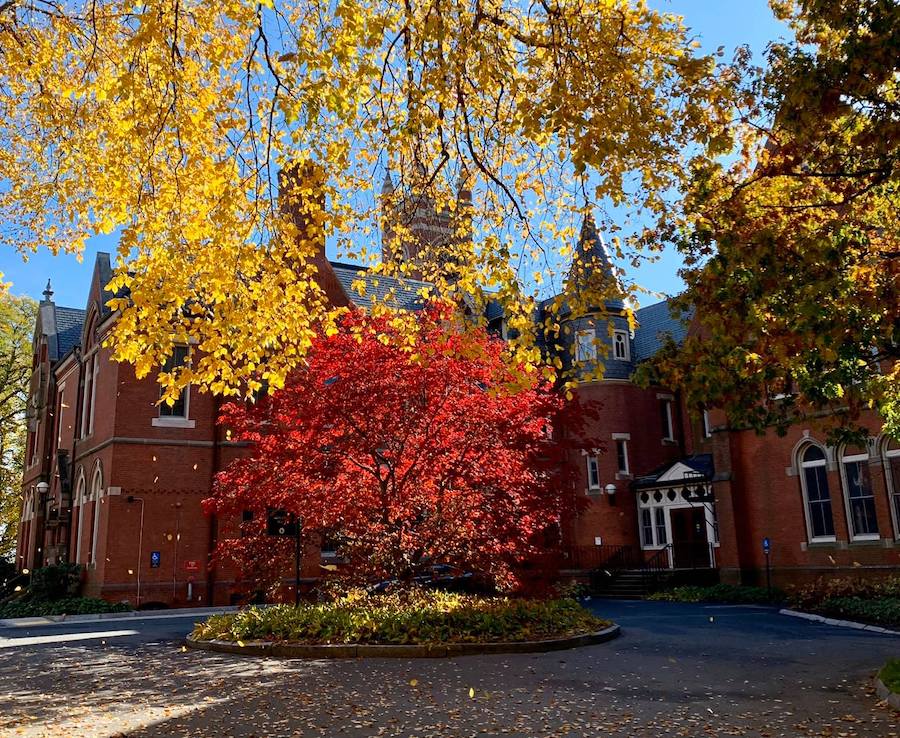 The College Admissions Process is VERY Different for My Son
Our daughter was hyper-focused on the college process, almost from the beginning of high school but certainly from the end of sophomore year.  She understood instinctively that her classes and grades were important, her extracurricular choices were critical, and that she needed to study hard for the SAT exam.  She studied the Princeton Review and Fiske College Guide to Colleges, flagging pages with color coded sticky notes to indicate her level of interest in a particular school.
She researched programs online and spoke to peers. She created a spreadsheet. Her father and I watched, bemused, and repeatedly reminded her that it truly doesn't matter where you go to college, and that there are many excellent schools. What matters is finding the right fit, being an authentic person, working hard and making the most of the experience. She heard us, and I think she internalized what we said, yet she persisted in her quest for the school that checked all of her many boxes.
Our son, on the other hand, is gliding along, diligently doing his school work, participating in the few clubs and extracurriculars that interest him, but he has no particular zeal for the college process. He'll go on a college tour, but he's not requesting any, or directing us where we should visit next. The schools we tour are "fine" and "good" and "nice." He's just taking it all in.
Since he was a very young child, he has been this way: affable, easygoing, agreeable, quietly pensive. His big sister was always the ring leader directing the action, and he happily basked in her glow, delighted to be a part of her orbit but never taking charge. If his sister was surfing the big wave in the college process, he is lying on his belly on the shore, letting the waves lap over him.
We are experiencing the Mars/Venus of the college search.  Or perhaps, just the realities of two very different individuals, born 26 months apart to the same people, raised in the same home, but who engage with the world in totally different ways.
When my kids were very young, a wise mother said to me, "You parent the child you have."  Indeed. That's true when they are toddlers and becomes more true as they grow up. Right now, I am parenting this child through the college process, and because it is so different from the one we have just recently finished, it is like I'm starting over from scratch.
We know what his academic strengths are, so we assume these are the subjects he might want to study, making leaps to majors and specialized programs. He's never articulated any particular interest in any of them. Small school, large campus, liberal arts, city or rural, close to home, further away – we have no idea what he prefers because the truth is, he has no idea.
He is a blank page on these issues. He needs to see and hear and feel these options. We will try to show him a wide assortment of schools to help him figure it out, to see what feels right. Something needs to click. He needs to walk onto a campus or hear a certain phrase from an admissions officer to understand that he will feel comfortable at that type of school, that he will thrive in that environment. Perhaps once he feels that recognition, we can narrow the field. Until then, we are shooting in the dark, and he is contentedly along for the ride.
It's hard to know if this is a male/female issue or simply a function of two very different personalities approaching a big challenge. An informal survey of friends who have been through the process with their own kids demonstrates that this is a fairly common experience. Of course, the roles can be reversed, and personality traits simply can't be assigned to a gender. Every parent, everywhere, will agree that temperament, motivations, perspectives, outlooks – everything that makes a child special, unique, challenging and wonderful – are not things that can be taught or predicted.
Kids are born with their own unique set of characteristics and they approach every new experience they encounter – whether it is a cheerio on the high chair tray, a new bicycle, a difficult peer, or an application essay question – with their own strengths and sensibilities.
Perhaps we were spoiled by the experience with our daughter since she drove it, and we were the ones playing catch up by her side. She was so clear in her desires, or at least the things she thought were important, that she made it a little easier for us. We were partners in the journey, with her clearly taking the lead role.  This time around, we'll need to do a little more guiding, listening, probing and suggesting.
Of course, our son has many months to figure this out. He'll receive guidance from the college counselors at his school, listen to his peers, speak to trusted teachers, research colleges online and yes – visit more campuses. He'll smile at the person checking us in, find a seat at the information session, listen patiently to the presentation which will begin to sound strikingly similar to every other admissions presentation he has already heard.
We'll amble around a campus, looking at buildings, hearing stories, learning about the food plan and housing. Perhaps he'll see a group of kids walking by who look like his friends and hear them joking about a comedian he likes. Maybe he'll hear about an academic program that is unique and sparks his curiosity, or a club that he'd like to join (which is different from the hundreds of other clubs on every other college campus).
Something will resonate.
We know that there are many fine schools all over the country where he would be happy. He has worked hard and been the lucky recipient of a good education to get him to this point in his journey. We've given him the tools, now it's his turn to chart the course, when he's ready to do so. One thing we know for sure after having already been through the process and watching so many peers do the same: everything will work out.
You end up where you are meant to be. And as he has done all of his life, our son will carve his own path to get there.