Graduation gifts are different than presents for other occasions. You want a gift for a college-bound son or daughter, niece, nephew or friend, to be personal, convey meaning, or have utility on campus this fall.  We came up with loads of ideas and, if you haven't seen the first part of our favorite grad gifts for high school kids, here it is, Part 1.
Find all Grown and Flown parents' grad gifts suggestions at our G&F Amazon shop.
We make a small amount of compensation from some of the purchases made through some of the Amazon and other affiliate links in this post.  
Best High School Grad Gifts 2019: Part 2
My son loves this steamer that he borrowed from a roommate for graduation and only wishes he had taken one to school with him as freshmen.


Get a jump on dorm decor with this ingenious and lightweight (less than two pounds) Photo Display
 for your soon-to-be freshman's favorite shots from home. Print out a bunch of photos of your family, her best buds and the family dog, too, so she will have them as reminders next year.  Although this comes with mounting hardware, use command hooks, instead, as dorms do not allow things to be nailed to the walls.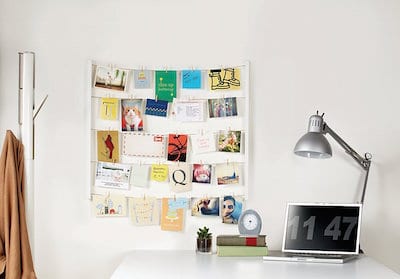 For your kid's entire life, you have known where the thermometer is, dispensed band aids and decided when they were truly too sick to go to school.  They need a first aid kit to take with them to college and you are the best person to decide what should go in it. Consider a see-through storage bag like this Transparent Sundry Bag
, and fill it with what you know your kid will need at college.
Regardless of how careful kids are with laundry, they will quickly face a day where they have only mismatched socks left in their drawer, best case, which makes socks an excellent gift for all college kids. We have fallen in love with Notes to Self socks. With a positive word to remind your college kid how wonderful they are, you might want to buy a dozen to be ready for the college care packages in your future.
If you are looking for a present for the dorm, a cute way to make a drab room more personal is with the addition of oversized initials like this one  Trend Lab Brown 6″ Tall Letter, Letter A
 which are light enough to be fixed to the wall next to the bed.
Dorm rooms are tiny but fill up with hallmates who pile in, lounging on beds and any available floor space. Why not give a folding chair like this one NCAA Michigan Wolverines Game Time Chair
 that can be opened for a guest or stored shut? Lots of colleges are included.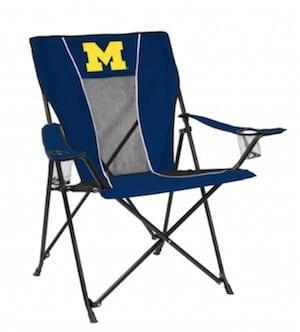 College kids dash from classes to dining hall to dorm to….well, a party or two.  Their phones are their constant companions so consider a sturdy, upgraded case like the  OtterBox DEFENDER SERIES Case for iPhone
.These are best-selling phone cases that protect phones from breaking when they are dropped. This model comes with a slim opening that holds credit cards or IDs plus some real money.
Want to motivate your student to work out while they are in college? Here are headphones are ones for exercising that Consumer Reports recommends:
Scosche Sport Earbuds
Jabra Sport Wireless Bluetooth Earbuds
How about an insulated stainless steel water bottle that keeps liquids cold for 24 hours or hot for 12? Super-stylish with lots of clever designs, S'ip by S'well Water Bottles
 are our favorites.
Campus living means lots of walking, even if they attend a relatively small school. Think about the gift of good, stylish footwear that offers more support than flip-flops with a trendy vibe? Superga is a brand our college daughter loves –  maybe your's will, too.
The dorm room idea we love is this Keep Calm and Call Mom Throw Pillow
 – there is no way they can forget to call us, now, maybe???
When college freshmen are back in their dorms, their beds become command central.  Because they're often elevated at a weirdly high level, or the rooms have bunk beds, there is nowhere to stash a phone or bottle of water, and it's a long way down to the floor. A Bunk Buddy Bedside Shelf
 attaches to the bed and functions as a nightstand – brilliant!
For studying in bed, the Laptop LapDesk
, is a comfortable desk for a laptop.
Want your kid to be the go-to on the dorm hall? A gift of ApolloTool Set
 will see your student through college and off to a first apartment.  We love gifts that endure and this is certainly one.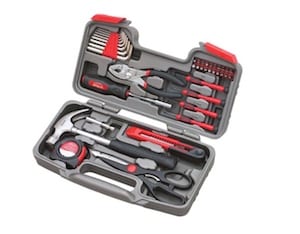 A book so beautifully written and photographed that it's sold in the Museum of Modern Art (NYC) bookstore, The ABCs of Adulthood: An Alphabet of Life Lessons
, is a slender volume of 26 beautiful essays by New York Times bestselling author and photojournalist, Deborah Copaken with collaborator, Randy Polumbo. Before you wrap it up as a graduation gift to your college-bound child, make sure to add a few lines of your own.
Polaroid POP 3×4″ Instant Print Digital Camera
Convenience
When you give your student their own subscription to Amazon Prime Student, they will be able to order text books, supplies, snacks, and just about anything else for TWO-DAY FREE shipping.  Check out all the other extras here:
Experience 
Maybe your gift is not a thing.  Maybe you want to create an experience that your son or daughter will always remember.  The end of the semester gets jammed up with prom, graduation and all of the lasts of high school.  How about organizing a send off party, instead, in early August for their closest friends and parents?  (Sniff….hard to think about, right?)
Don't forget to check out Best High School Graduation Gifts 2017: Part 1. 
Related:
College Care Packages from Home 
Favorite Gifts for College Care Packages  
SaveSave
SaveSave
SaveSave
SaveSave
SaveSave