Prom season is upon us. It a huge deal for our teenagers and of course they want to look their best. The dress shopping happens early and it's important to get the look right.
It's a magical night full of glitz, dining out, making great memories with friends, and getting dolled up. Prom is probably the most epic night for many of our high school juniors and seniors. There is a huge amount of work that goes into the event and our kids deserve to feel this kind of "specialness," but we can't deny that prom isn't cheap.
Prom is expensive
It comes at a huge cost and and even if we can't afford the steep price tag, we don't want our kids to feel left out.
There is usually hair and makeup to be done, lots of teens like to get a limo for the evening, and go out to a nice dinner before. Haven't I mentioned the shoes and accessories which can cost just as much as the dress? And the tickets can be costly, too!
For many of the teens attending, it's all about the outfit. Not everyone has the means (or stomach) to shell out hundreds of dollars on a dress and it's so refreshing to know there are options out there.
Affordable prom dress options
First, did you know you could rent a prom dress? I had no idea this was a thing but it makes perfect sense. After all, I bought my prom dress and never wore it again. Not once. I think I ended up giving it away. If your daughter isn't nostalgic and doesn't think they'll want to keep the dress, renting is a great option.
Rent a prom dress
You may find a rental place in you area, or you can check out places like Rent the Runway or Charlotte's Closet, that rents exclusively to teens and young women. 
For members of Grown and Flown: if your daughter rents her prom dress from Charlotte's Closet, she can save 25% by using this code –  TAKE25 – at checkout. 
Designer brands from consignment websites and apps
Scouting out second hand shops can be really fun. There are also dozens of online sites such as Mercari or threadUP that sell designer brands at a fraction of the cost. This way, you can guarantee no one will have a matching outfit. And even with accessories or alterations, you'll still probably spend less than you would on a brand new dress.
Take a look at the sites in this Teen Vogue article – 13 Best Apps and Websites to Sell Clothes Online.  Maybe your teen will want to try to clean out their closet to sell a few things while also exploring what to buy!
Consignment shopping
Dale W. found these two dresses at a local consignment shop– both under $50!
Borrow a dress
You can always do what Kelli W did for her daughter: ask someone you know with older kids who may have an outfit you can buy from them. Kelli told us, "My daughter's dress cost $50. We bought it from a girl who wore it to a prom two years ago. We added the belt and jewelry for $25 and she wore shoes she already had. Total cost $75."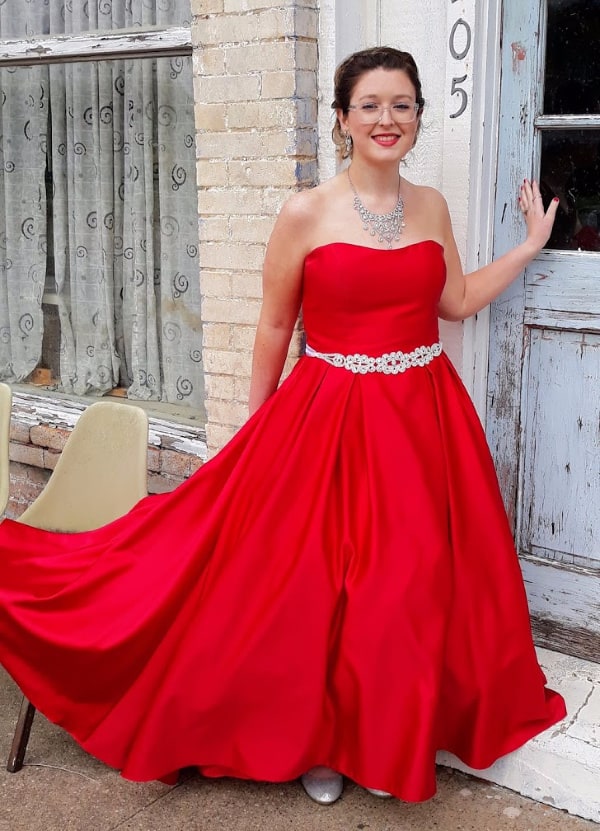 Operation Deploy Dress Event
If you or your spouse are in the military and haven't heard of Operation Deploy Your Dress, it's a wonderful organization that collects gently used gowns (at their eight locations) and sends them out for free to the military and their dependents.
Jennifer G. was happy to share her amazing experience with us saying
We shopped at the end of January at an event sponsored by the spouses' club, on Fort Stewart, GA. My husband served 19 years as a combat engineer/drill sergeant and medically retired shortly after our twins were born. He passed away in 2017 from pancreatic cancer. We maintain our military ID because he was medically retired. I've always been fairly frugal, but with the loss of his income and twins heading to college next year, we are all for saving a dollar.

We attended the Operation Deploy dress event, not knowing what to expect. They were extremely welcoming and had a huge room full of dresses in all sizes. Some were new others gently used, all hung by size. My daughter found her perfect dress. It fit perfectly, no alterations needed, and she beamed and twirled like a princess.

We were encouraged to choose an accessory to go with dress. They wrote down our ID number and told us to return next year. To see the smile on my daughter's face, I would have paid whatever, to receive this great gift. It was priceless.
Prom is a once-in-a-lifetime night— there are no do-overs. We want our teens to feel confident so they can have the time of their lives.
But you don't need to spend more than you want in order for prom to be epic. You can help your teen pull together a fantastic look on a budget that will work for everyone.
More Reading To Enjoy:
Sometimes We All Need Grace, Teacher's TicTok Goes Viral