Recently, I saw a friend's post about how her son asked his girlfriend to prom and, I'm not going to lie: my husband didn't go through nearly as much trouble when he asked me to marry him 25 years ago. Gone are the days when you stood by your locker and hoped that the cute guy from Biology asked you to the prom between third and fourth periods.
Nowadays, going to prom is a big deal. Like, a really big deal.
And seeing elaborate promposals and pictures of gowns that cost more than my wedding make me wistful for when I went to prom back in the 1990s.
Prom in the 90s was just different. I mean, it had to be: we didn't have the internet for God's sakes.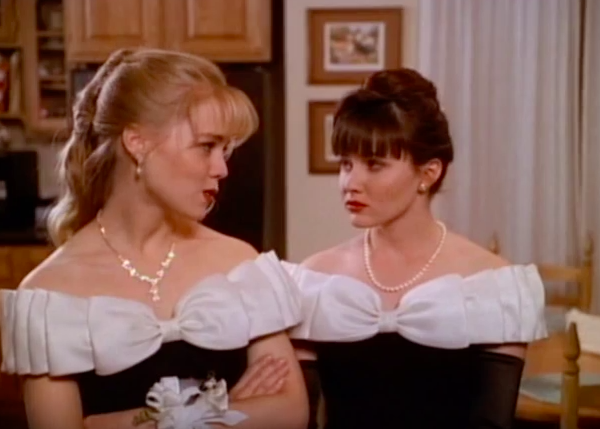 Prom in the 90s was amazing
And, you know you went to the prom in the 90s if:
You eagerly awaited the prom issue of Seventeen magazine to arrive to your mailbox.
You spent hours poring over the pages of Seventeen magazine while yapping to your best friend on your private landline your parents installed for your 16thbirthday.
You ripped pages out of prom magazines and brought them to school to show your friends during lunch and study hall.
You folded those pages and tucked them into your Liz Claiborne purse and scoured the mall in hopes that you'd find your favorite prom dress at Macy's.
Oh, your favorite prom dress likely was covered in sequins and taffeta in colors not found in nature. Fist bump to teal, magenta and aqua!
Jessica McClintock was your favorite designer.
And you loved Gunne Sax and Betsey Johnson dresses, too.
You understood Brenda Walsh's pain when Kelly Taylor showed up wearing the same white bow/black bottom dress on Beverly Hills, 90210. Because the same thing happened to you when you bought that black and white velvet and taffeta number.
You spent an hour looking at tiny swatches in Payless Shoe Source trying to decide on the color for your Dyeables shoes.
And you bought the matching Dyeables purse only to find out your hands turned teal when you touched it.
All of your rhinestone accessories were purchased at Claire's boutique.
And the faux rhinestone jewelry came in gem stone colors that you couldn't find in a real jewelry store. Seriously, who were we kidding?
Your hair was teased, curled, and sprayed with so much AquaNet that it took three days to fully wash out the residue.
And you probably wore fake pearls or other rhinestone adornments in your hair, too.
Your makeup included teal mascara and eye liner and your blush game was epic.
When your date arrived to pick you up, he gave you a corsage that his mother had made up at the grocery store.
Your date matched his cummerbund and tux tie to your dress and you prayed you wouldn't stick him to death when you pinned his boutonniere to the lapel of his white dinner jacket.
Your date had his hair gelled to the point where it was like straw and he wore Converse sneakers to be edgy.
You posed in front of a limo that you chipped in on with two other couples. And then drove it to a local diner or hibachi grill restaurant to have dinner before the big night.
When you arrived to your darkened high school gym, you found it transformed to the "Forever Young" theme. And it felt magical.
The photographer made you pose for the camera under a trellis adorned with fake flowers in a way that showcased your new corsage. And resulted in a photo that made you and your date look like you couldn't stand the smell of each other.
Two words: balloon arches.
You and your Dyeables shoes danced to songs like "Two Princes" by Spin Doctors and "Whoomp (There It Is)" by Tag Team
You swayed to "This Is The Time" by Billy Joel and "I Will Always Love You" by Whitney Houston and you felt breathless because it really was the time of your life.
When prom ended, you left the gym wearing your date's tux jacket clutching a rose bud vase with "Forever Young" and the date emblazoned on it and piled into the limo to head to a diner.
You stayed out late, in your sequined dress and faux rhinestone jewelry, feeling very adult and fancy.
You made plans with your friends to head to the beach or the lake the next day and, as you looked around at your friends at the stroke of midnight, you decided Cinderella had nothing on you and your prom.
And, to this day, when I hear UB40's "Can't Help Falling In Love," I can still catch a glimpse of the girl who felt like a princess on the night she wore a teal green mermaid dress with white taffeta to her Senior Prom.
Related:
See How Prom 2018 is Absolutely Different Than Prom in the 80s