Back in the 1980s, prom stories were fairly monochromatic. It usually went like this; boy liked girl, boy asked girl to the prom, girl said yes and off they went. And if boy didn't ask girl, girl sat home and moped dejectedly because that was pretty much the only option.
Happily, we've noticed that prom 2018 bears little resemblance to prom of the 1980's and as far as we're concerned, that's a spectacularly awesome development.
Here are some prom stories that caught our attention.
When it comes to prom, some kids take the traditional route. These two have been friends since 8th grade, started dating in 11th but played pee wee soccer together when they were really little.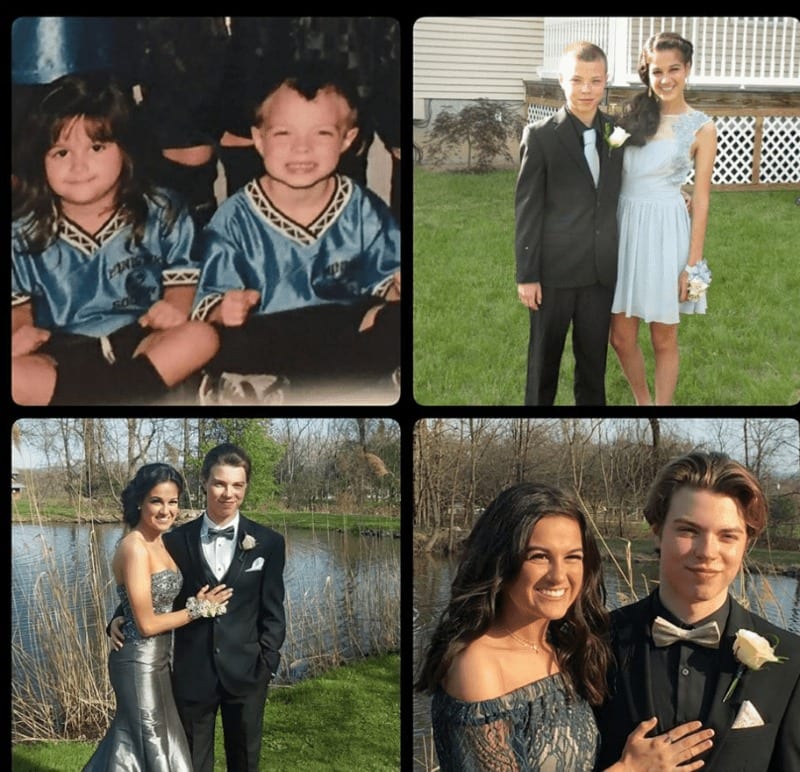 This young lady chose to wear her mom's prom dress and according to mom, "neither could be happier."
Remember those terribly uncomfortable heels you wore to your prom and then extracted your feet from halfway through the night because they were killing you? Well, not anymore. Now you can wear SNEAKERS!!! I know, right?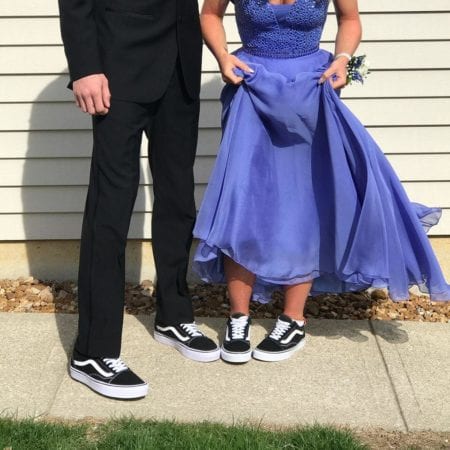 And the boys clothes have gotten jazzier as well. Gone are the traditional black and white tuxes…get a load of these outfits.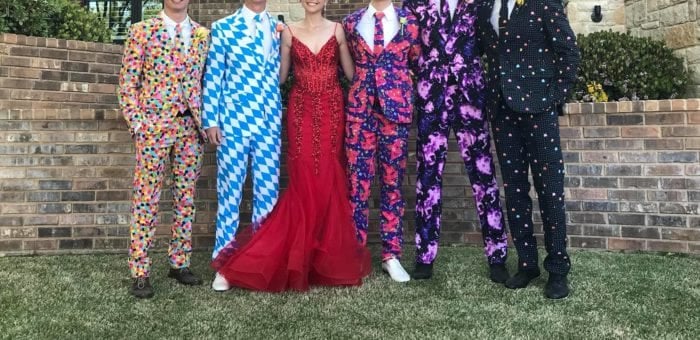 Who needs a traditional tux when you can carry this look off?
And who knew you could match your dress and tux to your favorite Broadway players. We present the modern day Maria and Tony from West Side Story.
Some student athletes want to show their sportier side…brawn and beauty, what a great combination.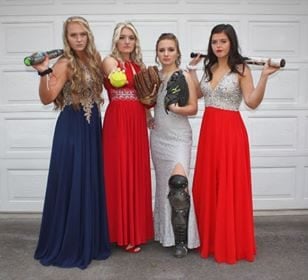 Who needs a mister when you've got your sister?
These sweet sisters decided to go to the prom together. Mom writes it's, "My middle daughter's first prom. She's at a very small private school and their prom is for 7th-12th graders. She asked her sister, who is a senior, to go with her."
And nowadays, a girl doesn't have to wait for a boy to ask her, she can go with her BFF, as these two friends did. Mom says of her daughter, "She went with her best friend. I am so proud of her and I know she will accomplish amazing things in life."
With her son's permission this mom posted this picture of her son's prom dress and said, "Posted with my son's permission-we give you his prom dress! It has built in boobs, so he is in heaven." The post garnered over three thousand reactions, the vast majority messages of support like, "I love his smile! Absolutely confident and beautiful!" or "He looks stunning…..what a beautiful and confident boy!" or "Isn't this what we want for all our kids? To be loved and to have their own unique shine! So happy for this family and that he's found his shine!"
And here's the actual prom pictures where mom says that her son, "did his own makeup, the hair is a lace front wig, and the shoes are lovely black heels, but nothing special because finding shoes to fit a six foot tall kid is a challenge…he had an amazing time, and the experience was nothing short of amazing and purely positive."
These identical twins also made us smile. Their mom told us that she wanted to share her girls' prom experience. They ordered their dresses online in about an hour. Mom made hair appointments for the girls but cancelled them because they said they, "had other things they wanted to do." Mom bought the girls corsages, and they went sans dates or makeup.
And some other kids decided that prom just wasn't for them but they weren't about to let that stop them from having fun.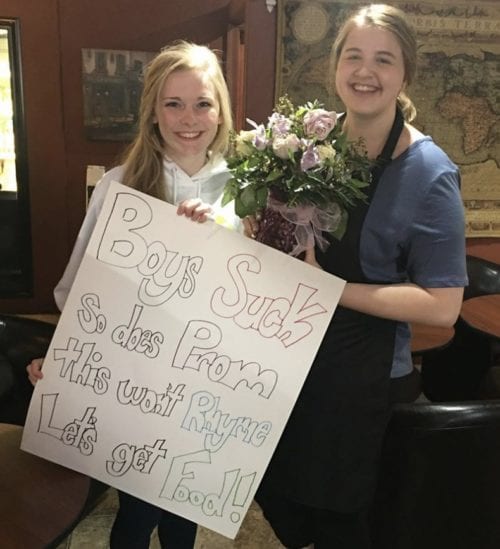 And we can't forget the SNOW.  Some parts of the country that got over a foot of snow and unfortunately prom had to be postponed due to weather, because we all know that April snow brings May flowers.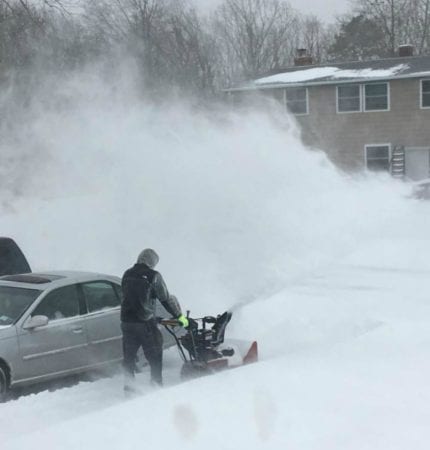 And some things never change, moms and dads trying to get that iconic prom picture.
In the thirty years since most of us attended prom, everything has changed and yet nothing has; we still want for our kids what our moms and dads wanted for us. They wanted us to be with friends, have fun, stay safe, and feel comfortable in our own skin.
Our parents also knew what you can only learn in hindsight, you need to enjoy these days because they will not come again.
Related:
Prom, Promposals, Promsanity: Why I am So Over it All!
Prom Dress Shopping Survival Guide for Moms
The 10 Best Tech Grad Gifts for 2018
SaveSave
SaveSave