We have all been trying to do our best to get through this season of uncertainty and change. But some of us have risen to that challenge in unbelievably creative ways.
For the past four months, Peyton Manker, a high school senior, has been working on a duct tape dress to compete in a contest run by Duck Brand Duct Tape website called Stuck at Prom. The contestants have an opportunity to win scholarship prizes of up to $10,000.
Her mom says she knew her daughter was artistic, but was "amazed to see the results of her dress!"
Peyton based her dress on the coronavirus and it tells a story.
The Story of the Dress
The coronavirus pandemic became my inspiration for my dress…I chose to represent how the coronavirus affected not only us, but the world through artwork I created myself…to stand out, I designed my dress to be a large, paneled, ball gown style with ruffles at the top and many intricate designs. Such designs are the golden coronavirus accents on the bottom of the dress as well as on the pockets. The other intricate designs are showcased on the panels. Each is a work of art representing something different.
To start off, the front left panel design represents those on the front line such as doctors, nurses, janitors, postal workers, police officers, construction workers, the military, grocery workers, restaurant workers, firefighters, etc…
For the front middle panel, I created a man who represents mental illness during quarantine whether it is due to isolation, worry, fear, or even being affected personally by the virus.
The front right design is meant to be a virtual 2020 graduation through a video chat. I created this design when a virtual graduation was only a joke among my peers but eventually, it became a reality for my classmates and me.
The back left and right panels are meant to be one design. It showcases a woman infected with the virus as well as a man trying to protect himself from it using his mask as a shield.
The final panel design represents the world trying to run from the virus both figuratively and literally. Other nationalities can be represented through the clothing. This better represents the "world."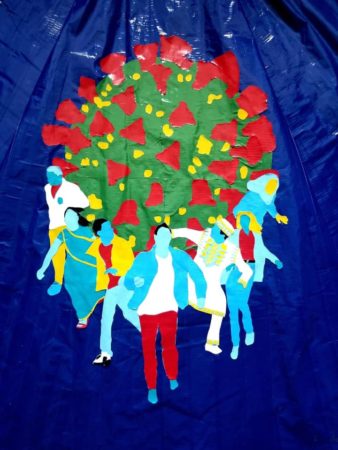 The design placed on the top part of the dress represents social distancing and the six feet guidelines.
As my final design, the face mask represents the curve and how wearing protective measures helps to flatten it which is why it is so important to wear them.
A majority of my accessories are based on the coronavirus with my purse being an actual coronavirus! For the rest of my accessories, I made an arm bouquet with toilet paper accents to shed light on the lack of toilet paper during this time and the frustration people experienced during this shortage. I also made a hair piece with the words, "Separately Together," to let people know that even though we are separated, we can still get through this together. Lastly, I made an anklet spelling out, "This Too Shall Pass". The reason I chose to place this saying on an anklet is because it can be forgotten. It cannot be seen unless I lift up my dress. This represents how people may have forgotten that the coronavirus pandemic will eventually pass and everything will be okay.
The Duck Brand Duct Tape company will pick the top 5 dresses and after that, community voting begins. Keep updated on Peyton's progress by visiting her Facebook page.
Mom says that no matter the outcome of the contest, she is proud of her daughter's hard work and perseverance.
Thank you Suzy Smith Manker for sharing your daughter's story and talent with us. All photos via Peyon Manker.