In recent weeks, you've likely been hearing about a Black holiday called Juneteenth. This celebration has been around for almost 200 years, and gains more and more attention every year.
A lot of Black people treat it as our version of the 4th of July; our day to celebrate freedom. But there are still plenty of people who have no idea what the day is, especially because it's not often taught in schools. If you're not sure what Juneteenth is, or are looking for a good way to explain it, look no further.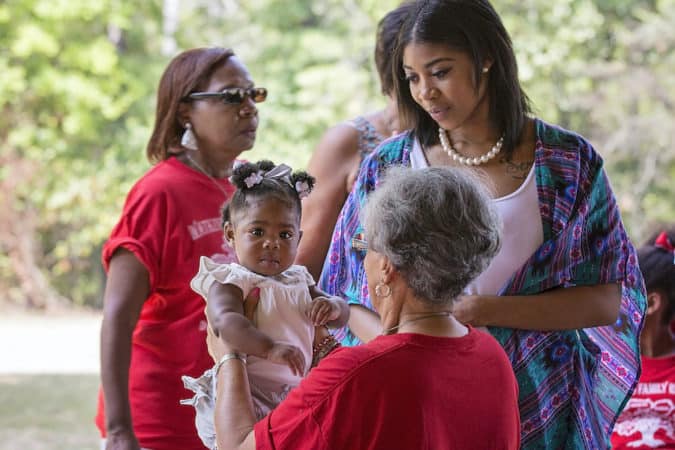 What is Juneteenth?
Some people say that Juneteenth is the day slavery officially ended in the United States. But that's not exactly true. Slavery officially ended on January 1,1863 when President Abraham Lincoln's Emancipation Proclamation took effect. On June 19, 1865, slaves in Galveston, Texas finally learned that they had been freed two years prior. Juneteenth gets its name from the date that those last slaves found out they were free.
On that date, Union soldiers, led by Major General Gordon Granger, made their way into Galveston, bringing word that the war was over and the enslaved people were free. This wasn't possible until the surrender of General Robert E. Lee in Virginia in April,1865. Upon arrival in Galveston, General Granger made this order:
The people of Texas are informed that, in accordance with a proclamation from the Executive of the United States, all slaves are free. This involves an absolute equality of personal rights and rights of property between former masters and slaves, and the connection heretofore existing between them becomes that between employer and hired labor. The freedmen are advised to remain quietly at their present homes and work for wages. They are informed that they will not be allowed to collect at military posts and that they will not be supported in idleness either there or elsewhere.

General Orders, Number 3; Headquarters District of Texas, Galveston, June 19, 1865
So, what happened? How did these slaves not know they were free? There are three main theories as to what happened. One theory is that a messenger bringing the news of emancipation was murdered before he could deliver the news. Another theory is the information was deliberately not shared by the enslavers so that they could keep their labor force on the plantations, which sounds incredibly likely. Going off that, the third theory is that the federal troops chose to wait for the enslavers to reap one more cotton harvest before heading to Texas to share the news of emancipation. While no one knows for sure what the answer is, they all seem like they would make some sense.
What you can do to honor and celebrate Juneteenth
For the last 40 years, Juneteenth has been recognized as a holiday in Texas, which is fitting given the state's connection to the date. Since then, 45 more states and the District of Columbia have moved to recognize Juneteenth as a holiday. New Hampshire is the latest state to do so, back in 2019. Just this week, the governor of Virginia, Ralph Northam, said that he would propose legislation to make the date a paid state holiday.
As of right now, there is no plan to make Juneteenth an official federal holiday. There are online petitions of course, and in 2019, Senator Bernie Sanders called for it to become a national holiday. And back in 2018, the U.S. Senate passed a resolution designating June 19th, "Juneteenth Independence Day." It has yet to reach the House.
Even though there are no immediate plans to make Juneteenth an official federal holiday, more and more companies are beginning to acknowledge it as an important holiday. Twitter and Square, the mobile payment company, are considering it a holiday and giving the day off with pay. Jack Dorsey, chief executive and founder of both sites describes the day as time for "celebration, education, and connection." Additionally, the NFL and Nike made similar announcements, which is a major departure from their past stances.
There are many ways you can celebrate Juneteenth, as evidenced by celebrations across the globe. Parades are popular in places like Atlanta and Washington. In Galveston, the place where everything happened, celebrations are usually plentiful. There are usually things like barbecues, parades, musical performances, even a beauty contest. Obviously this year will be a lot different because of coronavirus. But there will still be some celebrations.
For people who may be celebrating with a smaller event at home or with family, food is an important component of the event. Red drinks like strawberry soda are a nod to hibiscus and kola nuts that came through the Middle Passage. Things like watermelon shave ice are also popular. Cookout foods like sausages, fried green tomatoes, okra and potato salad are also common and delicious foods. Finding your local Black owned restaurant and placing an order is a great way to honor the holiday.
Juneteenth started as a day of independence. And it still is. But now, it's a testament to the strength and resilience of Black Americans in the face of a continuously uncertain future. Taking the time to reflect on the Black experience and highlight the positives is a great way to honor the day.
More to Read:
19 Ways to Start Celebrating Juneteenth (Facebook)
Juneteenth is a Reminder That Freedom Wasn't Just Handed Over
Sa'iyda Shabazz is a mother and writer who lives in Los Angeles with her son, partner and three pets. When she's not writing, you can find her baking cookies. Follow her on Twitter or Instagram.