Outfitting a dorm room might be just one more shopping trip if it weren't so imbued with expense, confusion, and nostalgia. It's easy to get it wrong and waste time and money. We gathered our cadre of experienced moms and offered up these 10 Commandments, okay "guidelines," to help parents embarking on the college journey.
Note: We are a reader-supported site and receive a small compensation from purchases made through some of the links on this post.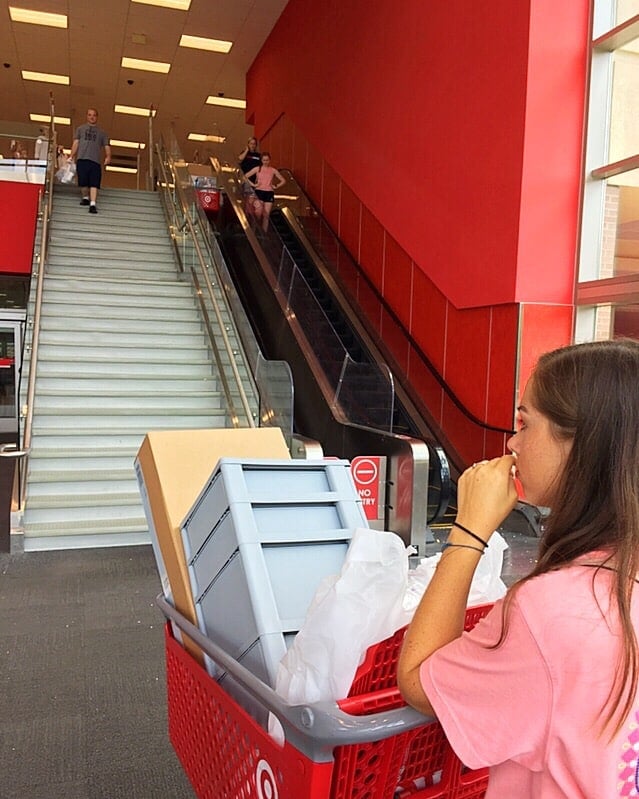 10 commandments of dorm shopping
1. Do Not Pay Full Price
Under no circumstances, at any time, should parents pay full price for dorm room items.
Sign up now with national retailers like Target to take advantage of sales, discounts, and opportunities for special college savings.
The Container Store is also offering 25% savings all summer for dorm shopping.
2. Do Not Pay to Ship
Buying and shipping, so 20th century. Some large national retailers will let you scan and order in your hometown and pick up the same items in your teen's college town.
Target offers free two-day shipping on purchases over $35. With 1935 stores in the US, exchanges and returns are easy in your teen's college town. You can also order things ahead of time at a Target in the college town, and they will have them waiting for you. They can also bring it out to your car. Read details for more.
Is no store convenient for you? Most dorm items can be ordered from stores online and delivered to campus. Join Amazon Prime Student FREE Two-Day Shipping for College Students, and during the six-month trial period, your student is eligible for free 2-day shipping for many items.
3. Do Not Buy Anything That Your College Student "Might" Use
Each room and each teen is different. If you think it is something your college kid "might' use rather than is sure to use, hold off buying it. With every retailer delivering to campus, on-site campus stores, and Amazon Student, there is no reason to crowd up the tiny dorm space with extra items that can be ordered later, if needed.
4. Do Not Buy "Cheap"
Many of the items you buy in this round of dorm shopping will need to last four years or more. Sure, you can buy cheap stuff (as opposed to well-made items on sale!), but dorm living and apartment living involve frequent moves, so the sturdier, the better.
5. Buy Only After You Know the Room
Before setting foot out the door, read this list of 50 questions to answer, first:
Getting the purchases right the first time will save aggravation and money. Many colleges post room dimensions and details on their websites (often password protected), so have your student log on and gather as much information as possible. It is essential to know what the University provides unless you want to show up with a second desk chair, lamp, and trash can, only to bring it all back home.
6. Buy Only After Discussion With the Roommate(s)
Shared room? Shared common space? No one needs two mini refrigerators or multiple coffee makers. Getting in touch with roommates early will quickly solve this problem. One of my sons had three coffee makers for four boys, and two of them sat on the floor (getting dirty and broken) until it was time to move out in May.
7. Ignore All The Shopping Lists
A dorm shopping list offered by retailers, and colleges, are just a suggestion. If you follow them blindly, you will almost certainly overbuy. Here are our top 12 items that are true essentials.
Other than sheets, towels, a shower caddy, a laundry basket, and a handful of different things, most items are a matter of your teen and their setting. Have her think through how she will take things back and forth to the bathroom, how much extra storage she will need, and what she wants her walls to look like. The shopping list is good food for thought, but no more than that.
8. Stock and Discuss Medications
It helps send your teen off with a well-stocked first aid/medicine chest. The first time they will need these things will be during their first semester at 2 am, and there will be no place open to shop. Some of the suggested basics might include band-aids, headache remedies, stomach remedies, decongestants, thermometers, throat lozenges, or anything that will be useful to someone with a minor injury or illness.
BUT before handing over these medications, even if they are all over-the-counter, discuss their uses and dosage with your student. One of my kids caught a nasty cold and was taking decongestants and a night flu remedy, thinking they were different drugs but essentially doubling his dosage.
9. Do Not Buy Luggage
Luggage is for trips; this is a movie. If you send your kid to college with luggage, it will take up much valuable space in their dorm room and soon be covered in filthy dust bunnies. It is easier to move with boxes and clean black garbage bags that can later be discarded.
A move-in bag is truly the optimal way to pack dorm things and move them in.
10. Shopping Doesn't Ease the Pain of Departure
Finally, remind yourself that your teen's leaving is painful, but piling up mountains of useless dorm crap is not going to fill the hole left by their absence. There is a moment standing between under bed storage and laundry baskets where you can almost convince yourself that this is just one more school supply shop and that if you get the right things, the perfect comforter or desk lamp, the tears that keep threatening to spill over will be gone. Nothing you are going to buy will turn back the clock, it just doesn't work that way.
You Might Also Want to Read:
College Checklist: Most Popular Freshman Dorm Extras
33 Bestselling Dorm Essentials