This fall, I am sending my twins, Jacob and Sophie, off to their first year of college. As we prepare to send our son to the University of Michigan, and our daughter to Duke University, our living room looks like an outpost of Target, Costco, CVS, and much more. Bins of shampoo, toothpaste, and band-aids sit atop piles of shorts, sweatshirts, and socks, which are abutting stacks of blankets, power strips, and Febreze.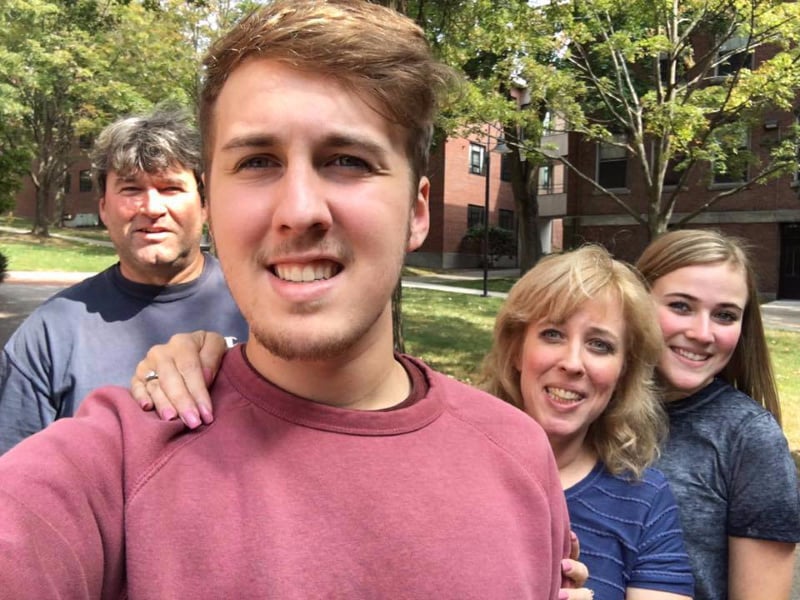 I am not sure that they'll need all of that. (I feel relatively confident that the Febreze will come home at the end of the school year still sealed). And I also know that they'll need more than that to make the most of this incredible adventure and opportunity in front of them.
And they just may need a little reminding.
So, in addition to the STUFF they're packing in their duffle bags, suitcases, and boxes, I am sending them off with a list of what they need to remember that they've already packed into their hearts, minds, and souls.
College Packing List: What you really need to bring with you won't fit in a suitcase
Advocacy: Stand up for yourself, for others, and for your beliefs.
Bravery: It's all going to be new for you, and some of it will be intimidating. Do it anyway.
Curiosity: Assume that, as much as you already know, there's so much more that you don't yet know. Go after the new stuff.
Discernment: Know that what's right for others may not be right for you, and vice versa, and make the decision that's right for you.
Emotional Intelligence: From euphoria and glee to dread and loneliness, you're going to experience a wide range of feelings. Emotions are data, and be willing to analyze that data to understand what's going on for you. (Also see M: Mental Health).
Faith: Trust that things are meant to work out for you in the long run, even if today's setback doesn't make it feel that way. You can't always see the path, but keep taking steps forward.
Generosity: Share your time, your empathy, and yes, even your pizza. You have more than enough.
Humility: You are about to find out that you can't do college alone. Be humble enough to ask for and accept help.
Integrity: Let your moral compass guide your decisions and actions, and tell the truth – no matter how hard it may be.
Joy: Being cynical, hypercritical, or aloof isn't cool. Being positive, enthusiastic, and optimistic is.
Kindness: Assume everyone is struggling in some way. Be the person who cares about others. (And don't forget to be kind to yourself, too).
Listening: This is the only way you're going to learn – especially if you listen to truly understand, rather than listening only long enough to plan your rebuttal.
Mental health: If you're feeling anxious, sad, frustrated, lost, lonely, hopeless, or helpless, you don't have to suffer. Call us, call a friend, and call the counselors on campus – ASAP. (And if you notice someone else suffering, be the friend who doesn't let them struggle alone.)
No: Say no when someone offers you one more drink, and you know you've had enough. Say no when someone suggests you blow off studying so you can go to a party. Say no when someone wants you to do something that violates your integrity, beliefs, or values. Say no when you don't give consent, and listen to a no when someone doesn't give you consent.
Options: You always have choices available to you – from what classes to take and whether to use drugs to who you hang out with and whether you plan ahead. (What isn't an option? Telling us "I had no choice" when things get hard.)
Perseverance: Great opportunities are often accompanied by great roadblocks. You can get over them, under them, through them, or around them – especially if you ask for help.
Quiet: Take time and space for yourself, to be alone, to decompress, to focus, to regroup, and to reflect.
Responsibility: You own your decisions and the consequences of those decisions. (That's adulting, my loves.)
Street smarts: Book smarts isn't enough. Be aware of your surroundings so that you stay safe – and reach out to help others who may appear lost or frightened.
Time management: You won't "run out of time" to get work done if you plan for it, schedule it, and honor the schedule you've created for yourself. (And yes, this may mean saying "I'll catch you next time" if your friends invite you out when you'd planned to study.)
Upside: In the face of disappointments, frustrations, and even failures, you'll discover the lessons that will serve you for the rest of your life.
Values: Live by the principles that have gotten you this far – and be open to new ideas about what will make your life meaningful to you.
Warmth: Be the person who offers a (consensual) hug, a cookie, an ear, and a shoulder to lean on.
Xenophilia: Be welcoming, accepting, and inviting of new people, cultures, and customs.
Yourself: Be you, and not anybody else. You are already enough.
Zeal: If you find a subject you love, go deep. If you find a hobby, a club, or a cause you adore, dig in. If you find a person you care about, let them know how much they mean to you. Live with gusto!
All that Jacob and Sophie need to do is remember to unpack these as soon as they arrive. And, wherever and whenever possible, share them with their new friends and classmates — along with the care package of brownies I am planning to send them soon.
You Might Also Enjoy:
College Care Packages from Home: 50 Great Ideas