I've often thought that those first few months of college can be like the first few months after a new baby is born. The time spent equally as enchanted by this new life as it is tormented by doubts and insecurities and the nagging fear that "this was a terrible mistake."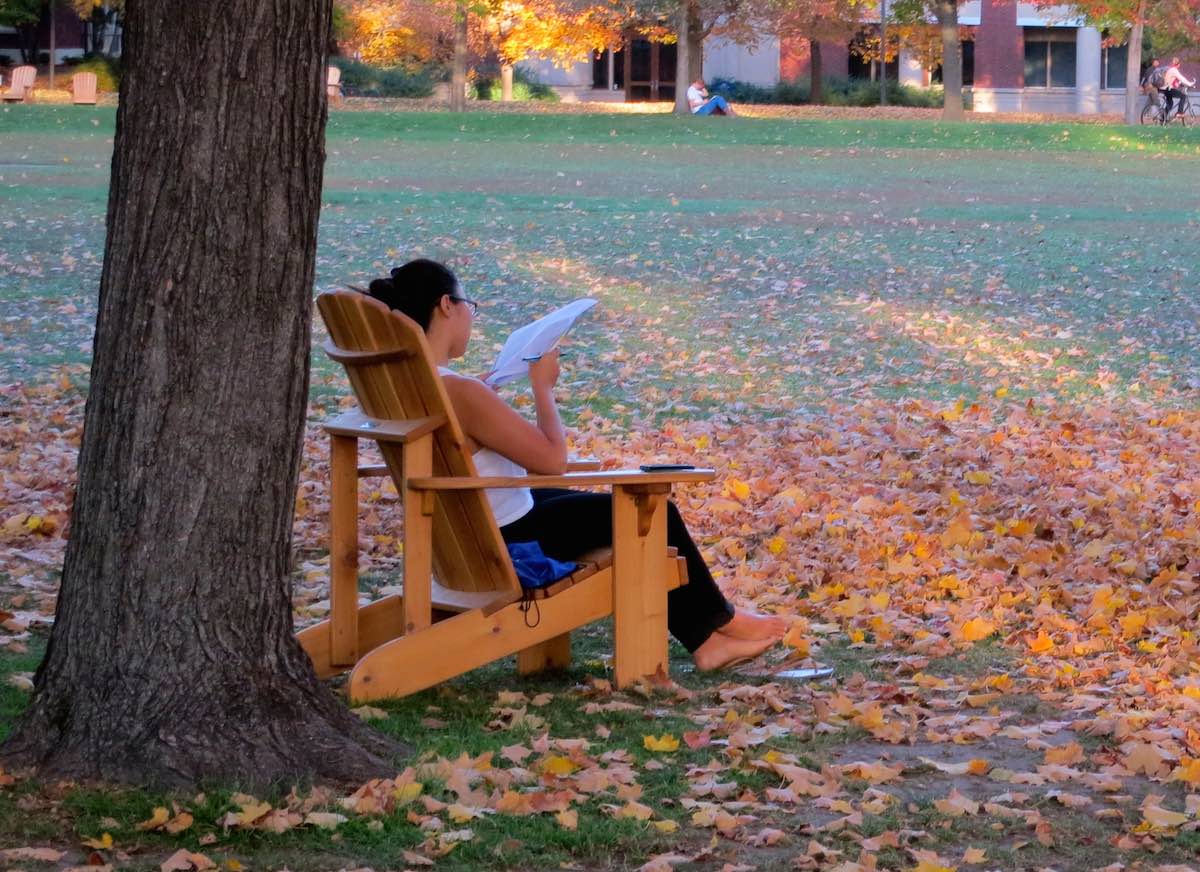 Moving into college in the 80s was nothing like moving my daughter into her dorm
I moved to college in 1984. Two cars loaded with a footlocker of completely inadequate clothes, a cardboard box of towels and sheets, my electric typewriter, my collection of Broadway cast recordings, a turntable, a Shakespeare collection, and assorted snacks.
My parents had a sedan, so my sister and her boyfriend drove most of my stuff in their car, including my prized poster of Mikhail Baryshnikov, which they slid along the passenger side back window. Riding down the highway from Maine to Massachusetts, my sister's car kept passing us, and that poster of Baryshnikov's bedroom eyes seemed reassuring and mocking me the entire way. I was terrified. And my parents were utterly failing at putting on a brave face at the thought of their baby leaving the nest.
Upon arrival, I found that, while the girls on my hall were nice enough, it was readily apparent that my life as a small-town girl on an island in Maine had not prepared me to live amongst kids from Manhattan prep schools, swanky Connecticut suburbs or exotic locales like Hawaii and Puerto Rico.   
That first month of college was a mixture of awkward icebreakers, desperate searches for someone to eat meals with, a fairly severe medical emergency I had to navigate, confronting my naiveté about drinking, parties, and sex, and repeatedly wondering what I was doing there.
Oh, and PS?  No one else had a Baryshnikov poster. That alone should have been the first clue I was out of my league. But as the semester and the following four years unfolded, I survived and flourished. However, it took time to find my footing.
Thirty-three years later, it was my turn to load up a car, dispense reassuring words of wisdom, and try to put on a brave face to mask how much ripping off this particular life Band-Aid would hurt. The day itself was busy enough that I could avoid confronting what lay at the end of it.
The college ran move-in day like a well-oiled machine, although (pro-tip # 1, don't drink a huge cup of coffee on the way because chances are you will wait an hour or more in a car line to get on campus and to the dorm, and it may make for some uncomfortable moments!)
When we finally pulled up to the dorm, I was instructed to stay in the car while a swarm of volunteers descended. I heard my trunk slam and looked back in disbelief to find the car empty. The girl was checking in; her stuff was going to her room, and I could move the car to the upper parking lots. That drive to the parking lot was surreal and gave me a glimpse of what would come. I felt untethered by the sudden lightness of the car, the absence of the bins and bags, and the 5'11, 18-year-old they belonged to.
But before I knew it, the day had passed in a blur of unpacked sweaters, 3M hanging strips (pro tip #2: buy about 3 times as many of these as you think you will need), light bulbs (ditto), and wrangling power strips in dorm rooms with two electrical outlets built long before its' occupants came with laptops, phones, microwaves, and Keurigs. (Which leads me to pro tip #3: buy a power strip with an extra-long cord and a pack of extra-long phone charging cords.)
And then it was time for hugs and goodbyes.
Now, I hug my daughter all the time. We're a demonstrative, touchy family. But as I encircled her with my arms, I did something I don't think I've ever done, I held her head to my shoulder fiercely with one hand as if I could hold back this march of time that would soon pull us in different directions: her to the freshman cookout and me back to my quiet and empty car.
Once the fall semester is underway
The semester is well underway now, and that warm August day seems like a lifetime ago. This time has been one of learning for both of us. The girl has learned how to navigate a different class schedule, life with a roommate, a new job, professor's office hours, campus events, and the unexpected sadness of a Friday night when it seems like everyone is at a party you didn't get invited to.
I've learned to become accustomed to the strange sterility of a teenage bedroom stripped of the things that made it the coolest spot in the house, lighter grocery lists, the occasional late-night "I'm lonely" texts,  endless inquiries about "how the semester is going?" from friends and the aching absence of my sidekick.
And even though both the girl and I know that everyone carefully curates their social media presence, we find ourselves furtively scanning the pages and feeds of her friends from home. Do they look like they all have more friends? Do they look happier? Do they look homesick? They seem so busy! So happy! I contrast a friend's first campus visit to his daughter, after which he announced, "Isn't it great to see them so happy in their element?" to my first visit to the girl, which began and ended with some tears and more than a few "I just miss you" declarations. Why did it seem so hard?
There's no easy answer except that, with rare exceptions, it's hard for everyone. The kids who take off without a backward look and whose Instagram feeds are full of "squad" hashtags and party photos will hit a rough patch at some point.
The kids who take longer to warm up may have a tough first semester but find their stride eventually. The currents and tides of college friendships, majors, clubs, and activities will ebb and flow and take courses none can even begin to see. As the first semester charges ahead with more papers, exams, and events, it brings us closer to that first winter break and a time to regroup and reconnect. Until then, I'll answer the texts, send the care packages, and rest secure in the knowledge that the second semester will seem like old hat for all of us come January!
You Might Also Want to Read:
SaveSaveSaveSaveSaveSaveSaveSaveSaveSave