I'm talking on the phone with my college sophomore. I savor these phone calls because she really prefers texting to actual voice contact. But today she is in a chatty mood because she just met with the career counselor and she had some interesting advice.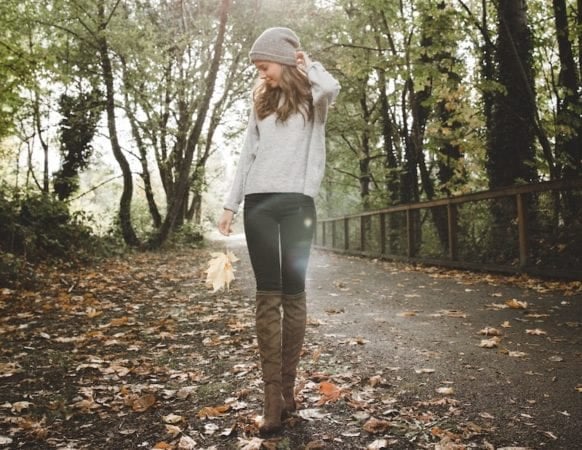 Here is what I miss the most with my daughter in college
She is giving me an overview of what the counselor said when she stops talking to me for a moment to interact with a peer. I hear some muffled conversation followed by my daughter saying, "Thanks!" before returning to our phone call. I put together on my end is that her friend complimented what she was wearing.
I ask my daughter and she says yes, but that she didn't think she was particularly dressed up. "I'm just wearing jeans," she says, "But I guess it's a cute fall look with my boots." I ask her to send me a picture. She says "Sure" but I know she won't.
She gets busy and really who cares what she is wearing, it's pretty inconsequential in the scheme of things. We go back to discussing her meeting and what the counselor suggested she do for the summer. A few minutes later, she hangs up because the class is starting.
As I go back to what I was doing before she called, I try to picture her walking across campus and wonder what boots she is wearing. You might think that I would be more interested in my daughter's career path than her daily clothing choices, but you'd be wrong. It's the little stuff like knowing what she is wearing when she walks out the door that I miss the most now that she is in college.
Each morning when she was in high school, she would barrel down the steps, always in a frenetic rush. She would spend way too much time in snooze mode after her alarm went off and then panic about being late would take over. There was always muttering and movement…looking for misplaced keys, last-minute printing of a class assignment, grabbing something from the pantry for breakfast
Before she was about to leave I would always come into the mudroom to say goodbye to her. Without either of us realizing it, her departure seemed to occur the same way each day. She'd scream "Bye Mom" as she opened the door and I'd say, "Make good choices and stay out of trouble."
This advice was incredibly unnecessary to a kid that made a heck of a lot better choices on a daily basis than I did at that age. But I said it because it was a quote from Freaky Friday and for some reason, it was stuck in my head. Occasionally, I'd add, "Better to be late than to be the late" a quote from the Jerusalem Post years ago and it seemed fitting especially when she started driving herself to school.
In those early a.m. moments, before the cold air rushed in our warm hallway and then the door slammed, I would always look at my daughter from head to toe. It wasn't deliberate but it was instinctual. I just needed to take her in before she left for the day.
Sometimes she'd be wearing jeans and a sweater, other times it was sweatpants and an oversized shirt kind of day. I might comment if I really loved her choice that day or if I just bought her something new and wondered if she was ever going to wear it.
Those minutes before she left the house were meaningless until those minutes were gone. I didn't realize how much I would miss the daily knowing. Knowing what she was wearing, what she ate for breakfast, what happened at track practice, how many tests she had, what time she went to bed…I knew so many more small details when she lived at home.
Now that she is away at college, I crave the minutia of our past life together. From our morning routines to our afternoon recaps — I miss the small things that are impossible to capture in texts and phone calls.
She doesn't live here anymore so I'm no longer able to quietly take her in each day. She is independent now and on her own. I wait for her to let me know the details, what she wants me to know. I follow her lead, listening ever so closely to the stories and details she decides to share. I ask questions but I try not to pry. It's a dance — I want to know everything but I need to be grateful to just know some things.
My daughter tends to like talking to me about the big stuff — her major, her classes, how track is going, etc. And I'm of course I'm interested in all of this. I'm thrilled to hear any thoughts she wants to share and I'm beyond happy to interject advice when asked. I've told her I miss seeing her every day but it's hard for her to understand how I really feel. How much I think about those days when I just knew, I just knew. We're still connected but it's different now as it should be.
Hours after our phone call, I see a text from my daughter. Surprisingly it was me who had forgotten about my request for a photo but she remembered. There she is dressed in jeans and boots. As I look at the picture, I think to myself, "Make good choices and stay out of trouble" and I realize, even though she can't hear me, she can and she does. The photo is nothing and yet it's everything. Because it's the little stuff, like knowing what she is wearing every day, that I miss most of all.
With our best tips for how to parent a teen…Now, the Grown and Flown book is in paperback!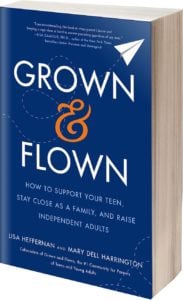 You Might Also Want to Read:
Note to Self: On Parenting College Kids  Here are reminders to parents about how different it is when our teens leave home.
Are you a member of our Grown and Flown Parents Facebook Group? Join here and meet your 200,000 new BFFs.