When my oldest daughter left for college, I was prepared to say goodbye. I had read several pieces of advice from seasoned parents about the significance of the drop-off day, and I had my speech already planned out. Our daughter had yearned to be in college for years, and I felt nothing but happiness for her as I pulled out of the residence hall parking lot. She had gotten into the college of her choice, she already loved her roommate, and she felt excitement for her classes and the challenges ahead.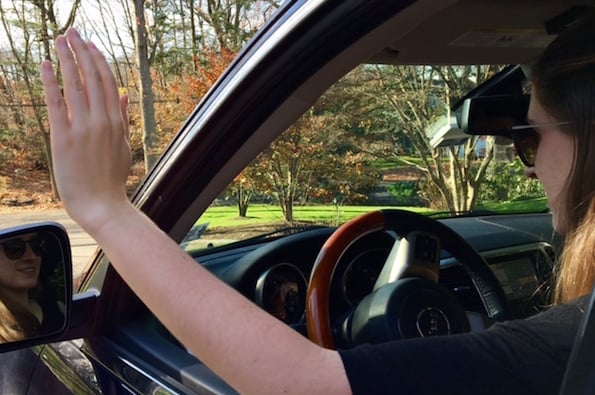 Saying goodbye to college students again, and again
My husband and I had done our job, and it was time to reflect, buy a couple of university sweatshirts, and pat ourselves on the back.
So the first goodbye really wasn't that difficult.
But the second one just about killed me.
Then there was the third, and the fourth, and an endless stream of goodbyes stretching long into my future relationship with my daughter. It was when winter break rolled around that I realized how temporary it felt to actually have my daughter back in our house.
You see, much is written about the pain of leaving your child at college for the first time. But what these advice columnists don't tell you, is that the first time is just exactly that — only the first. College-aged offspring come and go, and mostly they just go. And every time, parents must say goodbye.
I thought my daughter would be as excited to see me as I was to see her
My first painful goodbye with my daughter was after she had come home for fall break her freshman year. She arrived in the middle of October, on a Friday night, mine for four full days before classes resumed on Wednesday. I wish I could say that the weekend was blissful, full of her sharing stories of residence hall and sorority life, her classes, her friends.
But really, the weekend filled up quickly with her sleeping for long stretches of time, eating everything in sight, as if she hadn't seen real food for weeks, and complaining about how ready she was to go back to school.
Silly me. I thought that she would have been just as excited to see me as I was to see her. And of course, she was excited to see me, and her sister, and her father, and (probably most of all) her pets. But already, after a few short months, her life was somewhere else. When she came home, it was as a visitor now, a tourist, noticing the small changes I had made around the house, and checking the time frequently, wondering when she could politely leave.
Since that second goodbye, there have been many others, and I have come to realize that saying goodbye will be a part of my relationship from now on with my daughter. When I see her, it will be because one of us visits the other. Most likely, we will never live together under the same roof. If we do, say after she graduates and while she job searches, it will be only temporary.
I find comfort in a goodbye ritual
I have found some comfort in allowing myself a goodbye ritual. For the first few minutes after she leaves, I usually lay on my bed, feeling sad and sometimes crying. I need to be alone for this, mostly because my younger daughter and my husband don't really understand my tears. After all, it is usually only a few weeks or months until I see her again, so what's the big deal?
Sooner or later, I get up and clean her room. I empty the trash, wash the sheets, sweep if I need to, bringing order to the physical chaos her visit brought. Then I make a list of what I want to do next, projects to keep my mind and body occupied. My most recent list included painting the bureau in the family room and planting tulip bulbs.
I believe all parents need to find their own goodbye rituals for when their college-age children leave after visits. Because like it or not, our young adults are going to keep going, and goodbye will become a regular part of our relationships with them.
Life feels different when they aren't in the house. There's a certain energy that is gone, no matter how many other family members still reside there. I have found that it's best to acknowledge the difference that loss of energy brings, mourn briefly, set some goals, and then move forward.
After all, what else can we do?
More to Read:
Home (Bitter) Sweet Home: A College Student Perspective