I stood standing in front of a display of delicious smelling lotions and potions. My shirt was white, my belly swollen, there was a baby boy cooking inside of me. The woman next to me was directing her son away from the fragile bottles. He was about seven or so, excited, much too full of energy to stay quiet and calm in this store filled with women trying samples and spraying perfume in the air and walking toward it to see if they liked the way it made them smell.
He reached over to caress a pretty pink heart-shaped bottle, and just like that, the whole display came crashing down.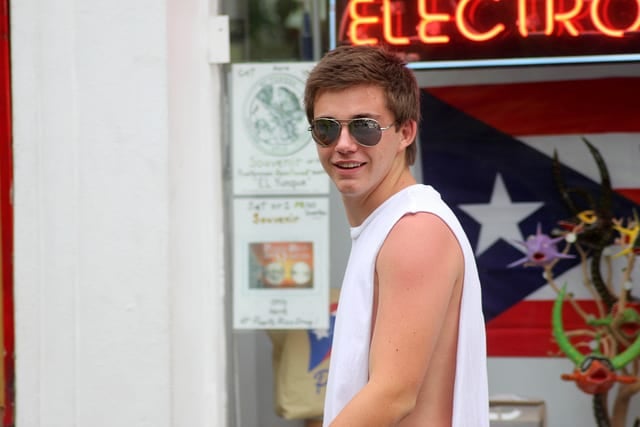 Hand creams and lotions splattered on the tile floor and the perfume slowly swirled out and washed into the grout lines.
I quickly started helping her pick up the pieces as the manager came over and told us to leave the mess.
"It is fine," she said. "It happens all the time, that's what we get for selling pretty stuff in glass jars, people want to touch and smell, of course, but they just get broken. Honestly the adults break more than the kids do."
The young boy felt bad, too. He apologized and looked ashamed.
His mom patted his back, leaned in and whispered "It's okay buddy. You did the right thing. It was an accident."
It was a hard thing to watch. Not him breaking the bottles, his face after he did it, but it was harder on the mother to see him feeling this way, I could tell.
I smiled at them and she noticed my pregnant belly. "Do you know what you are having?""A boy. It's a boy." I didn't hide my elation. I had wanted a boy so badly. I grew up with all sisters, knew nothing about boys or raising them, but for some reason, had hoped he would be a boy from the moment I conceived.
"Oh, boys are wonderful. So easy, lovable, except for the occasional mishap in the store, of course."So there it was: "Boys are easy." It must have been true. After all, she was the mother of a boy who said it.
It stuck with me as I picked out tiny outfits for him and folded them neatly in his new dresser as I had visions of my sisters and I fighting over clothes every day during our teenage years.
"Boys are easy" I thought over and over to myself as so many of my friends became pregnant and were all expecting girls.
Not only is there nothing easy about having a child, there is nothing easy about having a boy. And when your little boy grows up to be a teenager, it just may turn you inside out.
I feel like I am in a constant battle with him. He is pulling away so much, so fast, some days he is closed off, it takes all my willpower to not pry him open (It doesn't work anyway.) He doesn't talk a lot but I know there is deep stuff going on in his mind. I don't gloss over it and think, "Oh he is just going through a stage", because if I do that, I will feel like I am failing him.
Maybe he doesn't want to talk about his life or his moodiness because he can't even process it himself. Perhaps it is just normal mood swings and I am bring too sensitive.
I feel like I am always on him about showing up, doing the right thing, pushing himself, and being kind. He tells me I expect him to be perfect. I feel like I expect him to be a polite young man, who gets his school work done on time and doesn't try to pull one over on me. We have yet to come to an agreement where his push and my pull don't feel like a huge imbalance.
Is this a normal place for a mother and teenage son to be?
I have no idea. I have never been here before.
I have only been a teenage girl. I have only been a woman who desperately wanted a boy. I have only been an amateur to everything this child is teaching me.
I don't know if I am doing it right. I just know this feels like the hardest thing I have ever done. I only know I wake up every morning wanting so much for him. I only know when I see him bringing less than his best when it comes to school work or the way he talks to other members of his family I am torn apart inside. I only know if I loosen my grip I am afraid he is just going to turn out to be a big jerk and I will forever be asking myself if I could have done better for him.
I guess I am just going to keep letting him know how much I love him. I am going to make my expectations very clear. I am going to keep plowing ahead because he needs the guidance.
But I am also going to accept the fact this is not easy. Not for him, and not for me.
I had no idea it would be like this; that raising a teenage boy would take such grit and determination. That I would lose sleep every night he seemed off. That I would question my intentions so much. That I would question his.
That my heart would break. But I keep remembering the advice I got that day, not from the beautiful mother, but the manager: "The adults break more than the kids do." And I just hope she is right.
Related:
Lessons for Our 9th Grade Sons
Dear Mom of High School Sophomore
Photo credit: Lord Jim
SaveSave