So, your college student has their first real kitchen and, aside from the sample sized bottle of dishwashing liquid, there's not much there. Where to start? Here are the 10 kitchen essentials I would buy for a beginner cook.
Are these the cheapest items on the market? Nope. But they will last and last. Are these the only 10 items you need? Nope. But with these 10 items, you can make dinner. As a bonus, I've included links to some of the easy recipes found in my two cookbooks, Dinner Solved! and the The Mom 100 Cookbook.
Note: We are a reader-supported site and receive small amounts of compensation for purchases made through the links in this post.
10 essentials for a first kitchen
The first thing you need is a solid chef's knife, an 8-inch workhorse for chopping, slicing, dicing, and mincing. You want one with nice balance and weight, so you have good control.
The critical skillet with a lid. This one is not too big, not too small. This multipurpose pan is shallow enough to make pancakes in, deep enough to make a one-dish casserole. It's completely oven safe, so you could bake or roast in it too, and the fact that it has a lid means you can poach or steam as well as sauté.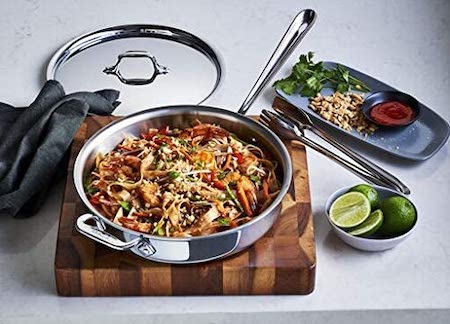 You need a big pot. This one is made of enameled cast iron, so there's a slightly nonstick quality (and you could absolutely buy a stainless steel one as well, which will be less pricey). This is the pot for pastas, soups, stews, and chilis. And it's great in the oven, perfect for braising big cuts of meat.
Not only will this pan be used for baking cookies, it will be used for all kinds of baking and roasting. This is the go-to pan for myriad one-dish oven meals. Buy one that is very sturdy and won't warp.
These bowls have a stainless steel interior — which chills well when needed and doesn't retain odors — and a non-slip bottom. The three sizes are very handy for everything from mixing up a marinade to making a pasta salad.
Sturdy plastic cutting boards with grooves to catch juices are a must. Make sure you buy ones that are dishwasher safe.
A big stainless steel colander for draining pasta and washing vegetables is absolutely on the list.
Tongs are extremely useful, for everything from stir-frying to flipping chicken breasts, removing baked potatoes from the oven, even stirring.
Whether to get a metal or a silicone spatula first is up to you — both have their strong suits. Necessary for flipping burgers and removing things from your new pans.
Even seasoned chefs need to measure, and beginner cooks rely on measuring cups to get their bearings when following a recipe. Make sure to get both cups and spoons.
And then there will surely be 10 other items that you'll want to buy, and then another 10, but if you're looking for a place to start? These are 10 items you will never regret buying.
You Might Also Want to Read:
Holiday Gifts Under $25 for Teens and College Students