It's early December.
Winter is coming.
And so are those holiday letters that we all have a Love/Hate relationship with.
We love them for the newsy updates from faraway friends who are not on social media – if you actually have any of those left. We love them for the clever photos, the beautiful backgrounds, the cute family pets, and the chance to feel that heartfelt connection with so many friends and extended family members.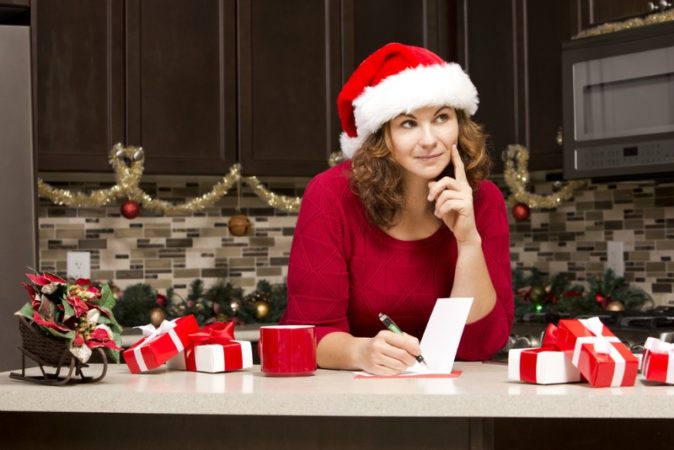 Yet, we hate them for many of the same reasons. The reminders that we didn't go to Tahiti for vacation this summer, or that we didn't get promoted to VP, or that our kid didn't get a full-ride scholarship to Stanford. And geez, even some dogs are cuter than ours.
But really? Can any one family lead such a picture-perfect life? Especially a family that includes a teenager or two? Those acne-free complexions have got to be Photoshopped, and their amazing vacation travels had to have included a horrible flight cancellation, or at least one nasty case of diarrhea, right? At the very least, their strapping teenage son must have gotten into a little fender-bender while driving around in his fancy, new sportscar.
So, here's the deal. We just want the truth, America.
Please stop with the fake news and just cut the crap. There's beauty in being honest and vulnerable, because all of our lives are a sh*tshow every once in a while.
THIS is what we want to read when we unfold your beautifully embossed holiday letter this year:
Holiday Greetings from Our House to Yours! 2019 Edition
Our year started off in typical fashion. We overspent during the holidays last year and found ourselves with quite a bit of credit card debt in January. Oops! Jim forced the twins (who are now 18, if you can believe it!) to get part-time jobs after school, because they were spending far too much time playing video games and eating a ton of food. They complained bitterly for months of course, but now really enjoy getting those paychecks that they quickly waste on fast food and sneakers.
Our daughter Emily turned 16 this summer and failed her driving test three times before finally passing. Since getting her license in October, she's only hit our mailbox twice. She continues the weekly practice of posting inappropriate pictures on Instagram, but it's what all her friends are doing too, so we live in a state of embarrassing denial for now, and I've gotten pretty skilled at hiding from certain Moms when I catch a glimpse of them in the grocery store.
Josh got caught Juuling in his English class in March, so he was prohibited from attending prom. (That saved us some tux-rental money though!) Jacob did attend with his girlfriend, before she broke up with him suddenly over text messages in early June.
Both boys applied to several colleges, and each of them got into a few, despite missing a couple application deadlines and really slacking on their supplemental essay writing. Josh got denied from his dream school and started State this fall with an undecided major. But Jacob failed two AP classes, so is taking a gap year to decide what he really wants to do. We don't agree that his garage band will "make it big time", but they continue to practice here every weekend until Jim kicks them out around 3am.
Emily is enjoying her sophomore year for the most part, but she got cut from the competitive cheer team and decided to try show choir instead. She spends a lot of time dancing around in her room and complaining about how the director's daughter gets to be in the front row for every number. Jim has decided a part-time job is in her near future as well.
I was re-assigned to a new division at work and have three young men who report directly to me now. They are a tad annoying and immature, but I'm hopeful they'll grow into their work once they all turn 30. Good thing I'm used to excessive eye-rolling and being ignored at home.
Jim's office location moved downtown, so now his commute is twice as long. We really don't see very much of each other during the week, and both admit that as the kids are growing older, we have less and less in common. I'm hoping to convince him to start some couples therapy in the new year. If not, we may be thinking about a trial separation once Emily leaves home. I've joined a Wines of the Month Club in the meantime.
Our beloved retriever Skipper has some serious bowel issues these days, and I spend a lot of time steam- cleaning the carpets. Other than that, I still love knitting and doing loads of laundry into the wee hours of the morning.
We'll be spending Christmas at home this year, because air travel is so darn expensive, and the car needs some engine work. We'll enjoy lots of family time though, where everyone looks at their phones and complains about the meals I spend hours cooking.
We wish all of you good health and much happiness in 2019!
The Jones Family
P.S. We'd invite you all to visit, but with the Skipper situation, and at least one memory-impaired grandparent possibly moving in with us, we'll have to pass on that this year. Happy Holidays!
Related:
Now That I Have Teens, I Can Finally Break Up With The Elf On The Shelf