This may be the very best time to dive into holiday shopping. Pour yourself a cup of coffee (or glass of wine) and log into your computer today, well before shopping anxiety starts to erode your festive spirit. Here is our list for 2018, filled with lots of intriguing holiday gift ideas. Enjoy and please let us know what your grown and flown kids have on their lists.
Note: We receive a small amount of compensation from purchases made through some of these links.
2018 Holiday Gift Ideas
Long Distance Friendship Lamps Do you have a high school senior who will soon be leaving home? Consider getting two or more of these lamps that, with the touch of your hand and the illumination that follows, lets her know you are thinking of her. Your touch is blue, hers is green and you share your connection without saying a word.

Uniqlo down jacket Uniqlo has made these ultra light down jackets for 10 years which speaks to the great combination of functionality, style and price point. We love them in every color for men or women.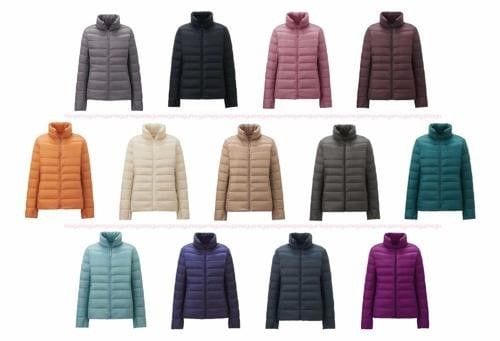 Asobu Coldbrew Portable Cold Brew Coffee Maker
Have your college kids discovered cold brew coffee? They will love this copper coffee making system that comes with an insulated travel mug, too, so their coffee will stay ice cold while they are on the go.


All-new Echo Dot (3rd Gen)
The Echo Dot
is definitely an extra that makes a great gift. It can be hooked up to any device, it plays music, reads audio books, and more. This is one of our favorite gifts for college students.


Polaroid ZIP Mobile Printer
Remember how much fun Polaroid photos were? Well, they are only more fun now that the photos can be edited before printing. This mobile printer creates instant photos that are waterproof, tear proof and adhesive backed. It creates prints directly from a mobile phone via Bluetooth and will be the first gift set up on Christmas morning.

Cath Kidston Laptop Backpack
High School and college students all need backpacks and those that have padded pockets to store an expensive laptop are very popular, and practical. We love the pretty floral designs by English designer Cath Kidston and think your daughter might, too.

LuluLemon Workout Gear We have to admit, this favorite brand is great fitting, wears incredibly well and is, basically, what our college daughters live in. Now, our sons have also discovered the brand for their own workout, golf and travel gear. Anything Lululemon makes fantastic holiday gifts for college students.

Subscriptions are holiday gift ideas that keep on giving, month after month, allowing the recipient to personalize the contents all along the way. Some of our favorites: Foot Cardigan – for new socks delivered every month. Ditto for guys Harry's – shaving essentials.
BTW, here is a pretty adorable little sample kit of Harry's razors in "tennis green" available at Target for $10.00. This might be the perfect way for your son to check out the razors before making a commitment.


Billie Shaving for women has also caught up with Billie, an award-winning razor delivery service for women that will match your daughter's shaving habits. She can pick the color of her handle and add lotion, shaving cream and more to customize her shopping cart.

Stitch Fix is my new favorite for college girls. After taking a personal style survey, a Stich Fix stylist will choose five pieces to send to your daughter. The $20 styling fee is applied to the clothes she decides to keep and can return the rest with free shipping. Stitch Fix comes in petite and plus sizes so this could be a godsend for hard-to-fit young women.
Toys for Big Kids We love this soccer disc, Can You Imagine Air Power Soccer Hover Disk, for kicking around the dorm
.

For a hugely popular outdoor game we suggest Spikeball
or Kan Jam
.
Mini-Keurig If there is a cuter coffee maker out there, we have never seen it! Measuring just 5 inches, THIS is the PERFECT size for your coffee-loving college student who will find space in their dorm room regardless of how cramped it is – trust us, they are all cramped. We are crazy about this "oasis" color but it also comes in black.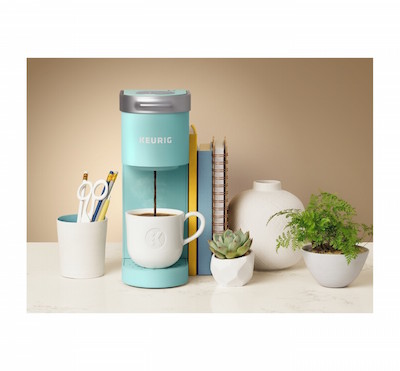 Not Black Yoga Pants College women love to go to yoga, barre and spin classes but the day of the black-only yoga pant is over. Try wrapping up some new workout gear in gorgeous bright patterns that will become her new favorites. There are lots to choose from at Pink, Outdoor Voices, LuluLemon, and Athleta
, including these white ones which look great with this pretty baby blue top.


Herschel Supply Co. Heritage Backpack
Does your teenager need a new backpack, one that would replace his grimy bag filled with crumbs and broken pens? These are trendy in a retro sort of way and come in a host of different designs and colors. We love the Settlement backpack
for around campus, the Little America Backpack
for overnight and the Novel bag
for weekends.
Headphones JLab FitSport Earbuds or Skullcandy Method Sports Performance Earbud – Recommended by Runner's World magazine, these are two lighter and less expensive headphones that would be great to use when working out.
Casper Mattress Three of our five kids moved into first apartments this fall and ordered Casper mattresses which they really, really like. And now, the company has added sheets (including twin XL) pillows and bedroom furniture. With excellent customer service, free shipping and a generous return policy, the mattress comes compressed in a box and delivered at the front door. Our readers can take $50 off The Casper and Wave mattresses using the code GROWNANDFLOWN

Vineyard Vines
is one of our favorite stores for our sons, in particular, who love their vests, belts, boxers, half-zip sweaters, and cotton dress shirts. It can be one-stop shopping for your son, nephew or husband, too. noon Thursday 12/20 through Friday 12/21 at noon: Free next day shipping on orders over $250
Promo code: SANTA18


Allbirds The most fantastic, comfortable shoes you will ever find, Allbirds has risen to the top of our lists for almost everyone in our families – sons, daughters, moms all give them rave reviews.

LuMee Illuminated Cell Phone Case
– a phone case that lights up around the perimeter, creating better visuals for selfies even at night, is a perfect holiday gift for your selfie-loving kid. Take a look at the range of colors offered, too.

MINI JAMBOX by Jawbone Wireless Bluetooth Speaker
Sometimes music just needs to be blasted loudly, for the entire dorm hall or apartment mates to enjoy. This small speaker packs a ton of audible punch.
Mophie phone case charger Your teen with never be able to use the "my phone ran out of battery excuse" with a Mophie case. Having a charged phone is a true safety device.
Jackery Portable Charger
This small charger can easily fit in a backpack or briefcase and serves the same purpose of never letting a phone go dead.
Related:
2018 Holiday Gifts for College Students They Will Use Everyday
2018 Stocking Stuffers for Teens and College Kids that Will Make Them Smile
Didn't Find What You Were Looking For? Take a Look at These
SaveSave