This may be the very best time to dive into holiday shopping. Pour yourself a cup of coffee (or glass of wine) and log into your computer today, well before shopping anxiety starts to erode your festive spirit. Here is our list for 2016, filled with lots of intriguing gift ideas that were not even a twinkle in our eyes last year. Enjoy and please let us know what your grown and flown kids have on their lists.
Holiday Gift Ideas
Polaroid ZIP Mobile Printer
Remember how much fun Polaroid photos were? Well, they are only more fun now that the photos can be edited before printing. This mobile printer creates instant photos that are waterproof, tear proof and adhesive backed. It creates prints directly from a mobile phone via Bluetooth and will be the first gift set up on Christmas morning.
Portable Table Tennis Set
Our kids love to play Ping Pong (with and without beer!) but in dorm rooms and small apartments there just isn't room for a full sized table.  Enter this great idea from Umbra. Two paddles, two balls and a weighted net that can set up on any size table up to 72 inches wide means that any table becomes a ping pong table.
MY LATEST VIDEOS
Uniqlo down jacket Uniqlo has made these ultra light down jackets for 10 years which speaks to the great combination of functionality, style and price point. We love them in every color for men or women.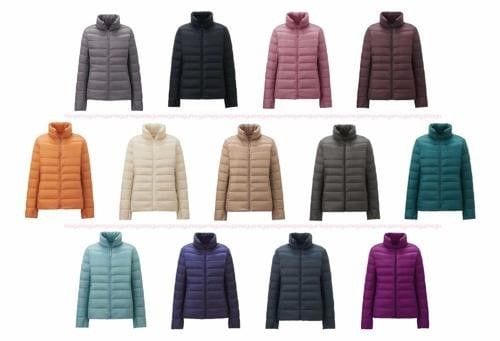 Smathers & Branson

The needlepoint collegiate belts, cufflinks, wallets and more are well-made and adorable. We have a soft spot in our hearts for the key fob, perfect for young college women or men.

We love this soccer disc for kicking around the dorm, a Can You Imagine Air Power Soccer Hover Disk
 has been great fun for our college sons. For a hugely popular outdoor game we suggest Spikeball
 or Kan Jam
.
French Press If your millennial wants to make their morning cup from coffee grounds we love a French Press. The traditional models
are simple and make a great cup of coffee. New models including the SterlingPro
 has the advantage of keeping the coffee hot and being unbreakable. Le Creuset Stoneware French Press
 makes utterly gorgeous stoneware french presses as well.
Not Black Yoga Pants College women love to go to yoga, barre and spin classes but the day of the black yoga pant is over. Try wrapping up some gorgeous bright pattern that will become her new favorites. Here are a few we loved from Athleta, Anthropologie and Sweaty Betty
NEST Fragrances Holiday Scented Reed Diffuser  The odor when you step foot in your teenager's room times ten is how awful a dorm room smells. With an irresistible array of scented oils, Nest diffusers create no fire hazard.
Jack Threads  Ever find yourself wanting to buy clothes for your son but just not being sure what he would like? Jack Threads has taken all of the uncertainty out with their Tryouts. Just order the items that you like (and they have a massive range to young/trendy gifts for men) and then try them for a week before sending back anything and everything you (or your son) doesn't like. Shipping both ways is free. The only catch is that you need to send the items back in a week. So order right before you need the gift, let your son pick the item(s) he wants and send the rest back with no charge. Their slogan is "Never buy before you try — ever again"
Not Your Mother's Mini Refrigerator  Whether it is upstairs in their bedroom at home or in an apartment or dorm room, these throw back mini refrigerators are something out of the 1960s. This retro IglooCompact Refrigerator
 is available in Aqua or Red and this Erase Board Refrigerator
 has a front door that doubles as a dry erase board.
Herschel Supply Co. Heritage Backpack
  Does your teenager need a new backpack, one that would replace his grimy bag filled with crumbs and broken pens? These are trendy in a retro sort of way and come in a host of different designs and colors.  We love the Settlement backpack
 for around campus, the Little America Backpack
 for overnight and the Novel bag
 for weekends. 
Headphones SMS Audio STREET by 50 Noise Cancelling Headphones  – we can't remember the last time we saw our teens without a device for music at the ready. The choice of headphones is immense so we took the Consumer Report recommendation for these noise-canceling headphones
JLab FitSport Earbuds  or  Skullcandy Method Sports Performance Earbud  – recommended by Runner's World magazine, these are two lighter and less expensive headphones that would be great to use when working out.  
Casper Mattress Two of our kids moved into first apartments this fall and ordered Casper mattresses which they really, really like. And now, the company has added sheets (including twin XL) and pillows! With excellent customer service and free shipping and a generous return policy, the mattress comes compressed in a box and delivered at the front door.
Vineyard Vine Belts Vineyard Vines has an amazing selection of belts for men including logos for National Football teams, American flags and our favorite The Anchor Belt. These belts are timeless in their style and will last forever.
Allbirds The most fantastic, comfortable shoes you will ever find, Allbirds has risen to the top of our lists for almost everyone in our families – sons, daughters, moms all give them rave reviews.

In The City Nail Polish Set
A great selection of ten trendy and very popular colors in a cute, city-scene box, this would be a fun gift for any daughter or niece who likes a glamorous look for the holidays.
LuMee Illuminated Cell Phone Case
– a phone case that lights up around the perimeter, creating better visuals for selfies even at night, is a perfect holiday gift for your selfie-loving kid. Take a look at the range of colors offered, too.
SodaStream Fountain Jet Home Soda Maker Starter Kit  a great way for our young adults in first jobs to economize by transforming tap water into carbonated beverages and flavored drinks.  
Collegiate Crock-Pot  We thought these were adorable. We bet your older kids would love coming home to a hot, home cooked meal now that they are the ones doing the cooking. Plus, what could be any better for a tailgate?  
MINI JAMBOX by Jawbone Wireless Bluetooth Speaker
  Sometimes music just needs to be blasted loudly, for the entire dorm hall or apartment mates to enjoy. This small speaker packs a ton of audible punch.
Mophie juice pack Air for iPhone
  Your teen with never be able to use the "my phone ran out of battery excuse" with a Mophie case. Having a charged phone is a true safety device. 
Jackery Portable Charger
This small charger can easily fit in a backpack or briefcase and serves the same purpose of never letting a phone go dead.  
Cold Brew Drip Coffee Do you have a kid who is a bit of a mad scientist?  If said kid also adores coffee, consider this amazing looking cold brew filter tower from Clive Coffee.
Cashmere throw  When your young adult has moved beyond the dorms and campus apartments into her very first grown-up place, add a bit of luxury with a cashmere throw tossed on the back of a sofa. The ones from Restoration Hardware come in gorgeous colors.
Dry Bar If you are looking to splurge on hair care the famous salon chain Dry Bar has lots of gift boxes for getting that perfect style at home. Looking for straight hair or curly Dry Bar has the gift.
Bonobos When it's time for your son to upgrade his wardrobe from the jeans and sweats of high school and college to real word khakis or dress slacks, Bonobos is the place to turn.  Plus, if he lives near one of the 29 Guideshops, he can go in and try them on for size.
Shinola watches
 This Detroit-based firm has created the most beautiful watches, leather goods, bikes and more, earning accolades for the American-designed and built product line. Take time to look to browse all that Shinola offers but we are partial to the watches for men and women. 
Container Store Coat Tree  Dorms and first apartments are short on storage space so a coat tree is a vertical solution to help get bags, coats, robes, scarfs, etc. off the floor. String a few lights on it and it becomes a holiday decoration a la Charlie Brown.
We are big fans of Filson Duffles
They are both handsome and practical since they fold up and can be stashed on a shelf or under a bed.  The medium size works in standard airline overhead compartments.  
Chrome racks This four shelf rack is simple to put together and works equally well in a bedroom, bath, kitchen or living room. Industrial chic from Bed, Bath and Beyond.
Parrot Bebop Quadcopter Drone
 A drone for the holidays? Why not?  This model is a very grown up toy for your son or daughter to find under the tree this year
Native Union Wooden case for iPhone
 The texture of the woods chosen for these cases got our attention.
Subscriptions:
These are the gifts that keep on giving, month after month, allowing the recipient to personalize the contents all along the way.  Some of our favorites: Foot Cardigan – for new socks delivered every month.  Ditto for guys Harry's – shaving essentials. For your coffee lover there are dozens of subscription services including Sight Glass Coffee and Craft Coffee. Plated  and Blue Apron –  a great to learn is to cook is by simply cooking. A Plated or Blue Apron kit makes it easy to take the plunge since all the ingredients (and directions)  come packed inside. Experiences: Museum memberships Sporting events season tickets Concert series Spotify Apple music Netflix Gym membership, spinning or yoga classes Bike rental College alumni association membership Open Table gift certificate Uber gift certificate
Didn't Find What You Were Looking For? Take a Look at These
NEW! Grown and Flown Top Picks for Teens and College Kids – Perfect for Holidays, Graduation and Dorm Shopping
Note: We receive a small amount of compensation from purchases made through some of these links.